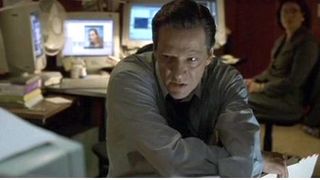 Mission Failed
The Moment: Treadstone underling Zorn addresses Conklin with two fateful words relating to the attempted assassination of Wombosi: "Mission failed".

Bourne Cool: It's a scene that gives us our first look inside Treadstone, while Chris Cooper's unreadable expression sets the shadowy tone perfectly. At this stage, the audience has no clue as to what the mission was, but they're well aware that its failure will have serious consequences...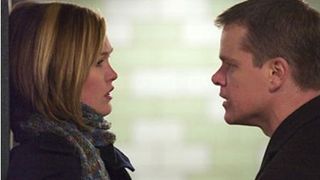 Hidden Past?
The Moment: A romantic history between Nicky and Jason is hinted at in Ultimatum , when Parsons comments that "it was difficult for me with you". Were they lovers at one point? It would certainly go some way towards explaining her willingness to help him in the third film.

Bourne Cool: Bourne's relationship with Nicky is left pleasantly ambiguous, although if they did have a past, she might have been tempted to bring it up when he puts a gun to her head in part two!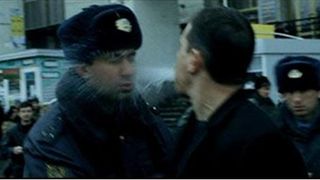 Demon Drink
The Moment: During his time in Moscow, Bourne tips his hat to the local custom by turning a bottle of vodka into a lethal weapon. However, he doesn't smash it over anyone's head - he simply spits a mouthful into a policeman's eye. Probably just as painful.

Bourne Cool: Not only does he do the above, but he then proceeds to pour vodka onto one of his wounds… in the middle of a car chase! Now that's badass.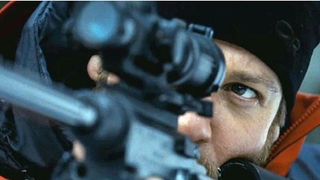 Drone Takedown
The Moment: Aaron Cross takes down one of the bomber drones with a well-aimed shot from his rifle. As he dismantles his kit, he doesn't even bother to look round when the drone explodes in the hills behind him. That's confidence for you.

Bourne Cool: The scene is complemented by the reaction in Byer's operation room. "He's probably got a rifle" remarks his number two to the general bemusement of the room. "It's a high-powered rifle" adds Byer, through gritted teeth.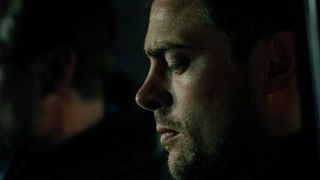 Burning The Midnight Oil
The Moment: With Supremacy heading towards its one remaining loose end, the action switches to a nightclub in Moscow, where Kirill is enjoying some well-earned time off. That is until his boss gives him a bell, and the hitman is forced to stumble out into what turns out to be broad daylight!

Bourne Cool: It's only a small moment, but there's something so unexpected about the daylight reveal that really tickles us. it's also nice to get an insight into how a hitman spends his down-time.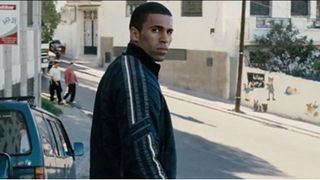 Misdirection
The Moment: Bourne is tailing Desh who in turn is tailing a target. Bourne spies his man drop a holdall under a nearby car, and surmising it must contain some kind of explosive, motions for Desh's target to stop his vehicle. Sadly for him, Bourne hasn't noticed the scooter Desh was riding, parked right next to the target's car. Kaboom!

Bourne Cool: It's a great piece of misdirection, particularly as the audience is also convinced the bomb is in the bag. Bourne doesn't make many slip-ups, but he makes one here.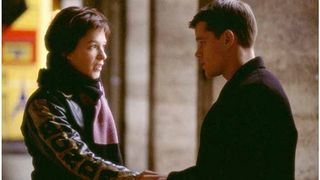 Only Friend
The Moment: Marie rejects Bourne's suggestion that she wait outside his Paris apartment, claiming that he would probably just forget about her. "How could I forget about you?" he replies. "You're the only person I know."

Bourne Cool: The tentative relationship between Bourne and Marie is one of the first film's primary delights, and this is a beguilingly sweet moment before all the real mayhem begins.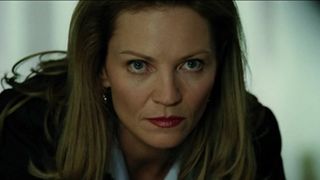 Berlin Hit
The Moment: The Bourne Supremacy kicks off with a thoroughly disorientating action sequence in which a pair of CIA agents are killed during a mission in Berlin, a sequence of events that puts Jason Bourne squarely in the frame for the duo's murder.

Bourne Cool: Paul Greengrass announces his arrival to the franchise in style, bewildering audiences with this early sequence in which it isn't always clear what exactly is going on. That, of course, is the whole point in the exercise…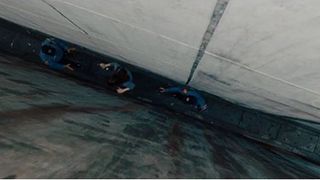 From On High
The Moment: Cross goes scuttling across the rooftops of Manila, making sure to keep an ear out for Dr. Shearing below. Eventually he finds her cornered by a pair of police officers in a narrow alley, so does the sensible thing and jumps down several stories to take them out. All in a day's work…

Bourne Cool: Cross is bordering on fully-blown superheroics here, but manages to bring some levity to proceedings by cracking Shearing a half-smile that seems to say, "yeah, that was pretty awesome, wasn't it?"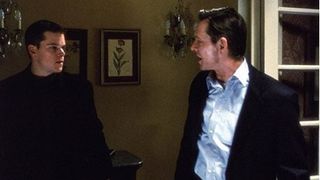 The Boss
The Moment: Bourne confronts Conklin at gunpoint, only for the older man to go on the offensive, revealing just how lethal a killer Bourne once was and reprimanding him for failing the mission that left him face down in the ocean with a back full of bullets.

Bourne Cool: You're expecting Conklin to beg and plead for his life, but the aggression with which he reveals his former relationship with Bourne takes the audience aback. Its a nice subversion of our expectations.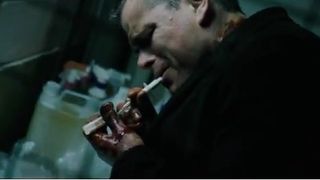 Self Help
The Moment: Bourne gives the Russian police the slip before patching up his wounds at the beginning of Ultimatum . Despite being momentarily distracted by a flashback, he still manages to disarm a copper who takes him unawares! Always on the alert…

Bourne Cool: There's something particularly macho about cleaning up your own wounds. And Bourne has plenty of them to clean up.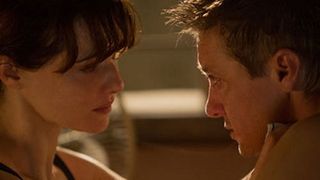 You've Done Enough
The Moment: Physically drained by the effects of the Outcome virus, Cross attempts to send Dr. Shearing away, telling her there's $40,000 stashed in his jacket she can take to make a new life. "You've done enough for me," he says, before passing out once more.

Bourne Cool: It's the first moment when we see the bond between Shearing and Cross deepening beyond a mutual survival instinct. In an occasionally cold film, it's quite a heartwarming moment.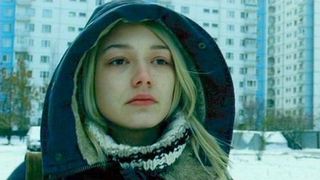 Confession
The Moment: An ashen-faced Bourne tracks down the daughter of the Neski family, whose parents he killed under Treadstone orders some years previously. "I'd want to know," he says, as he explodes the myth that her mother was the one who pulled the trigger.

Bourne Cool: As emotional resolutions go, this one doesn't pull any punches. There's no forgiveness for Bourne, nor much comfort for the young girl, but what she does have is the truth. Whether or not that's any better remains up for debate…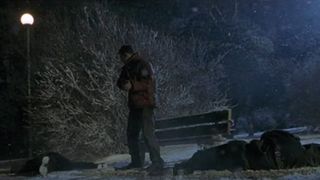 New Skills
The Moment: Having been discovered dozing on a park bench, Bourne is rudely awoken by a pair of truncheon-wielding policemen. Without fully realising what he's doing, Bourne grabs their weapons and disables them both in seconds.

Bourne Cool: It's Bourne's first fight scene, such as it is, and the way our hero's muscle memory kicks into gear is spine-tinglingly exciting. Who is this guy?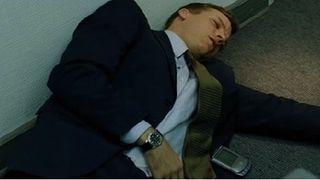 Play Ball
The Moment: Bourne is taken into custody by a particularly cocky CIA agent, who promises our stubbornly silent hero that, "you will play ball". Unsurprisingly, it doesn't quite turn out that way, as Bourne overpowers his captor with a minimum of fuss.

Bourne Cool: From the minute Bourne is led into the interrogation room you know what's going to happen, and yet that doesn't make it any less cool when it does!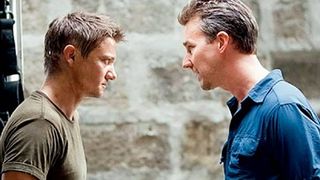 Necessary Evil
The Moment: Byer pays Aaron Cross a visit after a particularly brutal mission to encourage him not to think too much about the ethics of the situation. "We're the sin-eaters," he explains calmly. "Morally indefensible and absolutely necessary."

Bourne Cool: Ed Norton is excellent as Byer, never coming down fully on the side of straightforward villainy, but exuding a quiet menace nonetheless. When he describes himself as a patriot, you can tell he believes it, as evidenced by the thorny moral code he outlines above.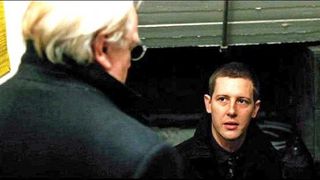 Collateral Damage
The Moment: Danny Zorn reveals to Abbott that he suspects the Berlin hit to be a set-up designed to frame Bourne. Doing a quick mental calculation, Abbott asks him to show him again, before stabbing him in the back.

Bourne Cool: We knew Abbott was a bad egg, but this sudden demonstration of brutality is pretty shocking nonetheless.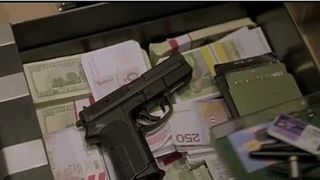 Life In A Suitcase
The Moment: Bourne arrives at the bank in Geneva where a payload of clues relating to his old life is waiting. On first look, it appears to be a case full of mundane personal effects, only for a hidden layer to be discovered, stuffed to the brim with cash, fake passports and a gun.

Bourne Cool: The discovery of the hidden layer is a wonderful touch, as Bourne receives a sudden shocking insight into who he really is! "My name is Jason Bourne"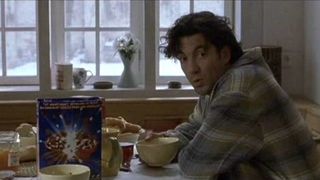 Where's The Dog?
The Moment: Marie's friend Eamon remarks that the dog has gone missing, an unusual occurrence due to the pooch's love of breakfast. Bourne smells a rat, and sure enough, the phones are dead. Everybody down to the basement…

Bourne Cool: It's a supremely creepy moment when our heroes' safehouse suddenly seems extremely vulnerable, not least because there's a pair of children involved now as well.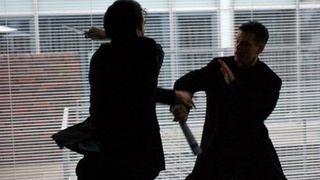 Fly Swatting
The Moment: Bourne and Jarda go at it hammer and tongs in the latter's tastefully outfitted apartment, Bourne showing off his resourcefulness once more by reaching for a magazine and turning it into a deadly weapon.

Bourne Cool: Up until this point we'd never really considered the potential for a rolled-up magazine to do so much damage. More fool us, eh?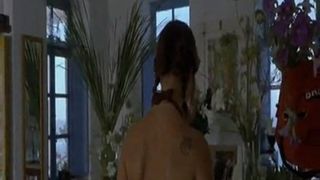 Souvenir
The Moment: When Bourne arrives at Marie's moped-rental business at the end of the first film, his red backpack can be seen serving as a modified flower-pot in the background. A nice touch.

Bourne Cool: Bourne's relationship with Marie is both plausible and genuinely affecting. It makes perfect sense that she would have hung on to his backpack as a memento of their time together.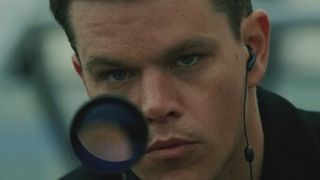 Turning The Tables
The Moment: Bourne contacts Landy to establish his terms, explaining that he wants Nicky Parsons to be the one who meets him. When Landy tries to stall by saying she'll have to locate her, Bourne points out that "she's standing right next to you". He's watching you, Pam!

Bourne Cool: It's at this point that you start to feel the control tipping into Bourne's hands, as he places himself one step ahead of his pursuers.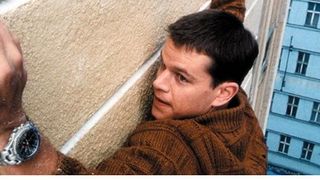 Embassy Escape
The Moment: Having taken refuge in the US Embassy, Bourne realises he must make his escape through a less conventional route than the back door. Taking something of a leap of faith, he exits through a window, before flattening himself against the outside wall, using only a tiny ledge to maintain his balance. Heart in mouth time…

Bourne Cool: This is the first time we've seen Bourne use his newfound agility to its full extent, and its a truly dizzying moment. Don't look down…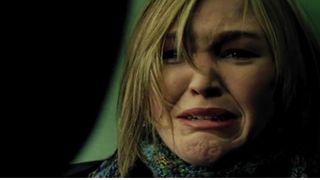 Intimidation
The Moment: Having expertly lost the CIA agents charged with tailing him, Bourne shepherds Nicky into a subway station utility room for a full and thorough interrogation. Ignoring her terrified whimpers, Bourne gives her both barrels in order to find out what he needs to know.

Bourne Cool: Julia Stiles plays this scene to perfection, seeming genuinely terrified of a man whose capabilities she's well aware of.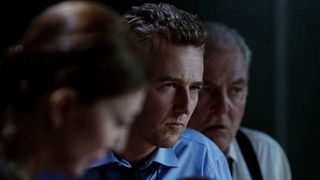 Familiar Face
The Moment: The mood changes rather abruptly in Byer's operations centre as Aaron Cross's face appears on the flight manifest to Manila. "Everybody out," barks Byer, the colour rapidly draining from his face…

Bourne Cool: Ed Norton really sells Byer's reaction here, ramming home just how big a threat Cross is perceived to be. Goosebumps!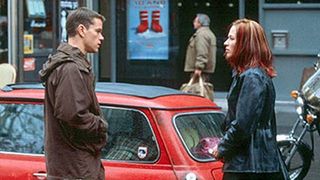 Don't Ask Don't Get
The Moment: Having been briefed by Bourne to perform a complicated surveillance routine on a hotel lobby from which they need to retrieve a receipt, Marie waltzes up to the phone box where her anxious companion is waiting for her call. No dramatics turn out to be required… she simply walked up to the receptionist and asked for the receipt! Job done.

Bourne Cool: The Bourne series isn't renowned for its sense of humour, but this little scene contains a genuinely funny payoff. "You just asked for it?" says Bourne, flabbergasted!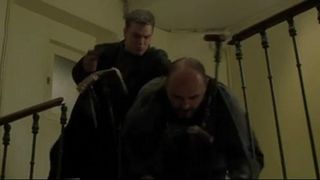 Taking The Plunge
The Moment: Bourne goes full-on action hero, launching himself down a stairwell, shooting a thug on his way down, before using another portly henchman's body to break his fall. That's just how he rolls.

Bourne Cool: It's probably Bourne's most badass moment of the entire first film. No wonder Conklin looks shaken by the fallout!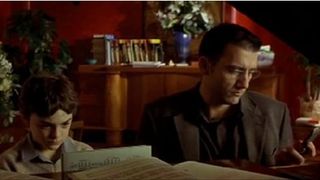 Alerting The Assassins
The Moment: "I want Bourne in a bodybag at sundown," barks Conklin, as Treadstone's finest killing machines are alerted to their latest mission.

Bourne Cool: Conklin's death sentence is followed by a wonderful little montage in which three fearsome-looking assassins receive word of their latest target…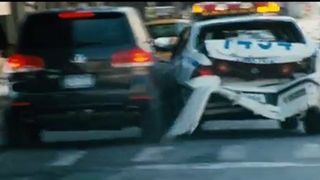 Police Pile-Up
The Moment: Bourne chases Paz in a police car, a police car that gets thoroughly totalled in one of the most crash-happy chase scenes in the entire series. Somehow JB walks away from this one, but we're not quite sure how.

Bourne Cool: For all his Superman-esque qualities, you really get the impression that Bourne's been through the wringer here. Those are some serious collisions!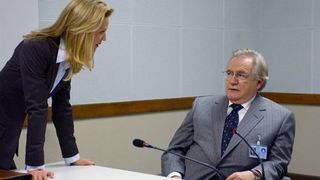 Head To Head
The Moment: Abbott and Landy butt heads over how best to deal with the Bourne situation in one of the series' better exchanges of dialogue. "You're in a big puddle of shit, Pamela," begins Abbott, "and you don't have the shoes for it."

Bourne Cool: In among all the crash bang wallop action, its nice to hear a few zingers here and there. This is one of the best.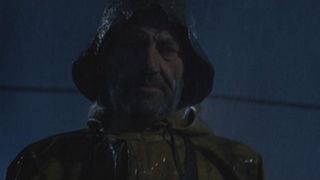 The Story Begins
The Moment: On a wild and stormy night at sea, a fishing boat discovers a lone body floating in the middle of nowhere. Riddled with bullets, but miraculously alive, Jason Bourne is pulled to safety, and the story begins...

Bourne Cool: The first scene sets up the entire premise perfectly, with the discovery of a strange chip embedded in Bourne's hip dragging the audience into the mystery head-first. Total immersion, right from the off.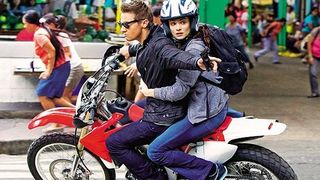 Need For Speed
The Moment: The Bourne Legacy taps into its franchise heritage with a climactic motorbike chase that sees Alex Cross forced to weave between traffic, pedestrians and pursuing police cars, with a rival hitman on his tail for good measure. Phew!

Bourne Cool: It might not have the same charm as seeing Matt Damon thrash a Mini through Paris, but its still an electrifying car chase all the same. And the moment when Cross grinds the bike down a stairway is just inspired.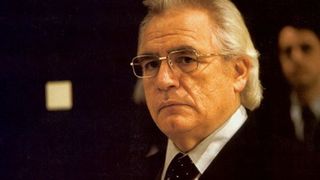 Betrayal
The Moment: Ward Abbott reveals himself to be the true villain of the piece, as he has Conklin taken out by one of Treadstone's hired guns. Not the end he'd envisaged for himself, we'd wager.

Bourne Cool: Brian Cox shifts from slightly cowed co-conspirator to fully paid-up villain in the space of a few seconds. Masterfully done.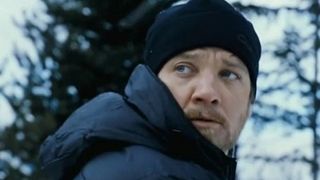 Man vs. Wolf
The Moment: Cross has only just fled the carnage left by an unexpected drone attack, only to find himself pursued by wolves. Unfazed by the situation, he catches one in a trap, wrestles it to the ground, jams him tracking device down its throat and lets the returning drone do the rest. Problem solved, and his pursuers think he's dead into the bargain. Hooray!

Bourne Cool: To clarify, Cross traps, overpowers and forcefeeds a wolf, before out-sprinting it and getting clear of the explosion that reduces it to a stain on the snow. That's pretty cool!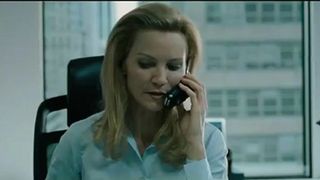 Get Some Rest
The Moment: Paul Greengrass ties the second and third films together by repeating the final scene of Supremacy in Ultimatum , only this time, showing the involvement of Vosen in the conversation. He was listening in, all the time!

Bourne Cool: it was a cool scene first time around ("Get some rest, Pam"), and provides a nice link between films two and three. Nicely played, Mr. Greengrass.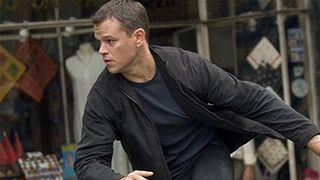 The Running Man
The Moment: Bourne flees the authorities through the streets of Berlin that includes a detour by boat, a muscle-sapping climb across the underside of a bridge, a dash across some train tracks, and finally a seat on the subway. You've earned it, mate!

Bourne Cool: For all its superlative car chases, one of the series' greatest pursuits takes place on two legs. Thrilling stuff.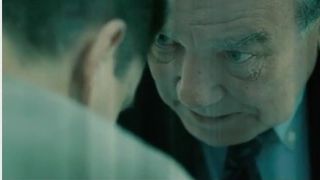 Bourne Begins
The Moment: Bourne finally fills in the gaps in his past when he confronts Dr. Albert Hirsch about how he came to be "Jason Bourne". The answers don't make for particularly pleasant listening, but they're answers all the same…

Bourne Cool: The flashback sequences make for fairly uncomfortable viewing, with Albert Finney on particularly menacing form here. "Welcome to the programme" indeed...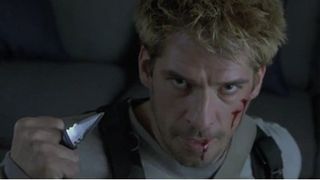 Home Invasion
The Moment: Bourne returns to his flat in Paris, but can't help feeling that something is amiss. Sure enough, the tension is duly broken by an assassin rappelling through the window, submachine gun blaring. And so it begins…

Bourne Cool: The tension that builds up to Bourne's first proper fight is almost unbearable, and the face-off itself is equally thrilling. It's also notable for demonstrating Bourne's unmatchable ability to use his surroundings to his advantage, on this occasion, by grabbing a nearby biro…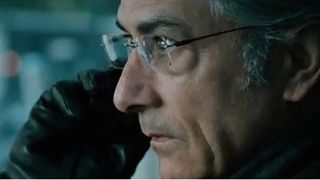 Data Theft
The Moment: Bourne contacts Vosen to inform him he's infiltrated Blackbriar HQ. "Where are you?" enquires Bourne. "I'm sitting in my office," bluffs Vosen. "I doubt that," comes the reply. "Why would you doubt that?" responds a bewildered Vosen. "If you were in your office right now we'd be having this conversation face to face."

Bourne Cool: Bourne's payoff line is a great one, but it also shows just how far he's come across the three films. He was never this calm and collected in Identity !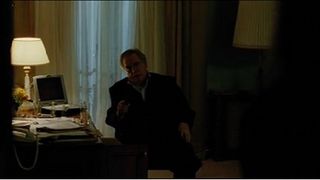 No Remorse
The Moment: Having uncovered Abbott's misdeeds, Landy aims to confront him back at the hotel, only to find him waiting for her, gun in hand. However, there is to be no shootout, as Abbott sneers "I'm not sorry," before turning his weapon on himself.

Bourne Cool: Abbott remains a villain to the end and dies suitably unrepentant. And even though we know it's coming, the gunshot always precipitates a jump!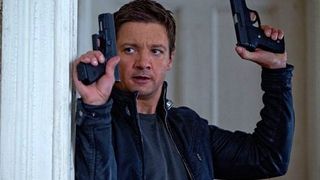 Cross To The Rescue
The Moment: Dr. Shearing is about to be taken care of by Byers' operatives, only for Cross to appear from nowhere and engage them in a jarring fistfight, before cranking things up a notch with a pair of pistols. Nobody walks…

Bourne Cool: It gives Jeremy Renner his first real opportunity to show what he can do, and he more than lives up to Matt Damon's efforts. The fire extinguisher kill is terribly cool, as is Renner's athleticism in swiftly scaling the exterior of a three story house, a stunt he performed himself.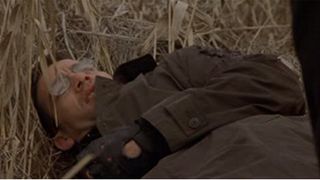 Look What They Make You Give
The Moment: Bourne engages The Professor in a shootout in a field near Eamon's house, before eventually taking down his target with a couple of well-aimed shotgun shells. Slumped in defeat, his enemy reveals a little more detail about Treadstone, before eventually passing on.

Bourne Cool: Clive Owen's one scene of dialogue is particularly effective, as he reveals himself to be a very normal-seeming man, caught up in Treadstone's web of deception, just as Bourne is. "Look what they make you give," he says sadly, before breathing his last.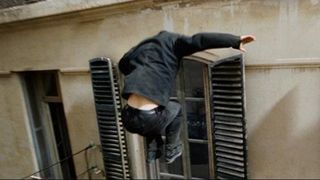 Roof Chase
The Moment: Bourne pursues Blackbriar agent Desh across the rooftops of Tangier, before eventually cornering him in a room and engaging him in a bout of fisticuffs. Innovation points are this time scored by Bourne's use of a nearby book…

Bourne Cool: It's a sequence of breathtaking intensity, with the window-leap moment (in which the camera seems to jump with Bourne) a particular highlight.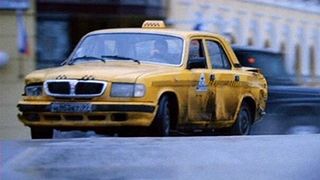 Taxi Driver
The Moment: Bourne goes weaving his way through some serious crosstown traffic in the second film's big car chase. Moscow has never seemed so perilous as the police and Kirill give chase in a truly stomach-churning sequence.

Bourne Cool: Paul Greengrass ramps up the shakey-cam kinetics to nigh-on unbearable levels for a chase that leaves the audience feeling as dizzy and disorientated as the protagonists. Extremely effective, if a little full-on!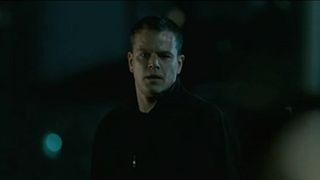 David Webb Returns
The Moment: Having informed Dr. Hirsch that he is no longer Jason Bourne, our hero flees the building, only to be confronted by Paz. Paz asks why he didn't kill him when he had the chance, to which Bourne replies: "Do you even know why you're supposed to kill me? Look at us. Look at what they make you give."

Bourne Cool: By this stage, Bourne really has come full circle, and having him quote the dying words of The Professor is a lovely touch.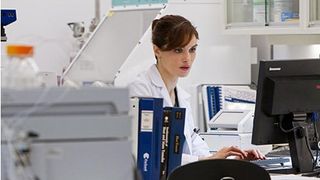 Doctor Death
The Moment: A brainwashed scientist performs a massacre at the science facility where the Outcome agents are supplied with their meds and given regular checkups. Only Dr. Shearing escapes with her life.

Bourne Cool: It's a hugely shocking sequence as the shooter removes the doorhandles from the lab, allowing him to take his time as he picks off the terrified doctors, one by one. Cue plenty of lurid splatter against the antiseptic white surfaces of the lab.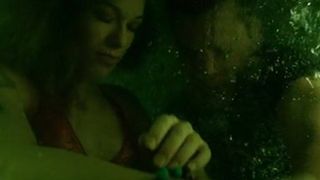 Lost Love
The Moment: Kirill pursues Bourne and Marie through a fraught car chase before catching the latter with a bullet that sends the car careening over a bridge. Underwater, Bourne desperately tries to free his lover, but he's too late, and forced to leave her body in the murky depths.

Bourne Cool: It was a bold move to kill Marie off in Supremacy 's opening act, but isolating Bourne makes sense narratively, and this underwater farewell packs a real emotional punch.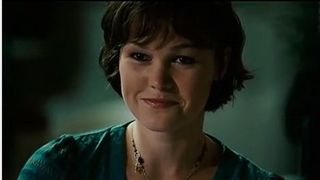 Shot And Missing
The Moment: As Nicky Parsons watches the news broadcast concerning Bourne's shooting, the final sentence catches her attention: "however, after a three-day search, Webb's body has yet to be found". A small smile plays across her mouth, the scene cuts to a body underwater, and Bourne swims to freedom.

Bourne Cool: Everything about the finale is perfect, from Stiles' reaction to the perfectly timed kick-in of Moby's Extreme Ways . Gold.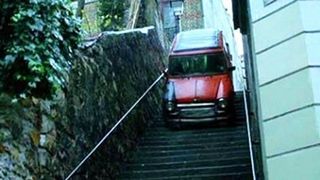 Rush Hour
The Moment: Bourne and Marie attempt to evade the attentions of Paris' finest law enforcers in a hair-raising car chase through the city's narrowest streets. That poor little Mini takes one hell of a thrashing!

Bourne Cool: The series' first car chase of note is a bruising affair, as Bourne pushes his pint-sized getaway vehicle to its absolute limit. The moment when he sends it careening down a flight of steps is a definite high point!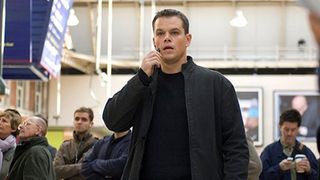 Waterloo
The Moment: The Bourne Ultimatum begins in spectacular style as Bourne attempts to guide Paddy Considine's Guardian journalist safely through Waterloo station, without getting a bullet in his head. Sadly, the journo isn't too good at following orders…

Bourne Cool: It's the single most exhilarating set-piece in a franchise full of them, with the commuter-led bustle of Waterloo forming the perfect backdrop to the crucial game of cat and mouse. What a way to kick off the threequel!