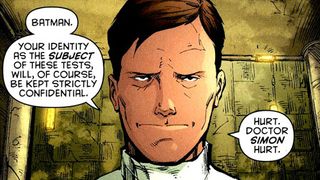 Dr. Simon Hurt
The Villain: A brilliant psychologist charged with creating a number of replacement Batmen for the GCPD, Dr. Hurt realised that Batman is fuelled by tragedy, and set about traumatising his candidates in order to make them better crime-fighters. Safe to say his methods aren't strictly "by the book"…

Movie Potential: Hurt's personal mission to defeat Batman and sub in a psychotic replacement could be the germ of an exciting story, with Batman held captive and forced to watch as his counterpart wreaks havoc upon Gotham.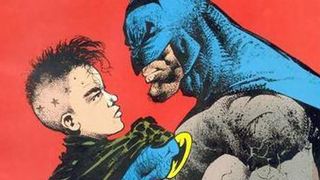 The General
The Villain: An unhinged teenager with the mind of a strategic genius, Ulysses Hadrian Armstrong achieved notoriety by burning his military school to the ground before amassing an "army" of criminals and becoming one of Gotham's major crime bosses.

Movie Potential: It would be interesting to see Batman take on a younger foe than himself, so we'd keep The General moderately fresh-faced as he rises to prominence in Gotham's underworld. Ezra Miller would be a decent fit for the part.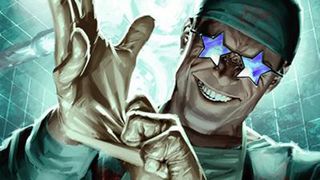 Crime Doctor
The Villain: Bradford Thorne, a skilled surgeon with an unpleasant predilection for inflicting pain upon his patients. Initially created as a clownish character who would "prescribe" villains advice on how to commit better crimes, he has evolved into a sadist who uses his position to procure a ready supply of victims.

Movie Potential: Demented doctors are always an unsettling prospect, so we'd cast Thorne as a serial killer with a taste for torturing his victims, with Paul Giamatti as our first choice to fill the role.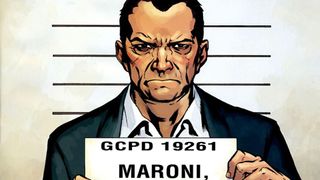 Sal Maroni
The Villain: A key figure in Gotham's network of organised crime, Sal "The Boss" Maroni is most notorious for throwing the acid that transforms a young Harvey Dent into the supervillain, Two-Face. A rival of the Falcone family, he plays a key role in seminal mob storyline, The Long Halloween .

Movie Potential: He was last seen in The Dark Knight as the crime boss who stepped in to fill the power vacuum left by the newly imprisoned Carmine Falcone. Both he and Falcone brought a welcome new dimension to Nolan's Gotham, and we'd like to see him crop up again in any future reboots.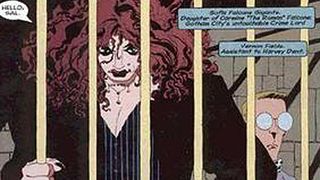 Hangman
The Villain: Speaking of mobsters, Carmine Falcone's daughter Sofia also takes her turn to terrorise Gotham, adopting the alter-ego of Hangman, a serial-killer targeting members of the GPD. Throw in her family connections, and she's a villain deserving of Batman's respect.

Movie Potential: Including a female villain has the added benefit of possible sexual chemistry with the Bat. We'd cast Eliza Dushku in the role to maximise that possibility...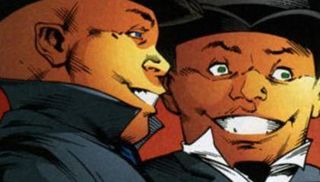 Tweedledum & Tweedledee
The Villains: Deever and Dumfrey Tweed are a pair of criminal cousins who bear a striking resemblance to each other. As you might have guessed, neither of them are terribly keen on physical activity, so they can often be found masterminding various schemes while their henchmen carry out the more arduous task of scuffling with Batman.

Movie Potential: They might have cropped up in a cameo role during Tim Burton's reign, but we'd say it's unlikely this corpulent double-act will be appearing on-screen anytime soon. Although if they did pop in, we'd like it to be in a recreation of the scene in the Arkham Asylum comic-book in which they appear bonded to each other by a pair of electroshock helmets…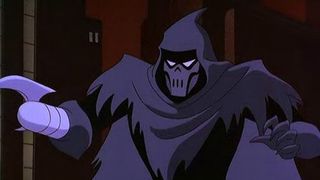 The Phantasm
The Villain: The alter-ego of Andrea Beaumont, who dons this grim disguise in order to avenge her father's death at the hands of one Jack Napier, a mob hitman who would go on to become The Joker.

Movie Potential: She's already been covered in the animated film Mask Of The Phantasm , but we'd love to see a live-action remake, with Noomi Rapace as Andrea Beaumont.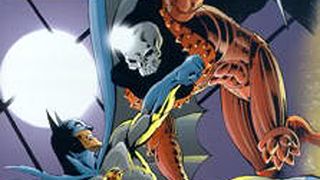 The Reaper
The Villain: Yet another Gotham playboy with a vendetta against the city's criminals, Judson Caspian is hell-bent on claiming revenge for the murder of his wife by taking out Gotham's street thugs on a nightly basis. His weapon of choice? The scythe from which he takes his name…

Movie Potential: The scythe is a little melodramatic, but there's plenty of mileage in Batman having to take on a rival vigilante. We'd have Chris Pine subvert his heroic persona as the sneering yuppie in question.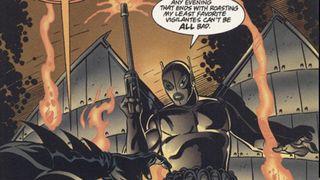 Firefly
The Villain: A delusional pyromaniac who believes he can see visions in the fires he starts, Firefly might not be the sharpest tool in the box, but he knows how to create his fair share of mayhem. With a flamethrower and grenade launcher among his typical equipment, he's quite the firestarter. A twisted firestarter.

Movie Potential: We're definitely talking secondary villain here, but Firefly (minus his ridiculous suit) would make for a suitably unhinged underling to a manipulative higher power. We'd have Elijah Wood tap into his Maniac persona to play him.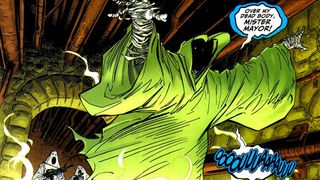 Spook II
The Villain: A former government operative pushed too far, Spook gradually loses his marbles to the point that he believes himself to be dead. Seeking revenge, he targets the heads of the various companies he blames for causing his death. Troubled man.

Movie Potential: Ditch the daft ghostly costume, re-cast him as a common or garden nut and you've got a compelling foe on your hands. Given that he thinks he's already dead, The Spook has nothing to lose, making him a potentially dangerous opponent for Batman.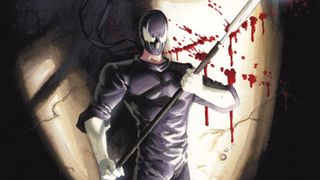 Grendel
The Villain: Grendel, AKA Hunter Rose, is an egomaniac assassin who first travelled to Gotham with the express purpose of pitting his wits against the Dark Knight. A masked "law-enforcer" like Batman, he goes further than the Dark Knight would ever dream, playing executioner to those who fall short of his exacting standards.

Movie Potential: As a fairly minor villain in the comic-books, Grendel would be a fresh addition to Batman's on-screen rogues' gallery, and with his diametrically opposed view of crime and punishment, an interesting foil for the Dark Knight.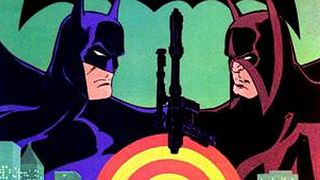 The Wrath
The Villain: As with so many members of Gotham's rogues' gallery, The Wrath was set on the path of villainy by seeing his parents accidentally killed by a rookie cop. Taking this rather badly, The Wrath went on to dedicate his life to slaying law enforcers while wearing an outfit that bears more than a passing resemblance to Batman's.

Movie Potential: Given The Wrath's physical similarities to Bats, his inclusion could work well as part of a storyline in which Batman takes the fall for his crimes. Can our hero bring The Wrath to justice before his own reputation is well and truly shot?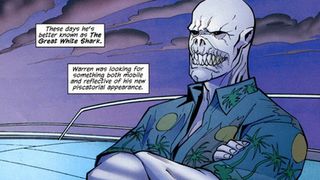 The Great White Shark
The Villain: Warren White, a corrupt financiers who wound up in Arkham after screwing his investors out of millions. Sadly for him, an encounter with Mr. Freeze left him hair and noseless, hence his nickname. As with so many before him, Arkham allowed his criminal tendencies to flourish, with the Shark getting his teeth into a good section of Gotham's underworld which he runs from the confines of his cell.

Movie Potential: We'd do away with the hair-stripping incident and just have him as a gangland kingpin, running his operation from behind bars. It would make for an interesting dynamic if Batman already had his villain locked up from the get-go, and Jackie Earle Haley would play a great Shark...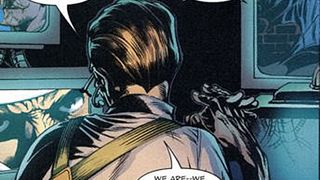 The Calculator
The Villain: When he first appeared in the comic-books, The Calculator was a laughably naff villain with a computer built into his chest that allowed him to "calculate" his enemies' tactics. However, the 2004 mini-series Identity Crisis saw him revamped as a kind of villainous version of Oracle, offering up priceless information to a whole host of villains thanks to his remarkable computer skills. We like that version a lot better.

Movie Potential: We like the idea of Calculator as an unseen adversary, pulling Batman's strings by giving his enemies the edge. As for who should play him, we like Kiefer Sutherland for this one.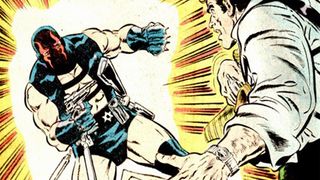 KGBeast
The Villain: The puntastically named KGBeast is a lethal assassin trained by "The Hammer", a secret cell of the KGB. By the time of his first appearance in Ten Nights Of The Beast , he is thought to have killed at least 200 people. The man isn't afraid to get his hands dirty…

Movie Potential: We're not sure modern moviegoers would swallow that name, but there's no reason why the germ of the character couldn't remain intact, especially if the film were set against a Cold War backdrop. If the X-Men can embrace a period setting, why can't Batman?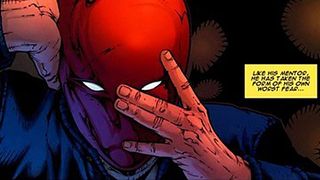 The Red Hood
The Villain: The resurrected Jason Todd (a former Robin killed by the Joker) who returns to Gotham as The Red Hood, a psychotic vigilante who serves as a violent counterpoint to the Bat.

Movie Potential: You'd have to drastically revamp the backstory, as bringing people back from the dead is a bit of a stretch even for Gotham. This would probably work best as a disillusioned Robin turning to the dark side, having seen Batman's methods fail to prevent another supervillain from slaughtering a raft of innocent civilians.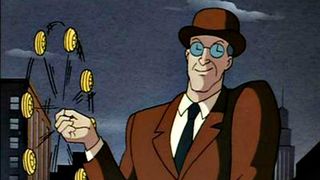 The Clock King
The Villain: An obscure character from the comics popularised by an episode of The Animated Series , Temple Fugate is a man obsessed with punctuality, a character trait that allows him to memorise the in-depth workings of the Dark Knight's busy schedule. More threatening than he sounds, honest!

Movie Potential: A few minor tweaks to the character, and a seemingly bizarre gimmick could be twisted into an obsessive-compulsive nightmare, with Fugate demanding that Batman jump through hoops within ever-diminishing time-limits before people start getting dead. John Hawkes to play him with jittery, twitchy menace.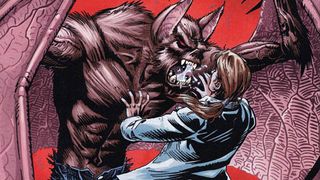 Man-Bat
The Villain: Dr. Kirk Langstrom's attempt to cure his degenerating hearing ends up pretty much the same way every comic-book scientist's misadventures play out: he transforms himself into a hideous monster, in this case a giant bat. Who better to take on Man-Bat than, er, Batman? That's right, noone.

Movie Potential: It might be Jekyll and Hyde by the numbers, but there would still be some interest to be derived from seeing Batman take on a giant version of the creature he once feared. It would be something of a departure from the Nolanverse, though, granted.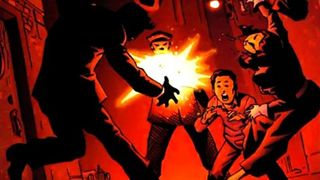 Joe Chill
The Villain: The petty criminal who murdered Bruce's parents out of sheer desperation on a wintery night in Gotham City. His actions have cast a shadow that has loomed so large over Bruce's life, that he's one of the most formative characters in the evolution of the Bat. With that in mind, we couldn't really leave him out, could we?

Movie Potential: As significant a character as he is, we really don't want to see him in any further Batman films. We know the origin already. There's really no need to go over it all again.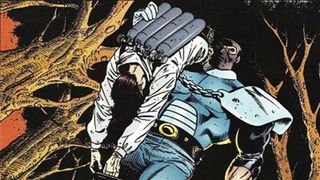 Lock-Up
The Villain: A character who first cropped up in The Animated Series , Lock-Up is a man obsessed with an extreme form of law-enforcement that sees him attempting to wipe out some of Gotham's less desirable characters once and for all. Obviously, he and Bats don't see eye to eye on how crime should best be fought, leading to a number of highly-charged showdowns.

Movie Potential: Lock-Up has a couple of different origin stories, but we'd adapt the one in which he's chief of security at Arkham Asylum. We'd have Lock-Up seizing control of the complex with a view to killing all its inmates, forcing Batman to break in and forge fragile alliances with some of his oldest foes in order to stop him.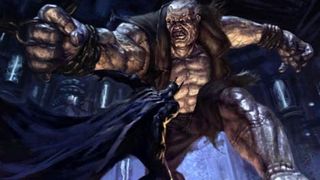 Solomon Grundy
The Villain: Cyrus Gold was a 19th Century merchant who was murdered and dumped in the mysterious Slaughter Swamp, just outside Gotham City. Some five years later, he rose again, transformed into a giant, undead monster. it'll take more than a well-aimed batarang to bring this guy down…

Movie Potential: For some reason, Chris Nolan decided not to incorporate Grundy into his story, but that's not to say he couldn't work in a more fantastical take on the franchise. If Tim Burton were given another crack at it, he'd slot into his Gothic cityscape a treat. A Batman monster movie… it could work!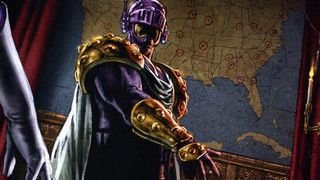 Prometheus
The Villain: Born to a pair of free-spirited criminals, Prometheus travelled cross-country with his folks until a particularly bloody gunfight with local law enforcement saw the pair of them shot down in front of him. It was a formative moment in the young man's life, and one that informed his decision to wage war upon police and superheroes alike.

Movie Potential: if you were strip out the more out-there elements of the character's backstory (we haven't mentioned his trips to space), Prometheus would serve as a believably anti-authoritarian villain. We'd have snarling Josh Brolin to play him, given the choice.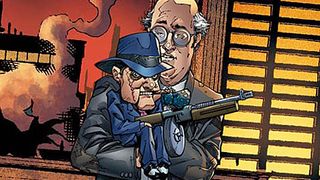 The Ventriloquist
The Villain: Arnold Wesker, a violent criminal suffering from a dissociative identity disorder that leads him to follow "orders" from his dummy, a tiny wooden gangster known as Scarface. A particularly unhinged fellow, even by Arkham standards!

Movie Potential: Ventriloquist's dummies are always frightening, let alone one that's operated by a fully paid-up lunatic. If Warner want to pit Batman against a frightening "real-world" villain, they could do a lot worse. Although we'd scrap the supernatural element occasionally adopted by the comics. The doll can't really be alive…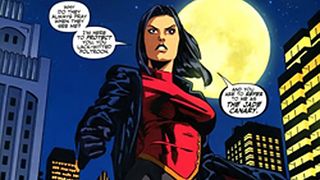 Lady Shiva
The Villain: A martial arts specialist and assassin of the highest order, Lady Shiva initially makes her way to Gotham when Batman seeks her help in the recuperation process after having his back broken by Bane. As many others have done before her, she attempts to coerce the Bat into using lethal force, only to discover him resolute in his one rule.

Movie Potential: We've not seen Batman face any lady-villains for quite some time, and the complex Shiva would be a good starting point from which to reverse that trend. Having her begin as an ally to the Bat would help add emotional clout to their eventual antipathy, so we'd keep the re-training element in. As for casting, we'd have Maggie Q bring her high-kicking Nikita credentials to the big screen.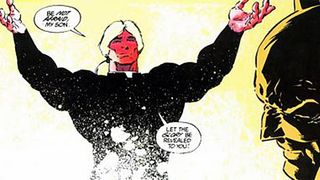 Deacon Blackfire
The Villain: The Deacon is a predatory cult leader, recruiting an army of devotees from Gotham's massed ranks of homeless citizens. He begins by using them to wage war on crime, but it isn't long before Blackfire has set his sights upon taking over Gotham as a whole.

Movie Potential: Chris Nolan's use of non-super villains has paved the way for "ordinary" nutcases like the Deacon to go toe to toe with the Bat. How about Mel Gibson for a piece of headline-grabbing casting?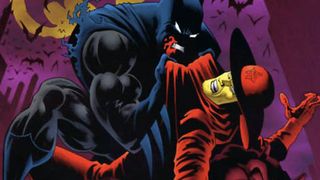 Anarky
The Villain: A terrorist in the mould of V from V For Vendetta (they even look similar), Anarky is the inevitable product of Gotham's widespread corruption, an idealist who believes violence is justifiable in order to weaken the state.

Movie Potential: The presence of Anarky would present Bats with an interesting moral dilemma. Knowing how bent Gotham's power structure is, could it be that Anarky has an ideological point? Or is killing never justified, even for the greater good? It's a poser…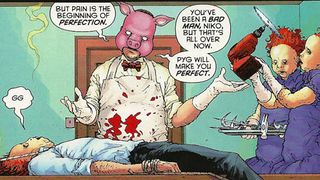 Professor Pyg
The Villain: Described by creator Grant Morrison as, "one of the weirdest, most insane characters that's ever been in Batman," Professor Pyg butchers his victims in order to transform them into genderless, lobotomised creatures with bizarre masks fused into the flesh of their faces. As you do.

Movie Potential: If Warner wanted to take Batman into really dark territory, they could do worse than investigate Professor Pyg's signature brand of body horror. We'd cast former child-star Haley Joel Osment as the man in question. He would be terrifying!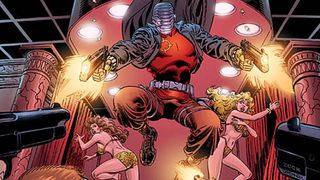 Deadshot
The Villain: The world's most accurate assassin, Deadshot is said to have never missed a target in his many years of bloodshed. All except one, that is. Can you guess who he missed? That's right, he wears a cape and a cowl…

Movie Potential: A callous villain, entirely contemptuous for human life, Deadshot would make for a compelling nemesis. We'd have him seek the Bat's attention by randomly picking off victims around Gotham, leading our hero a merry dance as he does so. Casting-wise, we'd have Michael C. Hall recreate some of Dexter's more chilling personality traits.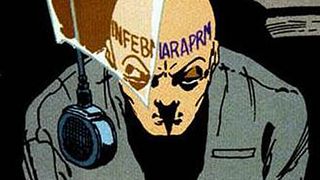 Calendar Man
The Villain: Julian Gregory Day (treble calendar pun in his name there) is a master-criminal with a bizarre obsession with the days of the week, planning and theming his various crimes in accordance with the day on which they will take place. Whatever floats your boat…

Movie Potential: He's a little too contrived to shoulder the burden of primary villain, but he could work in a similar capacity to his role in The Long Halloween , in which he advises Batman from the security of his cell, Hannibal Lecter style.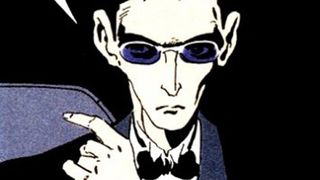 Holiday
The Villain: The mysterious murderer who takes out his targets on every holiday of the year, it is when trying to bring Holiday to justice that Batman consults the Calendar Man for help. Similar MOs you see…

Movie Potential: The Long Halloween would make for a good film, playing out like a mystery thriller, with plenty of twists and turns revealed along the way. David Fincher as a potential director? Just a thought...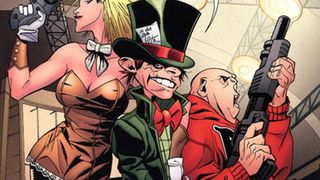 Mad Hatter
The Villain: Jervis Tetch, an obsessive compulsive criminal with an obsession with the Lewis Carroll story from which his character is inspired. One of Batman's more unusual foes, but a fairly grim one too, not least because of his unhealthy fixation with children.

Movie Potential: If you were to drop the outlandish outfits and recast him as a paranoid schizophrenic with possible paedophilic leanings, you'd have a proper villain worthy of the name. It would be a bold move though…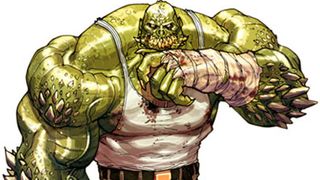 Killer Croc
The Villain: One of the more visually outlandish adversaries Batman has ever had to face, Croc is a former wrestler with a scaly skin condition from which he takes his name. Never the most complex of villains, he is one of the more grotesque, turning to cannibalism as his crimes grew more extreme.

Movie Potential: We could see Croc working if his appearance was disfigured by heavy scarring rather than a reptilian skin condition. We don't want just another version of The Lizard crashing about on screen.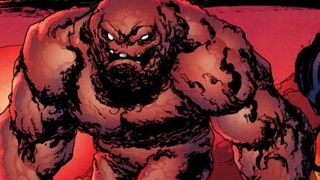 Clayface
The Villain: Basil Karlo, a formerly famous actor with the ability to change his appearance at will thanks to a mysterious substance given to him by a group known as "the mud pack". Yes, okay, he's a little bit far-fetched, but everybody loves a shapeshifter, right?

Movie Potential: He'd probably work better as a secondary villain than the main event, perhaps in a retooled version of Arkham City 's jaw-dropping finale.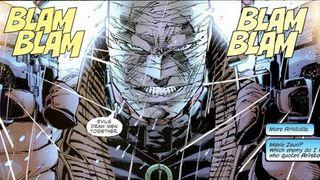 Hush
The Villain: Dr. Thomas Elliot, a childhood friend of Bruce who did for his father by tampering with the brakes in his car. His mother was rescued in surgery by Thomas Wayne, sparking a poisonous vendetta against the family that would only grow with the passing years…

Movie Potential: We'd tell the story in which Hush allies himself with The Riddler, who has worked out that Batman and Bruce Wayne are one and the same. As for casting, we'll opt for Guy Pearce, long rumoured to be playing the Riddler in the third Nolan film...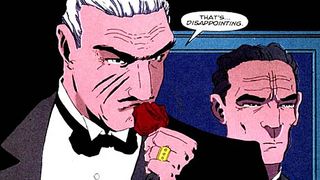 Carmine Falcone
The Villain: The head of one of Gotham's most prominent crime families, Carmine "The Roman" Falcone has his fingers in a huge amount of pies in Gotham's infrastructure, with everyone from judges to cops on his payroll. No wonder they refer to it as "the Roman empire".

Movie Potential: Bringing Gotham's problems with organised crime to the forefront of proceedings was a masterstroke on Chris Nolan's part, pitching his Bat-films as a cross between superhero movie and crime thriller. Falcone should at least play a supporting part in any future outings, if only as a reminder that Gotham has more to worry about than costumed freaks.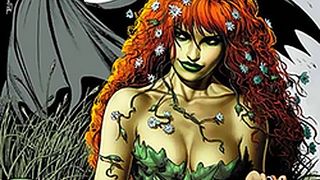 Poison Ivy
The Villain: An insanely sexy villainess, Pamela Isley is an eco-terrorist who regards plant life as superior to the human equivalent. Like a more alluring Charlie Dimmock, then. Maybe.

Movie Potential: Uma Thurman played her with suitable sex-appeal, although her constant punning tarnished the overall package somewhat. Her ecologically motivated crimes would make her a relevant villain to future episodes, although we'd probably do away with the her toxic lips, which stray a little too close to a fully-blown superpower.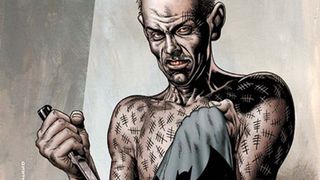 Victor Zsasz
The Villain: While many of Gotham's criminals are hell bent on destroying either the city, Batman or both, Victor Zsasz is a common or garden serial killer, whose chronic gambling problem tipped him over the brink of sanity. Carving a notch in his body for every life claimed, he purports to liberate his victims from the futility of existence.

Movie Potential: He cropped up briefly in Batman Begins , but we'd like to see his crimes played out in all their grisly detail. A nightmarish villain, made all the more terrifying by his plausibility.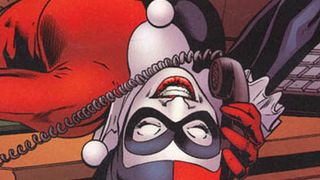 Harley Quinn
The Villain: Initially cropping up in Batman: The Animated Series , Harley's backstory was expanded upon in the comics, in which she is revealed to be a former Arkham psychiatrist manipulated by the Joker into falling in love with him. A key figure in the Arkham games, it's about time she made her big-screen bow.

Movie Potential: It would be difficult to include Harley without recasting the Joker, but a bold move could involve an early death for Mr. J, followed by his lovelorn girlfriend vowing to take revenge on Bats. As for who should play her, we'd like to see Amanda Seyfried given another opportunity to tap into her unhinged side…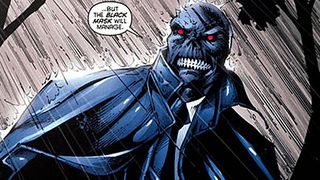 Black Mask
The Villain: Springing from a similarly privileged background as Batman, Roman Sionis was a wrong 'un from the off, burning down his family home with both his parents inside. Inheriting their fortune, he took over the family business, only for things to go belly up and the company to be bought out by one Bruce Wayne. Carving himself a disguise from his father's coffin, Roman turned to a life of crime as the Black Mask.

Movie Potential: He'd work well should the franchise remain in the gritty, realistic universe created by Nolan, with his enmity towards Bruce Wayne a rich seam of storytelling to potentially be mined.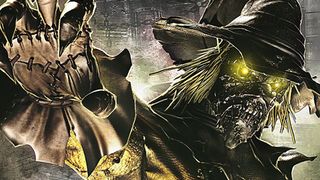 Scarecrow
The Villain: Dr. Jonathan Crane uses similar techniques to Batman in order to achieve his goals, namely by using his enemies' fears against them. However, whilst the Bat only scares the bejesus out of those who deserve it, Scarecrow will happily turn his hallucinogenic serum upon anyone unlucky enough to cross his path.

Movie Potential: After Cillian Murphy's superlative portrayal in Batman Begins , Scarecrow probably won't be resurrected anytime soon. Although if he does, putting him in charge of Arkham once more would be a good place to start.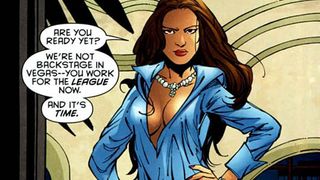 Talia al Ghul
The Villain: The daughter of Ra's and a fellow member of the League of Assassins, Talia enjoys the same complex relationship with Batman as her father does, with things made more complicated still by the romantic tension that exists between them. Whether she counts as a full-blown villain is up for debate, but she's certainly one of the more intriguing characters in Batman's life.

Movie Potential: Will she be making an appearance in The Dark Knight Rises , as rumours would so persistently have it? You'll have to wait until Friday to find out...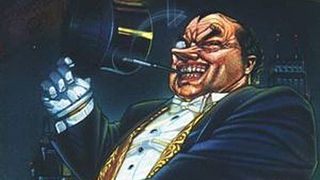 The Penguin
The Villain: Oswald Cobblepot, a pint-sized gangster who runs Gotham's premiere night-spot for hoods, thugs and general undesirables, The Iceberg Lounge. Carries an umbrella with an in-built machine gun, one of our favourite gadgets of all time!

Movie Potential: Danny DeVito played him as a gothic grotesque in Batman Returns , but we could see him fitting into a new version of Gotham as a Mob kingpin in the vein of Falcone and Maroni. Christopher Nolan is famously not a fan, but we still reckon he would have fitted into the director's universe nicely.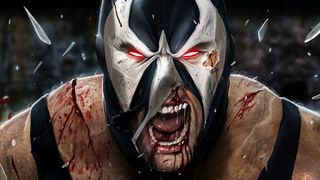 Bane
The Villain: Batman's most physically overwhelming foe, Bane was born and raised in a nightmarish Caribbean prison, where he became a test-subject for the volatile Venom formula. Granting him irresistible physical strength, Bane is now dependent on the drug, withdrawal from which would be catastrophic. That said, it did grant him the strength to break the Bat in half…

Movie Potential: Having been relegated to bungling henchman duties in Batman & Robin , Bane looks set to receive his definitive big-screen treatment through Tom Hardy's portrayal in The Dark Knight Rises . We can hardly wait…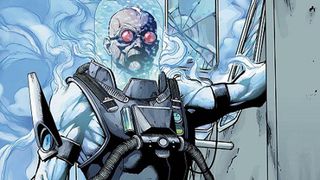 Mr. Freeze
The Villain: A villain shrouded in pathos, Victor Fries was a brilliant scientist specialising in cryogenics, who married a beautiful young woman named Nora. When Nora fell prey to a degenerative condition, Fries placed her in cryo-stasis and has dedicated his life to finding her a cure. Sadly for him, his mental state has deteriorated drastically as a result…

Movie Potential: Arnie's pun-tastic performance was a bit of an insult to the multi-layered character of the comics, and we'd love to see his tragic backstory explored with the considered approach it deserves.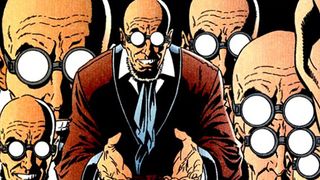 Hugo Strange
The Villain: Deranged psychiatrist Hugo Strange is a character just aching to be brought to the big screen, his morally suspect methods of practice allying with an all-consuming obsession with Batman to make for a genuinely troubling villain. His recent appearance in Batman: Arkham City gave us a taste of his potential, and now we want more.

Movie Potential: We'd love to see an adaptation of the Prey storyline, in which Strange hypnotises psychotic cop Max Cort into becoming the vigilante Night Scourge, in order to draw the Bat out of the shadows. Would we be laughed out of town for suggesting Robin Williams for the role? Yes? Okay, then...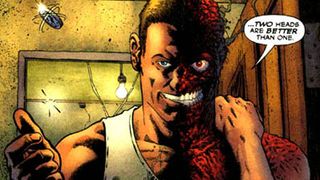 Two-Face
The Villain: A white knight brought down to the level of the thugs he'd worked so hard to fight against, Harvey Dent's character arc is one of the most heartbreaking of all Batman's adversaries. A former ally of the Dark Knight, his horribly scarred visage is a constant reminder to the Bat of one of his greatest failures. Could his psychological collapse have been averted had Batman reached out to him sooner? We'll never know…

Movie Potential: Taking Tommy Lee Jones' twitching panto routine out of the equation, the most successful presentation of Harvey's story was in The Dark Knight , although even then, the Two-Face side of his journey felt a mite rushed. He deserves to be the main villain in a future instalment, somewhere down the line.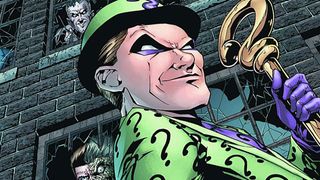 The Riddler
The Villain: Edward Nashton (or Edward Nigma, depending on your backstory of choice) is Gotham's foremost egomaniac, determined to prove himself superior to "the world's greatest detective" by outwitting him with his fiendish puzzles and mysteries. He once managed to deduce Batman's secret identity, only for a head injury to send that knowledge back into the ether. Curses!

Movie Potential: Jim Carrey's uber-camp portrayal might have been entertaining, but we'd love to see the character played as a brilliant but psychologically damaged character with a darker edge. Not for nothing was the Riddler thought to be Nolan's villain of choice for the third film…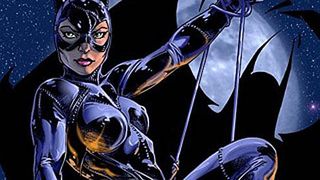 Catwoman
The Villain: Selina Kyle… master thief, ultimate survivor, leather fetishist. One of the most intriguing villains on this list, largely thanks to her frequent flip-flopping between the sides of good and evil. Superhero stories don't tend to deal in shades of grey, but Catwoman is forever walking the tightrope with suitably feline grace…

Movie Potential: We'll soon see how Ann Hathaway's version measures up to Michelle Pfeiffer's slinky incarnation, but as far as Chris Nolan is concerned, she's a knockout. He's even suggested she receive her own spin-off film! Although that didn't work out so well last time...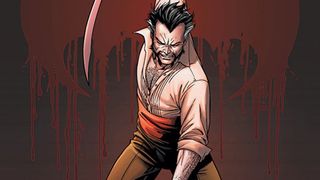 Ra's al Ghul
The Villain: The centuries old figurehead of the League Of Assassins (or "shadows" in the films) works as an excellent foil to the Dark Knight due to the fact that their world-views are largely the same. Both men have dedicated their lives to eradicating criminality, but while Ra's believes villainy should be punished by death, Batman retains some degree of faith in humanity. Or at least that no man can be judge, jury and executioner…

Movie Potential: Liam Neeson played the character as a wily old mentor in Batman Begins , which made much of the duality between master and apprentice. However, there's still plenty of scope to explore the character's more supernatural side, should the franchise move away from Nolan's ultra-realistic framework.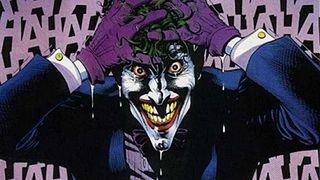 The Joker
The Villain: The Clown Prince Of Crime is undoubtedly Batman's greatest nemesis, and arguably the greatest comic-book villain of all time. Despite the vast array of rogues available to screen and comic-book writers alike, the finest Batman stories are inevitably those in which the Joker is pulling the strings. The yin to Batman's yang, you can't help feeling that both men would be lost without the other. After all, they're not so very different are they?

Movie Potential: To our minds, the character has already received three iconic portrayals on the big screen. Heath Ledger's version is probably the most terrifying, while Jack Nicholson brought plenty of charisma to proceedings, and Mark Hamill's animated version is probably the most faithful to the comics. It would be a difficult character for future filmmakers to return to, unless they were to present an entirely different version, such as the aged-up antagonist of The Dark Knight Returns .