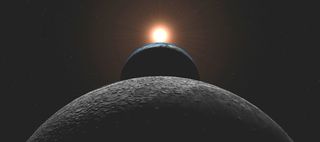 2001: A Space Odyssey (1968)
Plodding Plot: A sprawling odyssey through time and space, making room for an extensive meditation on the dawn of man, before embarking down a more sinister road thanks to a malevolent artificial intelligence system. The dialogue-free opening should tip you off that patience is the name of the game here…

Rewarding Pay-Off: The spectacular light show that greets Bowman's journey in the escape pad. As several subversive magazines helpfully pointed out at the time, this was the precise moment to drop that acid tab you'd smuggled into the theatre.

Action-Packed Alternative: Are you familiar with a film called Star Wars ?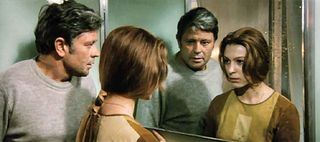 Solaris (1972)
Plodding Plot: Directed by Andrei Tarkovsky, one of the finest auteurs of "slow cinema", this space-set mood piece follows a psychologist's attempts to come to terms with the loss of his wife in the unfriendly environs of the cosmic void.

Rewarding Pay-Off: Okay, so there are no alien encounters, or malfunctioning engines to provide an action-based interlude, but where Tarkovsky succeeds is in wringing a pervading sense of isolation and eeriness from his minimalist set-up. Whether or not you pick up on the allegorical parallels with Communism, the film works beautifully as a study of man's ability (or otherwise) to live with himself.

Action-Packed Alternative: For another look at family crisis amid the stars, check out Lost In Space , just to remind yourself that that film actually happened.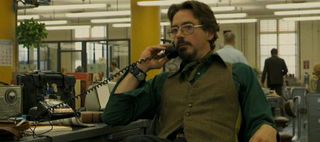 Zodiac (2007)
Plodding Plot: Not only does David Fincher's lengthy thriller offer no promise of a satisfactory resolution (we know from the outset that the Zodiac Killer was never caught), but most of the action surrounds itself with the minutiae of a painstaking investigation we know is doomed from the start.

Rewarding Pay-Off: The pay-off lies in the performances, which are uniformly excellent. Jake Gyllenhaal makes for a believably driven leading man, whilst Mark Ruffalo and Robert Downey Junior provide excellently charismatic foils.

Action-Packed Alternative: Fincher's other serial killer movie Se7en is a more conventionally pulse-quickening affair. That one ends on a downer too, mind.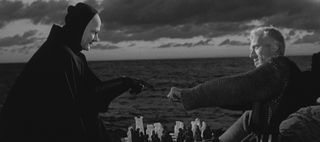 The Seventh Seal (1957)
Plodding Plot: An examination of faith and mortality from the master of controlled pacing, Ingmar Bergman. The story follows a disillusioned knight through a series of encounters with Death, but really, this one is about mood and theme more than what happens next.

Rewarding Pay-Off: It's not what you'd call a happy ending, but Death does indeed claim his man at the close. As the man said, "noone escapes me".

Action-Packed Alternative: Meet Joe Black , in which Death takes on a more cuddly appearance in the shape of dashing Brad Pitt.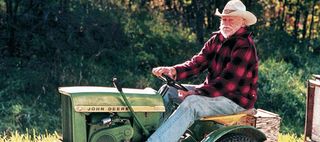 The Straight Story (1999)
Plodding Plot: The story of an elderly man crossing the country on a motorised lawnmower in order to visit his sickly brother… Easy Rider it ain't.

Rewarding Pay-Off: It's arguably David Lynch's most heartfelt work, and it would be a hard heart indeed that didn't end up rooting for the old buffer on his improbable journey.

Action-Packed Alternative: Fear And Loathing In Las Vegas is an altogether more colourful take on the road movie. But it isn't half as sweet-natured.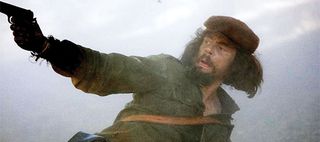 Che (2008)
Plodding Plot: The story of Che Guevara's toppling of the Cuban dictatorship, followed by his attempt to bring about revolution in Bolivia, with a lot of jungle-based trekking in between. It should come as no surprise that the unsmiling second instalment was adapted from an existing script by Terrence Malick.

Rewarding Pay-Off: Not only is Del Toro's performance utterly mesmerising, the battle for Santa Clara set-piece at the end of Part One is an action sequence to savour. Meanwhile, the ending of Part Two might be downbeat, but there's no denying it's effective.

Action-Packed Alternative: There's a fair bit of action involved, but for a more lighthearted, less bum-numbing account of the great revolutionary, The Motorcycle Diaries is a good alternative.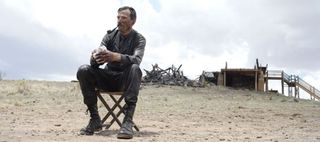 There Will Be Blood (2007)
The Plodding Plot: Villainous oil man Daniel Plainview sets about bending a community to his will, sweeping aside anyone who gets in his way, family or otherwise. There are plenty of fireworks along the way, but this is a film that simply will not be rushed. Twenty minutes passes before the first word is spoken!

Rewarding Pay-Off: Not only do you get Daniel Day-Lewis turning it up to eleven, but at the film's shocking payoff, the title finally fulfils its promise…

Action-Packed Alternative: Mad Max touches upon the same need for hording fossil fuels. What do you mean, tenuous?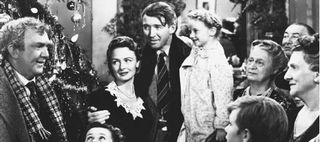 It's A Wonderful Life (1946)
The Plodding Plot: Yes, it's an undisputed Christmas classic, but it doesn't half take its sweet time in getting to the feelgood finale. George Bailey's journey from childhood to middle-age is presented in laborious detail, with several business ventures, a marriage and a war to get through before Clarence the angel makes his bow.

Rewarding Pay-Off: "Merry Christmas Bedford Falls" and the rewarding sense of festive fuzziness that follows.

Action-Packed Alternative: Like your Christmas movies with a bit more machinegun fire? Die Hard might be a better bet.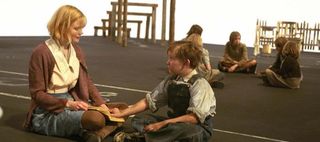 Dogville (2003)
The Plodding Plot: Serial audience-tester Lars Von Trier dispenses with such fripperies as locations and stage-dressing for this stripped back, three-hour yarn about a morally dubious township tucked away in the Rocky mountains.

Rewarding Pay-Off: Pushed to her limits, leading lady Nicole Kidman has never been better, and though initially disconcerting, the film's unique look invites the viewer to concentrate upon the performances of its excellent cast. Oh, and for those craving a bit of action, James Caan turns up at the end to tick that box with gusto…

Action-Packed Alternative: A Michael Bay-helmed reimagining in which the townsfolk are revealed to be jive-talking robots with a penchant for heavy weaponry. Yee-ha!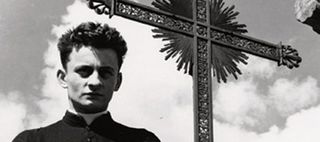 Diary Of A Country Priest (1951)
The Plodding Plot: Robert Bresson's resolutely un-showy drama deals with the mundane life of a young priest making his way in rural France. A ponderous search for spiritual salvation is not exactly manna to the multiplex crowd…

Rewarding Pay-Off: The cinematography is beautiful, and Bresson's painfully human story is remarkably affecting. It's just extremely low-key.

Action-Packed Alternative: Try Priest , to see Paul Bettany's man of the cloth giving both barrels to hordes of toothy bloodsuckers. Or on second thoughts, don't.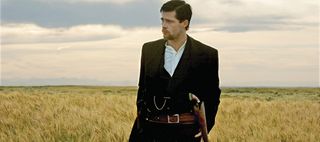 The Assassination Of Jesse James By The Coward Robert Ford (2007)
The Plodding Plot: A brooding, shadowy drama that's less about rootin' tootin' shootouts than it is about disillusionment and self-loathing. Even the big climax is neatly signposted in the title.

Rewarding Pay-Off: Pitt and Affleck are both superb, and Coen brothers regular Roger Deakins was unlucky to miss out on an Oscar for his arresting cinematography. As for the assassination itself, it's just about as bleak and unglamorous as they come.

Action-Packed Alternative: True Grit was a recent example of a more traditionally action-packed tale of fate catching up with a varmint.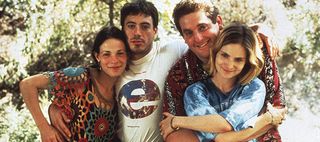 Short Cuts (1993)
The Plodding Plot: Robert Altman's series of interweaving LA narratives are a sight more glossy than many of the films on this list, but that doesn't change the fact that a degree of patience is needed while the film sets about establishing its many characters. It demands a definite investment on the part of the audience, the film jumping to another story just as you're beginning to get a feel for the previous one.

Rewarding Pay-Off: Once you adjust to its peculiar rhythms, this is an achingly cool if decidedly off-the-wall portrayal of contemporary Los Angeles. And the cast is bloody brilliant. Pacing-wise, it moves as life does… a series of slow-paced incidents contributing to a satisfying whole.

Action-Packed Alternative: Crash does the whole interconnecting stories angle, but chucks some explosions, gunplay and Ludacris into the mix.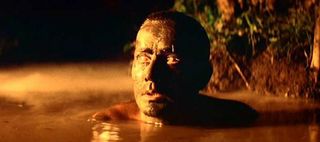 Apocalypse Now Redux (1979 / 2000)
The Plodding Plot: Inserting an hour of extra footage into an already epic journey, Francis Ford Coppola's extended masterpiece becomes less bewildering but arguably much more draining in its longer form.

Rewarding Pay-Off: Some of the additional scenes provide a welcome counterpoint to the jungle fever of the original cut, helping to create a more contemplative journey into hell. And of course, the stunning finale retains all of its old power.

Action-Packed Alternative: There's action aplenty, it's just much more spaced out in this version.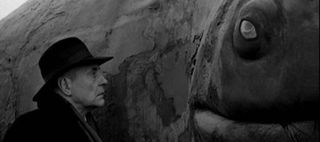 Werckmeister Harmonies (2000)
The Plodding Plot: A slice of surrealism from notoriously "languid" filmmaker Bela Tarr (he of the 435-minute Satantango ) set in a barren, Hungarian township in which order is disturbed by the arrival of a sinister travelling circus.

Rewarding Pay-Off: The plot is fairly impenetrable, but the best policy is to sit back and admire the stunning imagery on show throughout, from the magisterial (and creepy) stuffed whale, to the bizarrely choreographed barroom dancing. Utterly unique, and suprisingly hypnotic, provided you don't go in expecting to understand everything first time around.

Action-Packed Alternative: There are no such troublesome complexities in John C. Reilly's Cirque Du Freak …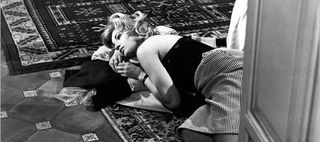 L'Avventura (1960)
The Plodding Plot: When a young girl mysteriously vanishes during a yachting trip to Sicily, her boyfriend and best friend form an uncomfortable bond as they attempt to solve her disappearance. By throwing his lead characters into an unyielding environment and steadfastly refusing to grant them definitive closure, director Michaelangelo Antonioni creates one of the most deliciously obscure slices of cinema you could hope to see.

Rewarding Pay-Off: You're joking, right? Anyone hoping for a neat resolution will be sorely disappointed. Instead, the pleasure comes from witnessing a director skilfully dismantling the traditional structure of what could have been a straightforward adventure movie, and replacing it with a disconcerting study of social displacement.

Action-Packed Alternative: Gone Baby Gone also features a missing girl (albeit a much younger one) and actually stays with that storyline to the end!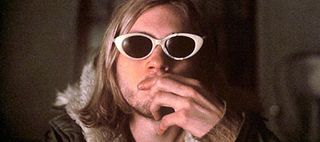 Last Days (2005)
The Plodding Plot: Michael Pitt plays a depressed rock star (modelled upon Kurt Cobain) drifting towards suicide as his friends and hangers-on party around him. Anyone hoping for a sex, drugs and rock 'n' roll blowout will be disappointed: this is a mournful riff on the nature of depression rather than a Cobain biopic.

Rewarding Pay-Off: Less obscure then the tedious Gerry , Van Sant's return to indie filmmaking works a treat here, his observational, detached style the perfect medium by which to portray a man adrift. Disorientating, yes. Pointless, no.

Action-Packed Alternative: Pining for jangling guitars and sex with groupies? Almost Famous is a more conventional portrayal of the rock star lifestyle.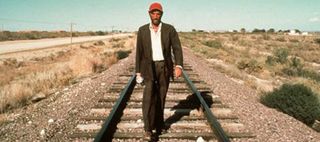 Paris, Texas (1984)
The Plodding Plot: Wim Wenders puts rural America under the microscope with this enigmatic saga about an amnesiac's cross-country odyssey to discover what has become of his wife and child. Lassitude is king as the untamed American landscape hogs the bulk of the spotlight…

Rewarding Pay-Off: The eventual revelation of the lead-character's self-made tragedy provides a shockingly satisfying conclusion to a film spent largely in the wilderness.

Action-Packed Alternative: Tremors . More desert-based dilemmas, this time with a side-order of giant killer worms.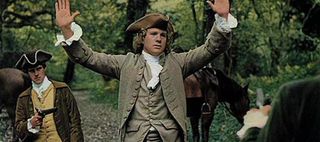 Barry Lyndon (1975)
The Plodding Plot: Stanley Kubrick adapts William Thackaray's notoriously wordy first novel about a ruthless social climber, and his painstaking ascent to a place amongst the aristocracy. Compelling it might be, but it's not one for the impatient viewer.

Rewarding Pay-Off: Despite accusations of a lack of heart, the level of detail present in Kubrick's adaptation is second to none, and the level of unpretentious philosophising he wrings from his characters (or rather constructs) distinctly impressive. So what if they aren't hugely likeable? How many of Kubrick's characters ever are?

Action-Packed Alternative: For costume drama with splatter, go and watch The Patriot . Chances are you'll find yourself a lot more bored than with Kubrick's three hour masterpiece.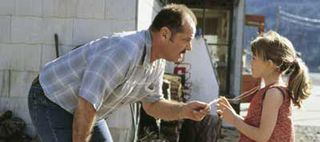 The Pledge (2001)
The Plodding Plot: Jack Nicholson plays a washed-up detective unable to let go of an old case in Sean Penn's bleak and ponderous crime saga. A slow, painful depiction of dedication turning to obsession turning to madness.

Rewarding Pay-Off: It might be a little too grim for some tastes, but the snail's pace never renders things less than engrossing. Nicholson is on top form, reigning himself in impressively, whilst a tear-stained cameo from Mickey Rourke represents another high point.

Action-Packed Alternative: Any number of grizzled, "one-last-case" blastathons churned out by mainstream Hollywood.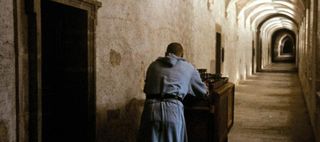 Into Great Silence (2005)
The Plodding Plot: There isn't really a plot, seeing as this is a documentary following the lives of Carthusian Monks living high in the French Alps. Three hours long, it's more or less dialogue-free, fairly repetitive and light on action. But then, what were you expecting? A car chase?

Rewarding Pay-Off: If you can stick with it, it provides an incomparable insight into the dedication and spiritual resolve of its subjects. Just about as meditative a cinematic experience as you could hope for.

Action-Packed Alternative: Of Gods Of Men portrays similarly dedicated monks in the more explosion-friendly setting of civil war.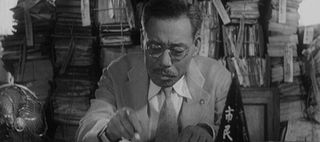 Ikiru (1952)
The Plodding Plot: Tonally the polar opposite of director Akira Kurosawa's kinetic Seven Samurai , the low-key Ikuru tells the less glamorous tale of a dying beaurocrat taking stock of his life and attempting to have a park constructed before his days run out.

Rewarding Pay-Off: Brimming with the same sort of fundamental decency as It's A Wonderful Life , this feelgood epic is impossibly moving in its simplicity. No wonder Steven Spielberg describes it as his favourite film.

Action-Packed Alternative: Michael Douglas also becomes disillusioned with a life of 9-5 drudgery in Falling Down . His reaction is somewhat less constructive…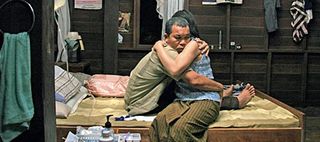 Uncle Boonmee Who Can Recall His Past Lives (2010)
The Plodding Plot: A dying man lies on his deathbed, drifting in and out of consciousness as he "remembers" his former lives as past people. Throw in a soundtrack largely comprised of ambient forest noise, a series of very long shots and a seemingly non-existent narrative, and you're left with a very strange proposition indeed.

Rewarding Pay-Off: If you're open to the notion of cinema as a dreamy, out-of-body experience there is much to savour here. If that description makes you want to gouge your eyes out, it might not be for you.

Action-Packed Alternative: A remake in which one of Boonmee's past lives is revealed to have been as a kung-fu fighting badass. Are you listening Hollywood?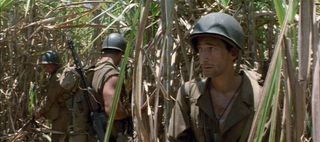 The Thin Red Line (1998)
The Plodding Plot: Terrence Malick's unconventional war saga focuses upon the mental drain of sustained combat, often shying away from displaying the actual violence in favour of showing the sickened and haunted expressions on the faces of the participants. And of course, this being Malick, there are plenty of lingering shots of the South Pacific island and its verdant undergrowth.

Rewarding Pay-Off: The end result is a war film stripped clean of bombast and one that remains exciting despite its more contemplative sensibilities. Quite simply, a triumph.

Action-Packed Alternative: Saving Private Ryan is a more explodey, if vastly inferior, take on the war film.