Scream 4: 14 Possible Plots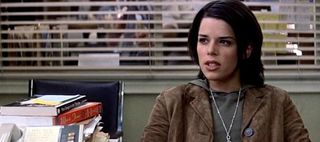 Scre4m: The New Class
Scream Again: Ten years on from the events of Scream 3, survivor Sidney Prescott is working as a guidance counsellor at Woodsboro High, the same school that she attended as a teen. Having laid her demons to rest, she finds herself caught up in another series of murders as her students are bumped off one by one.
Oh, and Dewey's the janitor, having quit the force. Expect stars of Smallville , Gossip Girl and 90210 to populate the teen cast quotient.
Opening Kill: A teenage girl and her boyfriend are murdered in the same house in which Casey Becker (Drew Barrymore) was murdered. It's a seeming re-enactment of that 15-year-old double murder.
Pop References: Buffy The Vampire Slayer , Stab , iPhones, Saved By The Bell .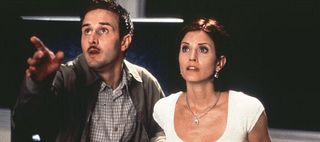 Scream 4: Isolation
Scream Again: Sidney Prescott, Gale Weathers and beau Dewey Riley thought they had put their murderous pasts behind them. But the ten year anniversary of the last Ghostface murder spree is bringing out the crazies.
The trio are plucked from their daily lives (Sidney from Kung Fu classes, Gale from a pedicure sesh), kidnapped and locked away in a grungy, decrepit mansion in the middle of nowhere. There, they face a maze of movie-and-TV-themed booby traps (including a bladed twist on Hole In The Wall ) that could be the end of them.
Opening Kill: Sidney's dad gets it in the neck as he waits in the parking lot for Sid to leave her Kung Fu class. She finds him in the trunk.
Pop References: Saw , various maddening game shows, Cube .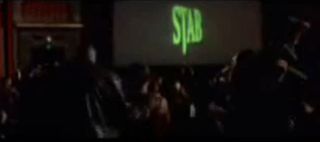 Scream 4: Stab
Scream Again: A new Stab trilogy is rumoured to be in the works, meaning that the media are laying siege to Woodsboro. There, a bloodthirsty filmmaking cowboy decides to create his own unsolicited Stab sequel by filming his aggressive attempts to kill people while wearing the Ghostface costume...
Opening Kill: A dodgy, handheld murder, in which the killer somehow manages to chase his teen victim through her house while getting some perfectly coherent shots. That's showbiz!
Pop References: Blair Witch Project , Cinéma vérité, Man Bites Dog .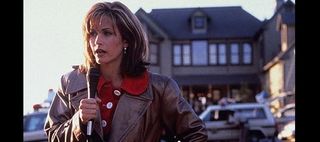 Scre4m: Reality Bites
Scream Again: Ten years on, Pulitzer Prize winning Gale Weathers now has her own chat show called Go Gale! , in which she collars people at crime scenes and gets their cutting edge stories. It's basically her old news job but with a sexy new format.
But she may have pissed a few people off with her nosey behaviour, as members of her crew start turning up dead... Ever the professional, Gale sets out to get the ultimate interview with the killer.
Opening Kill: Gale's naughty assistant sneaks into the studio after hours with her current beau and ends up as set decoration on the chat show host's sound stage.
Pop References: Oprah Winfrey.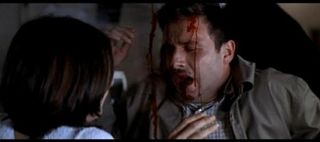 Scream 4: Death Net
Scream Again: It's time to bring murder kicking and screaming into modern times. In Woodsboro, Sidney Prescott now works in the Sheriff's department, ten years after she killed brother Roman in Hollywood.
But somebody is taking Ghostface's MO and upgrading it for the 21st century. How? Through Facebook of course! Posting pictures of his deadly work on his own Ghostface Forever fan page, this new movie-obsessed killer is offing anybody who doesn't Become A Fan of him. Cue lots of Gossip Girl teens with their butchered mug shots up online...
Opening Kill: Deciding to start his campaign with a bang, the killer turfs out the old by offing newly-appointed Sheriff Dewey. Dewey's mangled corpse becomes the logo for the Ghostface Forever fan page.
Pop References: Facebook.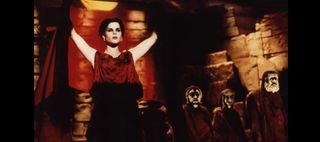 Scream!
Scream Again: The Scream franchise goes the Glee route and hops on the musical bandwagon with an all-singing, all-dancing mix of mayhem.
Sidney sings a rock song about her tortured past, Gale sings a ballad about how she always wanted to be a nice girl, and Dewey plays some guitar jaunt about how he was bullied as a kid.
Opening Kill: A musical variation on Drew Barrymore's opening slaughter, in which the killer croons taxing horror musical trivia down the phone ( "What was Tim Curry's name in Rocky Horror Picture Show? Answer fast or I'LL GUT YOU LIKE A FISH!" ). If the vic doesn't match the killer's tune with a harmony while answering, s/he gets killed.
Pop References: Glee , Rocky Horror Picture Show , The Phantom Of The Opera .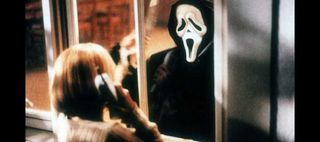 Scream: Revelations
Scream Again: Gale and Dewey are married with a ten-year-old kid. Sidney is still seeing a shrink, and decides to lay the past to rest forever by finding out more about her mother and Roman.
Instead of laying things to rest, though, she uproots even more secrets. Apparently her mother had more clandestine children and ruined relationships than Sid's had hot dinners. Meanwhile, somebody's not happy about Sidney's digging, and starts killing her friends as a warning, beginning with her fiancé Detective Mark Kincaid...
Opening Kill: Detective Kincaid (Patrick Demsey) responds to a cry over 911 and finds himself in a high rise building downtown. When he gets there, he discovers it's all a ploy to get him in the building alone. Kincaid ends up taking a long walk off a short roof, and painting the pavement below with his brains.
Pop References: Chinatown , LA Confidential .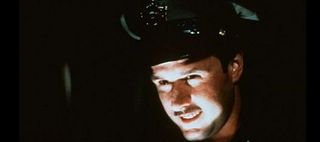 Scr24m
Scream Again: A demented new killer holds Woodsboro hostage for 24 hours, grabbing a different victim every hour on the hour and putting them to the ultimate movie test. Either way they're pretty much screwed. He won't stop until he's got Sidney.
Woodsboro is shut down for the first time since Billy Loomis' rampage, with a citywide curfew in place. But that won't stop Gale and her cameraman snooping about hoping to get in on the action.
Opening Kill: An innocent shopkeeper is harassed over the phone while at work. When he takes his break upstairs, he gets killed in the stock room. Those stains will never come out...
Pop References: 24 , The Town That Dreaded Sundown .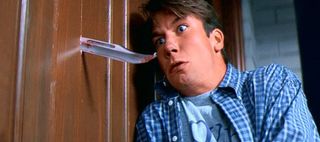 Scr3Dm 4
Scream Again: The cast of the fourth Scream flick realise that the only think linking a fresh spate of murders is that they look great in 3D!
Luckily for them, Randy's little sister Martha Meeks (Heather Matarazzo) is on hand with some handy 3D rules: don't have anything in the house that could be used to poke out at audiences; don't have anything particularly barbarous in the house that could be flung at audiences; don't convert to 3D in post 'cos it looks crap...
Opening Kill: In homage to the original Omen, a victim jock gets speared from above by falling javelins at the local high school...
Pop References: Jaws 3D , Avatar , Friday The 13th 3D .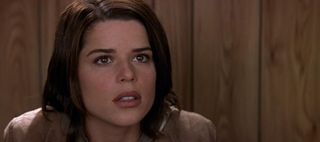 Scream: Sidneys Lament
Scream Again: After a decade of living safe in the knowledge that death and mayhem are behind her, Sidney Prescott is butchered on Halloween night.
Gale investigates, trawling back through the weeks and months leading up to Sidney's demise. In flashbacks, we see Sidney's final days. Gale attempts to piece together the jigsaw: Who was Sid's secret lover? Why did she keep a Ghostface costume in her wardrobe? And what does the number 5318008 mean?
Opening Kill: Sidney is murdered on her way home from a Halloween party that she begrudgingly attended. She winds up strung up in a tree, just like Casey Becker.
Pop References: The Silence Of The Lambs , Brick , The French Connection .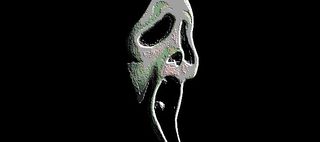 Scre4m: Scribble Me This
Scream Again: Jumping on the comic book craze, the Ghostface killer decides its time he became the star of his own graphic novel. If Freddy, Jason, Mike and Man-Thing all have one, why can't he?
For inspiration, Ghostface decides to go about offing young teens, and drawing what he finds. After all, you can only write what you know...
Opening Kill: A moody, countryside murder that's beautifully lit with a full moon in the background and a few scarecrows for ambience.
Pop References: Freddy vs Jason vs Ash , X-Men .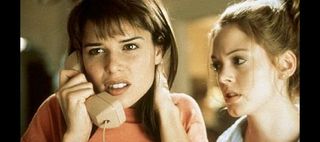 Scre4m: Pulse
Scream Again: After all of her traumatic experiences, poor Sidney has developed a troublesome heart condition. I.e. her nerves are shot. Which isn't good now that a new string of murders have started up in her little village of Clementsville, just five short miles from Woodsboro.
Determined not to let another twisted nut-job get the better of her, Sidney decides to protect the village and actively seeks out the psycho. But will her heart hold up against the strain?
Opening Kill: Martha Meeks is killed at the occult shop where she works. It's not pretty.
Pop References: Copycat , Crank .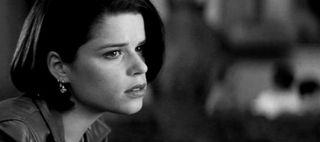 Scream 4: Asylum
Scream Again: Sidney Prescott now lives in a lovely asylum for the insane, having gone a little bit loopy after doing in her brother.
On the outside, more killings have started up. Are they still linked to Sidney, or are they just a slew of copycat murders? Gale and Dewey visit Sid to see if she has the answer...
Opening Kill: An inmate at the asylum is chased by a figure entirely cast in shadow. When the victim is brutally slain in the canteen, her killer is revealed to be... Sidney, who paints an image of Ghostface on the floor in blood.
Pop References: Bad Girls , Don't Say A Word , Girl, Interrupted .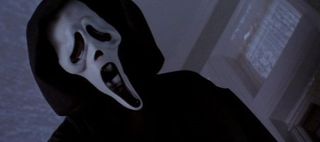 Scream 4: Ghost Town
Scream Again: Woodsboro has been deserted after the murders caused its economy to collapse. It is now an almost literal ghost town.
When a documentary crew go in to film the empty streets for a televised retrospective, they discover that they are not alone. Somebody doesn't like their peace and quiet being disturbed...
Opening Kill: A drifter passes through Woodsboro and soon ends up victim to Ghostface. His corpse is tacked onto the You Are Now Leaving Woodsboro... Come Again Soon! sign.
Pop References: Bonnie & Clyde , Friday The 13th , Children Of The Corn .