Because we're human beings, which means sometimes we actively seek out ways to terrify ourselves (for some bizarre reason), if you're reading this you're probably itching for another trip into the twisted world of Haunting of Hill House. The good news is that there's definitely the demand for Haunting of Hill House season 2, but the bad news is that - yup, you guessed it - so far there's no confirmation that Haunting of Hill House season 2 is actually on the way. However, there's no shortage of speculation about what the second season could entail, so without further ado let's start hypothesizing! But beware: below are spoilers for the entirety of Haunting of Hill House season 1.
Will there be a season 2 of Haunting of Hill House?
At the moment showrunner and general genius Mike Flanagan (c'mon, he did pull off all those Haunting of Hill House twists and turns) hasn't even confirmed that Netflix have commissioned a second season of Haunting of Hill House. But, that doesn't mean the cast don't have their own ideas about where the Haunting of Hill House season 2 could go...
Haunting of Hill House season 2: what the cast want in the sequel
Speaking to Digital Spy, many of the cast members are already theorising about what might be in store next. Oliver Jackson-Cohen (who plays struggling reformed drug addict Luke Crain in the series) says that "there's millions of different options...they could continue on and have it a couple of years on and how the remaining Crains are dealing with it. They could go back and tell the story of the Hills at Hill House. There are so many options that they can toy with here, which I think makes it so exciting to be part of a show like this."
Jackson-Cohen isn't far off the park when he mentions the Hill family: Mike Flanagan has previously said in an interview with Thrillist that originally the series had a couple of episodes dedicated solely to the Hill family and how Hill House came to be. Unfortunately they were scrapped because of filming constraints (drat), although that does mean there's plenty of material to lean on for a possible prequel when it comes to Haunting of Hill House season 2. Revealing what exactly turned Hill House into an all-consuming beast is definitely something most people who watched the series will be interested in (what exactly does a building have to go through to kill its inhabitants?!), but the future of the House is just as fascinating.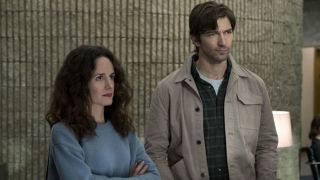 Now that Steven, the oldest Crain child, is the guardian of Hill House after his father's death, and considering that the ghosts of his parents and youngest sister is haunting the (literally) damned place, the second series could explore the complex relationship he has with the house. Hugh Crain, Steven's father, didn't really talk much about how he felt about the house until the finale, but Steven is much more open when it comes to discussing trauma. As a writer he built his entire career on explaining away the ghosts people think they see, and the lack of answers he gets from his father about his mother's death constantly frustrates him throughout the series. So for him to clam up about Hill House would be entirely out of character… and pretty darn hypocritical.
So far the most intriguing proposal for the Haunting of Hill House season 2 comes from Michael Huisman, who plays Steven. He suggested that the series could be "an anthology". Now there's an idea. Hill House has consumed a number of poor innocent souls during its time, and in the last episode we got to glimpse their ghosts behind Steven as he left Hill House. An anthology series would presumably have each episode exploring what brought one of those people to Hill House and how they died, but that wouldn't mean you'd have seen the last of them. Oh no. Haunting of Hill House ghosts tend to stick around, so they'd pop up in following episodes...whether that's silently observing in the background, or taking a leaf out of Poppy Hill's book and straight-up messing with the minds of the current inhabitants of the House.
However, Huisman does make it clear that he has "no idea... what [season two] would look like. I'm up for anything. This could be more for me, but that really depends on the audience; if it's going to be successful or not, if people like it. The cool thing about Netflix is we can very easily see if people watch it or not. And then we'll start a conversation about whether or not we'll make season two". Let's hope that those conversations have already started...oh, what I wouldn't give to be a fly on the wall during those talks. Or, come to think of it, a ghost just like those ones hidden all throughout in Haunting of Hill House. Shudder.