Fast Facts:
Blade Runner 2049 release date: October 6, 2017
Director: Denis Villeneuve
Cast: Harrison Ford, Ryan Gosling, Jared Leto, Robin Wright, David Bautista, Lennie James, Ana de Arma
Writers: Ridley Scott, Hampton Fancher, Michael Green
Update: May 8, 2017 - new teaser released ahead of full-length trailer
Warner Bros. has released another (short) teaser trailer for Blade Runner 2049, designed to tease... yes, a full-length trailer coming soon. In this age of trailers for trailers, much of what we see isn't worth watching, but I really enjoyed this short but satisfying hit of Blade Runner goodness. For a start, it gives us our first look at Robin Wright, not to mention a couple of shots of Ryan Gosling's Officer K freaking out. What's got him so upset? Hopefully, we'll find out in the trailer.
Update: May 8, 2017 - new character posters show two different worlds
Image 1 of 2
Image 2 of 2
Two new character posters (above) have been released for Blade Runner 2049 and they show Ryan Gosling and Harrison Ford in two very different worlds. The first sees Gosling's Officer K with his rather snazzy work car, and incorporates the futuristic feel of the movie. The second sees Ford return as an older Deckard, featured in a more ancient-looking environment. It doesn't take a genius to see what the marketing team is trying to tell us here...
Update: March 15, 2017 - Deckard not the only returning character?
Spoilers: Whether or not Harrison Ford's Deckard is a replicant was a delicious mystery at the end of the original Blade Runner, and not just for the audience. The robot-hunting detective himself was doubting his humanity. Another character actually planted that seed of doubt in Deckard's mind: Gaff, the LAPD detective played by Edward James Olmos. And it looks like he will in fact return in Blade Runner 2049.
"This is the first time that I'm telling the whole world, that yes, I am going to be Gaff in Blade Runner 2049," Olmos told The Trend Talk Show in a recent interview. "Well, it's not about Gaff, but it's about someone who is going to try to find out certain things about us back then. My role is like it was in the original – that time I only had four scenes, in this I only have one. But again, it's a poignant little scene."
Yes, but will he hand anyone rad little origami unicorns this time?
***The original article continues below***
Blade Runner 2049 sees the return of Rick Deckard
Blade Runner bombed hard when it released in 1982. Ridley Scott had raked in the big bucks with Alien, but people didn't flock to his sci-fi vision when it was dystopian noir the way they did for an extraterrestrial slasher. Warner Bros' incessant meddling--they insisted on myriad re-edits and ultimately demanded narration be added to the movie--didn't help. Even in its original state, though, Blade Runner eventually found its audience in the growing cult of cyberpunk nerds in the '80s and '90s. After three decades, its original star and director have teamed up with younger performers and creators to continue Deckard's story.
Blade Runner 2049 release date is actually earlier than expected
When the Blade Runner sequel was first announced back in 2016 we had a far away release date of , but that has since be moved forward (a lot) and we're now going to see hot replicant action on October 6, 2017 in both the US and the UK. It's always nice to have something sooner than expected, but that still leaves over eight months to wait.
Blade Runner 2049 trailer shows a future Los Angeles that's just gotten worse
30 years after Deckard, played by Harrison Ford in the original movie, tracked down his last replicant, a new android hunter is trying to find him. Based on the first trailer for the long time coming sequel, the new blade runner - played by Ryan Gosling - is successful in his quest to find the man who may or may not have been a replicant himself. Beyond proof that the sequel will maintain the oppressive atmosphere that's equal parts monolithic architecture and decaying ecology, the trailer doesn't give away much. It does, however, confirm that Harrison Ford is really committed to the parts he takes these days. The man smolders in just a single scene! As for Gosling, he's pretty blank here. As he's shown in movies like Drive, though, the actor is capable of profoundly subtle performances. Hopefully, it won't be long until we get a second trailer which might divulge more of the plot.
The Blade Runner 2049 cast is made up of familiar faces in brand new roles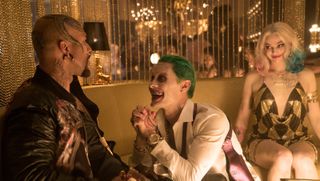 The old blade runner and the new aren't the only cast members we know about. Joining and Ryan Gosling, who are playing Deckard and respectively, is a wider cast of popular (and in one case infamous) performers. Most noteworthy, mostly due to his divisive turn as the Joker in 2016's reviled , is , who joined the cast shortly after that movie's release. (No word on whether or not he's in the mail on this set.) There's also, of House of Cards and The Princess Bride fame, adding an air of stately poise to the movie. Joining Wright is David Bautista fresh off his hilarious performance as Drax in Guardians of the Galaxy, Lennie James, aka the man behind Walking Dead's haunted Morgan, and Ana de Arma (War Dogs) who will play a character named Joi.With the exception of Gosling, Ford, and de Arma, there's no word on who any of the cast are playing yet.
Spoilers: One other cast member of the original Blade Runner is confirmed to be back in 2049. Edward James Olmos will return to play the enigmatic, jaunty hat-wearing, unicorn origami-making LAPD detective Gaff in the sequel.
The Blade Runner 2049 plot is a mystery save for its opening scene
We know Deckard has survived for 30 years, meaning he either wasn't a replicant or was an entirely different kind of replicant than the ones played by Rutger Hauer and Daryl Hannah in the original. We know Officer K is trying to find him. We also know, thanks to Ridley Scott, precisely what happens in the opening scenes of the movie.
"It's a bit like Grapes of Wrath, there's dust, and the tree is still standing," back in 2015. "By that tree is a traditional, Grapes of Wrath-type white cottage with a porch. Behind it at a distance of two miles, in the twilight, is this massive combine harvester that's fertilizing this ground."
"You've got 16 Klieg lights on the front, and this combine is four times the size of this cottage," Scott went on, describing how the sort of mammoth, intimidating technology of Blade Runner's cities work in an agricultural environment. "And now a spinner [a flying car] comes flying in, creating dust. Of course, traditionally chased by a dog that barks, the doors open, a guy gets out and there you've got Rick Deckard. He walks in the cottage, opens the door, sits down, smells stew, sits down and waits for the guy to pull up to the house to arrive. The guy's seen him, so the guy pulls the combine behind the cottage and it towers three stories above it, and the man climbs down from a ladder – a big man. He steps onto the balcony and he goes to Harrison's side. The cottage actually [creaks]; this guy's got to be 350 pounds. I'm not going to say anything else. You'll have to go see the movie."
Blade Runner 2049 set photos maintain the look of the original movie
Famed futurist and Blade Runner concept artist Syd Mead and art director David Snyder did not return to work on the sequel, but the spirit and style of their work is readily apparent in Blade Runner 2049 set photos. Images from a show Officer K in an alley similar to where Deckard snacked on noodles in the first movie, parked in a modernized spinner, and rocking a sweet heavy coat that's part Deckard and part Leon Kennedy from Resident Evil 4. Deckard seemingly lost his old coat sometime in the last thirty years based on these shots.
The production team also released an excellent, but uninformative shot of Ford, Gosling, Ridley Scott, and new director Denis Villeneuve on set together having a good time:
2049 is just one year away.#BladeRunner 2049 - in theaters October 6, 2017. pic.twitter.com/DDJ752HXvdOctober 6, 2016
Blade Runner 2049 concept art is appropriately bleak
Two pieces of hit the public arena in late 2016, and while they don't look precisely like the work of original concept artist Syd Mead, they certainly look like this movie knows where it comes from. Rain-soaked streets littered with oversized hovering vehicles, towering neon billboards, and crushing architecture are everywhere. 30 years may have passed but this is still Blade Runner.
The Blade Runner 2049 poster leaves much to be desired
At the moment, there's only a basic for Blade Runner 2049, which features the movie's title (written in the original's blocky font), the two leading cast members names, and the release date. What more do we need, you ask? Well, a lot more actually. Artist John Alvin was responsible for the original, and now iconic, Blade Runner poster, but after he sadly passed away in 2008 we can't expect something similar from him for Blade Runner 2049. That doesn't mean that the movie won't be getting a show-stopping poster though. Given how Ridley Scott's recent sci-fi resurrections like and have both received striking posters, it's fairly certain that Blade Runner 2049 will too. They just need to hurry up!
The Blade Runner 2049 director has a proven sci-fi track record
At first, This was all the way back in 2011 when it was unclear whether the new movie would be a prequel or a sequel. Prometheus, Scott's big return to his famous sci-fi series, was still a year from release. By 2014, though, Scott confirmed that though he was still working on the movie with writer Hampton Fancher and that. Finally in 2015, Denis Villeneuve came on as director.
Villeneuve has demonstrated a knack for both the taut drama and the cerebral sci-fi so characteristic of the original Blade Runner. Sicario, his movie about an FBI agent embroiled in the Mexican drug trade, had the same sort of tense action we experienced in the original Blade Runner. Last year's surprise hit and thoughtful alien contact movie, , even tackles some of the same themes as Blade Runner; what does it mean to be human, what do our memories make us, and why do we have to resort to violence to resolve conflicts? He's certainly suited to the world.
He also has a healthy respect for the original and a fear of shoddy reboots. Shortly after he was announced as director, Villeneuve expressed a great deal of anxiety about tackling a revered movie. "It's more than nervous, it's a deep fear," he told . "I mean when I heard that Ridley Scott wanted to do another movie in the Blade Runner universe, at first my reaction was that it's a fantastic idea, but it may be a very bad idea. I'm among the hardcore fans of Blade Runner. Blade Runner is one of my favourite movies of all time. For me it's like a monument."
Even after a year of working on the movie, Villeneuve's nerves weren't settled. Still, he realized that the best path to making a good movie is by not trying to equal its predecessor. "First of all, it's not possible to live up to the original," . "It's Ridley Scott. It's a masterpiece. It's one of the best sci-fi films, one of the best films in the past 50 years. For me, what terrorizes me right now is what I'm doing is taking Blade Runner and making it my own, and that is horrific."
Related Blade Runner 2049 news
The first trailer for Blade Runner 2049 re-introduces Deckard, 30 years later
Blade Runner 2 has a release date but we'll have to be patient
7 new Blade Runner 2049 pics show Ryan Gosling and Harrison Ford looking right at home
Blade Runner 2049 first set photo blast(er)s off with a cool nod to the original
Blade Runner sequel director says "it's not possible to live up to the original"
Blade Runner 2 concept art shows a beautifully bleak future Los Angeles