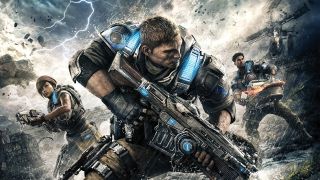 A new war is coming
The Gears of War title for the next generation is on its way, and by 'next generation' we aren't just talking about game consoles. Marcus, Dom, Baird, and The Cole Train's fight against the Swarm is over, and new Gears soldiers are stepping up to defend humanity from the hideous monsters that threaten the current state of peace. Developer The Coalition is taking the reins of the Gears of War series from here on out and with that transfer of ownership, the game makers are taking a look at what made the classic Gears games such a success.
The tone is changing from the massive, big war set pieces in favor of smaller, more intense engagements, new personalities are entering the fray, imaginative weapons are being added to the arsenal, and multiplayer is undergoing significant enhancements. Gears of War, in a way, is getting a fresh start, so this may be the reason to revisit the franchise.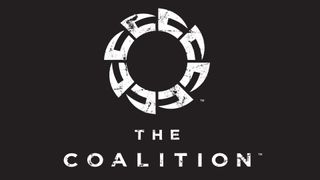 It's being made by a Gears-only studio
changed its name to The Coalition
The new name is a reference to Gears, and it signals that the Vancouver dev now exists solely to make games in the series, whether they're remakes or sequels. Hopefully, that implies a total focus and dedication on the storied franchise.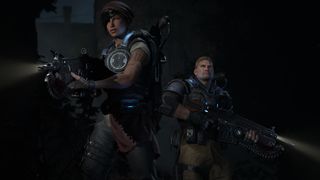 There are new characters
This tooled-up twosome are known as Kait and JD - there is another character named Del (not pictured) who rounds out the Gears 4 trio. As you might notice, the character designs don't quite fit the typical Gears body image, by which I mean they aren't wide of shoulder enough to be mistaken for farming vehicles. That said, they do perform the usual function of quipping and screaming, so it's not all change.
The world is set 25 years after the events of Gears of War 3. Humanity is at peace and has been rebuilding in the aftermath of the war. If JD looks a bit familiar, it's because he is Marcus Fenix's son, and obviously didn't fall far from the tree when he joined the military. So far, all we know is that JD and his two buddies have gone AWOL from the Coalition of Ordered Governments (COG) and must face the coming threat alone.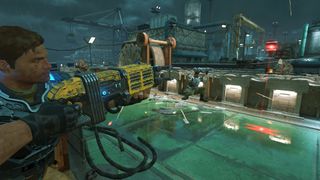 The classic weapons return, but there are new ones, too
Of course, the Lancer is back, complete with its chainsaw bayonet, handy for chopping through locked gates and extraterrestrial exoskeletons alike. Alongside the Lancer, many of the classic weapons are making a return: the limb-bursting Gnasher Shotgun, Longshot sniper rifle, Snub Pistol, and devastating Torque Bow to name just a few. But what would a new Gears game be without a few alternative weapons? Humanity has been at peace for more than two decades, so there hasn't been much weapon research going on in that time. So, when it comes to using a new arsenal, JD and his crew resort to tools and building equipment. The Dropshot, for example, is a piece of mining equipment that launches explosive drill bits into the air which drill into the ground (or into a foe's skull) and explode. Yeah, it can get a little messy.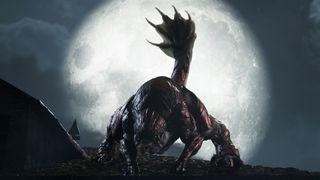 The Locusts looks a bit different
Whatever they are, they're a known menace. Kait and JD are explicitly hunting for them from the beginning of the teaser - I wouldn't be surprised to see them become the hive-like pawns of some bigger, scarier Queen figure.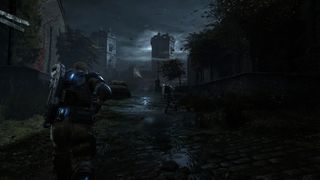 It's really, really dark
The teaser trailer showing the single player gameplay is dark, set among the ruins of what seems to be a medieval town - it looks more like a Resident Evil location than a Gears battlefield. The action's amped up by the presence of a massive tornado spewing out lightning, sure, but the sense of being watched by whatever those creatures are suggests a jumpier game than fans might have expected.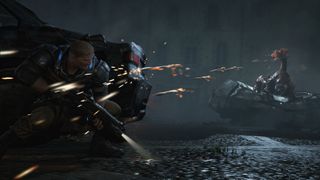 Squint and there are some lovely touches
Gears of War's always pushed Unreal hard, and that doesn't seem to have changed with a new game and a new engine. Particle effects, lighting (what little there is of it) and weather all look great here, but there's an amazing moment of the trailer when JD - in live gameplay, not a cutscene - blasts a creature into bloody mist, then has to shield his eyes from the gory residue. If that's the level of detail going into the game, it'll be a sight to behold.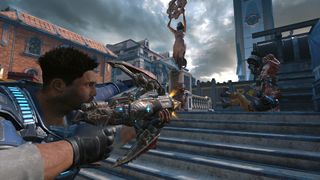 Multiplayer is classic Gears with a few new additions
Gears of War 4's multiplayer is returning to the classic control schemes, bringing active reloads, improved snappy cover mechanics, and brutal executions into the competitive arena. But The Coalition is making the new combatants even more efficient killers than the previous soldiers. While in close cover combat, players can now vault kick, and "yank and shank" their enemies from their hiding spots, pulling foes out of cover then finishing them off with a knife to the skull.
There is also a new game mode called Dodgeball (which doesn't actually involve rubber balls). It's an elimination type match, meaning killed players don't get an immediate respawn. Killing an enemy will rotate your teammates back into the game in the order they were eliminated. Dodgeball becomes an intense tug of war and is definitely an excellent alternative to the game's more competitive modes.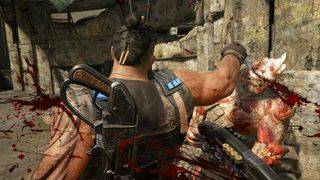 eSports is a major focus of Gears MP
Gears of War multiplayer is highly competitive and The Coalition recognises that it needs to address every level of competition out there - from beginners all the way up to professional eSports. With that in mind, Gears 4 matchmaking will be using skill ranks to create games. As you play multiplayer, you will be assigned one of the six ranks that go from bronze to master. This will ensure that players will be competing against others of the same skill level and hopefully keep beginners from getting wiped out by pros.
In addition to the skill ranking, a Spectator mode will allow eSports announcers to more easily control the viewing experience of matches. Free-flying cameras and quick view interfaces enable the spectator to see all of the elements of a battle at once, which helps them predict confrontations between players so they can get the action on camera. The developers have even more to reveal about the game's multiplayer, including the eSports-centric Elimination mode set to be show at this year's PAX East.