Top 7... Lamest celebrity appearances at E3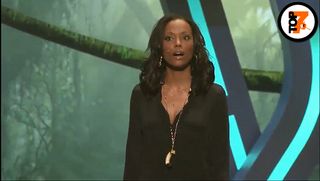 Please, welcome to the stage...
Nothing promotes a product better than a celebrity endorsement. Well, in other markets anyway. As gamers, we tend to care less about what an inexperienced, B-level celebrity thinks about some random movie tie-in game, how they advised the development team on how a snowboard works, or that they contributed one of their songs to the track list. We just want to see and play the games.
And yet, for whatever backward reason, publishers persist. Year after year, they insist on trotting out a famous celebrity face to endorse their upcoming products. And more often it leaves a sour taste in our mouths. For the week of E3 we've gathered together the lamest, most coma-inducing, and insubstantial celebrity appearances we've seen from years gone by.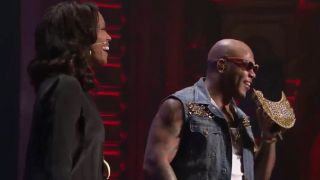 7. Flo Rida (Ubisoft, E3 2012)
Oh, dance games and your need to bring the lame celebrity "artists" to a game announcement. When it comes to providing cheesy musical performances that E3 attendees don't want to see or hear, Ubisoft is second to none. Flo Rida (Florida, get it?) was Ubisoft's "musical" guest at E3 2012 and introduced Just Dance 4 with a performance of "Good Feeling." The show started off with a few hot dancers out on stage and then Flo Rida comes out, gold microphone with a winged plate and bedazzled "Rida" design in hand.
Instead of getting a look at the actual game, show-goers were subjected to the pointless performance. The developers didn't talk about any new features, track additions, or even show the actual game. Flo Rida may have been able to get the crowd to do the obligatory fist pump to the beat, but after the announcement was over, we definitely were not left having a good feeling.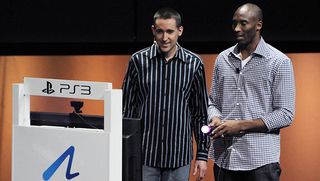 6. Kobe Bryant (2K Sports, E3 2011)
L.A. Lakers star Kobe Bryant's appearance at 2K's NBA 2K12 E3 2011 reveal was more unnecessary than lame. Which in turn actually made it quite lame. We understand why you'd want to bring an NBA star on-stage to talk about the next basketball title if that player has some kind of influence on the development, but 2K's excuse for flaunting his fame was to show that playing the game with the PS3's Move controller was so easy, anyone could do it. What better way to prove that than to bring a superstar basketball player on stage to exchange dude-bro sports insults and share spoon-fed impressions of the game?
Kobe strode out on stage with the developers of NBA 2K12 where the demoer proceeded with lame attempts to goad Kobe on as a Heat fan. After playing for a few minutes, the only thing Kobe had to say about the game was that it looked "so realistic that it's frightening." Not really the kind of expert commentary you expect from one of the biggest names in the sport.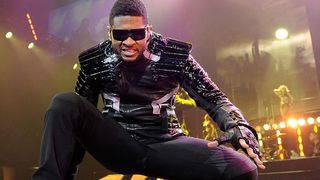 5. Usher (Microsoft, E3 2012)
Console reveals, game announcements, and full-blown musical performances by Usher. At E3, one of these things does not belong. Sure, the pop artist helped the developers with Dance Central 3's choreography. That's great. Let's hear him talk about that... for like 20 seconds. Okay, his chart-topping hits are featured in the game. That's awesome. Play the song when he makes his entrance.
There's nothing wrong with Usher showing his face and saying, "Yo, video games are great. You can dance like me now." That's cool. That was accomplished in the 30 second video. But having a full performance with backup dancers and the whole nine yards--that's trying just a little too hard. E3 attendees are there to see games, not to see an Usher performance, which may explain the unresponsiveness of the crowd when the star yells, "Get up." No doubt some of the audience did get up...then left.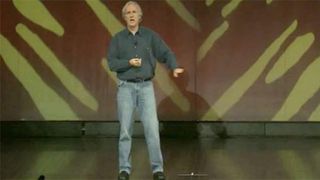 4. James Cameron (Ubisoft, E3 2009)
Fifteen minutes. What is fifteen minutes to you? You could do a whole lot in that amount of time. As a game publisher at E3, that's enough time to show off several high-profile games, talk about your plans for next-gen consoles, or do something, you know, exciting. That wasn't how Ubisoft wanted to spend their time at E3 2009. Instead, they decided to bring movie director James Cameron to the stage and promote the movie tie-in Avatar game. While most celebrity appearances are there and gone in a matter of minutes, Cameron went on a filibuster as he rambled on for an excruciating quarter hour about how awesome Avatar: The Game would be.
Don't get us wrong, we love getting a behind-the-scenes perspective on how good games (and movies) are created, but in hindsight, the game wasn't that good and he didn't show any footage from the film, so the fact that we had to sit through that presentation sucked. He tried really hard to pump up the future flop as much as he could, but alas, now his efforts can only be seen as a futile attempt to get a famous face to push a poopy product.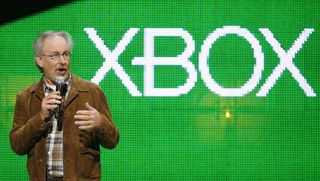 3. Steven Spielberg (Microsoft, E3 2009)
Beloved filmmaker Steven Spielberg has had his hand in gaming to some degree ever since our favorite pastime started to become popular. The director/producer has been known to make his fair share of appearances at the biggest gaming event of the year. However, none of them seemed more pointless than when he took the stage at the Microsoft press conference at E3 2009.
This was the year Microsoft decided to unveil its next revolution in gaming, Project Natal (aka Kinect), and ol' Steve got right in on the action. Before we even knew what the Natal really was, Spielberg was praising it as the next step in interactive entertainment and that it would make games more approachable. He even dropped a great soundbite saying the Natal was "Not about reinventing the wheel. It's about no wheel at all." Well, four years later we all know what strides the Kinect has made in terms of revolutionizing game controls. It's not quite there yet, but when empty promises come out of Steven Spielberg's mouth, they're at least a little bit believable.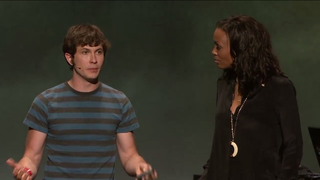 2. Toby "Tobuscus" Turner (Ubisoft, E3 2012)
So apparently, being entertaining on the internet doesn't always transfer over to being entertaining in a game expo hosting gig. Toby Turner (aka Tobuscus) made his claim to fame by creating humorous game-related videos on YouTube, including his literal lyrics on game trailers, Let's Play videos, and interviews with developers. Sounds like the perfect guy to co-host a game event, right?
Well, unfortunately for Tobuscus and his co-host Aisha Tyler, his bland sense of humor and awkward commentary made for some of the most groan-inducing E3 moments in recent memory. Between his otherwise agreeable co-host Aisha being obviously annoyed at his bizarre comments and starting off his stage entrance by dropping his mic, (and then proceeding to yell "I dropped my mic!"), it was a disaster. It also doesn't help that he rolled onto stage with Heely shoes like he was Dane Cook in that one movie about Costco (Employee of the Month, if you care).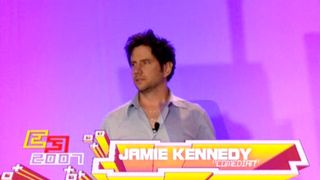 1. Jaime Kennedy (Activision, E3 2007)
Jamie Kennedy's appea--oh wait. Whoops. Jaime Kennedy isn't famous. Moving on...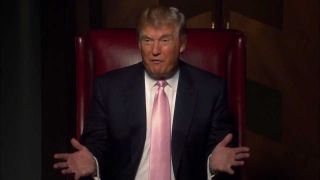 1. Donald Trump (Microsoft, E3 2004)
And the lamest of the lame celebrity appearances to ever happen at an E3 event has to go to Microsoft's pathetic attempt to degrade its competitors at E3 2004. To do this, the game publisher decided to show a skit with the corniest self promotion to ever occur at an E3 press conference with a spoof episode of The Apprentice. The heads of Xbox Live joined faux Sony "executives" in the hallowed recesses of Donald Trump's. You can probably write the script yourself: Trump waltzes in, and gives both console makers a challenge to create a brand new online service. Microsoft then unleashes a barrage of bad jokes and half-baked insults at Sony, portraying the company as lazy and out of touch with the gaming audience.
That's right, rather than give gamers a simple overview of Xbox Live's features or any sort of clear picture as to what to expect out of the paid service, Microsoft just takes a big salty dump on its competitor, vis a vis the saltiest dog around, Donald Trump. Because, you know, mudslinging is always the best way to sell products. After Trump gave his verdict, declaring Microsoft the rights to create a Trump RPG (*shutter*) and sticking it to Sony with the old, "You're fired" catchphrase, the audience members could finally return to their lives and forget the whole thing ever happened.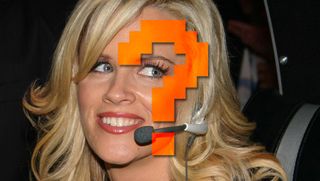 Who'll show their face this year?