7 Rubbish Villains For Spider-Man 4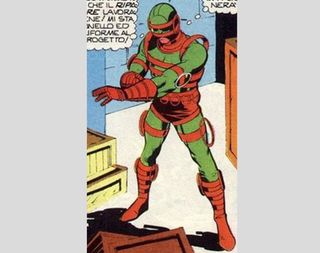 The Ringer
Why He's Rubbish: He has no powers, just a predilection for weapons themed around rings. Explosive rings, whip rings, cold rings, rings he uses as ladders… We have absolutely no idea why he's so keen on round things, but it's rubbish.

If He Has To Appear, Who Should Play Him? Johnny Knoxville, in an awful attempt at a really funny in-joke.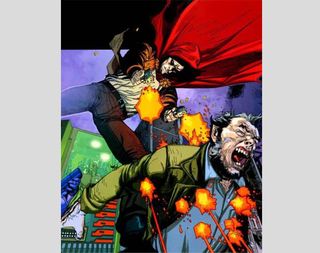 Owl
Why He's Rubbish: Another Spider-villain with no actual powers, just a battle suit that allows him to fly at speeds of up to 30 MPH, which is obviously terrifyingly fast. He also like helicopters, which isn't really very owl-like at all.

Oh yeah, and his reason for turning to a life of crime? He got upset after the IRS investigated him for fraud. Again, we're not sure what that has to do with owls.

We hate him so much, we've decided to go with a picture of him getting shot by The Hood than one of him in his silly costume. Sorry about that.

If He Has To Appear, Who Should Play Him? Philip Seymour Hoffman, because he looks like an owl. A bit.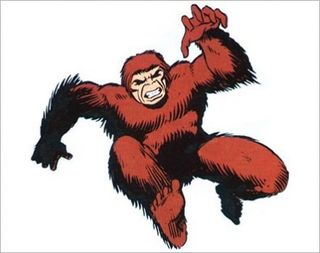 The Gibbon
Why He's Rubbish: The Gibbon is a mutant possessing "the fighting skills similar to that of a real gibbon." Which, we're sure you'll agree, makes him sound super-tough.

If He Has To Appear, Who Should Play Him: Jack Black, at least he'll get some laughs out of the concept.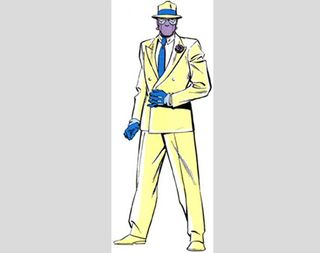 The Rose
Why He's Rubbish : Another villain with no powers, the Rose is a crime boss who's really into flowers.

Seriously, he can't get enough of them – he's always fondling some form of fauna when he's sending his flunkies to fight Spider-Man.

But the inherent campness of this fact is never referred to and everyone is scared of him and his hedge clippers.

If He Has To Appear, Who Should Play Him: Nicolas Cage, because we wouldn't have to put up with his near constant mugging, as The Rose never takes his mask off.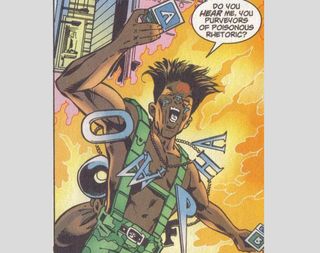 Typeface
Why He's Rubbish: Wow, lots of reasons. Firstly, Typeface has some of the most annoying weapons in Marvel history – they're all themed around words, and none of them make sense.

For example, he's somehow managed to invent some Scrabble tiles that make whoever sees them do exactly what he wants. So, if he writes 'sleep' they fall asleep. If we ever meet the people who invented Typeface, we'd like to spell out 'idiots' to them, and see if it makes any difference.

He also throws around explosive letters for some reason and – worst of all – communicates entirely using complicated words, which gets pretty annoying after a while.

If He Has To Appear, Who Should Play Him: Keanu Reeves. He's stood in a room with The Architect, so he has some experience with the dialogue, and we'd like to hear him say something more complicated than 'woah.'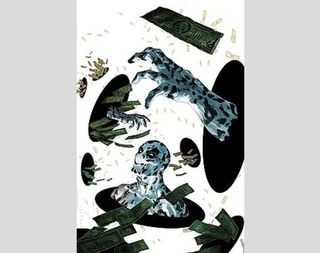 Spot
Why He's Rubbish: Forget the fact he appears to be named after the family dog, Spot's powers are so stupid it actually upsets us.

Spot can use holes to travel to the spot dimension (yup, there's an entire dimension dedicated to the crap), where he places spots on his body, which he can then throw as weapons on earth.

But when he runs out he's helpless until he travels back to the spot dimension to get more. Utter nonsense.

If He Has To Appear, Who Should Play Him: John Travolta. His career's been a black hole for years. BOOM BOOM.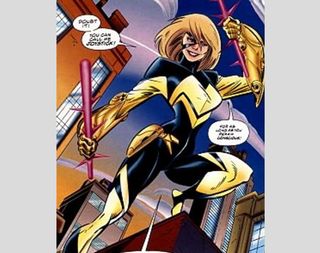 Joystick
Why She's Rubbish: There's nothing joyful about her sticks, they just fire energy blasts. In fact, her whole identity is based on a baffling plot in which a bunch of super-villians decide to pretend that Spider-Man lives in a videogame,

If She Has To Appear, Who Should Play Her: Jessica Biel, so we can get her in Lycra.