20 Essential 2010 Movie Toys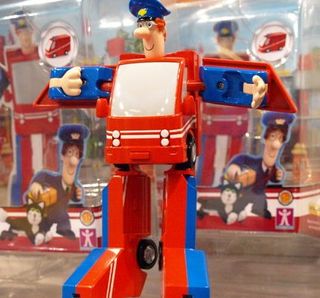 Postman Pat
The Toy: Pat never did this in our day. Probably a good thing - if he had been this cool back then we'd have hyperventilated with excitement and ended up passing out every time the show came on telly.
What is it? Well, obviously, it's a Postman Pat modelled on the Transformers. Pat's recognisable delivery van folds out to turn into Pat himself. Genius, even if it makes leaving work at the office that bit trickier.
Fun For Grown-Ups? Certainly. We've ordered ours already and are waiting impatiently by the letterbox for Pat to deliver it himself.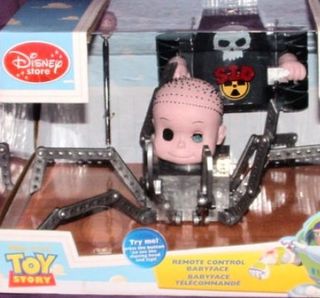 Remote Control Babyface
The Toy: A brand new variation on the Babyface toy, the creepy hybrid creation of evil kid Sid in Toy Stor y .
What do you get? Well, the Babyface itself – a doll mounted on spindly spider legs – and a very handy remote control that lets you move the arms and steer Babyface towards your little sister's doll tea party. Destruction awaits.
Fun For Grown-Ups? It's for ages 3+, which means we're allowed to play with it as well.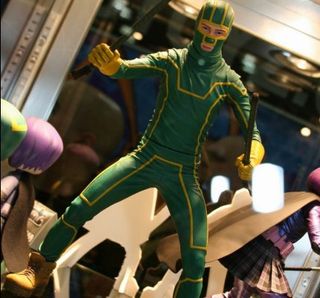 Kick-Ass Deluxe Figures
The Toy: With the help of Mezco Toys, Lionsgate have unveiled snazzy action figurines based on the characters in Matthew Vaughn's brilliant Kick-Ass .
Here's the deluxe 12 inch version of Kick-Ass himself, all suited and ready to take on the city's nasties. There's also an equally cool Hit Girl model, and some 7 inch versions that are a little more battle-scarred. No Big Daddy yet, sadly.
Fun For Grown-Ups? Keep kiddy fingers away from these, they're not for playing with.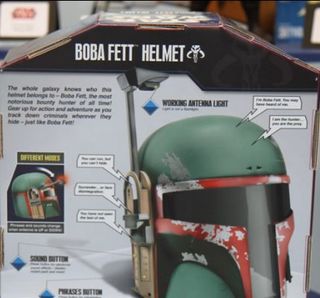 Boba Fett Helmet
The Toy: Hasbro's latest is a technical wonder – a talking Boba Fett helmet that comes with five Fett catch phrases.
So expect to hear things like "I'm Boba Fett, you may have heard of me!" a lot if your kid gets his or her hands on one. There are also other sound effects included and a 'swing-down antenna' equipped with a working light. Kids get all the good stuff these days.
Fun For Grown-Ups? The kid-sized helmet probably won't fit anybody over 12, but there's an adult, non-speaking version on Amazon, too. Rejoice!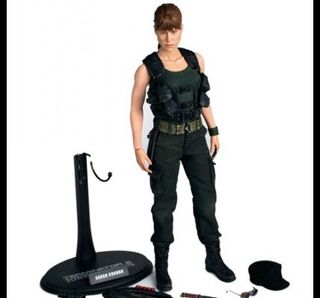 Sarah Connor Figurine
The Toy: Brand new 11 inch 1:6th scale model of Linda Hamilton as Sarah Connor, as she appears in ace apocaflick Terminator 2: Judgement Day .
It consists of a 'newly developed muscular rubber arm' (bet Hamilton wishes it had been that easy to get the muscles herself), detailed hair sculpture with 'interchangeable bangs' (that's 'fringe' to us), and a veritable arsenal of accessories that include combat boots, a cigarette, cap and two extra right hands.
Fun For Grown-Ups? Strictly adults only, unless you want Junior choking on those cool add-ons.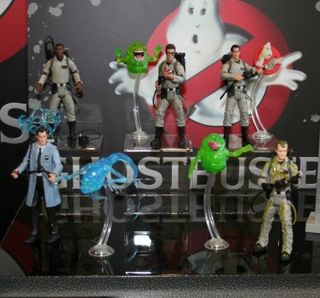 Ghostbusters Movie Masters
The Toy: Ghostbusters 3 may still be floundering in development limbo, but the guys at Mattel are continuing their new Ghostbusters toyline regardless – a sign of the characters' enduring popularity.
Last year we got Egon, Slimer and Ray Stantz. This year we're treated to a six inch Walter Peck (with containment unit), a 12 and six inch Peter Venkman and a 12 inch Winston Zeddemore.
Fun For Grown-Ups? Considering most kids weren't even born when the first Ghostbusters came out, we get priority on these. The young 'uns can play with them after we're tired of them.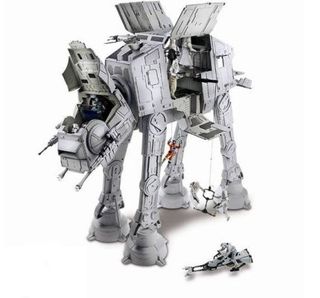 AT-AT
The Toy: Brand new 'ultimate' All Terrain Armoured Transport released to coincide with Empire Strikes Back 's 30 year anniversary (yeah, we're shocked it's been that long, too).
This new model is 24 inches tall, 28 long and can hold a whopping 20 action figures (which you'll have to buy separately, natch). Reams of sound effects, a zip line for Luke to use, a trap door and a wicked cool rear hatch for launching your Speeder Bike.
Fun For Grown-Ups? Why wasn't this killer version around in 1980, huh?! Lucky we're still big kids and can enjoy this, even if it is 30 years late.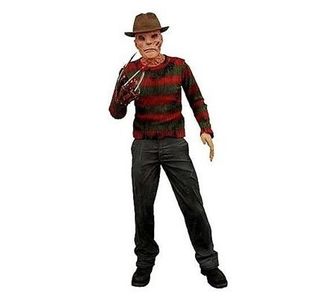 Freddy Krueger
The Toy: Remake version of Freddy Krueger, this one modelled on Jackie Earle Haley's incarnation.
Considering the trailers have generally kept the regenerated Krueger in the shadows, this figurine gives us a big character reveal. He looks more melted than Englund's version, but we think we like it.
Fun For Grown-Ups? The kids probably won't even know who this scar-faced fella is (at least we hope they don't), so no doubt he'd get discarded pretty sharpish anyway.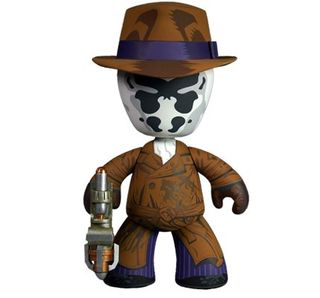 Watchmen Mez-Itz
The Toy: Even though it's been over a year since Zack Snyder's Watchmen graced our screens, Mez-Itz have finally cottoned on to the characters' popularity and set about creating their own squishy versions.
The new series one release features Rorschach and Dr Manhattan, the former with a grappling gun, the latter based on the feature film rather than the original novel. They both feature five jointy bits.
Fun For Grown-Ups? Hmm, they'd probably look cool in a display case, but the cute factor means we'll want to play with them.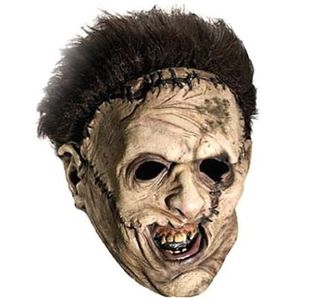 Leatherface Mask
The Toy: We remember when Halloween masks consisted of tough plastic that gradually got stuck to your face. Not so anymore.
Want to be a serial killer? Do it the easy way and grab one of these. Sadly, victims not included.
Fun For Grown-Ups? Prob best not to let the kiddies see thissun, they're likely to vomit or have nightmares for weeks.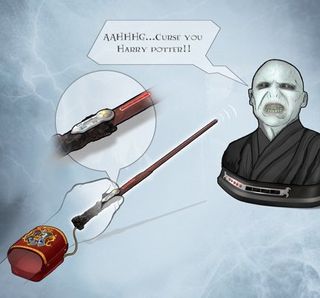 Harry Potter Ultimate Battling Wand
The Toy: Fight Lord Voldemort and prove you're the greatest wizard in town with this electronic wand thing-me-jig. As you duel against the Dark Lord, Harry gives you handy hints on how to conquer him.
There's also 'unique vibration feedback', and LEDs that tell you how much power is left in your wand.
Fun For Grown-Ups? Could come in useful if you find you've only got one chopstick in the house, or if something gets lost under the sofa. We'd rather have Lion-O's Sword of Omens, to be honest.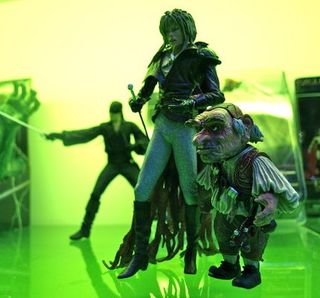 Labyrinth Jareth And Hoggle Figure Pack
The Toy: David Bowie is immortalised as a figurine - as his cult fave character the Goblin King from Labyrinth - here presented in a two pack with goblin slave Hogwart, Higgle, dammit... Hoggle. Got there in the end.
Here's hoping they release models of Ludo and Sir Didymus next.
Fun For Grown-Ups? Of course. We're thinking of pairing them up with the Dread Pirate Roberts from The Princess Bride (in the background there) for a fantasy duel.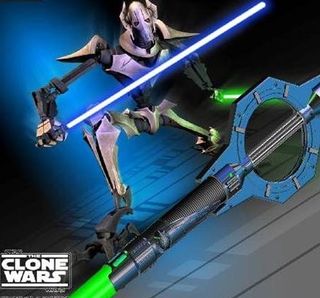 General Grievous Lightsaber
The Toy: It must be good; it received a Toy Fair Best award this year.
With a four-foot span, two sabers that light up, detach and come with their own 'battle-clash sound', this is a treat for any saber lover.
Not only that, it also has a 'gyro grip' for spinning, and any number of configurations for those wanting to have a tinker.
Fun For Grown-Ups? Now everybody can be as cool as Star Wars kid . Awesome.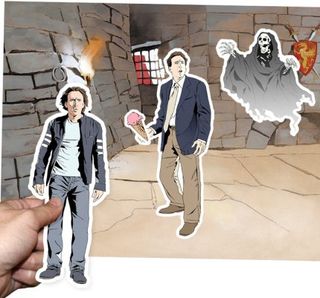 Nicolas Cage Adventure Set
The Toy: Released late last year, this one probably passed most people by. But now that Nic Cage is cool again (thanks to Kick-Ass and Bad Lieutenant ), it's worth another look.
Basically, the playset includes reusable vinyl Cage stickers that you can place in any environment to your liking. You can make your own mini Cage movie using a battle axe, skateboard, parrot or space helmet.
Annoyingly, no detachable wigs.
Fun For Grown-Ups? Strictly adults only, thank you very much.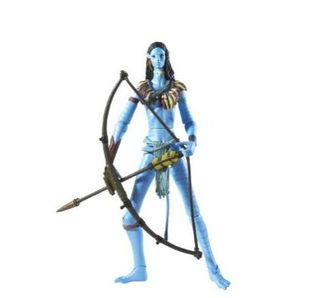 Avatar Action Figures
The Toy: They're sort of like less cool versions of the old Thundercat toys. Not particularly attractive (look at those clunky joints), they're still fun for collecting if you fancy re-enacting some battles in the back garden.
The complete set consists of Jake, Neytiri, Colonel Mile, the Amp Suit, Grace Augustine, the banshees and the Chopper RDA Gunship Vehicle.
Fun For Grown-Ups? Not particularly – we'd rather watch the flick again.
Slinky
The Toy: Ah, we all love Slinky dog, and now we can have him as our very own pet. He has a lead (bizarrely protruding from the centre of his face) that, when pulled, makes Slinky plod along in his own inimitable way.
Strictly bare bones this one, though, with no voice or remote controls.
Still, see how he stretches! A triumph for old-fashioned, no frills toy making.
Fun For Grown-Ups? One for the kids, really.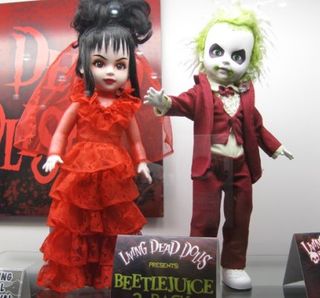 Beetlejuice
The Toy: Part of the Living Dead Dolls collection, which includes creepy little versions of Freddy Krueger and Jigsaw, this Beetlejuice two-set is just as cool.
That said, we think he looks more like The Joker than Beetlejuice.
Fun For Grown-Ups? Fun to look at, if nothing else.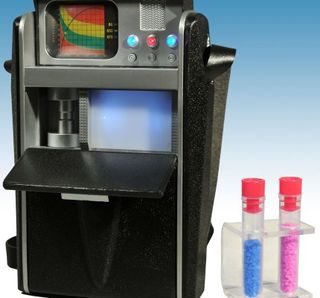 Star Trek Geological Tricorder
The Toy: Honestly, they think of everything don't they? Toy geeks rejoice, hot on the heels of the successful other Science instalment, here's a brand new replica of the Geological Tricorder.
It's just like the one from the original Star Trek series, and features light and sound effects lifted straight from the show. Not sure what it does, though.
Fun For Grown-Ups? Pop it on your shelf and contemplate just how sophisticated you now look.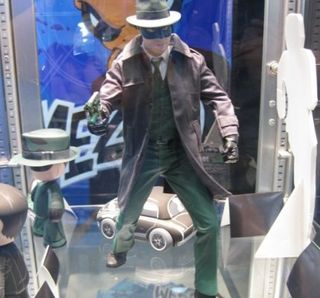 Green Hornet Figurine
The Toy: Startlingly realistic model of Seth Rogen as the heroic Green Hornet – Madame Tussauds should take note. Caught in an action pose, this model shows Lantern seemingly mid-life-saving mission.
Fun For Grown-Ups? Another statuette for the collection, and one that the kids will have to admire through a polished sheet of glass.
Have him fighting Kick-Ass in the cabinet for maximum effect.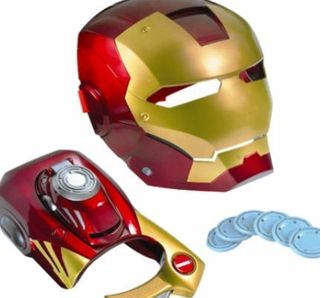 Iron Man Mask
The Toy: Suit up and become Tony Stark's heroic alter-ego with this shiny replica of the power armour worn by our titular hero.
You even get your own attachable gauntlet with repulsor ray discs. Cutting edge.
Fun For Grown-Ups? If you can squeeze yourself into it, it would make for a great fancy dress outfit.