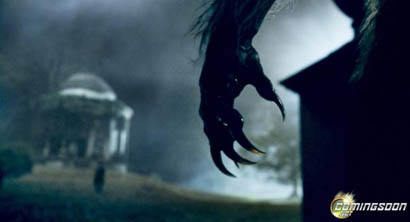 Wolfman Pics, Plus Trailer Tomorrow
Coming Soon has a gallery of new pics from the Joe Johnston directed Wolfman, and reports that a trailer will be online tomorrow.
Zemeckis In The Sky With 3D Diamonds
Robert (Polar Express, Beowulf) Zemeckis has announced another motion caption extravaganza, a 3D remake of the psychedelic Beatles film, Yellow Submarine, reports Variety . He'll be directing it for Disney, which has secured the rights to use 16 Beatles songs in the movie, including "Baby You're a Rich Man," "All You Need Is Love," "When I'm 64," "Lucy in the Sky With Diamonds" and "Sgt. Pepper's Lonely Hearts Club Band."
Shazam!
The big screen version of DC's Captain Marvel takes another step closer to production. Warners has announced that scripter Bill Birch will be writing the script with DC comics writer Geoff Johns as co-writer and consultant, according to Variety . Johns is one of three comics gurus signed up by Warners last year to help develop DC franchises for the big screen; he's also currently working on the big screen Flash. Get Smart director Peter Segal remains onboard to direct. Shazam is about a boy, Billy Batson, who is given the ability to change into a superhero called Captain Marvel when he utters the word, "SHAZAM!" (which stands for Soloman, Hercules, Atlas, Zeus, Achilles, Mercury, fact fans).
Syfy Renews Warehouse 13
Syfy has announced that Warehouse 13, its new hourlong supernatural investigation comedy drama, will be renewed for a second season, reports Variety" . Apparently the show has been a hit with the ladies, and has achieved higher viewing figures than Battlestar Galactica did in its first season.
Sarah Jane Adventures Episode Titles Revealed
Gallifrey Base has listed the titles of the six stories in the new season of The Sarah Jane Adventures:
"Prisoner of the Judoon" by Phil Ford
"The Mad Woman in the Attic" by Joseph Lidster
"The Wedding of Sarah Jane Smith" by Gareth Roberts
"The Eternity Trip" by Phil Ford
"Mona Lisa's Revenge" by Phil Ford
"The Gift" by Joseph Lidster