Sharp Objects season 1
Where and when can I watch it? This summer on HBO in the US and Sky Atlantic in the UK.
If you want to be certain about the prospects of an upcoming production, the rule of thumb is that if Amy Adams is involved, it's going to be good. Going by that maxim, Sharp Objects is already shaping up to be something very special indeed. It's HBO's next big crime thriller, centered around a psychologically tortured reporter returning to her hometown to investigate the disturbing murder of two young girls.
If that plot synopsis hasn't already given it away, Sharp Objects isn't going to be an easy watch for the faint hearted, but with director Jean-Marc Vallée (Dallas Buyers Club, Big Little Lies) at the wheel, you can anticipate a certain prestige of filmmaking that HBO has always been good at cultivating. With Game of Thrones season 8 out of the picture till next year, this might just be your next favourite HBO show of choice for 2018.
Doctor Who season 11
Where and when can I watch it? This autumn on the BBC.
The very first female Doctor (Jodie Whittaker) will get her premiere season late in 2018. While debate has - predictably - focused on the gender of this new Timelord, the show will ultimately live or die by the supporting characters, their chemistry, and the quality of the plotlines. Peter Capaldi's run only just got going in season 10, so let's hope that momentum carries over into the new show. The Christmas episode has already set the tone, but the rest of the narratives really are up for grabs. Whether or not you agree with Whittaker as the new Doctor... this show should be a cracking watch later in 2018.
Luther season 5
Where and when can I watch it? Sometime this year on BBC One in the UK and BBC America in the US.
The surprise return of the character that first put Idris Elba on the map; Detective John Luther. It's a BBC mystery thriller series with a disturbing focus on London's serial killers, but the show has always thrived thanks to the charisma of its ever enthralling central star. The troubled British detective is hardly an original archetype, but Elba channels Luther's world-weary stoicism with such power and potency that it's impossible to look away, even when the show goes full blown gothic horror during its (many) murder scenes.
The grizzly London setting is another standout, too, used effectively to establish the kind of sinister atmosphere that'll stay under your skin long after the credits roll. It looks as though the oft-discussed Luther movie remains firmly in the pipeline for now, but series co-creator Neil Cross has promised that four episodes will be airing on the BBC at some point in 2018. The details of the plot remains entirely under wraps, but hopefully it'll bring the return of Luther's enigmatic suspect turned accomplice, Alice Walker.
Nightflyers season 1
Where and when can I watch it? Sometime later this year on Syfy in the US and Netflix in the UK.
We all know how the last televised adaptation of a George R.R. Martin book series turned out, so there's high hopes for Syfy's Nightflyers, which tells a very different kind of story to political fantasy seen in Game of Thrones. Based on Martin's novella and collection of short stories of the same name from the 1980's, Nightflyers is sci-fi horror with serious scale, which the author himself describes as "Psycho in space." Oh, and in case you were wondering, yes, there's going to be guts, gore, and plenty of violence. This is a tale from the man responsible for The Red Wedding, after all.
Maniac season 1
Where and when can I watch it? Sometime later this year on Netflix.
A Netflix remake of a Norwegian black comedy starring Emma Stone and Jonah Hill, you say? That's not a lot to go on, with no trailer or release date yet in sight, but it's more than enough to tickle the interest of anyone with a taste for the abstract. Set in a psychiatric hospital, Maniac follows the made-up adventures of two institutionalised patients as they imagine a fantasy life beyond the walls of their medical confines. It's directed by Cary Fukunaga, of all people, best known for his work on True Detective (the first, much better season), so it's safe to say that this dark comedy will probably be more dark than comedy, depending on your sense of humour. Either way, Maniac is one to watch for 2018.
The Witcher season 1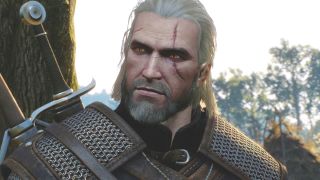 Where and when can I watch it? Sometime in the future on Netflix.
Based on Andrzej Sapkowski's original novels rather than the video game series, the Witcher Netflix series adaptation nevertheless sounds like it will translate all of the key elements that have made the series so beloved in all of its forms. The gritty, shit-encrusted, all-too relatable fantasy world, that eschews idealised heroes and unicorns (except in one NFSW case) for a place driven by the same social, economic, political, and personal ills that often plague the real world.
The "unconventional family" of characters, who come together to wearily fight for the good in a crapsack world. The sheer, believable, human heart of the thing, from foibles, to ennui, to outright, often darkly weird, laughs. With the producers of the brilliant – and similarly grounded – sci-fi show The Expanse on board, this has all the potential in the world to get The Witcher right.
Taboo season 2
Where and when can I watch it? Sometime in the future on the BBC.
Watching Tom Hardy incomprehensibly growl his way through all eight episodes of season 1 was, genuinely, a bit of a TV highlight for me. The actor played James Keziah Delaney so enigmatically, punctuating his normally guarded exterior with moments of extreme violence and near-insanity, making for a show that felt delightfully unpredictable to the end.
Now that Delaney and his friends are off to claim the (fun-to-say) Nootka Sound for themselves, we'll likely see an adventure set in America, with more tense diplomacy and - very likely - substantially more violence than the original season. Perhaps we'll get to the bottom of Delaney's visions, and the suggestion that he's practising witchcraft. Maybe that was already explained in the first series, but Hardy's growl was just too low-pitched for the human ear to comprehend.
Castle Rock season 1
Where and when can I watch it? Sometime in the future on Hulu in the US, with a UK airing location still TBC.
Okay, this one is very, very exciting indeed, more than a little weird, and has the potential to be the breakout horror hit of the year. A Stephen King adaptation headed up by JJ Abrams, Castle Rock isn't based on any one specific King novel or story, but all of them. Set in the titular town, which acts as the setting for, and a reference point in, tons of King's writing, the show is an attempt to connect the King universe in some tangible, but currently unexplained, fashion, with a teaser trailer that references characters and concepts from pretty much the author's entire body of work. With iconic King movie actors Sissy Spacek (Carrie), and Bill Skarsgard (It 2017) on board as unspecified characters, this whole show only gets curiouser and curiouser.
Daredevil season 3
Where and when can I watch it? Sometime in the future on Netflix.
Following on from Matt Murdoch's implausible survival at the very end of The Defenders, it seems likely Daredevil will begin with his recovery at the hospital before leading to more city-saving, baddo-punching action. The final scene of Defenders echoes the Daredevil 'Born Again' comic plotline, in which Wilson Fisk (currently jailed) learns Daredevil's true identity. Karen and Foggy - both alive, kicking, and liberally hopping between Marvel TV shows - will almost certainly be back.
The hot money is on Bullseye being the main antagonist in this season, although who he'll be played by and what he'll actually want is very much a mystery. Will we see cameos from other Marvel characters? Well, that seems inevitable after The Defenders, although let's hope the Immortal Iron Fist has decided to go on retreat to some far-away land for the duration of this season. No-one wants his sulky brand of punching in this show.
Making a Murderer season 2
When and where can I watch it? Sometime in 2018 on Netflix.
If you're even vaguely interested in true crime, Making a Murderer became one of the most talked about TV shows for the past few years. For those who haven't seen it, it tells the story of Steven Avery, a man exonerated for a previous crime of rape by DNA evidence, but who quickly finds himself the prime suspect in the murder of photographer Teresa Halbach. Despite his pleas of innocence, he and his nephew Brendan Dassey are both convicted of Halbach's murder. But since the original series was filmed, Dassey's conviction has been overturned by a federal judge on the grounds his conviction was "involuntary". According to Netflix, Making a Murderer season 2 wil "provide an in-depth look at the high-stakes post-conviction process, as well as, the emotional toll the process takes on all involved".
Mindhunter season 2
When and where can I watch it? Sometime in 2018 on Netflix.
Netflix confirmed that a new season of Mindhunter would be on the cards sometime this year back in November 2017, not long after the original series aired. It's looking likely the second season will drop around the end of this year, although Netflix hasn't pegged anything official yet on the release date. However, what we do know is that Mindhunter season 2 is going to explore the real-life events of 1979-81, two years after the first season. That period will include the Atlanta child murders, which was a series of 28 killings of African-American children, teenagers, and adults. John Douglas (Mindhunter's Holden Ford character) was closely involved in profiling the killer at the time, and was even reprimanded in court over his conduct during the case. No doubt the BTK killer Dennis Rader will at least get a mention after that season 1 tease, although actor Sonny Valicenti won't actually confirm his involvement in season 2 or indeed that he is playing BTK (although he totally is). Whatever happens, after that first season we're already adding it to our watchlist.
Want more? Check out our pick of the best movies on Netflix.