The Last of Us Part 2
Platform(s): PS4
Release date: TBC
The Last of Us Part 2 picks up the story of Joel and Ellie five years after the original game. While survival in a post-outbreak world will still be the key theme of the game, we know very little else... other than the fact that Ellie is seriously pissed off about something in the reveal trailer. Fan theories suggest that Joel is actually dead and Ellie is simply imagining him, but we won't know for sure until Naughty Dog reveals more.
Death Stranding
Platform(s): PS4
Release date: TBC
Death Stranding is Hideo Kojima's first game after the Metal Gear franchise, and it's exclusive to PS4. Naturally, it features weird old babies and stars Guillermo del Toro and Mads Mikkelsen. Trailers have been incredibly enigmatic so far, but fans are already pulling them apart for hidden meaning. Here's the best breakdown you'll read, but if you want the TLDR version: it's Kojima doing another high-quality action adventure with a ridiculously big budget, so get excited.
Bayonetta 3
Platform(s): Switch
Release date: TBC
Thank you based Nintendo: first you made Bayonetta 2 possible by bankrolling a Wii U sequel, and now you're giving Platinum fans more of their favorite bullet-blasting witch with a third game on the Switch (in addition to Switch ports of the first two games). All we have to go on so far is a brief cinematic teaser, but its implications are dire: Bayonetta is caught in a losing battle under a blood moon, deprived of her guns (and quite possibly her entire legs) by a mysterious enemy bathed in purple flames. Looks like your precision third-person action combat skills are about to be tested like never before.
Beyond Good & Evil 2
Platform(s): PS4, Xbox One, PC
Release date: TBC
At long last, Michel Ancel and his team at Ubisoft have confirmed one of the most asked-for, anticipated sequels of our time. Beyond Good & Evil 2 is actually a prequel to Jade and Pey'j's journalistic escapades in the original game, taking on a much grander scale in a cyberpunk, Luc Besson-looking future full of high-tech ships and anthropomorphic animals. The lively crew of space pirates in are just some of many - with the hopes of one day reaching their level of professional thievery, visiting (and stealing from) the residents of multiple cities on myriad planets.
Final Fantasy 7 Remake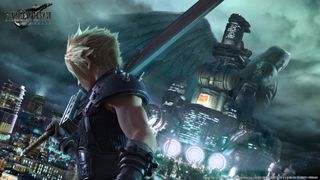 Platform(s): PS4 (Timed exclusive)
Release date: TBC
You've wanted it so badly, and eventually, you're going to get it. Fans had been pining for the seminal RPG Final Fantasy 7 to be remade with slick modern visuals, and at E3 2015, Square-Enix finally obliged with a glorious glimpse at Cloud Strife's big comeback. We've since learned plenty about Final Fantasy 7 Remake, like the fact that it's planned to be split up along full-game-sized episodes, and features action-heavy real-time combat in the same vein as Final Fantasy 15.
Metroid Prime 4
Platform(s): Switch
Release date: TBC
You know a series is popular when a teaser showing literally nothing besides a numbered logo can garner 2 million views on YouTube. At E3 2017, Nintendo dropped a bombshell by finally confirming that Metroid Prime 4 is currently in development for Nintendo Switch, sending our imaginations into overdrive at what the next iteration of Samus' FPS explorations might look and play like on the portable console. As ever, Nintendo is sure not to reveal its hand until the moment we least expect it - but when we finally do get our first glimpse of the game, prepare to be amazed.
Cyberpunk 2077
Platform(s): PS4, Xbox One, PC
Release date: TBC
CD Projekt Red has given us some absolutely ravishing teases of Cyberpunk 2077 and its futuristic Night City, and until we get to play it for ourselves, we'll be poring over every trailer and screenshot in search of new details. As a customizable protagonist, you'll explore a dense metropolis from the first-person perspective - a departure for the studio that initially sent some Witcher fans in a tizzy. They'll get over it when they dive into Cyberpunk 2077's grungy world of high-tech weaponry and digital espionage.
Halo Infinite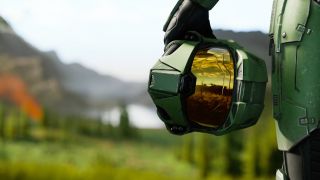 Platform(s): Xbox One, PC
Release date: TBA
Make no mistake; 343 Industries' follow-up to 2015's Halo 5 is still a long way off, but it's definitely happening. Bearing a curious new sub-header and running on a brand new game engine known as Slipspace, Halo: Infinite's first trailer almost seems to suggest that Master Chief's next adventure will have MMO qualities to it, or at least be more open-ended and sandbox-like in flavour. That instantly familiar shot of his armour also teases an earlier timeline for everyone's favourite Spartan, though plot details remain threadbare for now. MMO or otherwise, Halo: Infinite could just be the Halo comeback we've all been waiting for.
Mount & Blade 2: Bannerlord
Platform(s): PS4, Xbox One, PC
Release date: TBC
If you've not played the PC-centric Mount & Blade games before, they're essentially For Honor on a sprawling Battlefield-sized scale. Whether on foot or on horseback, players take part in massive medieval skirmishes in a giant sandbox world, with intricate melee combat mechanics that take physics and positioning into account. Mount & Blade 2: Bannerlord promises the same scope and intense dueling, modernized with a much-needed facelift of its predecessors aging visuals. Anyone with a fondness for chaotic close-quarters combat should love wildly swinging a sword and shield in this sequel's monumental sieges, regardless of which side of the ramparts you're on.
The Elder Scrolls 6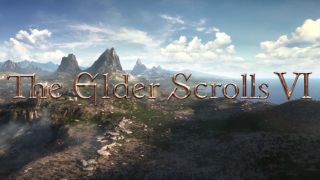 Platform(s): TBA
Release date: TBA
After years of prevaricating, party pooping, and a preposterous number of Skyrim re-releases, Bethesda came out at E3 2018 to finally confirm that The Elder Scrolls 6 is officially on the way, even releasing a short but exciting teaser trailer to prove it. That trailer in question doesn't reveal a whole lot, but suggests a number of potential settings for the long awaited sequel, from the long forgotten High Rock to the lost island of Yokuda. Sadly, this RPG is likely to stay in production for quite some time, but the more hopeful adventurers wouldn't be completely mad for expecting The Elder Scrolls 6 to release before the end of the decade. Fingers crossed.
Starfield
Platform(s): TBA
Release date: TBA
Bethesda's first new IP in 25 years, Starfield, is so wrapped up in mystique and profundity right now, that we're not even sure if it'll be releasing on this generation of console hardware. Here's what we do know: it's set an open world RPG set in space, and Bethesda has been working on it for years. Sorry, but that's about it for now, but at least the studio was kind enough to confirm its existence after so many whispers amongst the industry. Given Bethesda's pedigree, Starfield is now one of the most promising titles of the future, and I can't wait to play it, even if I'm sooner likely to actually travel to space than plug it into my PlayStation 4.
To make the wait for these games a little easier, you should occupy your time by playing the best games of 2018.