Wargroove
Platform(s): Switch, Xbox One, PC
Release date: Q1 2019
It seems Nintendo isn't about to revive Advance Wars any time soon; thank goodness developer Chucklefish stepped up to the plate to bring back turn-based strategy featuring delightful GBA-style sprites. The overworld map and battle animations perfectly mimic the charming aesthetic of the Advance Wars series, set in a high fantasy world full of knights, dragons, skeleton dogs, and witches. As one of 12 unique commanders, you'll wage war over land, sea, and air to establish dominance over the map, one little square space at a time. With online and local multiplayer for up to four players, custom map creation, and loads of adorable unit types, Wargroove's got everything an Advance Wars fan could ask for.
Ori and the Will of the Wisps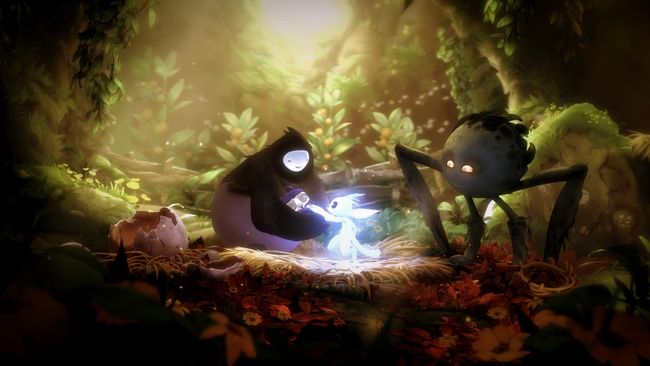 Platform(s): Xbox One, PC
Release date: Spring 2019
Ori and the Blind Forest is an absolutely enchanting game, with gorgeous, hand-painted backdrops, an affecting story, and the kind of demandingly difficult 2D platforming that's hard to put down. And fortunately, this gem is getting a sequel: Ori and the Will of the Wisps, which takes us back to Ori's beautiful but treacherous world and shows us new regions and creatures in the lush Nibel forest. Details are still hazy, but it looks like Ori will be teaming up with a purple-feathered owl whose species seems to have been wiped out (save for one) by some calamity.
Jedi: Fallen Order
Platform(s): PS4, Xbox One, PC
Release date: TBC 2019
Now that we finally have a name for Respawn Entertainment's Star Wars game, Jedi: Fallen Order, the real fun of predicting its story details and connection to the wider universe can begin. The EA-owned creators of Titanfall have already offered some teases, revealing that the game will be set in between Episodes 3 and 4 (hello there, Star Wars: Rogue One), when the last pockets of Jedi are being killed off by the Empire. But who will we be playing as? What kind of genre will it be? And will Darth Vader show up? It's all a mystery for the time being, but we've faith that Respawn can pull off something truly excellent for next year's Star Wars gaming portion.
The Elder Scrolls: Blades
Platform(s): Mobile
Release date: TBC 2019
While we anxiously await more info on Elder Scrolls 6, Bethesda has crafted a mobile spin-off of its first-person fantasy series to help keep us occupied. The Elder Scrolls: Blades is another massive open-world adventure, with touch controls for combat and some impressive graphics despite the small screen. Most of the trappings of a full-fledged Elder Scrolls games are here, with customizable heroes, a mix of melee and elemental spellcasting, and plenty of enemy types - though we've yet to hear much about sweeping narrative elements. When you're not exploring the varied landscapes and battling high fantasy baddies, you can rebuild your once-ruined town into a sprawling city. Interestingly, Blades can also be played in a one-handed portrait mode if you're not in the mood for the traditional twin-stick layout, which is a rarity for mobile games of this visual caliber.
Indivisible
Platform(s): PS4, Xbox One, Switch, PC
Release date: TBC 2019
Back in 2015, over $2 million in crowdfunding was raised for Indivisible, and it's easy to see why: this RPG/Metroidvania hybrid has gorgeously drawn, beautifully animated visuals and inventive combat mechanics to match the captivating presentation. Made by Lab Zero Games, the studio behind the equally stylish fighter Skullgirls, Indivisible follows the intrepid Ajna as she encounters environments and monsters inspired by Southeast Asian mythology. As you explore 2.5D forests, temples, and tombs using your host of acrobatic abilities, you'll recruit party members called Incarnations (which boast some delightfully unconventional character designs). The Indivisible Prototype Beta is still available on PSN if you want to check it out, and the game's come a long way since that already-impressive showing.
Doom Eternal
Platform(s): PS4, Xbox One, PC
Release date: TBC 2019
Of course a sequel to 2016's Doom reboot is happening. Not only was it a magical comeback for FPS veteran developer id Software, but the game's flippant approach to contemporary game design and indulgent storytelling was a breath of fresh air in a claustrophobic corridor of play-it-safe products. Doom Eternal will bring the horrors of Hell to the Terra Firma itself, and Doomguy is not happy about it. Ready your trigger fingers for another epic battle with the underworld's pantheon of demonic fiends and nasties.
Code Vein
Platform(s): PS4, Xbox One, PC
Release date: TBC 2019
You'd be hard-pressed to find a game that blends anime vampires, gothic horror, and grim depictions of a metropolitan apocalypse than Code Vein, an intriguing new action RPG from Bandai Namco. You and your AI-controlled partner will roam the thorny, defiled wastes, slaying monsters and sucking up blood wherever you can as you slice up enemies in familiar 'dodge, attack, disengage, repeat' fashion. The enemy designs are Anime Bloodborne to a tee, with slime waifus and knights clad in impossibly bulky armor, and it looks like there will be plenty of cutscenes to help establish a sweeping story amidst all the action.
Psychonauts 2
Platform(s): PS4, Xbox One, PC
Release date: TBC 2019
The original Psychonauts is the kind of cult classic that's beloved by all who play it, and it set the tone for all of Double Fine's following games: fun, quirky, imaginative, and relentlessly clever. Now, after over a decade since the debut of their first adventure at Whispering Rock Psychic Summer Camp, Raz, Lili, and elite members of the Psychonauts are back for another mind-delving, 3D platforming adventure. Picking up where the PSVR-exclusive Rhombus of Ruin left off, Psychonauts 2 promises more whimsical, vibrant mental mindscapes to explore as Raz runs and jumps around the inner thoughts of idiosyncratic, often hilarious characters.
Biomutant
Platform(s): PS4, Xbox One, PC
Release date: TBC 2019
Biomutant is the kind of bizarre new title that's most exciting for how refreshingly different it looks, even with its hybridization of familiar structures. You play as a fully customizable furball (of an ambiguous, squirrel-esque species) in a lush post-apocalypse, where pollution is taking hold and six animal tribes vie for control of the withering Tree of Life. This third-person, open-world, action RPG has a little bit of everything: combat that blends martial arts combos and heavy artillery that would make Rocket Raccoon drool, character customization via weapon crafting and specialized mutations, and a morality system where you decide which tribes to fight with or against. Biomutant is the first game from studio Experiment 101, which was formed by veteran developers from the Just Cause series - so you already know they've got a handle on crafting vibrant environments ripe for open-world chaos.
Dreams
Platform(s): PS4
Release date: TBC 2018
LittleBigPlanet is beloved for letting players create their own 2D platformer levels, but Dreams is on an entirely different scale: you can craft entire worlds down to the smallest detail. This staggeringly ambitious new game from developer Media Molecule gives you all the tools you need to shape a self-contained experience, be it a sidescroller, first-person exploration game, space shooter shmup, or anything in between. Judging from our early preview, the creative possibilities will set your imagination on fire - but if you just want to piece together a map from premade pieces or play through other people's visions, that's fine too. As with LittleBigPlanet, there will be ample ways to show off your work or sample the very best concepts that the Dreams community has to offer, which - in theory - means infinite replayability.
Click 'Next Page' below to see even more new games of 2019 and beyond!