Planet Alpha
Platform(s): PS4, Xbox One, Switch, PC
Release date: TBC 2018
Love deep, atmospheric platformers like Limbo and Inside, but wish they weren't so darn dreary? Planet Alpha is the antidote, whisking you away to alien planets full of exotic fauna and gorgeous landscapes. You'll walk, sneak, run, and leap across a planet in turmoil, as an army of technology encroaches on the majesty of the (un)natural habitat. Hopefully you'll get a chance to actually stop and take in all the sights in between running for your life, because the levels look phenomenal. Puzzles enter the mix via your ability to rotate the planet around you and open new pathways, so Planet Alpha will be testing your problem-solving skills as well as your twitch reflexes.
Guacamelee 2
Platform(s): PS4
Release date: TBC 2018
The original Guacamelee is one of the indie greats, with its delightful blend of luchador theming with Metroidvania design, punchy combat, and pitch-perfect platforming. So we're stoked to see masked wrestler Juan and his pals make a comeback to save the world (or 'Mexiverse' as the game calls it) once more. Along with all those fun, tricky techniques from the first game, like swapping between the planes of life and death to phase in different parts of the level, Guacamelee 2 adds news grappling-hook-style points you can launch from (much like Ori and the Blind Forest) and ups the co-op antics from two players to a chaotic four, with everyone leaping around and walloping skeletons in tandem.
Ace Combat 7: Skies Unknown
Platform(s): PS4, Xbox One, PC
Release date: TBC 2018
Bandai Namco's cult favorite series of flight sims is gearing up for a big comeback in 2018, bringing the dogfighting action back to the alternate universe of Strangereal for Ace Combat's current-gen debut. The fast-paced aerial skirmishes look great whether you're piloting from the first-person cockpit or a third-person view, and the campaign promises to contextualize the theater of war in the skies with a healthy dose of political intrigue and Top Gun-esque melodrama. Those who own a PlayStation VR get the added bonus of PS VR-exclusive missions that should ideally make you feel like you're actually flying your very own fighter jet.
Knights and Bikes
Platform(s): PS4, PC
Release date: TBC 2018
This charming top-down adventure game, developed by two Media Molecule alums and published by Double Fine, strives to recapture the sense of wonderment and improvised fun inherent to childhood expeditions. Our two young heroines, Nessa and Demelza, explore their quaint island town brought to life by charming picture-book visuals, battling imaginary creatures with frisbees, water balloons, and all manner of improvised weaponry. Though it's playable solo, the ideal way to enjoy Knights and Bikes is in two-player co-op, where Nessa and Demelza will often devise spur-of-the-moment competitions - like racing their bikes to the next point of interest - that create fleeting moments of giddy rivalry with your co-op pal to see who can lay claim to those sweet bragging rights.
Call of Cthulhu
Platform(s): PS4, Xbox One, PC
Release date: TBC 2018
The influence of H.P. Lovecraft's Cthulhu mythos creeps across the gaming landscape like the black tendrils of some otherworldly Elder God, so it's about time a game used modern hardware to take those nightmarish, existentially terrifying themes head-on. Made in the same style as 2005's Call of Cthulhu: Dark Corners of the Earth, this Call of Cthulhu reimagining is a first-person RPG that's equal parts investigation and delirium. Combat takes a backseat to critical thinking as you poke around the shadows of Darkwater, and all the while you'll need to manage your sanity meter to stave off the madness so commonly associated with Cthulhu-worshipping cultists.
Bloodstained: Ritual of the Night
Platform(s): PS4, Xbox One, Switch, PS Vita, PC
Release date: TBC 2018
We were so accustomed to a steady stream of excellent exploration-based Castlevania games for so long that we didn't realize what we had until they were gone. No more! In 2018, the mastermind behind Castlevania: Symphony of the Night, Aria of Sorrow, and many others will bring us Bloodstained. Koji Igarashi's first major post-Konami project is Castlevania in all but name, with the same smooth action, gothic atmosphere, and haunted locale spelunking we loved for so long.
Code Vein
Platform(s): PS4, Xbox One
Release date: TBC 2018
You'd be hard-pressed to find a game that blends anime vampires, gothic horror, and grim depictions of a metropolitan apocalypse than Code Vein, an intriguing new action RPG from Bandai Namco. You and your AI-controlled partner will roam the thorny, defiled wastes, slaying monsters and sucking up blood wherever you can as you slice up enemies in familiar 'dodge, attack, disengage, repeat' fashion. The enemy designs are Anime Bloodborne to a tee, with slime waifus and knights clad in impossibly bulky armor, and it looks like you'll be able to transform when it's time to deal the finishing blow.
Final Fantasy 7 Remake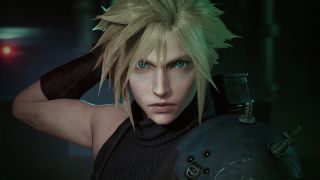 Platform(s): PS4 (Timed exclusive)
Release date: TBC 2018
You've wanted it so badly, and eventually, you're going to get it. Fans had been pining for the seminal RPG Final Fantasy 7 to be remade with slick modern visuals, and at E3 2015, Square-Enix finally obliged with a glorious glimpse at Cloud Strife's big comeback. We've since learned plenty about Final Fantasy 7 Remake, like the fact that it's planned to be split up along full-game-sized episodes, and features action-heavy real-time combat in the same vein as Final Fantasy 15.
Anthem
Platform(s): PS4, Xbox One, PC
Release date: TBC 2019
Anthem is essentially EA's answer to Destiny: a shared-world shooter that aims to fully immerse players in a gigantic sci-fi universe. You play as a Freelancer (don't call them Guardians) engaging in third-person, Mass Effect-style shootouts, armored up in your Javelin exosuit to explore and exterminate within some gigantic alien biomes. As you might expect, there's an emphasis on party play (for up to four-player co-op) and the pursuit of increasingly impressive loot, and it's promising to hear that Anthem will be penned by the writer of KOTOR and the first two Mass Effect games.
Psychonauts 2
Platform(s): PS4, Xbox One, PC
Release date: TBC 2019
The original Psychonauts is the kind of cult classic that's beloved by all who play it, and it set the tone for all of Double Fine's following games: fun, quirky, imaginative, and relentlessly clever. Now, after over a decade since the debut of their first adventure at Whispering Rock Psychic Summer Camp, Raz, Lili, and elite members of the Psychonauts are back for another mind-delving, 3D platforming adventure. Picking up where the PSVR-exclusive Rhombus of Ruin left off, Psychonauts 2 promises more whimsical, vibrant mental mindscapes to explore as Raz runs and jumps around the inner thoughts of idiosyncratic, often hilarious characters.
Click 'Next Page' below to see more great upcoming games for 2018 and beyond!