Battle Princess Madelyn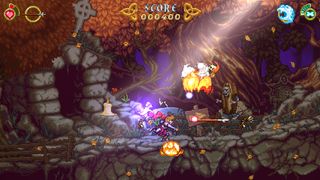 Platform(s): Switch, PS4, Xbox One, PC, Wii U, PS Vita
Release date: TBC 2018
If Ghouls 'n' Ghosts swapped out Arthur and his heart-emblazoned boxers for a heroic, 7-year-old girl, it'd be Battle Princess Madelyn, a loving tribute to Capcom's legendarily difficult 2D platformers. This spiritual successor has a heartwarming origin, as the lead developer is essentially making the game for his young daughter by featuring her as the protagonist (and taking diligent notes on her feedback and art direction). All the old-school tuning is spot-on, from the imaginative, pixelated monster designs, to way Madelyn double-jumps in a set arc, to the optional scanlines for that classic arcade feel. And with its scaleable difficulty, Battle Princess Madelyn should be way more accessible for anyone who didn't have to take their lumps during the 16-bit era.
Biomutant
Platform(s): PS4, Xbox One, PC
Release date: TBC 2018
Biomutant is the kind of bizarre new title that's most exciting for how refreshingly different it looks, even with its hybridization of familiar structures. You play as a fully customizable furball (of an ambiguous, squirrel-esque species) in a lush post-apocalypse, where pollution is taking hold and six animal tribes vie for control of the withering Tree of Life. This third-person, open-world, action RPG has a little bit of everything: combat that blends martial arts combos and heavy artillery that would make Rocket Raccoon drool, character customization via weapon crafting and specialized mutations, and a morality system where you decide which tribes to fight with or against. Biomutant is the first game from studio Experiment 101, which was formed by veteran developers from the Just Cause series - so you already know they've got a handle on crafting vibrant environments ripe for open-world chaos.
Ooblets
Platform(s): Xbox One, PC
Release date: TBC 2018
Nothing can prepare you for the unbridled cuteness of Ooblets. It's got a little bit of everything from your favorite adorable game obsessions: the cuddly creatures and turn-based battles of Pokemon, the rich farming simulation of Stardew Valley, and the interior decorations and vibrant color scheme of Animal Crossing. Developed by a core team of just two people, Ooblets looks to be the kind of relaxing, endlessly charming town sim that makes hours feel like minutes as you maintain your farm, raise and train a herd of the titular ooblets, or meticulously perfect the feng shui of your virtual bedroom. You just know it's going to take over some players' lives in the best way possible.
Travis Strikes Again: No More Heroes
Platform(s): Switch
Release date: TBC 2018
The brash, twisted, beam katana-wielding assassin Travis Touchdown is back, and he's looking stylish as ever. Don't think of this as No More Heroes 3 - instead, it's something of a spin-off, revolving around crossovers with notable indie games like Hotline Miami. Badman, the burly father of the slain Rank #2 assassin Bad Girl, is itching for some murderous revenge on our sideburned anti-hero. But while the two are duking it out, they're sucked into the Death Drive MK-2 game console, trapping them in deadly worlds lifted from beloved indie hits. Expect Suda51 and his team at Grasshopper Manufacture to stuff Travis Strikes Again full of their trademark panache, absurdity, and over-the-top violence.
Dreams
Platform(s): PS4
Release date: TBC 2018
LittleBigPlanet is beloved for letting players create their own 2D platformer levels, but Dreams is on an entirely different scale: you can craft entire worlds down to the smallest detail. This staggeringly ambitious new game from developer Media Molecule gives you all the tools you need to shape a self-contained experience, be it a sidescroller, first-person exploration game, space shooter shmup, or anything in between. Judging from our early preview, the creative possibilities will set your imagination on fire - but if you just want to piece together a map from premade pieces or play through other people's visions, that's fine too. As with LittleBigPlanet, there will be ample ways to show off your work or sample the very best concepts that the Dreams community has to offer, which - in theory - means infinite replayability.
GTFO
Platform(s): PC
Release date: TBC 2018
If you often reminisce about the horrific hordes and harrowing escapes of the Left 4 Dead series, GTFO looks to be your next fix of four-player, co-op FPS. There's a heavy emphasis on suspense, as you and your squad of operatives (in employ of the mysterious Warden) explore mutant-filled catacombs. An AI director ensures that your party gets to enjoy the chills of creepy exploration and the thrills of staving off swarms of attackers in equal measure. And unlike the standard zombies of L4D, these ghoulish creatures can terrorize you from a distance with their grotesque extending necks. But what really has us excited is the cryptic - yet mesmerizing - narration from an unknown narrator in GTFO's gameplay-filled reveal trailer.
Planet Alpha
Platform(s): PS4, Xbox One, Switch, PC
Release date: Q3 2018
Love deep, atmospheric platformers like Limbo and Inside, but wish they weren't so darn dreary? Planet Alpha is the antidote, whisking you away to alien planets full of exotic fauna and gorgeous landscapes. You'll walk, sneak, run, and leap across a planet in turmoil, as an army of technology encroaches on the majesty of the (un)natural habitat. Hopefully you'll get a chance to actually stop and take in all the sights in between running for your life, because the levels look phenomenal. Puzzles enter the mix via your ability to rotate the planet around you and open new pathways, so Planet Alpha will be testing your problem-solving skills as well as your twitch reflexes.
Guacamelee 2
Platform(s): PS4
Release date: TBC 2018
The original Guacamelee is one of the indie greats, with its delightful blend of luchador theming with Metroidvania design, punchy combat, and pitch-perfect platforming. So we're stoked to see masked wrestler Juan and his pals make a comeback to save the world (or 'Mexiverse' as the game calls it) once more. Along with all those fun, tricky techniques from the first game, like swapping between the planes of life and death to phase in different parts of the level, Guacamelee 2 adds news grappling-hook-style points you can launch from (much like Ori and the Blind Forest) and ups the co-op antics from two players to a chaotic four, with everyone leaping around and walloping skeletons in tandem.
Wargroove
Platform(s): Switch, Xbox One, PC
Release date: Second half 2018
It seems Nintendo isn't about to revive Advance Wars any time soon; thank goodness developer Chucklefish stepped up to the plate to bring back turn-based strategy featuring delightful GBA-style sprites. The overworld map and battle animations perfectly mimic the charming aesthetic of the Advance Wars series, set in a high fantasy world full of knights, dragons, skeleton dogs, and witches. As one of 12 unique commanders, you'll wage war over land, sea, and air to establish dominance over the map, one little square space at a time. With online and local multiplayer for up to four players, custom map creation, and loads of adorable unit types, Wargroove's got everything an Advance Wars fan could ask for.
Ace Combat 7: Skies Unknown
Platform(s): PS4, Xbox One, PC
Release date: TBC 2018
Bandai Namco's cult favorite series of flight sims is gearing up for a big comeback in 2018, bringing the dogfighting action back to the alternate universe of Strangereal for Ace Combat's current-gen debut. The fast-paced aerial skirmishes look great whether you're piloting from the first-person cockpit or a third-person view, and the campaign promises to contextualize the theater of war in the skies with a healthy dose of political intrigue and Top Gun-esque melodrama. Those who own a PlayStation VR get the added bonus of PS VR-exclusive missions that should ideally make you feel like you're actually flying your very own fighter jet.
Click 'Next Page' below to see even more new games of 2018!