Soul Calibur 6
Platform(s): PS4, Xbox One, PC
Release date: October 19, 2018
Welcome back to the stage of history! Fighting game fans have long awaited the return of Bandai Namco's long-running Soul series, starring weapon-wielding warriors locked in flashy one-on-one duels. Soul Calibur 6 looks to bring back the beginner-friendly, surprisingly deep fighter in all its 3D, eight-way-running glory. So far, we've seen Sophitia and Mitsurugi clashing swords again just in time for Soul Calibur's 20th anniversary, and recaptures the fast pace and tight feel of the timeless Soul Calibur 2 while furthering the light-trail-filled aesthetic last seen in Soul Calibur 5. It's even got The Witcher's Geralt as a guest character!
Red Dead Redemption 2
Platform(s): PS4, Xbox One
Release date: October 26, 2018
Red Dead Redemption 2 has a lot to live up to, so it's reasonable that Rockstar Games wanted a generous amount of time to get this open-world, Wild West sequel just right. Set before the first RDR, you're filling the cowboy boots of Arthur Morgan, an outlaw in the employ of familiar villain Dutch van der Linde. Morgan seems to be a rougher, thornier character compared to the stoic John Marston - but we'll surely get to know him better across dozens of hours spent moseying across quaint plains, hunting for wild animals (now with a new bow and arrow combo!) in verdant mountain regions, and carrying out many a high-stakes train heist.
Hitman 2
Platform(s): PS4, Xbox One, PC
Release date: November 13, 2018
Hitman 2 sees the return of expert assassin Agent 47, and though the series has switched publishers from Square Enix to WB Games, it's still being developed by the dedicated folks at IO Interactive. As always, there will be plenty of exotic locales to explore, hilarious disguises to don, and high-value targets to eliminate through ingeniously crafty or violently direct means. You simply haven't lived until you've knocked out a guard with a coconut while wearing a flamingo mascot outfit.
Fallout 76
Platform(s): PS4, Xbox One, PC
Release date: November 14, 2018
First things first: though Fallout 76 takes place in the same '50s-esque, post-apocalyptic setting the series is known for, this isn't a new single-player-focused story from the folks at Bethesda. Instead, Fallout 76 is a shared-world survival game set in in the irradiated expanses of West Virginia, 25 years after the conclusion of the Great War. You don't necessarily have to play with others, but they'll be out there, gathering resources, killing mutated beasts, building their own encampments, and possibly even launching nukes from silos found all around the map. Fallout 76 is reportedly four times bigger than Fallout 4's map, and it'll be fascinating to see how players interact in a Fallout that doesn't revolve around a single wasteland hero.
Pokemon: Let's Go Pikachu and Eevee
Platform(s): Switch
Release date: November 16, 2018
Pokemon: Let's Go Pikachu and Eevee are two versions of the same game (in classic Pokemon style) that are set to make a splash on Nintendo Switch - but they're not the core RPG you might've been expecting. Instead, think of this outing as a mix between the classic Pokemon Yellow on Game Boy and the megahit mobile game Pokemon Go. You'll explore a spruced-up, 3D version of Kanto from a top-down perspective, with either Pikachu or Eevee at your side, catching Generation 1 Pokemon through simplified mechanics with Joy-Con motion controls (or the new Poke Ball Plus peripheral). There will be battles against other Pokemon Trainers, but you won't be weakening wild Pokemon before you attempt to catch them.
Darksiders 3
Platform(s): PS4, Xbox One, PC
Release date: TBC 2018
First there was War, then Death, and now Fury is the next Horseman (or more accurately, Horsewoman) of the Apocalypse to star in her own fantastical action adventure. The Darksiders series is famous for essentially being a blood-soaked, bone-crunching take on The Legend of Zelda's open-world exploration with a dash of Devil May Cry combat mixed in, full of ridiculously proportioned (but undoubtedly cool-looking) character designs by cult favorite comic artist Joe Madureira. Darksiders 3's leading lady Fury is more magic-focused than her compatriots, and wields a spiky whip as her signature weapon. You'll be cutting down swaths of demons across the ruins of post-Biblical-apocalypse Earth, fighting back against hellish embodiments of the Seven Deadly Sins themselves.
Tetris Effect
Platform(s): PS4
Release date: Fall 2018
You when you've been playing a puzzle game - like, say, Tetris - for hours, then you start to see blocks and patterns every time you close your eyes? That scientifically studied phenomenon shares the same name as this hypnotizingly beautiful permutation of Tetris from Enhance Games, the studio founded by Rez Infinite and Lumines luminary Tetsuya Mizuguchi. Though it's still playable without a headset, Tetris Effect was clearly made with PS VR in mind, as psychedelic visuals and ambient beats surround you as blocks drop and lines are completed. Like Lumines, Tetris Effect will cycle through over 30 stages, each with their own visual styles that evoke the same mesmeric trippiness as Rez's Area X. Along with traditional Tetris play blended with ethereal visuals, some modes will also use a new Zone mechanic that lets you slow time for last-second saves or high-scoring maneuvers.
Just Cause 4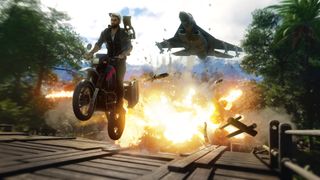 Platform(s): PS4, Xbox One, PC
Release date: December 4, 2018
Rico Rodriguez returns to wreak more open-world, physics-based havoc, this time in the South American wilderness of the fictional Solis. Just Cause 4 still has the frenetic third-person action you know and love, grappling hook and all, but the biggest addition this time around is an extreme weather system that tears up the environment as often as you do. Giant twisters and severe storms cause even more chaos in a firefight, and you'll also get the chance to run wild in arid and snowy biomes in addition to the South American jungle.
Super Smash Bros. Utimate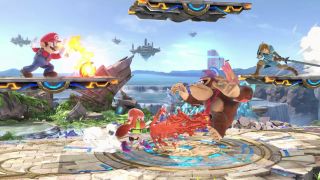 Platform(s): Switch
Release date: December 7, 2018
The gang's all here. Super Smash Bros. Ultimate brings the series to Nintendo Switch in a big way by including every playable character from the series' history in its massive roster. In addition to all the old fighters, exciting newcomers like fan-favorite Ridley, Splatoon's Inklings, and Daisy (an "Echo Fighter" of Peach, which is how Ultimate now classifies its clone characters) are joining the fray. The pace of the matches has been tweaked to be even faster, most notably in the Final Smash attacks which have all been reworked to get you back into the action as quickly as possible. And just about every character has been tweaked, refined, or slightly rebalanced in some way, so it'll be fascinating to see how your favorite character from Smash games past plays this time around.
Team Sonic Racing
Platform(s): PS4, Xbox One, Switch, PC
Release date: Winter 2018
Sonic and his many anthropomorphic pals are back for their third kart-racing competition - and before you ask, Sonic races in a car as a handicap because there'd be no contest if he was running on foot. Sumo Digital, the same developer behind the brilliant Sonic All-Stars Racing games, is back for Team Sonic Racing, which focuses solely on the Sonic universe and puts drivers in teams as they vie for a combined score rather than pole position. It's definitely a departure from the more traditional arcade racing of the previous games, and the Sonic focus sadly excludes all that wonderfully obscure Sega fan service. But the vibrant visuals and finely tuned fundamentals are still there, with all the boosting, item-blasting, and mid-air tricking you could hope for.
Click 'Next Page' below to see even more new games of 2018!