Team Sonic Racing
Platform(s): PS4, Xbox One, Switch, PC
Release date: December 2018
Sonic and his many anthropomorphic pals are back for their third kart-racing competition - and before you ask, Sonic races in a car as a handicap because there'd be no contest if he was running on foot. Sumo Digital, the same developer behind the brilliant Sonic All-Stars Racing games, is back for Team Sonic Racing, which focuses solely on the Sonic universe and puts drivers in teams as they vie for a combined score rather than pole position. It's definitely a departure from the more traditional arcade racing of the previous games, and the Sonic focus sadly excludes all that wonderfully obscure Sega fan service. But the vibrant visuals and finely tuned fundamentals are still there, with all the boosting, item-blasting, and mid-air tricking you could hope for.
Battle Princess Madelyn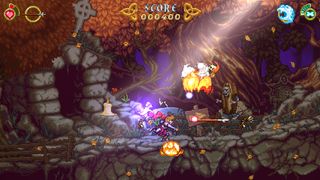 Platform(s): Switch, PS4, Xbox One, PC, Wii U, PS Vita
Release date: TBC 2018
If Ghouls 'n' Ghosts swapped out Arthur and his heart-emblazoned boxers for a heroic, 7-year-old girl, it'd be Battle Princess Madelyn, a loving tribute to Capcom's legendarily difficult 2D platformers. This spiritual successor has a heartwarming origin, as the lead developer is essentially making the game for his young daughter by featuring her as the protagonist (and taking diligent notes on her feedback and art direction). All the old-school tuning is spot-on, from the imaginative, pixelated monster designs, to way Madelyn double-jumps in a set arc, to the optional scanlines for that classic arcade feel. And with its scaleable difficulty, Battle Princess Madelyn should be way more accessible for anyone who didn't have to take their lumps during the 16-bit era.
Ooblets
Platform(s): Xbox One, PC
Release date: TBC 2018
Nothing can prepare you for the unbridled cuteness of Ooblets. It's got a little bit of everything from your favorite adorable game obsessions: the cuddly creatures and turn-based battles of Pokemon, the rich farming simulation of Stardew Valley, and the interior decorations and vibrant color scheme of Animal Crossing. Developed by a core team of just two people, Ooblets looks to be the kind of relaxing, endlessly charming town sim that makes hours feel like minutes as you maintain your farm, raise and train a herd of the titular ooblets, or meticulously perfect the feng shui of your virtual bedroom. You just know it's going to take over some players' lives in the best way possible.
GTFO
Platform(s): PC
Release date: TBC 2018
If you often reminisce about the horrific hordes and harrowing escapes of the Left 4 Dead series, GTFO looks to be your next fix of four-player, co-op FPS. There's a heavy emphasis on suspense, as you and your squad of operatives (in employ of the mysterious Warden) explore mutant-filled catacombs. An AI director ensures that your party gets to enjoy the chills of creepy exploration and the thrills of staving off swarms of attackers in equal measure. And unlike the standard zombies of L4D, these ghoulish creatures can terrorize you from a distance with their grotesque extending necks. But what really has us excited is the cryptic - yet mesmerizing - narration from an unknown narrator in GTFO's gameplay-filled reveal trailer.
Wargroove
Platform(s): Switch, Xbox One, PC
Release date: Second half 2018
It seems Nintendo isn't about to revive Advance Wars any time soon; thank goodness developer Chucklefish stepped up to the plate to bring back turn-based strategy featuring delightful GBA-style sprites. The overworld map and battle animations perfectly mimic the charming aesthetic of the Advance Wars series, set in a high fantasy world full of knights, dragons, skeleton dogs, and witches. As one of 12 unique commanders, you'll wage war over land, sea, and air to establish dominance over the map, one little square space at a time. With online and local multiplayer for up to four players, custom map creation, and loads of adorable unit types, Wargroove's got everything an Advance Wars fan could ask for.
Knights and Bikes
Platform(s): PS4, PC
Release date: TBC 2018
This charming top-down adventure game, developed by two Media Molecule alums and published by Double Fine, strives to recapture the sense of wonderment and improvised fun inherent to childhood expeditions. Our two young heroines, Nessa and Demelza, explore their quaint island town brought to life by charming picture-book visuals, battling imaginary creatures with frisbees, water balloons, and all manner of improvised weaponry. Though it's playable solo, the ideal way to enjoy Knights and Bikes is in two-player co-op, where Nessa and Demelza will often devise spur-of-the-moment competitions - like racing their bikes to the next point of interest - that create fleeting moments of giddy rivalry with your co-op pal to see who can lay claim to those sweet bragging rights.
Bloodstained: Ritual of the Night
Platform(s): PS4, Xbox One, Switch, PS Vita, PC
Release date: TBC 2018
We were so accustomed to a steady stream of excellent exploration-based Castlevania games for so long that we didn't realize what we had until they were gone. No more! In 2018, the mastermind behind Castlevania: Symphony of the Night, Aria of Sorrow, and many others will bring us Bloodstained. Koji Igarashi's first major post-Konami project is Castlevania in all but name, with the same smooth action, gothic atmosphere, and haunted locale spelunking we loved for so long.
Hunt: Showdown
Platform(s): PC
Release date: TBC (alpha testing starts January 2018)
Hunt: Showdown is among our personal most anticipated games of 2018 for good reason: it's one of the most exciting takes on the survival FPS we've yet seen. You (and a teammate, if you so choose) play as old-timey bounty hunters of all things occult, stalking the nightmarish ghouls and giant spiders that lurk among decrepit shanties and mosquito-ridden marshes. As with PUBG, there's a strong sense of a chaotic battlefield where anything can happen, dressed up in gloriously grimy aesthetics - think Left 4 Dead 2's Swamp Fever campaign, mixed with the graphical fidelity of Crysis. The moment you take down a boss and send their corpse back to Hell, the map shows all the opposing players where you are, and they'll come running to steal your bounty before you can escape with your life. That tension of the hunter suddenly becoming the hunted seems like it'll be genuinely terrifying - and ridiculously replayable.
A Plague Tale: Innocence
Platform(s): PS4, Xbox One, PC
Release date: TBC 2018
Amicia and Hugo are in a living nightmare. A Plague Tale: Innocence follows these orphan siblings and their struggles in a Dark Age not unlike the first Dishonored, where swarms of supernatural rats have started to nibble at society and citizens' sanity bit by bit. Said rats are the size of footballs, and can devour humans in no time flat; fortunately, you can ward them off with sources of light. As Amicia, you'll have to watch after your little brother while the two of you flee from the fanatical Inquisition, sneaking around danger for some tense stealth gameplay. You'll grow up real fast the first time you take out an Inquisition guard's lamp with a carefully aimed sling shot and watch as he's eaten alive by vermin, screaming all the while.
Mount & Blade 2: Bannerlord
Platform(s): PS4, Xbox One, PC
Release date: TBC
If you've not played the PC-centric Mount & Blade games before, they're essentially For Honor on a sprawling Battlefield-sized scale. Whether on foot or on horseback, players take part in massive medieval skirmishes in a giant sandbox world, with intricate melee combat mechanics that take physics and positioning into account. Mount & Blade 2: Bannerlord promises the same scope and intense dueling, modernized with a much-needed facelift of its predecessors aging visuals. Anyone with a fondness for chaotic close-quarters combat should love wildly swinging a sword and shield in this sequel's monumental sieges, regardless of which side of the ramparts you're on.
To make the wait for these games a little easier, you should occupy your time by playing the best games of 2018.