Inside
Available on: TBA 2015 (Xbox One)
Limbo creator Playdead has a flare for understated, creepy games, which is what made their first title such a hit. After four years of silence, the developer has re-emerged with an equally uncanny title called Inside. While details on it are still vague, our first look at its eerie atmosphere and gameplay has us twitching in our seats--in the best way.
Set in a bleak-looking world where people march ceaselessly forward like zombie drones, you play a character with free will, trying to maneuver through the landscape without being discovered. This includes hiding from search lights, running from vicious animals (also a mermaid), and pretending to be one of the unthinking horde, all while chasing down someone yourself. Featuring a slightly wide color palette than Limbo--the main character wears a red shirt!--the whole package looks great, and this is one creepy adventure we are don't plan to miss.
Volume
Available on: August 18 (PS4, PC, Vita)
Do you miss the stripped down, hide n seek gameplay of the older Metal Gear Solid titles, and dream of returning to blocky, sealed room puzzles? Volumes stealth action embraces those bygone days, as players take control of gentlemanly thief Robert Locksley. He sneaks around military bases in search of treasure, broadcasting his heists to the world with the help of Volume, his AI companion.
Volume is the next game from Thomas Was Alones Mike Bithell, and it looks to have a similar propensity for tight gameplay and dry humor, even featuring the voice talents of the brilliant Andy Serkis. The action has you peeking around corners and watching the guards vision cones as in days of yore. And navigating the guarded rooms is made even more challenging by Locksley strict policy against killing.
Until Dawn
Available on: August 25 (PS4)
Not every film needs to be Citizen Kane, nor does every game need to aspire to high art. Until Dawn is purposefully styled on trashy horror films like I Know What You Did Last Summer, throwing a handful of scared teens into deadly situations to the delight of a squirming audience. Hell, Until Dawn even stars Hayden Panettiere, just the type of damsel in distress youd expect to see wearing a towel while being chased by a masked killer.
This unique adventure game starts as a small group of friends meet in a remote cabin on the one-year anniversary of their friends death. Soon enough the group is running for their lives from a mysterious maniac, getting picked off one by one. Players are tasked with making snap, life-or-death choices for the characters in gruesome situations, likely leading to some unique outcomes to this mystery. Until Dawn seems to embrace its campier elements, which will hopefully make for scary good time when played in the dark.
Mario Maker
Available on: September 11 (Wii U)
If youve ever played a video game in your life, it was likely a Mario game. We could throw a football out a window, and it would likely hit some poor kid on the head while he jumped through Super Mario 3D Land on his 3DS. But for all the luster behind Mario and his games, one thing has always been absent--customization. Thats about to change with Mario Maker.
Mario Maker gives you the tools to actually craft your very own Super Mario Bros. level. Using the Wii Us GamePad, you can simply tap and drag all manner of blocks, pipes, and power-ups to anywhere on screen. Want a simple stage to test out? Go for it. Want to create a stage so hard even the infamous Kaizo Hack falls to its knees in fear? You can do that too! And if the eight-bit look doesnt suit you, you can always switch the palette over to the New Super Mario Bros. look. Wahoo!
NHL 16
Available on: September (Xbox One, PS4, Xbox 360, PS3)
NHL 16 isnt just about perfecting your on-ice fundamentals and ascending the ranks to a championship cup (though that is definitely a big part of it), the game puts you in control of every aspect of your team. Before you even set foot on the ice, you can also take on the teams general manager responsibilities. This means, youll have to oversee everything from the draft to player morale off the ice, and really get into the nitty gritty aspects of running a professional hockey team.
On top of a story-based campaign mode, players will be able to take part in nearly a dozen separate gameplay modes including the returning EA Sports Hockey League. This mode now lets you build a squad based on different player classes, then compete with that team online. This allows you to create a unique group that fits your own specific playstyle. NHL 16 is bringing much more to the table this year with new gameplay balancing, even more realistic arenas, and even mascots.
Formula One 2015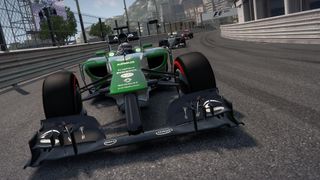 Available on: July 21 (PC, PS4, Xbox One)
Codemasters' 2014 F1 title was a (comparative) disappointment, as it offered very little over the 2013 game, even cutting out the excellent 'classic mode' content of the preceding version. But the previous games, great as they may be, are all old news now. F1 2015 will be coming to new-gen, and earlier in the F1 season than usual, updated with DLC as the real thing progresses. So maybe by July or August we'll be racing around a new-gen Monaco, chasing after a new-gen Rosberg who used new-gen 'tactics' in qualifying. And swerving to avoid a new-gen Maldonado.
It will likely be the first time we see the EGO engine running on PS4. And seeing as EGO provided one of the most versatile and impressive platforms on last-gen, that is a mouth-watering prospect. It's got to be amazing.
Need for Speed
Available on: November 3 (Xbox One, PS4)
It seems developer Ghost Games has decided to give Need for Speed a new-gen reboot. The game features the arcade-style, drift racing you see in The Fast and the Furious movies. But, just to mix things up, not all races are about being the fastest and placing first - sometimes its all about style.
In a new multiplayer mode called Rep Attack, you gain rep points by pulling off death-defying stunts. Drive close to oncoming traffic or pull off a super sick drift and you earn more points to push you up the ranking. The new Need of Speed looks absolutely fantastic with its nocturnal open world and flashy, street lamp lit race tracks. With a full car customization system, beautifully detailed world, and a few new ideas coming into the racing genre, this could be just the reboot Need For Speed needs.
Minecraft: Story Mode
Available on: TBA 2015 (PC)
Have you ever looked out over the blocky hills of a brand new Minecraft world and thought, Well, this is fine, but I could really use some dialog options. No? Well sorry, bub, because Minecraft is getting a Story Mode either way. Or more accurately, Mojang is working with Telltale on a new and entirely separate episodic series called Minecraft: Story Mode. Which sounds like the best possible way something called Minecraft: Story Mode could turn out, to be honest.
Telltale says it will follow a new narrative that's driven by player choice - much like its other licensed adventure series. Mojang assures Minecraft fans that Story Mode isn't going to squash anybody's creativity by introducing official canon events, it's just a 'cool game'. And even though Microsoft owns Mojang now, you can expect Story Mode to appear on PlayStation consoles, along with the other usual suspects.
Dishonored: Definitive Edition
Available on: August 25 (Xbox One, PS4)
Dishonored 2 will blink its way toward release sometime in early 2016, but with four years since the first game's launch, you might need a refresher on how that supernatural campaign for revenge worked out in the end. That's exactly what the Dishonored: Definitive Edition is for: packing together the original game and all its DLC, it'll bring the full Dishonored experience to PS4 and Xbox One late this summer.
The Definitive Edition will of course follow the adventures of assassin Corvo, a bodyguard framed for the murder of his royal charge, who is now on a quest for justice or revenge according to player discretion. In addition, it will feature four DLC packs, including Dunwall City Trials (a batch of Dishonored-themed mini-games that are as grizzly as you'd expect), Void Walker's Arsenal (made up of all the pre-order bonuses for each retail version of Dishonored) plus The Knife of Dunwall and The Brigmore Witches, which tell the tale of the Empress' assassin and Corvo's nemesis, Daud. For fans of the original who need a proper helping of bloody vengeance to tide them over until next year, this game is where the magic happens.
King's Quest: Your Legacy Awaits
Available on: TBA 2015 (PC)
With publishers more and more willing to delve into their old licenses, its hardly surprising that a new Kings Quest is once again in the works. Equally unsurprising is that it will stay close to its adventure game roots, and see the episodic release structure thats become inherent to the genre.
Whats probably the most surprising aspect of the upcoming entry is just how well it appears to marry the appearance of a modern adventure game with classic Kings Quest style. Despite abandoning point-and-click controls, King Graham traverses his world much as he did in his younger years - by getting far too close to obvious traps and deadly monsters than anyone should. Maybe in another 30 or so years, our persistent hero will finally figure out how to keep himself in one piece.