Tom Holland
The new Spider-Man swooped into view for an extended role in Civil War, and everyone fell in love with Holland's 'aw shucks' wide-eyed approach to Peter Parker. He's one of the few actors to be completely open about his Marvel contract, too. "They give you options and those could be exercised whenever. Like a cameo in Avengers. I'm unclear as to which movies though. I do know I have three Spider-Man [appearances in other] movies and three solo movies contracted," he told The Hollywood Reporter. "But if you have another movie, Marvel is so good at working around it. They're very respectful of your life, really. They understand that you have to work on other movies, and they try and fix it up so you can work around each other." We know he's in Infinity War and Avengers 4, and 2019's Spider-Man: Homecoming sequel, leaving one more solo movie, and one other MCU flick.
Read more: 6 questions I have after watching Spider-Man: Homecoming
Chadwick Boseman
Boseman made a lasting impression in Civil War as Wakandan prince-turned-king T'Challa. You might know him as the ass-kicking Black Panther. With one performance under his belt that leaves Boseman with only four movies remaining on his five-film contract. The standalone Black Panther movie, due in 2018, is one; and Marvel Studios head Kevin Feige has stated that T'Challa's solo flick leads into Infinity War and Avengers 4, so you can consider those definites too. That leaves one film, with a provisional Black Panther sequel the most likely bet.
Read more: Here's what happens in the Black Panther SDCC 2017 footage you can't watch yet
Don Cheadle
With four Marvel movies to his name - and even following the events of Civil War, where he loses the use of his legs - you'd hope to see even more of James 'War Machine' Rhodes in the future. After a few months of doubt, it's been confirmed that Cheadle is returning for Infinity War as of July 2017. So if you were worried that injury would take him out of circulation, it's not to be.
Read more: The 50 best Marvel movie one-liners
Anthony Mackie
In Mackie's words he's signed up for "like 50" movies in the MCU. Let's assume that he was joshing about and exaggerated the number a smidgen. "I signed up for as many movies as I could," he told Vulture. "I was willing to go as far as they would let me, in whatever capacity they wanted to retain me." Mackie's currently confirmed for Avengers: Infinity War. Mackie claims he'll survive the movie, too, meaning he's likely to appear in Avengers 4 as well.
Read more: 12 actors you forgot were in the Marvel Cinematic Universe
Paul Rudd
Rudd signed up for five movies in total. Following his headlining role in Ant-Man last year, he stole most of his scenes during an amusing supporting role in Civil War. Right, that's three remaining. He's playing Scott Lang again in Ant-Man and the Wasp, which just finished filming, and those last two slots are earmarked for Infinity War and Avengers 4. Let's not forget though: if he continues to grow (no pun intended) in popularity with cinemagoers, we might be looking at a third Ant-Man movie - and an extended contract for Rudd.
Read more: Michelle Pfeiffer, the South Korean shuffle, and the Quantum Realm - the Ant-Man and the Wasp SDCC footage you didn't see
Tom Hiddleston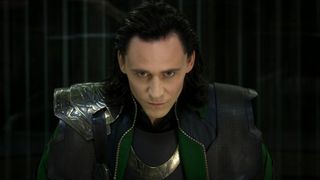 Hiddleston started out with a six-film contract. So far he's cropped up in Thor, The Avengers, and the two Thor sequels. We know he survived Ragnarok, of course, and in July, Hiddleston's role in Avengers: Infinity War was confirmed. Finally, as of November this year, he's been spotted filming on the set of Avengers 4, too, wrapping up his contract. Does this mean there's no more Loki in the MCU after the fourth Avengers movie?
Read more: Feel like a true hero with the best Marvel merchandise
Chris Pratt
"I'm tied to doing three more, or five more, Guardians of the Galaxy or whatever it is, you know, two more Guardians plus another couple..." Pratt told GQ, which the magazine took to mean: two Guardians sequels and two more Marvel movies. Guardians 2 arrived earlier this year, of course. That leaves Guardians 3 and an additional pair of non-Guardians flicks. Infinity War is definitely one, and Avengers 4 is likely the other. Wow, that one was actually easy.
Read more: 9 questions I have after watching Guardians of the Galaxy 2
Zoe Saldana
Another actor whose deal has been kept out of interviews. Saldana first appeared in Guardians of the Galaxy as a member of the intergalactic do-gooders, and – like Pratt – has a significant role in the sequel. She's also confirmed for Infinity War, and its sequel, which she seemingly revealed the title of earlier this year. Surely, too, she'll turn up in Guardians 3?
Read more: 6 Guardians of the Galaxy 2 Easter eggs that tell us about the future of the MCU
Dave Bautista
Bearing in mind that Drax is super pissed about Thanos, it makes sense that he's in Infinity War, right? Thankfully, he's confirmed for Infinity War, along with the other Guardians. While Bautista's original contract was solely tied to the Guardians movies, Marvel was so impressed with Bautista's first appearance that his contract was extended to include the upcoming pair of Avengers flicks.
Read more: Marvel is *finally* releasing an official MCU timeline... because everyone has lost track by now, right?
Bradley Cooper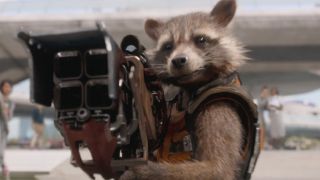 Much like his Guardians co-stars, it's likely that Cooper's contract involves the two direct sequels. Oh, no wait. Everyone's in Infinity War too, aren't they? It wouldn't be the same with his smart-mouthed little raccoon on hand to bolster everyone's spirits with violence and quips. Along with the other Guardians, we saw Rocket in the Infinity War trailer. Sounds as if Saldana, Bautista, and Cooper all have similar deals, which would also make him a lock for Avengers 4.
Read more: Take a sneak peek at Guardians of the Galaxy 2's gag reel, including a Star Wars flub