What do you get when you bring the hottest entertainment property in the world with the largest trading season of the year? Black Friday Fortnite deals, of course, and lots of them. Black Friday 2018 is set to be awash with savings and slash backs on everything Fortnite shaped, from third party merchandise to in-game V-Buck packs, so fans of the battle royale game ought to put a big marker on their calendars for when the deals starting coming in.
No one knows what Epic Games and its retail partners have in store for the Black Friday Fortnite deals just yet, but we can make some healthy predictions to help you prepare yourself in advance. The following guide to this year's Black Friday Fortnite deals explains what to look for and where in the coming days and weeks, and will be continually updated with the latest offers as they arrive, so be sure to keep this page bookmarked. Get ready, Fortnite diehards, you're about to rekindle your fandom all over again.
Black Friday Fortnite deals - when will they happen?
Black Friday 2018 itself occurs on November 23, but consider that less of a single date and more of the eye in a storm of deals and sales that take place between November 16 - 30 as part of the Black Friday season. Yep, that's right, it's an actual fortnight of Fortnite bargains (you can't make this stuff up). However, the two week event is more of a gradual buildup of deals than a non-stop shopping frenzy, with November 23 being the peak point, so you can expect some of the very best offers arriving around that weekend, right through to Cyber Monday on November 26.
Of course, if some of Fortnite's Black Friday offers are being sold in-game through the microtransaction store, then you probably don't have to worry about getting there before stock runs out, though it's entirely possible that single day flash deals could be a thing. Otherwise, keep your eyes peeled to the internet (more specifically, this Black Friday hub) to find the best Fortnite deals as soon as they show up online, and avoid missing out on the real steals.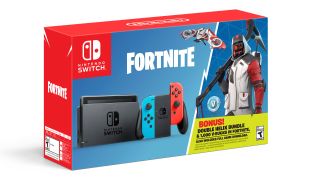 Black Friday Fortnite deals - what to expect
Fortnite is now a much bigger deal than it was this time last year, so while Black Friday 2017 doesn't give us a whole lot to go on to predict what's in store, we can be pretty certain that there'll be more offers to choose from this time around.
For one thing, there are now Fortnite console bundles for PlayStation 4, Xbox One, and Nintendo Switch, each packaged with various digital exclusive items (and a bucket load of V-Bucks) for the game on its respective platforms. I would be surprised if we don't see some sort of cost cut on any of these bundles, especially to tempt parents shopping for their kids this Christmas, so we'll be keeping an eye on those.
Speaking of the much coveted digital currency that Fortnite players can use to purchase Battle Passes, outfits, and more, there's also opportunity to nab more bang for your V-Buck this Black Friday. There's a chance that Epic may offer discounts on V-Bucks packs within Fortnite's internal marketplace, but you can also usually grab PSN and Xbox voucher cards cheap with each Black Friday season, which can then be used to buy V-Bucks through their respective online stores.
While it's unlikely that the Fortnite: Deep Freeze physical edition will be on sale only weeks after releasing on November 13, there's a good chance that PlayStation, Xbox, and Nintendo could provide savings on digital versions of the game in their online Black Friday sales. That could includes the base game, which includes access to the Save the World PvE mode and few extra goodies, or V-Bucks packages that can be spent throughout Fortnite's economy.
If you're looking to up your chances of Victory Royale in Fortnite, there's also more good news to make note of this Black Friday. Some of the best gaming TVs out there will be on sale, alongside other pieces of hardware like the best PS4 headsets and the best Xbox One headsets. And while you don't need a PS Plus Subscription to play Fortnite on PS4, Epic often gifts exclusive outfits and gear to members of the service, making Black Friday a good time to grab a PS Plus code while it's going cheap. The same could be true for Nintendo Switch Online in the future, so keep an eye out for discounts there too.
Beyond the digital realms of the game itself, there's currently more Fortnite merch in the world than you can shake a pickaxe at, and you bet your dollar that Black Friday will be cutting costs across the entire range of figurines, collectibles, and other knick knacks. Fortnite Funko Pops are now out and available for purchase, for example, and you'll often find these figurines bundled together in special offers during Black Friday. And with the spooky season behind us by the time of the dealpocalypse, it's likely that retailers will be flogging off all their remaining Fortnite Halloween costumes for mega cheap in the sales.
Meanwhile, the rest of the best Fortnite merch could equally be seeing some discounts. There's officially (and unofficially) licensed T-Shirts, Llama plushies, and even an edition of Fortnite Monopoly up for grabs. We can't promise that any of these items will necessarily be slashed during Black Friday, but we also wouldn't be surprised if they were.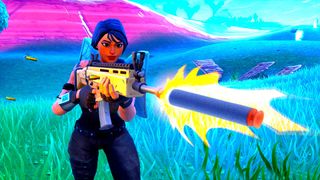 Will waiting for the Fortnite Black Friday deals be worth it?
This is the million dollar question, but the answer is pretty simple; yes. Retailers would be silly not to capitalise on a brand as popular as Fortnite right now, while Epic itself may be seeking to sustain its already sizeable player base in time for Fortnite season 7 with some in-game offers. We don't know how varied or lucrative these deals will be, but the healthy prediction is that there will be deals for Fortnite players, and lots of them.
In any case, it's really not that long until Black Friday begins in earnest anyway, so what's the harm in waiting? If nothing good comes out by the end of it, then go ahead and buy what you've been planning to buy anyway, but you might regret purchasing something Fortnite related now, only to see its RRP halved during the peak sale period.
Where do I find the best Fortnite Black Friday deals?
Naturally, no one really knows yet. We'll be updating this page frequently once the Fortnite Black Friday deals start coming in, so keep checking back in here from November 16 (or indeed even earlier) onward for the best prices. Otherwise, you can expect the usual suspects online; Amazon, Funko, PlayStation, Xbox, and Nintendo's digital marketplace and, of course, Fortnite's in-game store.
For any other specialist advice for Black Friday, have a read of our bespoke buying guides from the selection below...
Some online stores give us a small cut if you buy something through one of our links. Read our affiliate policy for more info.