Without an Xbox Live 12 month subscription you console just isn't quite complete. Sure, it plays games and Blu-rays, but you're missing out on some of the console's best features. Grabbing Xbox Live opens up a whole new world, allowing you to not only play online (hello, Fortnite and PUBG!) but also to get access to all kinds of streaming services, like Netflix, and to get TWO FREE GAMES every month via the brilliant Xbox Games with Gold. And while Xbox Live 12 month subs are usually a fixed price when you buy them direct from Xbox, you can actually save a bit of money by shopping around for codes. Code cards are like adding 12 months to your account, and they're the best way to save money.
By the time you've bought an Xbox Live 12 month subscription, and used it for a few months, you've probably already gotten value for money from the free games you've downloaded. But there are other options for getting even better value. Once you're signed up for Gold, you can take advantage of Xbox Game Pass, which makes over 100 games free to download and play whenever you want. It's a bit like when you download Netflix shows to your tablet - as long as you're subbed, you can do it as often as you like. Some of them are among the best Xbox One games out there.
It's also worth noting that you can spend less to get a 3 month subscription, if you're unsure about how much you'd use Xbox Live Gold. One thing to note is that if you buy 3 months then decide you want to keep going... just get a 12 month code, add it to your account, and it'll stack on top of your remaining time. You never lose time by adding new codes, so if you see a bargain, it's always best to top up.
Xbox Live 12 month subscriptions - the best deals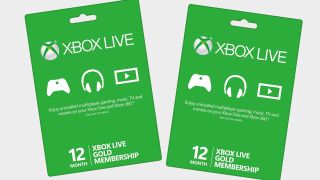 Picking up an Xbox Live 12 month code will save you money throughout the year. Sure, it's more expensive than a 3 month code, but it costs way less than buying four 3 month codes to cover the same period of time. Grabbing one of these will mean you have the code instantly too, and they're almost always cheaper than just renewing your subscription via the Xbox dashboard.
Xbox Live 3 month subscriptions - the best deals
Ok, maybe you don't want to commit to a full 12 months of Xbox Live. Grabbing a 3 month subscription does allow you to see whether or not you're going to get real value from the service. And don't forget that you can add 12 months later - if you tried it and liked it - and it'll simply stack on top of your 3 month code. So, you could end up with 15 months all paid for... Win!
Some online stores give us a small cut if you buy something through one of our links. Read our affiliate policy for more info.