The future of the Xbox One is bright. And after E3's strong showing, now really is the time to invest in an Xbox Live 12 month membership - the console's digital games are only getting stronger, Xbox Game Pass goes from strength to strength, and the range of extra services on offer is growing with each update. If you don't have an Xbox Live membership, you're genuinely missing out on a good portion of your console's features.
Perhaps the best thing about getting an Xbox Live 12 month membership is the fact you get two free Xbox Games with Gold every month. That's worth the price of subscription alone... and you get so many other benefits. So, the only question now is what length of subscription to get. A 12 month sub works out cheaper over the course of the year, and it's tough to live without the service once you've had it. We've got the best deals on Xbox Live 12 month subs below. If you decide that's too long, why not try it out for 3 months and then decide to upgrade afterwards? All the time you buy stacks, so if you bought 3 months, used it for a month, then bought 12 months you'd get 15 months total. You never lose money here, and you make the most of your console and the best Xbox One games out there.
Xbox Live 12 month subscriptions - the best deals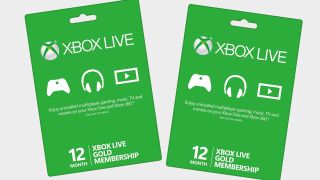 Picking up an Xbox Live 12 month code will save you money throughout the year. Sure, it's more expensive than a 3 month code, but it costs way less than buying four 3 month codes to cover the same period of time. Grabbing one of these will mean you have the code instantly too, and they're almost always cheaper than just renewing your subscription via the Xbox dashboard.
Xbox Live 3 month subscriptions - the best deals
Ok, maybe you don't want to commit to a full 12 months of Xbox Live. Grabbing a 3 month subscription does allow you to see whether or not you're going to get real value from the service. And don't forget that you can add 12 months later - if you tried it and liked it - and it'll simply stack on top of your 3 month code. So, you could end up with 15 months all paid for... Win!
Some online stores give us a small cut if you buy something through one of our links. Read our affiliate policy for more info.