If you're looking to grab a new Xbox Live 12 month subscription for your console... well, you may want to just hold off on that. Sure, you want access to all those brill Xbox Games with Gold, but right now Amazon is offering a 'Buy 3 months, get 3 months free' on Xbox Live subscriptions. That's a pretty good deal, as you're getting an extra 100% of what you paid for absolutely free. Here's the detail of the deal:
Buy an Xbox Live 3 months code, get 3 months for free at Amazon.com
Why not double the amount you get from your subscription with this tasty deal? It's literally free XBL months. Offer is applied at checkout.View Deal
Even if you're a regular Xbox Live subscriber, these codes will stack on top of your subscription, so if you've only just renewed you'll simply get 6 months added to the end of your existing subscription period. So, there's no real downside to the deal.
There will likely be big savings on Xbox Live 12 month subscriptions during the Black Friday Xbox One deals, which are expected to start in the next couple of weeks. So, you could potentially get a whole lot of free or discounted Xbox Live for cheap this November. You should definitely jump on this deal now, if it interests you, and then look to extend your Live sub further during November. If you're not into the 3 month deal, check out the best prices on 12 and 3 month codes below. And don't forget to check out our guide to Xbox Game Pass too, which will give you EVEN MORE free games. As November rolls on you may need to check our Black Friday game deals feature.
Xbox Live 12 month subscriptions - the best deals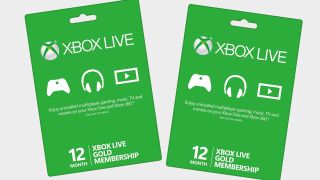 Picking up an Xbox Live 12 month code will save you money throughout the year. Sure, it's more expensive than a 3 month code, but it costs way less than buying four 3 month codes to cover the same period of time. Grabbing one of these will mean you have the code instantly too, and they're almost always cheaper than just renewing your subscription via the Xbox dashboard.
Xbox Live 3 month subscriptions - the best deals
Ok, maybe you don't want to commit to a full 12 months of Xbox Live. Grabbing a 3 month subscription does allow you to see whether or not you're going to get real value from the service. And don't forget that you can add 12 months later - if you tried it and liked it - and it'll simply stack on top of your 3 month code. So, you could end up with 15 months all paid for... Win!
Some online stores give us a small cut if you buy something through one of our links. Read our affiliate policy for more info.