I was so glad to make the jump from my OG PS4 to the Pro last winter, so you can take my word that it is a very worthwhile move. Also, if you're new to the world of PS4, there really isn't a better place to start, particularly if you have a 4K TV. I also have experience of this as, early last year, my friend didn't have a PS4, but now, after some careful persuasion by me, he has a Pro as his first Sony console of this generation, as we managed to navigate to one of the best PS4 Pro bundles for a decent price at the time. As mentioned above, particularly with the prevalence and now affordability of the latest tech in TV - the 4K resolution and HDR color systems - a PS4 Pro really is the best place to begin a Sony home-console journey. Some of the best 4K TVs for gaming are now super affordable and accessible, making them tempting purchases.
Best deal now
PS4 Pro + Red Dead Redemption 2 £349 at Argos
You're essentially getting Red Dead Redemption 2 - one of the biggest games of the generation - for free with this smart bundle at Argos.
Another good reason to start with Pro is that the PS4 Pro holds its value well, despite the fact there's almost always a deal to be had that hovers around its list price. So, if you're in the market to spend that amount of money, you'll usually find a bundle that has at least one (usually high profile) game chucked in too; effectively for free. Even if its a game you're not sure about or don't want, you'll be able to get some cash back by trading it in immediately or selling it on, particularly if its a fairly recent big-hitter.
Best PS4 bundle prices | PS4 accessories | Best PS4 headset | PlayStation VR bundles | Best 4K TVs for gaming | Best PS4 external hard drive
Why buy a PS4 Pro?
If you own a 4K TV (or you're considering picking one up - here are our top picks for gaming) you can use a PS4 Pro to actually get things in 4K. Most modern PS4 games have a 4K option, and you'll be able to access things like Netflix Premium, which has 4K and HDR enabled TV shows and movies. You can find out which PS4 titles support the feature in our list of every PS4 game with confirmed PS4 Pro support.
The best PS4 Pro deals - console only
The best UK PS4 Pro bundle deals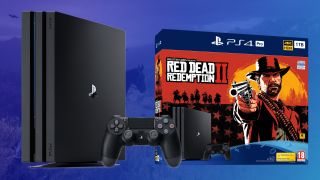 PS4 Pro 1TB + Red Dead Redemption 2 for £349.99 at Argos
One of the biggest games of the generation thrown in with a Pro for near-enough 'normal' console price? Yes, please.View Deal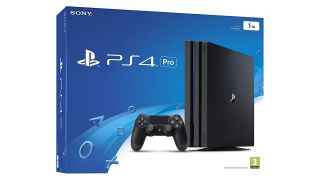 PS4 Pro 1TB console at Amazon UK for £349
The standard price for the console - still a decent investment. Pros come in and out of stock in the UK, so if you REALLY want one, this is still a good price.
View Deal
Some online stores give us a small cut if you buy something through one of our links. Read our affiliate policy for more info.