5. Star Trek Discovery
Region: UK
Season(s): 1-2
The show: It was a risk to set a new Star Trek show several years before the events of the Original Series, but, as it turns out, it was a risk worth taking. Star Trek Discovery explores a whole new realm of the Trek universe through the experiences of science officer Michael Burnham (Sonequa Martin-Green). Yep, the captain isn't the lead here. That's the first of many smart decisions made by creators Bryan Fuller and Alex Kurtzman, who deliberately avoids rehashing other Trek shows to craft something different, charting the experiences of the USS Discovery crew during wartime in Star Trek Discovery season 1.
Why it's worth watching: Loaded with expectation, there was every chance that Discovery would fall flat, failing to live up to its significant potential… and then it arrived and blew everyone's collective socks off. Strong, intelligent casting twinned with some of the most compelling storytelling of recent years, and that doesn't even touch the twists and turns. With Star Trek Discovery season 2 now available you'd better get cracking on this stellar piece of modern television.
Read more: Star Trek Discovery season 1 ending - 8 questions we need answered
4. Daredevil
Region: Worldwide
Season(s): 1-3
The show: Forget the 2003 misfire - this is the Daredevil fans have been waiting for. The first of Marvel's Netflix universe charges out of the gate, a blustering blend of brooding character drama, hyperreal action, and some of the best villainy since Heath Ledger embodied the Joker. It hails from Drew Goddard (Cloverfield) and Steven S. DeKnight (Blade), and the show received universal applause for its uncompromising take on blind lawyer-turned-do-superhero Matt Murdock, who vows to rid the streets of its criminal element, no matter the cost.
Why it's worth watching: It boasts some of the most adventurous stunt choreography ever seen in a TV series. Yes, I'm on about that season 1 corridor fight sequence. It's simply breathtaking to witness Murdock's athletic prowess - because you know, he's blind. The ambition of season 1 has yet to be bettered elsewhere in the Netflix Marvel universe, while its latter two remain compelling superhero drama.
Read more: Everything the Daredevil movie did wrong (that the TV show fixed)
3. Mindhunter
Region: Worldwide
Season(s): 1
The show: A period piece with no corsets or lofty accents, you say? Mindhunter hails from David Fincher and sets about recreating the fledgling days of serial killer profiling at the FBI. This is not your typical weekly crime procedural. Instead, this dark gem opts for the long, slow burn as Jonathan Groff's eager agent and his disgruntled colleague (Holt McCallany) stray into dangerous territory: interviewing incarcerated serial murderers. Based on the true story of the first FBI profiler, his personal story is interwoven perfectly during the course of the first season, which tells episode after episode of rich, textured storytelling that'll get under your skin and stay there.
Why it's worth watching: Decades of crime entertainment - ahem, CSI - have turned all of us into armchair sleuths, and the majority of movies and shows know that. Mindhunter is rewarding as hell to watch for entirely the opposite reason. You'll be shouting at the TV as the two agents apply their newly-founded techniques to catch active killers.
Read more: 5 reasons why Netflix's Mindhunter isn't like other shows about serial killers
2. Stranger Things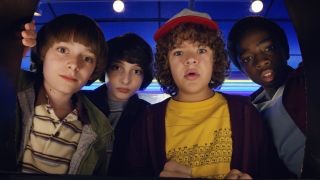 Region: Worldwide
Season(s): 1-2
The show: THE binge-watch series of the last few years, the Duffer Brothers cobbled together a patchwork of '80s references then siphoned all of that into a killer plot about government experiments on members of a small town in Indiana. Things come to a head when a young lad goes missing, causing his mother (Winona Ryder) and friends to consider the strangest possibility: that there's a parallel world to ours. And it ain't nice.
Why it's worth watching: These kids! The whole cast is terrific (I personally was very pleased to see Winona Ryder back in the thick of it), however it's the young leads who steal the show. Scurrying around Hawkins on their bikes in the dead of night and hunkering down in basements trying to find their missing pal; they will melt your hearts, especially Millie Bobby Brown as Eleven.
Read more: 10 Stranger Things season 3 theories to turn your world Upside Down
1. Breaking Bad
Region: Worldwide
Season(s): 1-5
The show: It's hard to believe Breaking Bad recently celebrated its 10 year anniversary (!) when it remains one of the best TV shows to emerge in recent times. The killer premise of a chemistry teacher-turned-meth dealer spins out of control across five seasons. The teacher in question, Walter White, transforms from nice guy to antihero while hiding his illegal shenanigans from his family.
Why it's worth watching: There's a reason it's the biggest watercooler series to arrive in the last decade. Just when you think the stakes can't get raised any higher, Mr. White steps up his game, taking his quest to ever-crazy heights of excess. His quietly simmering rage is spectacular to watch thanks to a nuanced turn from Bryan Cranston, who manages to make White a incredibly compelling character.
Read more: Let Netflix convince you that The Walking Dead is a sequel to Breaking Bad