15. Archer
Region: UK
Season(s): 1-8
The show: Imagine the animated antithesis of Austin Powers; a secret spy whose suave allure is only matched by his humourous put-downs and seeming ineptitude. That's Sterling Archer, an agent for ISIS (yeah, they later changed the name) whose missions are often thwarted by his own agenda to win back his girlfriend Lara. Along with him for the ride are his misfit co-workers, whose adventures teeter on the brink of silly to downright ridiculous. What do you expect? Creator Adam Reed cut his teeth working on Adult Swim.

Why it's worth watching: The sheer irreverence of Archer is the show's strongest asset. He'll rally against his boss and mother - which he does, frequently - if it means getting a leg up or over. And, while it's got a lot of seasons under its belt, the series stays fresh by switching up narratives and completely changing eras.
14. Ash vs. Evil Dead
Region: US
Season(s): 2
The show: Decades after Ash's final tussle with the Deadites and we're back where we started: at a supermarket. Not for long, though, as the Necronomicon soon comes back into play and Ash is called out of retirement to battle the forces of darkness with his trademark wit and slapstick style. Fans of the Evil Dead film franchise are probably already devouring the series, but if you're not, start now! Creator Sam Raimi, who gave us the original movies, is back as producer and Bruce Campbell returns as the buffoonish Ash.
Why it's worth watching: The series greatly improves upon what worked in the movies, and gives them a modern update. Instead of being stuck in one location, the show plays out like a cross-country slasher with Ash and his two sidekicks Pablo and Kelly leaving a trail of destruction wherever they go. Plus, gorehounds will dig how vile things get. Ash's trip to the morgue will likely put you off your dinner.
13. Mad Men
Region: UK, US
Season(s): 1-7
The show: This award-winning period piece rides the wave of prestige television, taking a high dive into some seriously low behaviour. A glimpse back into the 1960s era of Madison Avenue advertising execs, those self-dubbed titular mad men, this HBO series explores their hedonistic extra-curricular activities and how that affects the workplace. One of the most celebrated TV shows in recent times follows the employees of reputable agency Sterling Cooper, led by the smooth-yet-troubled Don Draper, as they navigate through the decade.

Why it's worth watching: Dramatic, funny, insightful - and that's just in the first episode. This is a compelling slice of nostalgic Americana, looking back at a period of great change with knowing winks and uber-cool style. You might find yourself getting frustrated at how misogynistic things are; but it's rewarding to see trends change as time passes.
12. Dark
Region: Worldwide
Season(s): 1
The show: Seeing as you've binged the hell out of Stranger Things multiple times, you're gonna need something similar to tide you over until season 3. Enter Dark. From the outset, this German-language Netflix Original makes no bones about its intentions: to be creepy, eerie, and as Lynchian as possible. And I say that not just because it's odd, but, because like Lynch, this delves into the rotten underbelly of seemingly perfect small-town life. In this case, it's the tale of two missing children that stirs up trouble for a mysterious community.
Why it's worth watching: You're unlikely to see anything else quite like it. Sure, it may share ideas with some popular shows, but Dark packs a lot of unique pieces into its puzzle. Utterly compelling TV.
Read more: The creators behind creepy new Netflix drama Dark explain why their show is more Twin Peaks than Stranger Things
11. Mindhunter
Region: Worldwide
Season(s): 1
The show: A period piece with no corsets or lofty accents, you say? Mindhunter hails from David Fincher and sets about recreating the fledgling days of serial killer profiling at the FBI. This is not your typical weekly crime procedural. Instead, this dark gem opts for the long, slow burn as Jonathan Groff's eager agent and his disgruntled colleague (Holt McCallany) stray into dangerous territory: interviewing incarcerated serial murderers. Based on the true story of the first FBI profiler, his personal story is interwoven perfectly during the course of the first season, which tells episode after episode of rich, textured storytelling that'll get under your skin and stay there.
Why it's worth watching: Decades of crime entertainment - ahem, CSI - have turned all of us into armchair sleuths, and the majority of movies and shows know that. Mindhunter is rewarding as hell to watch for entirely the opposite reason. You'll be shouting at the TV as the two agents apply their newly-founded techniques to catch active killers.
Read more: 5 reasons why Netflix's Mindhunter isn't like other shows about serial killers
10. Jessica Jones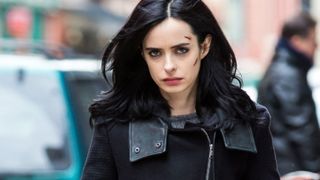 Region: Worldwide
Season(s): 2
The show: Marvel's second Netflix Original series is a dark, gripping drama about a private investigator with super-powers who just wants to curl up with a bottle of Jack and be left alone. The world comes knocking with a problem, and it's up to Jessica Jones to track down the hellish man responsible... who just happens to be a familiar face. Along for the ride is trusty comrade Trish Walker, whose talk show sheds a little too much light on the 'supers' for Jessica's taste, and neighbour Malcolm, who are both desperate to help Jessica put her demons to rest. As is often the case, her past returns to haunt her...
Why it's worth watching: Kristen Ritter's performance as the titular hero, who resists her calling at every turn, is truly stunning to watch. Each episode charts her inner struggle to winning effect, and sheds a light on the true consequences of trauma. And with season 2 now available, it's time to get caught up.
Read more: 6 questions I have after watching Jessica Jones season 2
9. Black Mirror
Region: Worldwide
Season(s): 1-4 and the Christmas special
The show: Charlie Brooker's sci-fi show is set just a few years into the future, a place where our every technological whim is accounted for - along with our ability to completely abuse them. The decision to locate it so close to our own time has made it one of the most-talked about shows in years. An anthology series, each episode serves as a standalone story that investigates a particular piece of tech and how they could lead to mankind's downfall.
Why it's worth watching: While it's often described as sci-fi, it packs in elements from every genre imaginable. Depending on the story a particular episode may be romantic, action-packed, or creepy, but one thing they all have in common is that they're all downright terrifying.
Read more: 6 questions we have after watching Black Mirror season 4
8. The Good Place
Region: UK, US
Season(s): 1 (US), 2 (UK)
The show: On the surface the new show from Parks and Recreation showrunner Michael Schur sounds similar-ish to Dead Like Me. Someone dies, experiences the afterlife, and embraces the comedy of the situation. It's not quite the same though because instead it combines the cheerful glee of Parks with the existential WTF?-ness of something like Lost. Kristen Bell stars as Eleanor Shellstrop, a self-centred individual who is gifted to quite a pleasant post-life existence alongside her soulmate.
Why it's worth watching: As well as being really, really funny and introducing us to yet another hugely talented group of actors, it also packs some great dramatic twists and turns that you won't see coming.
Read more: Holy shirt, if you've finished watching The Good Place, we've got a lot to talk about
7. The Punisher
Region: Worldwide
Season(s): 1
The show: The sorta baddie from Daredevil season 2 returns for his own dedicated series. That's right, Frank Castle, aka The Punisher, is given an expanded storyline that delves deeper into his traumatic past and pushes forward into an even more troubled future. Where Daredevil, Jessica Jones, and Luke Cage exposed Marvel fans to the gritty underbelly of New York City, The Punisher rips that belly wide open and blasts a few extra rounds through it for good measure. Yes, it's violent.
Why it's worth watching: Like all good TV, The Punisher takes risks to try and push on into new territory - it doesn't really belong in the superhero genre. With fewer balls-to-the-wall action pieces and less explosions that you would expect, you might have met Frank Castle before, but not like this.
6. Parks and Recreation
Region: US
Season(s): 1-7
The show: Parks and Recreation stumbles a little during its first season, as reflected by its mixed reviews, but the powers-that-be took that advice and ran with it. Trust me, you'll be laughing all week if you stick with it. Led by the brilliant Amy Poehler, it revolves around the day-to-day experiences of Leslie Knope, deputy director of the Pawnee parks and recreation department, and her misfit bunch of co-workers. Told through a mockumentary-style of shooting, the show uses the pettiness of small-town bureaucracy as its comedic fodder.

Why it's worth watching: It swerves around the pitfalls of sitcom tedium, thanks to some of the most memorable comedy characters in TV history played by Nick Offerman (who will provide you with one-liners and woodwork advice), Aziz Ansari, Aubrey Plaza, Rashida Jones, Retta, and Chris Pratt.