10. Network (1976)
Region: US
The movie: Dripping with fury and venom, amid a somewhat over-the-top central idea for its time, Network has since ripened with age. A ratings-driven news network opts to make entertainment out of its lead anchor, when he threatens to commit suicide on air after learning he's being let go from a 25-year post. The tale of Howard Beale (a superb, delirious Peter Finch) might not seem radical in 2019, but this is all about the execution. While he doesn't end his life on live television, what he does causes far more damage.
Why it's worth a watch: Well-written, sharp, incisive dialogue, great direction, a topic that's still relevant today… there are many, many reasons to dive into Network. Reality TV, hyped up to elicit the basest responses from viewers, is old hat nowadays. We're all used to it and we barely let it register. But in 1976, Network seized on this prescient concept of hell and made it a splendour.
9. The Silence of the Lambs (1991)
Region: UK
The movie: Anthony Hopkins' turn as the flesh-eating Hannibal Lecter is so embedded in our culture, that with a quick sizzle of the tongue and a mention of Chianti, people know what you're referencing. The Silence of the Lambs is more than Lecter's churlish behaviour, however, it's a stunning masterpiece, trimmed of all fat, that tells a story of good vs. evil with distinct areas of grey to make the entire experience all the more thrilling. Jodie Foster's recent FBI graduate Clarice Starling is a cut above the rest of her class, earning the respect of her superior Jack Crawford, who sends her to a psychiatric hospital to interview the notorious serial killer Hannibal Lecter with the hopes of gaining insight on another criminal who currently has a Senator's daughter held hostage.
Why it's worth a watch: Often copied but seldom bettered, perhaps Fincher's Seven or Zodiac are the closest we've come, the movie is a gripping, watchable-as-hell thriller. From the script choices to the casting, from the direction to its skilled editing, which transforms a standard cat-and-mouse ending into one of cinema's most inventive finales, the film remains some thirty-something years later, a chilling piece of work.
8. The Dark Knight (2008)
Region: US
The movie: Less black and white than its predecessor, the middle chapter in Christopher Nolan's Batman trilogy is a stalwart example of how to improve upon a genre whilst simultaneously appealing to its die-hard fanbase. The Dark Knight finds Bruce Wayne once again struggling with the criminal element of his hometown. This time, his stacked wallet won't help him when it comes to the hijinks of Gotham's most uncompromising villain - the dastardly Joker, who thinks nothing of blowing up hospitals and setting aflame giant pallets of cash.
Why it's worth a watch: Believe the hype on this one - it's got the lot, from action-packed set pieces that rival the likes of Cameron to characters caught in a web of moral misunderstandings. It's simply a terrific piece of superhero cinema. Nolan's love of Batman feels almost tied with his admiration for the Joker, who, while a criminal mastermind, seems to have a point to his mad ramblings.
7. Spider-Man: Into the Spider-Verse (2018)
Region: US
The movie: Peter Parker gets bitten by a spider at a lab, his Uncle Ben dies, he goes…zzzz. Sorry, nodded off there for a moment. We all know Spidey's origin story. That's why, like Homecoming, Spider-Man: Into the Spider-Verse opts to bypass that retelling and dive into something new. The socially-awkward New York teen Miles Morales is the lead, and it's his story, one of diversity, acceptance, and compassion, that fuels one of the best Marvel movies made that's not in the MCU. His story may borrow familiar elements, yet it spins a web - ahem - of its own.
Why it's worth a watch: It's hard to find fault with what's become one of *the best* comic book movies ever made. Considering how well we know this character, its a miraculous that this makes the Spidey universe feel utterly original. It's a blast, it feels fresh, the soundtrack is dynamite, and it's visually stunning. Get it watched.
6. The Witch (2015)
Region: US
The movie: Arriving to mass critical acclaim upon its Sundance debut, Robert Eggers' creepy-as-hell period chiller The Witch absolutely deserves its place in the horror pantheon. The movie takes place in 1630s New England, when William and Katherine and their family are cast out of the Puritan church and break for a new life on a remote settlement edging a spooky forest. As if being ostracised from everything they know isn't bad enough, the couple are devastated when their baby Samuel is snatched while their daughter Thomasin watches over him. Things get worse from there. Much, much worse.
Why it's worth a watch: Granted, this is a slow burner that's not heavy on the visuals of the big bad witch, but that's not the point. This is a glorious meld of period piece, familial drama and supernatural foray, that's its most scary when Thomasin and and her mother are at odds. Oh, and of course, Black Philip always make it worth a watch. Who? Hit play and find out.
5. Jurassic Park (1993)
Region: UK
The movie: Even now, with two Jurassic World movies in the bag and a third on the way, Steven Spielberg's original trek to Isla Nublar remains the best. Billionaire John Hammond decides to play god by orchestrating the creation of gene-spliced dinos as attractions in a park. Naturally, this scenario escalates to action-packed heights, - as if often the case when you indulging whims to create a safari park… full of dinosaurs. Ushering in guinea pigs to test run the park - including his own grandkids - things go goes awry when the frankensteined beasts have designs of their own.
Why it's worth a watch: Why ISN'T it worth a watch? Spielberg's Jurassic Park remains THE yardstick for comparison when it comes to blockbusters. Movies like this come along once in a generation. From the awe-inspiring visuals of Stan Winston's animatronic dinos to John Williams' epic, hummable score to the story brimming with great characters and immense set-pieces.
4. Goodfellas (1990)
Region: UK
The movie: "As far back as I can remember, I always wanted to be a gangster." So goes Goodfellas' opening voiceover; an iconic one-liner that sets the stage for the movie to come. Directed by Martin Scorsese, the film is based on the true story of mobster Henry Hill whose exploits are so outlandish you'll be gobsmacked to learn they actually happened. With excellent turns from Ray Liotta, Robert De Niro, Joe Pesci, and Lorraine Bracco, this is, simply put, terrific cinema.
Why it's worth a watch: Forget The Godfather, with its lengthy shots and moody lighting, this is the real deal when it comes to screen gangsters. The fast pace, the action sequences, that gorgeous tracking shot, and Liotta's superb voiceover mark Goodfellas as a classic, but it's the inevitable downfall of the major players involved that makes it so much damn fun to watch.
3. Her (2013)
Region: US
The movie: The tender tale of a lonely man who finds companionship with his operating system. Only someone like Spike Jonze could take that concept and craft a sweet, tender story. This 2013 Oscar-winner follows the life of professional letter writer Theodore (Joaquin Phoenix). Recently-separated from his wife (Rooney Mara) and struggling to move on, he befriends his new A.I. operating system, Samantha (voiced by Scarlett Johansson). Eschewing other social engagements so he can spend more time with Sam things swiftly take a turn when his feelings develop.
Why it's worth a watch: A forbidden love story between humans and technology? I hear you: this topic can get a little icky, but Her gracefully sidesteps any gross scenarios due to Samantha's lack of physicality. At its core, the film explores the topic of impossible romance while revealing a lot about our relationships with devices.
2. Carrie (1976)
Region: UK, US
The movie: Starting with *that* rite-of-passage bloody rags encounter, Carrie, arguably the best King adaptation, opens on one of the toughest times for the eponymous ostracised teen (Sissy Spacek). Carrie's high school struggle is made all the more confusing due to her blossoming telekinetic talent and zealous, manic mother. As the film culminates in an outburst of a lifetime's pent-up rage, some 40 years later, Brian De Palma's flick still persists in wringing terror from life's unsuspecting moments.
Why it's worth a watch: A heavily-stylised horror from the late '70s? It's bound to be cheesy as hell, right? You might think it wouldn't have a lasting impact, Carrie continues to pack a hefty emotional wallop, thanks to Spacek's central performance. Oh, and let's not forget the scene with Piper Laurie as Carrie's mother chopping carrots like her life depends on it.
Read more: The 25 best horror movies of all time, whatever your taste in terror
1. Moonlight (2016)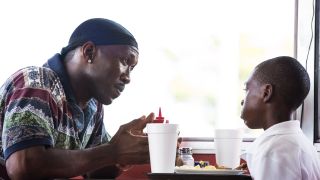 Region: US
The movie: A coming-of-age drama with a difference, Moonlight tells the tale of Chiron throughout three stages in his life. Each chapter of his story unveils the troubles he's overcome, both internal and external, from his burgeoning sexuality, to the abuse he suffers as a child. Choosing to focus on the truth of his characters over a complex plot or distracting visuals, writer-director Barry Jenkins lets the movie float along as if we are spectators to Chiron's life.
Why it's worth a watch: The Academy doesn't always get it right when it comes to Best Picture. With Moonlight they were spot on, giving the most prestigious accolade to the most deserving movie. A timely, sensitive piece that deals with the heavy topics of Chiron's life with the lightest touch, most of which is highlighted by the superb central performances from the Trevante Rhodes, Ashton Sanders and Alex Hibbert. Mahershala Ali's turn as the drug dealer-turned-father figure Juan is sublime.