5. Black Panther (2018)
Region: US
The movie: The MCU breaks new territory as we head to Wakanda, ancestral home of T'Challa (AKA Black Panther) as he's torn between inheriting the role of leading his country in the wake of his father's death and fighting off usurpers from all sides. Lurking in the shadows, too, is Erik Kilmonger (Michael B. Jordan) who places himself firmly among the pantheon of best Marvel villains by going toe-to-toe with T'Challa for control of the technologically-advanced African nation. All this leads to several climactic showdowns within Wakanda and beyond as T'Challa has to prove he has what it takes to become a king.
Why it's worth watching: Simply put, this is Marvel at its very, very best. While the studio with the Midas touch can seemingly do no wrong, this projected undoubtedly represented a risk. It needn't have. With Ryan Coogler behind the camera, this is a movie that pops with flair and colour as well as elevating Black Panther to the top tier of MCU heroes. No mean feat for the first (of presumably many) standalone movies. This being Marvel, there's several cameos along the way to keep you entertained – and one heck of a final showdown.
Read more: What does the Black Panther ending mean? And 5 other questions we still have.
4. The Sixth Sense (1999)
Region: US
The movie: "I see dead people." That's the line everyone remembers from The Sixth Sense, and, that one iconic line kinda sums up the film. Cole (Haley Joel Osment) is a sensitive kid who indeed does see ghosts. His mom (Toni Collette) sends him to see a therapist Malcolm (Bruce Willis) to help with his visions and social anxieties, all the while his experiences with the dead continue to grow more violent...
Why it's worth watching: This is the reason everyone pays attention when Shyamalan releases a new movie. The Sixth Sense set the standard high and I'm not even talking about the twist. It packs in a raft of creepy moments, making it one of the most chilling flicks ever made, and somehow also manages to be a massive tearjerker at the same time. Toni Collette's last scene? Try not to blub.
3. Heat (1995)
Region: US
The movie: What do you get when you unite two of cinema's most iconic actors in the same film? Michael Mann's Heat. Of course, to say this is essential for any film fan purely because of that would be to discount everything else that makes this one of the best action films ever made. The best part is, it's also a heist flick, that finds Robert De Niro cast in the role of criminal mastermind Neil McCauley, who's out to do "one last job" with his crew before calling it a day. On the other side of the law, is Al Pacino's Lieutenant, who is eager to bring down McCauley and his team.
Why it's worth a watch: De Niro. Pacino. They've since appeared together onscreen, in the not-so-bueno Righteous Kill, but seeing this pair work their magic for that one particular scene is dazzling. Oh, and the shoot-outs? Epic.
2. Seven (1995)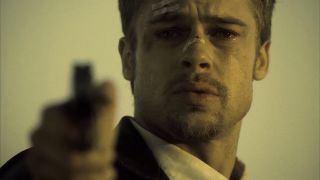 Region: US
The movie: Following a disastrous experience on the set of his first feature, Alien 3, David Fincher swore off studio films. He had no interest. That is, until the script for Seven landed on his desk. Penned by a former record store employee with a penchant for dark cinema, something about Seven caught Fincher's attention and he climbed aboard. Set in an unnamed, gloomy American city, the story follows two cops, Mills (Brad Pitt) and Somerset (Morgan Freeman) as they pursue a serial killer who models his murders after the seven deadly sins.
Why it's worth a watch: Remember that surge of serial killer movies in the '90s? Seven is the one that started them all. And, like all good trendsetters, it's stood the test of time, proving that a good twist can be an integral part of the plot, and not just a crappy gimmick.
1. Kill Bill Vol. 1 (2003) and Vol. 2 (2004)
Region: UK, US
The movie: Tarantino's double-bill oozes with blood. It's so doused with the stuff, that a majority of its most violent scenes are shown in black and white, so as to avoid a harsher rating. That should give you an inkling as to the type of fare on offer from the pop. culture connoisseur-turned-director. Kill Bill Vol. 1 and Vol. 2 bludgeons together a number of grindhouse cinema genres, and shapes them into a revenge flick that finds Uma Thurman's The Bride cruelly double-crossed on her wedding day.
Why it's worth a watch: Oh, there are all sorts of stand-out moments that make it worth watching, and it's mostly down to the superb performances from its main cast. But for me? The Bride's first visit on her kill-list tour to the abode of one Vernita Green is the clincher, one of Tarantino's best openings, that finds the pair beating seven shades out of each other.
Read more: The 25 best movies that pass the Bechdel Test with flying colors