15. The 40-Year-Old Virgin (2005)
Region: US
The movie: Poor Andy. Sure, he's got a swell action figure collection, and a sweet gaming rig, but he's 40-years-old and has never had sex. Thankfully he's the star of an R-rated Judd Apatow movie, meaning he's surrounded by revolting yet well-meaning friends who'll do anything to make sure he gets laid. Steve Carell grounds the whole movie as the loveable schlub Andy, who pals around with his co-workers, and eventually is invited to their poker game where it's revealed that he's never had sex. Because he compares the feel of a vagina to sand...
Why it's worth a watch: Yes, like most Apatow movies, it runs long, but don't let that put you off. This is funny as hell, thanks to a majority of the actors being given free roam with regards to improvising. The "you know how I know you're gay" scene being one of them.
14. Star Wars: The Force Awakens (2015)
Region: US
The movie: In the thirty years since Star Wars completely changed the face of Hollywood, no-one thought it could be bettered. Then along came episode 7, The Force Awakens. JJ Abrams' soft reboot picks up decades after the Rebels victory over the Galactic Empire, switching out the main Skywalker cast for an ensemble of fresh faces to lead a new trilogy of flicks. Granted, it owes a great deal to A New Hope, from the plot to the character quests, but gosh darn, it's so much fun you honestly won't care.
Why it's worth watching: Igniting a new trilogy within the main Star Wars saga is no easy task - especially with the entire world ready to dissect and analyse it. The Force Awakens succeeds thanks to its winning central trio of newbies played by Daisy Ridley, John Boyega and Oscar Isaac. You might miss Luke, Leia and Han's youthful exploits... but not much.
Read more: Star Wars: The Force Awakens ending - 14 questions we need answered
13. Hellboy 2: The Golden Army (2008)
Region: UK, US
The movie: Guess who's back, back again? Everybody's favourite disgruntled half-demon returns for a second outing that's just as much fun as the first. Taking a slightly more light-hearted approach, director Guillermo Del Toro shows off a different side to the comic book franchise, as Hellboy and his comrades this time wind up battling Prince Nuada, an underworld prince with ideas above his station, who wants to resurrect an ancient army and turn Earth into a sort-of fantastical romping ground.
Why it's worth a watch: After scoring an absolute home run with the first flick, Del Toro invigorates the sequel by stuffing it with everything that made its predecessor such as hit. Great dialogue, proper supporting characters that have more to do than act as convenient plot pushers, and some truly stunning visuals.
12. The Social Network (2010)
Region: UK
The movie: David Fincher reins in his typical bleak approach… ha, just kidding! Sure, there are no serial killers or underground fight clubs, but The Social Network is Fincher through and through. It's a dark, twisted, and highly-stylized story of Facebook founder Mark Zuckerberg's rise to fame. No stone is unturned as the boy wonder goes from college nobody to billionaire, which is why the subsequent shoddy treatment of his pals on the way up makes for some essential viewing.
Why it's worth a watch: Who doesn't love a rags-to-riches story? Well, I wouldn't say Zuckerberg's tale is strictly that (he is at Harvard when he creates Facebook) but it's nevertheless fascinating to see how, despite having more money than sense, life isn't any easier for him.
11. Annihilation (2018)
Region: UK
The movie: We're not yet three full months into 2018 and Annihilation is already a strong contender for the year's most ambitious film. Very loosely based on Jeff Vandermeer's novel of the same name, it revolves around a parcel of land referred to as 'Area X'. After something crash lands in Florida, the area develops and grows, gobbling up land at an alarming rate, cut off from the world by an enormous barrier called the Shimmer. All previous exploration groups bar one survivor have failed to return from Area X and the government body in charge, Southern Reach, has no idea why. Still, why not try sending yet another expedition into its fatal clutches? Enter Lena, a scientist whose husband was the sole returnee from the previous mission, who joins four other women desperate to figure it out.
Why it's worth watching: A gloriously trippy jaunt into a world previously hinted at in Garland's Ex Machina, Annihilation bursts at the seams with ideas. With less emphasis on a traditional plot, go into this film with the willingness to soak up the mood, feeling and gorgeous visuals. Part body horror, part survivalist thriller, this stands out for its stellar all-female lead cast, who bring a feminine edge to the traditionally male sci-fi genre. Combine that with the daring, WTF aspects of the story, and you'll find the hairs standing up on the back of your neck several times throughout. Do not miss this.
Read more: Annihilation ending - 5 questions we need answered
10. Okja (2017)
Region: Worldwide
The movie: A near-future sci-fi flick by Snowpiercer director Bong Joon-ho, this is exactly the type of Netflix Original the world needs: funny, weird, and utterly charming. Part environmental parable, part bleeding heart manifesto, the movie follows, Mija, a 10-year old whose best friend is a super-pig called Okja. When the lab that created her friend steal the swine away from her, Mija embarks on an adventure to retrieve Okja that takes her across the globe. Unlike the brutal, bleak landscape of Snowpiecer, Okja showcases Joon-Ho's softer side. It's still oddball and wacky, but packed with a ton of heart.
Why it's worth watching: One of Netflix's first movies that manages to juggle different ideas without losing sight of the goal; a real genre-blending effort. Oh, and Tilda Swinton. Anything that involves Tilda Swinton is worth watching.
9. Bridesmaids (2011)
Region: UK
The film: A good comedy needs to meet a certain criteria. It has to pack in a high ratio of laughs per scene. But that's not all. It's got to have heart, too. What sets Bridesmaids apart from its closest competitors (ahem, The Bachelorette) is how it manages to balance those two elements perfectly. The story follows Annie (Kristen Wiig), who accepts her best friend Lilian (Maya Rudolph)'s offer to be her maid of honour. While trying to arrange fun activities for all the bridesmaids, she keeps bristling up against Lilian's other best pal, Helen (Rose Byrne).
Why it's worth watching: Forget whining, nagging wives trying to spoil their husbands' fun, or the sumptuous, cleavage-tastic tempresses who serve only as eye candy. The women of Bridesmaids are different. Like their male counterparts have done in comedy for decades, they embark on all sorts of debacles. They're thrown off planes, they get drunk, accidentally high, soil themselves in the streets, and… uhh… steal a lot of labrador puppies.
8. The Nice Guys (2016)
Region: UK
The movie: Channeling the best elements of every buddy cop movie and crafting something wholly unique, Shane Black's action comedy noir is simply one of the funniest flicks of recent years. Ryan Gosling stars as Holland March, a broke private eye living it up in '70s Los Angeles. After getting hired to investigate the mysterious death of a fabled porn star, he soon meets Jackson Healy (Russell Crowe) - a thuggish enforcer, who quickly becomes his partner-in-crime. A madcap scramble
Why it's worth a watch: Black, who penned the sorely underseen Kiss Kiss, Bang Bang, sculpts fantastically far-fetched dialogue and bonkers scenarios, and his characters are juuuust a hair's breadth away from becoming caricatures. It's that great combo that makes Gosling and Crowe the action duo of the decade.
7. Captain America: The Winter Soldier (2014)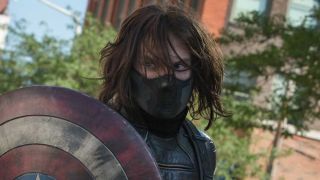 Region: UK
The movie: Despite what the world thinks about The First Avenger, I think it's excellent. It is, however, trumped by its sequel that is better in every way imaginable. The first Russo Brothers entry in the MCU is a slick outing, packed to the gills with ambitious action sequences and surprisingly tender emotional beats. Catching up with Cap two years after the events of The Avengers, the whole world comes crashing down when the patriotic avenger learns some harsh truths about his employers.
Why it's worth a watch: From the insane car chases, to the twisted '70s thriller vibe, to *that* elevator moment, there's no other film in the MCU that touches its prowess. The Winter Soldier is arguably the best movie in the entire Marvel Cinematic Universe.
Read more: The best Marvel movies, ranked from Iron Man to Avengers: Infinity War
6. Hot Fuzz (2007)
Region: UK, US
The film: The juicy filling in the middle of Edgar Wright's Cornetto Trilogy brings back his trusted comrades Simon Pegg and Nick Frost as Nicholas Angel and Danny Butterman, two cops living in a quiet English 'burg. Where Angel is straight-laced, Butterman is more of a free spirit. They're essentially an action movie duo happiest when spoofing their favourite blockbusters. It's not all fun and games, though. Things inevitably go awry as they often do in quiet, idyllic movie villages when the bodies start to pile up...
Why it's worth watching: Imagine your favourite buddy cop movie. And now imagine it retold in a quaint West Country village through the cheeky, meta-tinted eyes of Pegg, Wright, and Frost. Who would have thought that two polar opposites - the blazing balls-to-the-wall sequences of the action genre and the snail's pace of small-town life - would work so well together. This is how you homage.