5. The End of the Tour (2015)
Region: US
The film: Rather than do a straight adaptation - as if that's even possible with the book in question - of David Foster Wallace's Infinite Jest, this movie delves into biopic territory. It's actually based on the non-fiction book by Rolling Stone reporter David Lipsky (Jesse Eisenberg) who tags along for five days of Wallace (Jason Segel)'s book tour, hoping to get insight and perspective on the legendary author.
Why it's worth watching: For fans of Wallace, it's the closest we'll ever get to an autobiography. For everyone else? Watching Segel tap into another side of his acting persona is mesmerising.
Watch The End of the Tour now on Amazon Prime Video
4. End of Watch (2012)
Region: UK
The film: Years before he dabbled with Suicide Squad, David Ayer directed a gritty police drama close to his heart. He's spent a large chunk of his filmmaking career making movies about the LAPD - Training Day, Harsh Times - yet this one's a little different. An evening in the life of two beat cops, Jake Gyllenhaal and Michael Pena, unravels to show their friendship and tight bond. And then everything goes to shit.
Why it's worth watching: The way it's filmed (dashboard cameras like found footage) makes you feel like you're really in the cop car with the two buddies. That also makes it sting when bad things go down...
Watch End of Watch now on Amazon Prime Video
3. Carol (2015)
Region: UK
The film: One of 2015's award darlings deserves all the praise it can get. Adapted from the Patricia Highsmith novel The Price of Salt, the film stars Cate Blanchett as an exotic, affluent housewife who completely charms Rooney Mara's shopgirl. It's a distinctly fifties piece (the costumes, production) but told through a distinct modern lens. Gorgeous and utterly compelling.
Why it's worth watching: Far From Heaven director Todd Haynes knows how to do period pieces. Every tiny detail of the production is given its time in the spotlight, adding to the love story between the two leads. That in itself is a breath of fresh air, as LGBTQ relationships in cinema are rarely represented this way.
Watch Carol now on Amazon Prime Video
2. Sicario (2015)
Region: US (UK - watch it on Netflix)
The film: The director behind the next Blade Runner movie, Denis Villeneuve more than proves he's got the chops for the job with this dark, violent thriller. Emily Blunt stars as a promising FBI agent who joins a taskforce assigned to bring down a Mexican drug cartel. Beautiful cinematography, a sterling cast and some truly chilling shootout scenes.
Why it's worth watching: There's nowhere that the movie doesn't explore in its examination of the US War on Drugs. Things get bleak and yet, somehow you can't look away. And Blunt seems to never stop pushing herself, giving a haunting performance as Kate Macer.
Watch Sicario now on Amazon Prime Video
1. Ex Machina (2015)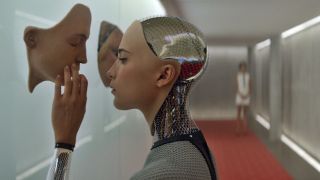 Region: US
The film: A computer programmer (Domhnall Gleeson) wins a once-in-a-lifetime opportunity to spend a week with his firm's CEO (Oscar Isaac) - little does he realise that he was specifically chosen to take part in a test to evaluate a robot's consciousness. Turns out the robot is also quite attractive.
Why it's worth watching: Movies concerning robots with artificial intelligence tend to make a case for their 'souls' being equally as important as ours, and all that they need is love and understanding. Alex Garland's film tussles with that very topic. Except Ava ain't no Bicentennial Man or Iron Giant.