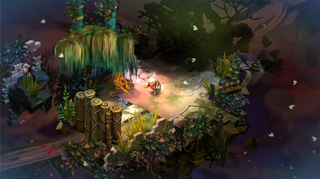 Small but mighty
It's a monumental effort to make a video game. The accomplishment is all the more impressive when it's done by a handful of people with nothing but a shoestring budget and a dream. Despite the hurdles, we've been in a golden age of independent game development for several years. Here are twenty-five of the best indie games ever made.
A quick note about terminology. For our purposes, we're classifying "indie" as a game made by a small team without any funding from a publisher. This means you won't find the (admittedly excellent) works by Valve or Double Fine, and there's nary a Journey to be seen. But what you will find are 25 unique and special creations that show just how much indie game devs can do with just their own brains and brilliance.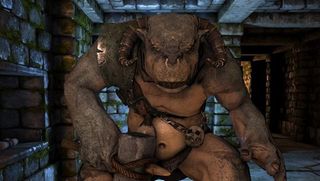 25. Legend of Grimrock
Formats: PC, iOS
Release date: 2012
Many indie projects lean on the classics for their inspiration. Legend of Grimrock revisits the dungeon-crawling experience of the Might and Magic series, but does so with plenty of its own style. Your silent quartet of heroes sojourns through the labyrinth that is Mount Grimrock, and even though they never speak, you get deeply attached to the crew.
It could be the claustrophobia talking, but Legend of Grimrock creates a strong sense of place. You dread running into those poisonous spiders, and you can triumph when you figure out your first hidden door switch. The combination of that atmosphere and the well-executed gameplay edge LoG into a spot on the list.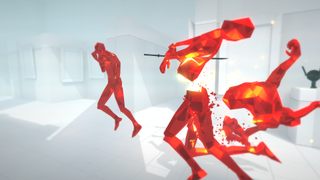 24. Superhot
Formats: PC, Xbox One
Release date: 2016
Making a first-person shooter is an enterprise usually only done by the massive giants of triple-A game development. So it's all the more exciting that one of the most innovative FPS games we've seen was the work of such a small, independent crew. The idea for Superhot, a game where time only moves when you move, came out of a game jam. The premise is brilliant, the art is striking, and the experience is both immediate, strategic, and totally original.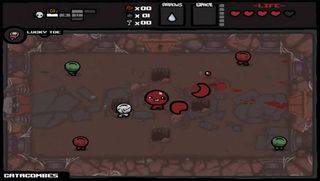 23. The Binding of Isaac: Rebirth
Formats: PC, PlayStation 4, PlayStation Vita, Xbox One, iOS, Wii U, Nintendo 3DS, Nintendo Switch
Release date: 2014
While the Bible has so much potential as a source of video game inspiration, The Binding of Isaac isn't quite what we would've pictured. The story mirrors that of Abraham and Isaac from the Old Testament, except in the game, Isaac is a crying naked child hiding from his mother in their monster-infested basement. So…yes.
Initially a Flash game released on Steam and OSX, fortunately for us the deliciously disturbing roguelike dungeon-crawler game got a second life in a remake dubbed The Binding of Isaac: Rebirth. The new version added more features and brought the game to a whole new audience on consoles.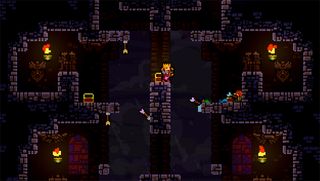 22. TowerFall / TowerFall Ascension
Formats: PC, PlayStation 4, PlayStation Vita, Xbox One, Nintendo Switch
Release date: 2013
This game began its life as the killer app for the Ouya (alas, we barely knew ye, strange little Android console). But the game has fortunately blossomed to cult favorite status multiplayer hit on many other platforms. Imagine if you were playing Super Smash Bros, but instead of punches, everyone used bows and it played out a bit like a 2D Quake 3 Arena. Up to four players can fight at once in the fast-paced, deceptively tactical matches. Things get hairy quickly because the only way to reload is to pick up the previously used arrows lying around the arena. Without getting shot yourself, of course.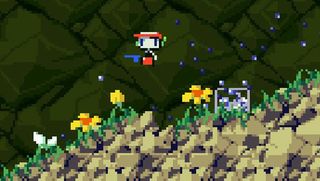 21. Cave Story
Formats: PC, Wii, Nintendo 3DS, Nintendo Switch
Release date: 2004
Cave Story is a platform-adventure combining so many things we love: simple-but-rock-solid shooting, upgradeable weapons, Metroid-style exploration, multiple endings, lovable characters, and a bevy of secrets for those willing to explore the carefully-crafted levels. The game was originally made as PC freeware, complete with fan-made language mods. Over time, it gained enough positive attention to warrant faithful ports to WiiWare and the 3DS.
The fact that the original was all designed by the one-man Studio Pixel (aka Daisuke Amaya) makes this game all the more impressive. Not only did he program some great run 'n' gun stages, he also drew sprites and composed music that'll take any fan of old classics straight to retro heaven. And we'll never forget the foibles of the oafish Balrog, whose hilarious facial expressions and cheery cries of "Huzzah!" speak volumes on their own.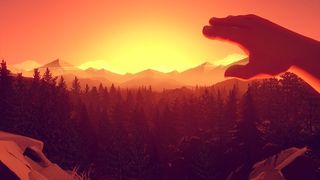 20. Firewatch
Formats: PlayStation 4, Xbox One, PC
Release date: 2016
Walking around the park and chatting with your boss on a walkie talkie hardly seems like fodder for a touching and deeply suspenseful story. Yet one of our favorite games of 2016 is just that. An effort to get away from a difficult life has brought your character into the wilderness, helping monitor forest fires for a summer. But there's something strange afoot going on besides sparks among the trees. Who, or what, is out there in the park? The game's ability to create tension verges on Hitchcockian, and you'll be riveted through to the very last moments of the incredible tale.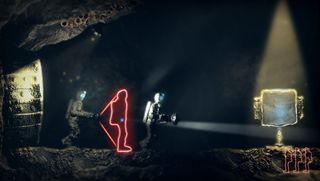 19. The Swapper
Formats: PlayStation 4, PlayStation 3, PlayStation Vita, Xbox One, PC, Wii U
Release date: 2013
The Swapper's (literally) killer central concept has you creating multiple, expendable clones of yourself, switching between the bodies to solve puzzles and dodge pitfalls. In theory, that's really cool. You can access power cores in remote areas, or open and close doors from across the room.
But as you keep playing, you'll find that in some cases, you (increasingly) need to sacrifice your clones to keep progressing. Suddenly, the puzzles become unnerving, as you repeatedly leap from body to body, letting your previous forms fall dispassionately to their deaths was you get further and further from your original self. The Swapper is one of the most uniquely affecting sci-fi games out there, its smart puzzles complimented by a quietly unsettling meditation on identity that makes for an unforgettable experience.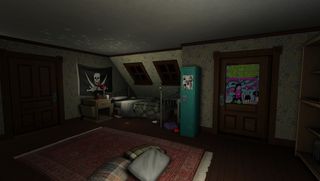 18. Gone Home
Formats: PC, PlayStation 4, Xbox One
Release date: 2013
They say you can never go home again. When you arrive at your family house in the Pacific Northwest on a stormy night and are greeted by a locked door, it seems the adage might be correct. But a little sleuthing gets you inside and starts you on a story to learn about your sister. You roam through the empty house, and all you need to do is explore and absorb the (excellently delivered) story as it unfolds around you. The game has an impeccable sense of place and time, and if you were a teenager in the mid-'90s, prepare yourself for a wonderfully realized stroll down memory lane.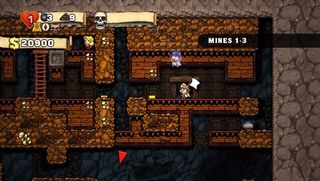 17. Spelunky
Formats: PlayStation 4, PlayStation 3, PlayStation Vita, Xbox 360, PC
Release date: 2008
Nathan Drake may think he's a top-notch treasure hunter, but he has nothing on the hero in Spelunky. Nate travels around the world, sure, but the environments he tackles never change; same enemies, same layouts, same scripted set-piece spectacle, same everything. The spelunker here has to deal with a new, dynamically generated set of obstacles every time he hunts, making preparation virtually impossible. That's what makes Spelunky so amazing; sure the platforming aspect is top-notch, but the fact that no two playthroughs are the same gives the game unlimited replay value. You'll never know what the game is going to throw at you, only that it'll be quite the challenge - and an occasionally infuriating hoot - each and every time.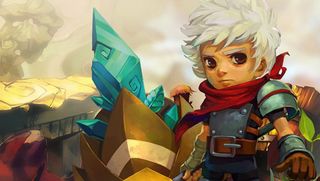 16. Bastion
Formats: PC, Xbox One, Xbox 360, PlayStation 4, PlayStation Vita, iOS
Release date: 2011
From the moment the game boots up, and the narrator's voice begins to share the story, one thing becomes clear: Bastion is different. The action-RPG gameplay might be fairly typical, but there's more to merit a spot on this list. The atmosphere, characters, and world pushed boundaries at release and continue to impress today. Bastion is a game with a soul, and a heart beating out of its chest.
The presentation is simply fantastic, from the wonderfully characterful visuals to the soundtrack (which we consider one of the ). But what stands out most is the narrator, who gives the entire game a voice and breathes life and reason into the dying world. It sounds like a gimmick. Maybe it is a gimmick. But it's a damn good one, and we can't help but fall for it.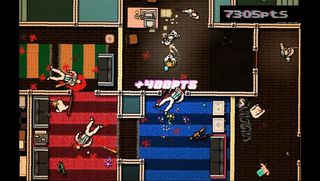 15. Hotline Miami
Formats: PC, Playstation 4, PlayStation 3, PlayStation Vita, Android
Release date: 2012
There are many words you could pick to describe Hotline Miami. Violent. Surreal. Disturbing. Neon. All of those apply in equal measure to this blood-soaked bucket of weird. The brief summary is that two men, Jacket and Biker, are receive phone calls in which they are instructed to kill lots and lots of people.
Maybe you'll kill them stealthily, maybe by a crowbar bludgeoning, or maybe while wearing a chicken mask, but kill them you will. Yet this is not just a mindless bloodbath. Hotline's uncompromising - but entirely fair - difficulty, increasingly clever level layouts, and constant scope for tactical freedom make it one of the smartest action games around. From the psychedelic story to the incredible soundtrack, Hotline Miami is a bloody good time.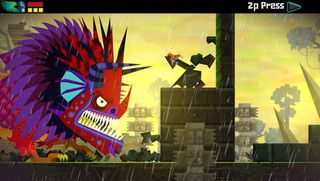 14. Guacamelee
Formats: PlayStation 4, PlayStation 3, PlayStation Vita, Xbox One, Xbox 360, Wii U, PC
Release date: 2013
This lucha-libre adventure from Drinkbox Studios takes the Metroid-style, ability-gating exploration formula and injects authentic Mexican folklore for a wittily good time. Playing as an agave farmer-turn-pro wrestling superhero, players will smash their way through two parallel worlds, one of the living, trying to save the love of his life.
What makes Guacamelee so great is the blurred lines between action and platforming, many of Juan's combat moves also doubling up as traversal and puzzling techniques. Switching between dimensions on the fly is another plus, and it all combines to give the game a dynamic, vibrant feel all too often missing from the genre. Guacamelee is one juego caliente!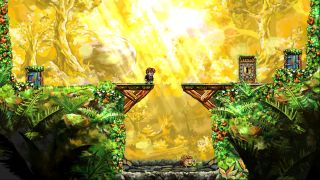 13. Braid
Formats: PC, Xbox 360, PlayStation 3
Release date: 2008
Braid is the kind of game that stays with you. From the ethereal story-telling to the brain-twisting chrono-puzzles introduced in each world, Tim's heroic (or disturbing?) journey set the precedent for every puzzle platformer after it. Much like the introduction of Portal's, well, portlas, Braid's ingenious time manipulation mechanics felt like they introduced us to undiscovered muscles in our brains, when the game first launched.
That said, the game's narrative easily matches the (very high) quality of its puzzles. Pretentious as the dialogue may sometimes be, the story's abstract reinterpretation of old game tropes and new game systems as metaphor adds constantly stacking, increasingly profound new layers right to the end. And whatever your interpretation of the game's ending, the overall journey is one that's as emotionally stimulating as it is mentally taxing.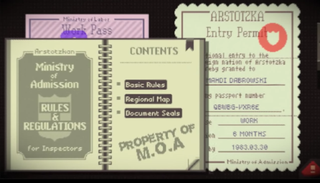 12. Papers, Please
Formats: PC, iOS, PlayStation Vita
Release date: 2013
There are plenty of games that test players with juggling priorities, managing lots of different tasks at increasing speed and complexity until eventually, inevitably, you will fail. In a casual game, that's a fun way to test your hand-eye coordination for a short play-session. In Papers, Please, it's a matter of life and death.
You play as an agent working at a border crossing point in the fictional country of Arstotzka. You have to quickly approve or deny entry to the people who come up to your booth, based on the documents they supply. You could be 100% accurate if you took your time, but you're paid based on how many people you process and how few mistakes you make. When someone is begging you for asylum and you have to turn them away so that you can make enough money that your family can eat - debating whether it's safe to take bribe with a totalitarian government breathing down your neck at the same time - the difficulty of your situation becomes about much more than the accuracy of your fact-checking. Papers, Please is not necessarily a fun game, but it is a valuable one.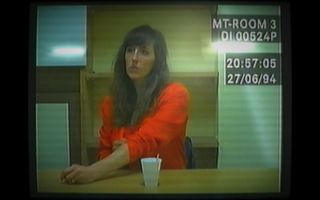 11. Her Story
Formats: iOS, Android, PC
Release date: 2015
Narrative in games is often a delicate balance. How do you tell a story that matches your gameplay? What about player agency? Her Story delivers all its answers with resounding exclamation points. The player is searching a database of policy testimony videos. Someone has been murdered and the prime suspect gives several statements. But her evidence and even her personality don't seem to match up across the clips. So you have to put on your detective's cap and sleuth out the search queries that will reveal the truth. The story is bizarre, and the overall experience of the game nothing short of surreal and ceaselessly rewarding.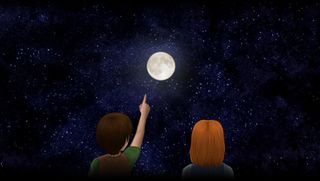 10. To The Moon
Format: PC
Release date: 2011
Do you have any regrets? Is there anything in your life you wish to change? If given the opportunity, would you change the way you remembered something? This is the premise of the excellent To The Moon, where a new technology allows scientists to enter the memories of someone on their deathbed and alter them to their liking.
The game plays like a point-and-click, looks like a classic SNES RPG, and tells one of the most tragic and beautiful stories in all of gaming. The tale of old man Johnny and the two doctors, Rosalene and Watts, will make you cry. Full stop. No question.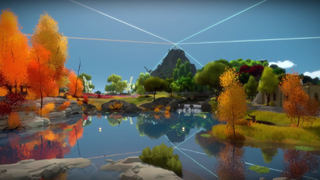 9. The Witness
Formats: PlayStation 4, Xbox One, PC, iOS, Android
Release date: 2016
Yes, we just covered Braid, but designer Jonathan Blow came back with the equally impactful and fascinating game in 2016. The player is all alone on an island, facing down panels with unintelligible symbols and shapes. 'All you have to do' is draw the correct lines on those panels to solve puzzles, but to do so you'll need to decipher and decode the world around you to make sense of everything. The game rules expand layer by layer in increasing intricacy. Your brain might feel like mush by the end, but it's an unforgettable experience. It's all about looking at things the right way.
The Witness is a game that takes itself with the utmost seriousness, but it's also one of the most brilliant puzzle games ever made. The simultaneous complexity and simplicity in its concept makes it a masterful achievement of game development.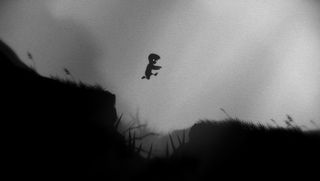 8. Limbo
Formats: PlayStation 4, PlayStation 3, PlayStation Vita, Xbox One, Xbox 360, iOS, Android, PC
Release date: 2010
Limbo is what happens when art direction and gameplay unite to convey a singular vision. This particular vision just happens to be a decidedly morbid one. But what else would you expect from a studio called Playdead?
The game's systems are simple, with only the most basic controls and interactions, but its striking look and mysterious tone make it instantly and endlessly compelling. As a little boy who awakens in a gloomy, monochromatic forest, your goals are simply to find your sister and escape the darkly affecting ambient world you find yourself in. Along the way, you'll die many gruesome deaths, via a system of puzzle-solving the developers aptly named "trial and death", but the journey is so refined in its execution that frustration will never threaten to break the profound power of the experience.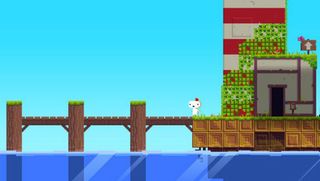 7. Fez
Formats: PlayStation 4, PlayStation 3, PlayStation Vita, iOS, Xbox 360, PC
Release date: 2012
Fez might be the quintessential indie game. From the adorable, 8-bit aesthetic to the cerebral game design (which, combining canny 2D/3D spatial manipulation and dense code-breaking is unlike anything else you've ever played), Fez is an incredibly impressive accomplishment. In the weeks and months following its launch, gamers talked on social media and through emails attempting to crack its codes, with some stumping even the cleverest gamers for weeks. But more than simply smart, the game is fun and rewarding, two elements that wrap the package together into an amazing complete experience.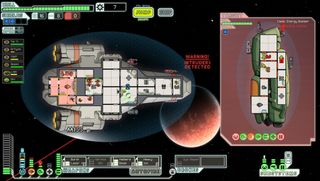 6. FTL: Faster Than Light
Formats: PC, iOS
Release date: 2012
Our little jaunt through space was going so well until a moment ago, but now half of our firepower is out of action, there's a breach in our hull, and most of our crew - also our best friends - are dead. How the hell are we supposed to continue? What are we supposed to do?
This is the beauty of the roguelike spaceship management game FTL: Faster than Light. No two playthroughs are exactly the same, pitting players against an always changing difficulty level. Throw in things like permanent character death and a bevy of different ship systems to maintain, like life support and piloting, and FTL soars. Just don't make the mistake of naming your crew after people close to you. If they die, they're not coming back, and you'll feel really bad about it.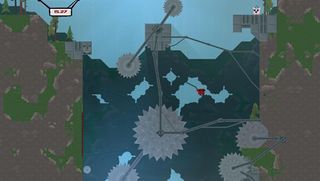 3. Super Meat Boy
Formats: PlayStation 4, PlayStation Vita, Xbox 360, Wii U, Android, PC
Release date: 2010
The twitch platformer to end all twitch platformers, the levels that await our eponymous cube of raw protein are devilishly difficult. Throw-the-controller difficult. But rather than an irritant, the uncompromising brutality combines with the tight controls and even tighter level design to fuel the glorious, natural high of finally completing each and every challenge. Each facet of the game, from the handling, to the stage titles, to the zany cinematics, is a nod to one retro game or another, but cranked up with consummate modern polish. And the unlockable cast of characters is a gathering of indie gaming's greatest hits.
Super Meat Boy had humble beginnings befitting of any indie legend, as a Flash game that didn't initially drum up all that much hype. But with its staggering subsequent sales on both console and PC, it is now - rightfully - one of the great indie success stories. If you've beaten the Dark World or Cotton Alley, you can consider yourself among the platforming elite.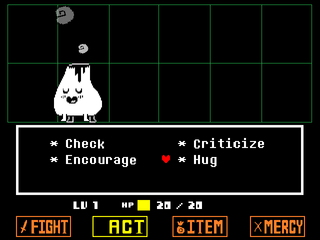 4. Undertale
Formats: PC
Release date: 2015
There's no formal title to claim, but Undertale is definitely a contender for the sweetest video game ever made. You've become lost in a world of monsters, and you have the option to fight or befriend many of the creatures you meet there. It's one of those rare role-playing games that can be played as a total pacifist. Don't be fooled, though: along the way you'll do have to survive punishingly difficult bullet-hell mini-games. It's not always easy being good.
Undertale is a strange game, one where different players will find their own story within the singular vision presented by designer Toby Fox. At the end of the day, it's a game about empathy. That's something we could all use more of.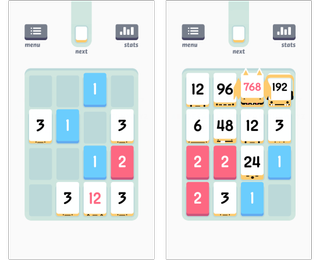 3. Threes
Formats: iOS, Android
Release date: 2014
Possibly one of the most elegantly made mobile titles to date, Asher Vollmer's Threes is one of the biggest endorsements for smartphones as the home of top-notch, economical game design. As you'd guess from the title, it's a numbers game. Swipe the matching tiles together, combining them into ever-ballooning numbers. Just don't let the entire grid fill up.
That's easier said than done. It's hard to invent a fresh take on the "minutes to learn, lifetime to master" type of game, but Threes enters those ranks with aplomb. It's one of the most impossible-to-put-down games we've played on any platform.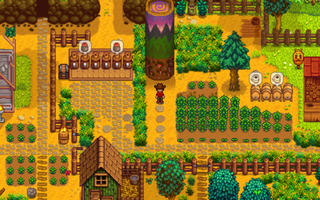 2. Stardew Valley
Formats: PlayStation 4, Xbox One, PC, Nintendo Switch
Release date: 2016
Have you ever wanted to leave your life, run away from it all, and start over? Of course you have. Everyone has. But where most people might want to begin again by joining the circus or becoming a ninja, Stardew Valley sends you off to a farm. In its small town, life is pretty mundane, but somehow entirely rewarding. You work hard to build up your farm, you meet a charming new group of friends, you fall in love and get married. It's the most relaxing and lovely thing.
Stardew Valley reminds you of the joy in everyday life. But whether you're planting parsnips, fishing for salmon, or just having a pint at the saloon, the game's world has a consistent sprinkling of magic.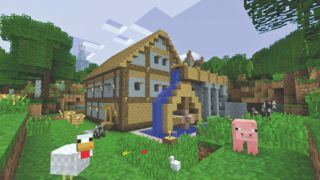 1. Minecraft
Formats: All of them
Release date: 2009
There could only be one ultimate indie game. That's because Minecraft lets you do anything, from fighting for survival against creepers to building to-scale replicas of the USS Enterprise. Even though Minecraft has since gone corporate, via Mojang's buy-out by Microsoft, the story of this project's journey (from one person goofing around at home to international gaming phenomenon) is one that exemplifies the power of pure ideas to inspire and excite.
Minecraft stands as a remarkable achievement, not just for indie games, but for games in general. From its humble origins to its explosive rise to the top, the game is a well-rounded gaming experience that gives players the ability to experiment, explore, and reshape their environment to an almost ludicrous level. It's charming, imaginative, and one of the most unique experiences of this generation.