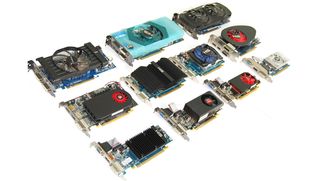 I feel the need the need for speed
Look at you, all ready to build a brand new PC. Maybe you're a console gamer looking to finally take the plunge. Or perhaps you've got a clunker you're looking to upgrade. Either way, you're going to need a proper graphics card - one that will make those next-gen consoles cry silently in the corner.
But finding the right card is tricky. There are so many brands, different models, speeds, what have you, that picking one out is a daunting task. Not to worry, we're here to steer you in the right direction. Take a gander at this guide, find a price point that works for you, and pick one knowing that you're on a one-way trip to PC Gaming City.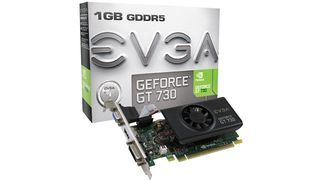 EVGA GeForce GT 730
If you're looking for a way to start gaming or simply trying to upgrade your aging PC without spending a ton of money, look no further. The GT 730 is the little engine that could but it isn't future proof. It'll handle most of what's coming out now at acceptable settings, while taking care of older games with the greatest of ease. If you're gaming on a budget, this is what you want.
-1 GB of GDDR5 memory
-Core Clock speed: 902 MHz
-Under $80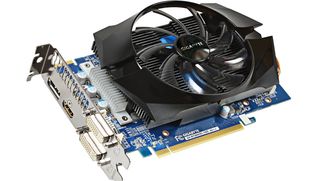 R7 260X
A step up from the GT 730, the R7 260X features faster clock speeds and memory bandwidth, meaning you'll get better quality visuals for a few dollars more. Plus, with Radeon TrueAudio, your games will sound better than ever.
-1 GB of GDDR5 memory
-Core Clock speed: 1000 MHz
-Radeon TrueAudio
-Under $150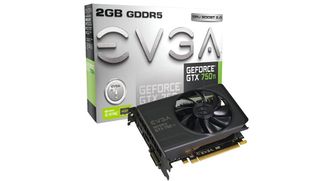 EVGA GeForce GTX 750Ti
Many graphics cards require a lot of juice to run, which is why the GTX 750Ti is great for people who are upgrading their old PCs. You won't need more than 300 watts to get this thing to sing - something even many low-end PCs should have running in their guts. For under $150, you get a solid card that should be able to handle many of today's best games.
-2 GB of GDDR5 memory
-Core Clock speed: 1020 MHz
-Under $150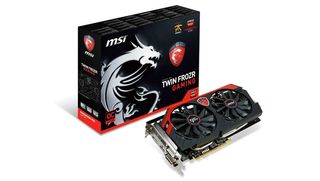 MSI AMD Radeon R9 270X
Now you're moving up in the world. The R9 270X is AMD's version of the GTX 750Ti, featuring similar clock speeds and memory bandwidth. At under $180, you're getting a solid mid-range card that can beat the pants off other, more expensive cards.
-2 GB of GDDR5 memory
-Core Clock speed: 1030 MHz
-Under $180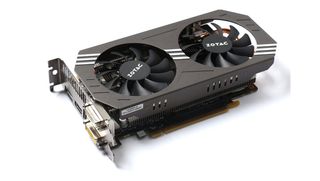 Zotac GeForce GTX 970
You're going to notice a significant bump in price here, as the best high-end cards start heading toward the half-C-note range. But dollar for dollar, the GTX 970 will get you more speed and memory than many other cards on the market. And it does it for under $400. Seriously, this thing kicks some polygonal ass.
-4 GB of GDDR5 memory
-Core Clock speed: 1050MHz
-Under $400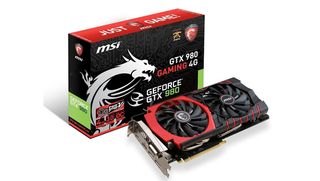 MSI GeForce GTX 980
What a difference ten numbers make. More shaders, faster clock speed, and blazing-quick memory bandwidth make the GeForce GTX 980 a force to be reckoned with. The framerates you'll get from this thing are so smooth, butter will come pouring out of your screen. OK, bad analogy. Awesome card, though.
-4 GB of GDDR5 memory
-Core Clock speed: 1126MHz
-$600-700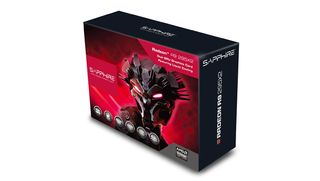 Sapphire Radeon R9 295X2
Now we're getting to the really good stuff. With eight gigabytes of memory, built in water cooling, and AMD's new Mantle technology, the R9 295X2 will fill your eyeballs with crisp, graphical goodness. You'll be able to get 4K visuals out of pretty much anything with that capability. And hey, you even get a free copy of Civilization: Beyond Earth. Bonus!
-8 GB of GDDR5 memory
-2 GPUs
-Free copy of Civilization: Beyond Earth
-MSRP: $1099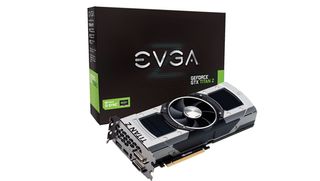 Nvidia GeForce GTX Titan Z
If you've got more money than you know what to do with, boy do I have the graphics card for you. The Nvidia GeForce GTX Titan Z is a behemoth of a card, clocking in at an MSRP of $2999. Numbers aren't important when you're talking about the Titan. Simply know that your PC will crush any game that comes miles of it with one of these suckers hooked up.
-12 GB of 7 Gbps GDDR5 memory
-Memory Clock: 7000 MHz
-2 GPUs
-4K Resolution possible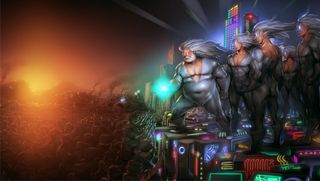 Welcome to the PC master race!
There are so many options out there, and hopefully this guide will give you a handle on the one that will fit your budget and gaming needs. And hey, you'll be ready to go when it's time to upgrade your card in a couple years. Welcome to PC gaming! Do you have any suggestions? Let us know in the comments!