5. Home Alone (1990)
What is it? The timeless story of an eight-year-old named Kevin (Macaulay Culkin), who is left to fend for himself over Christmas holiday while a duo of inept burglars (played by Joe Pesci and Daniel Stern) attempt a home invasion. Kevin takes the law into his own hands, laying down an assortment of Rube Goldbergian booby traps to take them out, including (but not limited to): paint cans from a balcony, a burning iron, and a live flamethrower. It's fun for the whole family! While many come for the Three Stooges-meets-Sam Peckinpah hijinks, it's actually a sweet story of a young boy who learns the importance of family and not judging people before you get to know them.
Most feel good moment: The best part is when he learns his seemingly creepy next-door neighbor is actually a really nice guy - who then rescues Kevin at the end of the movie by smashing the burglars in the head with a snow shovel. David Roberts
4. Guardians of the Galaxy (2014)
What is it? Marvel's quirky space opera - about a bunch of misfits who stumble upon one of the most powerful relics in the galaxy - is a classic buddy movie at heart. Each member of the crew is both flawed and likeable in some way, making them both relatable and fun to watch as they grudgingly come together to kill the bad guy and save the universe. The potent combination of genuinely funny jokes, a feel good soundtrack, and an impressive ensemble cast make this one of the most stylish good guys beat the big bad guy tales ever committed to the big screen. It's among the best Marvel films to date too.
Most feel good moment: The hilarious prison break, where Rocket masterminds a plan to escape, bringing together the special skills of everyone on the team. The real clincher, though, is when Quill goes back for his Walkman… Andy Hartup
3. Groundhog Day (1993)
What is it? Imagine if Edge of Tomorrow was about a self-centered local news anchor instead of a self-centered future soldier and you're most of the way to Groundhog Day. Bill Murray's character is, through some unexplained twist of fate, doomed to forever repeat the same Groundhog's Day in the humble town of Punxsutawney, Pennsylvania. He becomes increasingly unhinged (in wonderfully Murray-esque fashion) before he realizes that he can turn this apparent curse to his own purposes: learning, through repeated trial and error, the perfect way to romance his producer. And become a better person or something.
Most feel good moment: The obvious feel good moment is the final loop, in which Bill Murray's character uses his weeks (months? Years?) worth of experience to create the perfect day for the entire town. Honestly, though? It's really when he kidnaps the stupid groundhog and drives them both off a cliff in a stolen truck. The catharsis. Connor Sheridan
2. Finding Nemo (2003)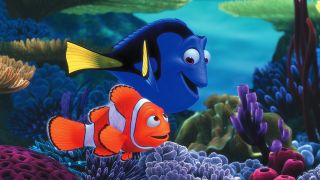 What is it? Pixar is the champion of joyful, colorful movies, and Finding Nemo is probably one of the studio's best. When young clownfish Nemo (Alexander Gould) gets separated from his over-protective father, Marlin (Albert Brooks), the parent sets off on an undersea adventure to find him. Joined by blue tang fish Dory (Ellen DeGeneres), whose short-term memory loss makes her endlessly hilarious, and aided by a cast of other charming sealife, Marlin learns to loosen up and is reunited with his son.
Most feel good moment: Meeting the surfer dude dad and son sea turtles, Crush and Squirt. It's also one of the first moments where Marlin starts to realize that the father-son relationship doesn't have to (and probably shouldn't) resemble that of a jailer and prisoner. Anna Washenko
1. Ferris Bueller's Day Off (1986)
What is it? The perfect sick day. The hero ditches school and takes his best friend and girlfriend with him for the ultimate lesson in how to enjoy life. Along the way he accidentally incites an almost cult like following in his classmates as rumours of his illness spiral out of control, drives his sister mad, and spins his free day into almost fantasy levels of fun. As well as oodles of feel good, there's also a redemptive element with a lesson to enjoy life while you can, that ultimately leads his best friend Cameron to face up to his repressive existence.
Most feel good moment: A visit to an art museum that plays out wordlessly against an instrumental version of The Smiths' Please, Please, Please Let Me Get What I Want. In amongst the rest of the slapstick and farce, it's a quiet moment of reflection on the film's deeper meaning. Leon Hurley