5. Elf (2005)
Where you can watch: Amazon Prime (UK/US), Google Play (US)
Will Ferrell screams his way through this slapstick stocking filler about a human boy who grows up in the North Pole, with a group of Santa's elves. Outcast for his giant proportions, Buddy journeys to New York City to find his birth parents and make a new life living among his fellow man. Upon finding his father (James Caan), Buddy attempts to kickstart a relationship with him, with rather amusing results. As you might expect. Ferrell injects a healthy dose of exuberance and festive cheer into his performance, which is nothing short of silly. That's precisely why it's become a modern festive classic. Add Elf to your Christmas watch list, it's a perfect fish-out-of-water seasonal comedy that's an absolute must-see. Plus, it boasts Ferrell at his finest.
4. Holiday Inn (1942)
Where you can watch: Amazon Prime (US/UK)
When you're in the mood for a classic piece of cinema, replete with show-droppin' tunes and a cast of familiar faces, you can't go wrong with Holiday Inn. It's as warm and cosy as a wintry fireplace, with a tale that's got everything you need. This movie marks the first-time White Christmas was sung onscreen, and it earned the movie an Oscar. Bing Crosby and Fred Astaire star alongside Virginia Dale as a musical trio, who part ways when Crosby's character decides to jack it all in and become a farmer. Soon tiring of that lifestyle, he remodels his farmhouse into a seasonal venue, only open on holidays. His former partner catches whiff of his plan and turns up at his nightclub, causing mayhem and hijinks. To be honest, the plot isn't the big draw here - it's the winning trifecta of Astaire, Berlin and Crosby, what the film's director Mark Sandrich called his ABC of American comedy.
3. Gremlins (1984)
Where you can watch: Amazon Prime (UK/US), Playstation Store (US)
A Christmas holiday horror that you'd never wish for in a million years. Billy (Zach Galligan) is given a pet Mogwai named Gizmo for Christmas, but he comes with some strict strings attached - don't get him wet, don't feed him after midnight, and don't expose him to harsh sunlight. Obviously, he breaks all of them. Like werewolves emerging on a fool moon, the fluffy fur-balls begin to transform into mischievous monsters with razor sharp teeth. The small town of Kingston Falls is soon ridden with pint-sized creatures hellbent on chaos. Their reign of terror is all the more effective against the Christmassy backdrop, which brings a certain cheer to their hellish ways. This is frightening festive fun, that's dotted with globs of jet-black comedy such as Phoebe Cates' eerie monologue.
2. Die Hard (1988)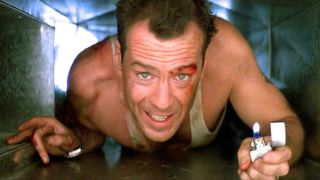 Where you can watch: Now TV (UK), Sky Go (UK), Playstation Store (US), Amazon Video (US)
It may not be a joyous affair with bells a ringin' but Die Hard has all the trimmings of a great Christmas movie, and no-one's going to convince us otherwise. All-American hero John McClane swoops in to save the day in a wife-beater and bare feet, which is really the only way to take down terrorists, right? Bruce Willis throws some hard-ass punches and killer one-liners, while chasing down terrorist Hans Gruber (Alan Rickman) at the Christmas work party. It's as action-packed as they come, and for that reason, it works well as a palate cleanser from all the schmaltz. Find out how to watch Die Hard 1 and 2 online with our viewing guide and pop this one on after dinner when everyone's snoozing - all that festive gunfire is guaranteed to wake grandma up from her slumber.
1. Home Alone (1990)
Where you can watch: Playstation Store (UK), Amazon Video (UK), Starz (US)
Macaulay Culkin stars in this raucous family film about a young boy whose parents accidentally leave him home alone while they head to Paris for Christmas. Admittedly, it's not the first thing that comes to mind when you're asked to think of a festive film - I mean, what's Christmassy about that, right? Turns out it's exactly what young Kevin wants for Christmas, though. He quickly figures out how to drive and heads to the local supermarket to stock up on festive treats. However, he's not as alone as he thinks. When two robbers (Joe Pesci and Daniel Stern) spot his seemingly-empty home, they can't resist picking the locks. Mayhem ensues and it's down to Kevin to outsmart the dim-witted fools using Micro Machines, feathers, BB guns, glue, and a blow torch. You know, normal kid toys. Quality Christmas viewing at its best.