15. Kickboxer (1989)
Region: UK
Jean-Claude Van Damme, aka the muscles from Brussels, definitely earnt his title on lean, mean fighting flick Kickboxer. This movie does what it says on the tin: get JCVD greased up and beating the shit out of people. It's all about the blood, sweat and the many manly tears that go into winning a fight. Roll out the montage mat, 'cause his road to victory against the evil Tong Po is all about practicing his craft. A lot. Somehow that also involves getting drunk and dancing in a bar wearing MC Hammer pants. Yeah, just watch it.
14. Shooter (2007)
Region: UK, US
You know what you're getting with Shooter thanks to the cover: the title and Mark Wahlberg holding a massive gun. The former model puts in a decent performance as Bob Lee Swagger, a former Marine sniper who retires to a quiet life in a mountain cabin after a job ends badly. Of course he's swayed back into the gig with a final mission to protect the President from an imminent threat. Oh, but last jobs are neeeeeever that simple are they? Before long he discovers it was all a set-up and he's at the centre of manhunt. Wahlberg's dexterity with props is pretty impressive (watching him load and position his rifle) and Fuqua packs in plenty of action.
13. Stretch (2014)
Region: US
Why Stretch was denied a cinema release is astonishing. Luckily, it showed up on Netflix pretty quickly and found an audience that absolutely love it. Myself included. It's told over the course of one night, following Patrick Wilson's limo driver from one self-induced crisis to the next, as he tries to rustle up $6000 to avoid getting his kneecaps smashed for a gambling debt. Chris Pine arrives as the oddball millionaire who offers to pay off the money if Stretch does whatever he asks. Things get weirder still, as Stretch encounters the ghost of a former colleague, Ray Liotta, and a mysterious competitor called The Jovi.
12. Jack Reacher (2013)
Region: UK
If the Mission: Impossible movies - Tom Cruise's other action franchise - are all about going big, then Jack Reacher is the exact opposite. Cruise isn't leaping from planes, he's knuckle-dusting outside a dive bar. At first glance it looks like an MI knock-off - partly because Rogue Nation's Christopher McQuarrie wrote and directed it - but give it a go and you'll be pleasantly surprised by just how much Cruise can do without all the showy million-dollar stunts.
11. Butch Cassidy and the Sundance Kid (1969)
Region: UK
Butch and Sundance were the first action movie bromance. The first pair to wield guns and take down the bad guys in the hippest way imaginable. Their antics paved the way for countless action duos, trading off each other with witticisms galore and fighting off bandits like it ain't no thing. As leaders of the hole-in-the-wall gang, they find themselves pursued by a bunch of hired goons and decide to hide out in Bolivia to ride out the storm. Compared to modern actioners, the plot is relatively light, but who cares when you've got Paul Newman and Robert Redford ambling around being too cool for school.
10. The Siege of Jadotville (2016)
Region: UK, US
The Siege of Jadotville is inspired by the experiences of the 157-strong Irish Army during their 1961 UN peacekeeping mission in Congo. It's hard to believe that Jamie Dornan, he of Fifty Shades, can deliver on the dramatic action front but he's at the top of his game as Commandant Pat Quinlan in this Netflix Original . He leads his men into battle with a world-weariness that seems baked-in. That's no doubt a part of director Richie Smyth's plan to toughen up his actors before shooting. He made all of them attend a soldier training camp... and boy, does it show.
9. Furious 7 (2015)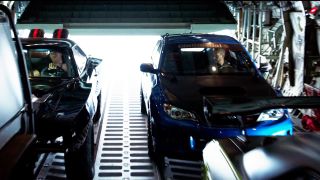 Region: UK
Paul Walker's tragic death midway through filming the seventh Fast & Furious might have made other filmmakers completely walk away from a project. Understandably so, considering how beloved he was to the franchise. James Wan, along with a team of CGI wizards, manages to make you forget all of that and focus on the important things. Like driving cars backwards out of planes. Or driving a car from one skyscraper to another. It's business as usual for the most exciting sequel in the balls-to-the-wall action series, which finds Dom's family mixed up in more life-threatening hijinks alongside an ever-growing supporting cast that tends to outshine the leads. Go for the stunts, stay for the stunts... yeah it's all about the stunts.
8. Innerspace (1987)
Region: US
It's highly likely that there are many out there who have yet to experience the joys of Innerspace. This bonkers '80s gem is happily aware of its own implausible plot, and to be honest, that's what is so appealing about it. The story follows Tuck Pendleton (Dennis Quaid), a charismatic pilot who volunteers for an experimental program that shrinks him down to a microscopic size. Alas, he and the pod he's in, end up (it's a long story) getting injected into Jack Putter (Martin Short), a hypochondriac supermarket clerk. It's a race against the clock, and a bunch of super '80s-movie thugs. The film's so much fun, while being a pretty technical piece of cinema to boot (how can you make action sequences inside a person?) It's a real blast to see all of the cool nooks and crannies Tuck explores inside the human body.
7. The Matrix (1999)
Region: US
Sure, it's a smidgen dated now. The coats went out with tiny, tiny phones, and the dialogue's hammier than a Thanksgiving spread. Regardless, there's so much about The Matrix that's worth your time, even now, some 18 years later. Keanu Reeves found the perfect vessel for his monosyllabic style as Neo, the chosen one destined to free humanity from slavery, who teams up with Morpheus and Trinity to bring down the machines. The Wachowskis picked apart the action genre, and rebuilt it with an academic jolt that adds a certain... well, poetry to its colossal action sequences. Seriously, Neo and Trinity in the foyer? That's beautiful.
6. Rogue One: A Star Wars Story (2016)
Region: US
So, turns out the first Star Wars spin-off movie is really bloody good. Director Gareth Edwards brings together all the elements you'd expect from the iconic franchise - likeable characters and memorable action - and injects them with a whole lotta soul. Tackling a story wherein we know what happens afterwards might seem like a "so what?" yet Rogue One brings a freshness to the series that The Force Awakens didn't. This is the grittiest of the Star Wars flicks, because of how visceral and raw the devastation of war truly feels. Where other sci-fi actioners may glide over it, Rogue One digs deep into what conflict means to those who are so willing to sacrifice their lives for a better outcome. If you like a classic action with a nice dollop of genre, this is the film for you.