15. Train to Busan (2016)
Region: US
The movie: Your daily commute might be a nightmare, but trust me, it's peachy compared to the antics people have to deal with in Train to Busan. This bunch find themselves in the unfortunate position of sharing a very busy train with a very hungry horde of the undead. Having to group together is the only way they'll combat the flesh-munchers. Well, until the humans start squabbling and fighting amongst themselves, and then it's anybody's guess who will survive.
Why it's worth a watch: Whoever said zombie movies are dead, is either trying to make a funny or hasn't seen this crackin' South Korean horror action. Yes, it's crammed with the undead… and a lot of action. Think of this as the perfect genre mashup: part 28 Days Later, part Snowpiercer, and part utterly bananas, you haven't seen anything quite like this before.
Read more: The 25 best zombie movies that will turn you veggie
14. Rumble in the Bronx (1995)
Region: US
The movie: Of all the movies he'd starred in prior to this, it's hard to believe that Rumble in the Bronx is the one that paved the way for Jackie Chan. His breakout role, that put him on the US map, is that of a Hong Kong cop who travels to the US to attend his Uncle Bill's wedding. Once on American soil, he befriends the woman who owns Bill's old grocery store, and vows to help her from a local gang eager to bleed small businesses dry. There's something else in there about jewel thieves, but to be honest, that doesn't matter. It's all about the fight scenes.
Why it's worth a watch: Simple: Chan is the real deal. There's no stuntmen, no doubles, he does every single fight sequence, putting himself in harm's way repeatedly (that's kinda his thing). The movie's a bit short on plot, but it doesn't matter, or detract from how damn enjoyable it all is. Watching Chan push himself physically to the limits is phenomenal.
13. Wheelman (2017)
Region: UK, US
The movie: You might know him as Crossbones from the MCU, or as that guy from The Purge movies. Here Frank Grillo plays a getaway driver - AKA, the wheelman of the title - thrown into an unfortunate set of circumstances when a heist goes wrong. With a car full of cash and no idea who framed him, it's up to him to figure out what happened, even though he's no idea who he can trust. Dubbed a thriller and a neo-noir, with flashes of melodrama, you can safely call it all of those things. By the time the end rolls around, there's no doubting this is a balls-to-the-wall actioner.
Why it's worth a watch: Who doesn't like a good car chase movie? Even when they're bad they're still a blast. Luckily, Wheelman is an excellent experiment in blending thrills and action, with a brisk running time that will make it speed by.
12. Hardcore Henry (2015)
Region: UK, US
The movie: Henry is hardcore and you will be too if you can sit through this action splatter fest without saying hello to your lunch again. The upchuck factor isn't based on blood - although there's buckets - but on the eccentric filming approach. Shot entirely from Henry's POV, the movie kicks off with a man waking up in a lab, only to discover he's half-man, half-machine. Sounds a bit Terminator, yes? Well, when Henry comes to, he is told by a woman in the lab that she is his wife. Moments before she can activate his voice, thugs burst in and kidnap her, leaving Henry to find her captor, a deranged man on the other side of the city.
Why it's worth a watch: Because it never stops. This movie is relentless. You will feel breathless by the time you reach the final act, as a dizzying spool of plot threads untangle amid the most bombastic rooftop shoot-out ever committed to celluloid. Don't be put off by the POV-style: be invigorated by its ballsy gimmick.
11. Fast Five (2011)
Region: UK
The movie: This is THE Fast and Furious movie. Everything prior to this was a taster, establishing the key players and the vague outlines of a long-running plot. Then along came Fast Five, drawing together everything we knew before, pummelling it into submission and then throwing it from a moving train, hurtling down a cliff. This is the one that really hammers home the importance of family, by bringing back every single member of Dom's crew. Five takes the gang to Rio, where the hot streets are nothing compared to the slew of drug lords they must face. Oh, and Dwayne Johnson's Luke Hobbs. They have to face him, too.
Why it's worth a watch: Of course, this wouldn't be a Fast movie without an insane stunt - or twelve. This is the first time the franchise, which, if you'll remember, began with a modest car thriller chase flick, cranks the action up to 11. However it's not a senseless mash of over-the-top, physics-defying stunts, like later instalments, instead finding that sweet spot where the crazed action serves the tale.
10. The Siege of Jadotville (2016)
Region: UK, US
The movie: The Siege of Jadotville is inspired by the experiences of the 157-strong Irish Army during their 1961 UN peacekeeping mission in Congo. It's hard to believe that Jamie Dornan, he of Fifty Shades, can deliver on the dramatic action front but he's at the top of his game as Commandant Pat Quinlan in this Netflix Original. He leads his 150 men into battle with a world-weariness that seems baked-in, taking them on a life-changing mission to hold steady a fort from 3,000 Congolese troops.
Why it's worth a watch: Part of director Richie Smyth's plan to toughen up his actors before shooting was to ensure that their experiences felt real. He made all of them attend a soldier training camp... and boy, does it show. That's how you bring a layer of emotional truth to a movie like this.
9. Black Panther (2018)
Region: US
The movie: A serious contender for Best Picture (IT IS, FIGHT ME!) that hails from the MCU? You heard. Although, to simply declare Black Panther as another superhero movie is to do it a serious disservice. This is sterling action cinema, glued together by the beating heart of Wakanda, where our hero T'Challa (Chadwick Boseman) returns after the death of his father. Battling for the mantle of Black Panther is only part of his concerns, as he must confront bigger worries that threaten the entire world. Yeah, it's a Marvel movie, but boy, does it feel different.
Why it's worth a watch: The excitement from the cast is palpable, from director Ryan Coogler, is hard to ignore: it's a magic recipe of fun, comic detail and broad stroke action ambition. If ever there's a Marvel movie that's going to win an Oscar, it's this one. That's a massively important reason to watch it, in itself. There's a more exciting prospect at the end of its Oscar campaign however: this is a KILLER action movie that could win Best Picture.
Read more: Black Panther ending explained - everything you need to know after watching
8. The Night Comes For Us (2018)
Region: UK, US
The movie: Fancy watching something that will make your soul shake? Give this a go. It's a blistering actioner that seldom takes its foot off the gas. Keeping the story simple works as an anchor, a way to let the action run riot, which you want with a star like The Raid's Iko Uwais in charge. Here he plays a triad thug called Ito, who at the last minute turns on his fellow enforcers, when he spies a young girl in the village they're currently slaying. Choosing to save her life, and waste his comrades, Ito must do whatever it takes to protect the child.
Why it's worth a watch: How far can you go? Cinema's gone pretty far in terms of what's deemed, well, acceptable, pushing the limits of good taste to the extreme. The Night Comes For Us charges down that route, somehow extending past previous ideas on over-the-top violence and relentless barrages of gore. You will not see another action movie like it this year.
7. The Raid (2011)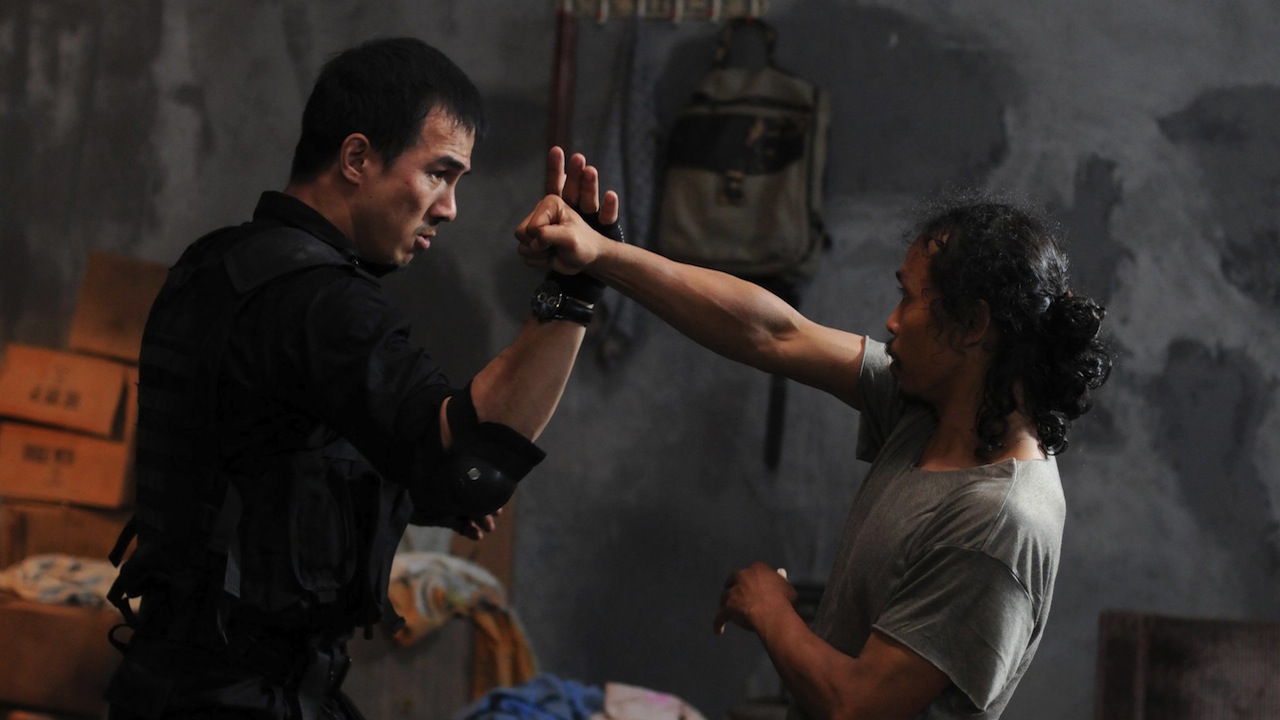 Region: US
The movie: One building. 20 cops. An army of hoodlums filling every room, ready to be beaten to a bloody pulp by the only man standing after the first few floors - Iko Uwais's rookie cop Rama. Things don't start out that way, however. Rama is a member of an elite police unit tasked with infiltrating a high-rise in the Jakarta slums, with plans to eliminate a drug lord who keeps the city in fear. Make no mistake, this isn't a fun knock-off of Dredd - the plot is simple yet the action far from it.
Why it's worth a watch: Gareth Evans' breathless Indonesian beat 'em up knocked the wind out of the genre, and to be fair, it needed it. I mean, how do you clear an entire hallway full of bad guys in one go? Use a bit of improvised magic on a gas canister, a grenade, and a fridge, of course! There are so many moments of genius in this flick, cementing it as a modern action classic.
6. Rogue One: A Star Wars Story (2016)
Region: UK, US
The movie: So, it turns out that the first Star Wars spin-off movie is really bloody good. Director Gareth Edwards brings together all the elements you'd expect from the iconic franchise - likeable characters and memorable action - and injects them with a whole lotta soul. Tackling a story wherein we know what happens afterwards might seem like a "so what?" yet Rogue One brings a freshness to the series that The Force Awakens didn't. This is the grittiest of the Star Wars flicks, because of how visceral and raw the devastation of war truly feels.
Why it's worth a watch: Where other sci-fi actioners may glide over it, Rogue One digs deep into what conflict means to those who are so willing to sacrifice their lives for a better outcome. If you like a classic action with a nice dollop of genre, this is the film for you.
Read more: Every Star Wars: Rogue One Easter egg we could find
Continue to Page 3 for more of the best Netflix action movies