Watchmen Cast On Their Favourite Comic-Book Movies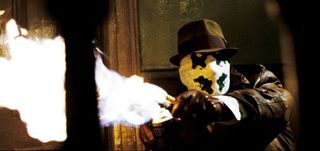 Jackie Earle Haley Rorschach
"Getting involved in this film has made me much more aware of the comic-book movie world.

I thought The Dark Knight was kick-ass. Iron Man was awesome. But you know, a lot of the time too, if they're too juvenile I start to lose interest. I thought The Dark Knight was just so well done, more thought provoking, more adult.

And Iron Man, gosh, they just did a really good job of that. That was some really entertaining storytelling, great humour. And it dealt with some more adult themes. I don't think it's as sophisticated as The Dark Knight or as thought provoking as this one."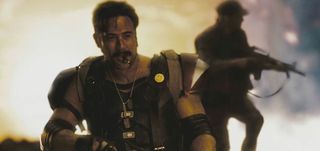 Jeffrey Dean Morgan The Comedian
"I'm not a big comic-book movie fan, to be honest with you.

I just saw The Dark Knight on the plane the other day and I really liked it. On the plane, I know. Is that bad? But I just haven't had time to see movies. I did go and see a movie the other day, but I saw... Christ... Slumdog Millionaire. That was my choice to go see. And I loved it! It was an awesome movie. So that's my taste towards films. The Dark Knight, yeah, it was a plane movie for me."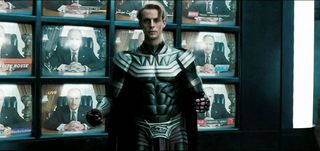 Matthew Goode Ozymandias
"Favourite comic-book movie... Fucking hell. Er... Er-er-er. I don't know if I have one.

I did think that Heath was blinding as The Joker. Such a fucking shame. So I really quite enjoyed The Dark Knight. Superman back in the day, mainly because Marlon got paid the most outrageous amount of money for doing fuck all."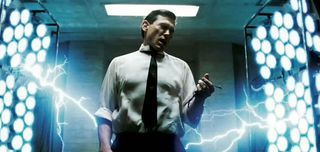 Billy Crudup Dr Manhattan
"Um... I don't have a favourite comic-book movie. No, I don't. Watchmen? Sell, sell, sell!"