Top 7 Games we 100% know will be announced at E3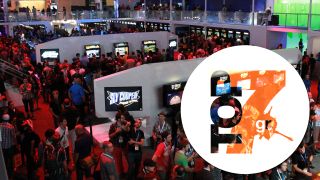 It's time to light the lights
Another year, another industry-shaping convention. Honestly, E3 is so big that I don't need to do the typical spiel explaining what it is. That "once a year game developers meet in Los Angeles" song and dance? Unnecessary. You know what E3 is. You know why I'm talking about it. That's why you're here. Let's skip the history lesson and run into what matters: what will make this E3 different from the last few.
...yeah, we don't have that information. Plus, any predictions we'd make (besides the ones in this E3 predictions article, of course) would be rendered obsolete the second the convention starts, so that's sort of a lost cause. Instead, we wanted to run down stuff we already know: what absolutely, positively will be at E3 this year. Let's begin.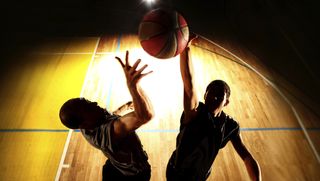 7. Yearly Sports Game
Last year, the developer of Yearly Sports Game made some mistakes. There may have been fumbles, or errors, or whatever it's called when someone fucks up in hockey. But, yeah, there were some problems with the game. Maybe the graphics were weird, or a new experimental feature simply didn't work. The new online functionality fell flat, or the game was missing something that fans really liked. Last year's version sort of sucked.
But what's past is past, and the future looks bright for Yearly Sports Game. The developers have learned from their mistakes, and they've plans on how to right the ship. At E3 they're going to show off better visuals and apologize for the previous version's shortcomings. They'll explain how they've revamped the online functionality, removed that feature people didn't like, and added some new experimental ideas. Now there's some kind of mini-game to do something that didn't have a mini-game before. And it's coming out this year to every system.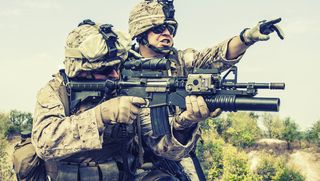 6. War Game With Guns
War either has or hasn't changed, and it's time to pick up a gun and kill people that look different than you. They might be from another country, faction, or another planet--it doesn't matter. They're wrong because they're attacking you, and that simply cannot stand. At E3, War Game With Guns will be shown off during a press conference, showing intensely realistic visuals and a handful of features including, but not limited to: cover, sprinting, iron sights, and one really interesting mechanic that'll make it different from its competition. Stealth? A gun that shoots some kind of weird projectiles? Why not both!
But, as you might expect, online multiplayer will be the real selling point here. You'll enter into war zones set in destroyed cities, bunkers, and destroyed cities, fighting in large-scale (or medium-scale, if you're playing on last-gen hardware) battles. There's a persistent leveling system to make your time feel more valuable, too, as well as a passive upgrade you'll get for killing sprees--all in the name of patriotism.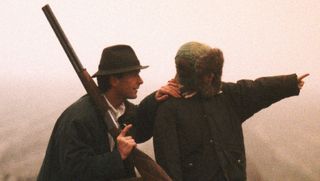 5. Other Game With Guns
Not every shooter is military in origin. E3 2014 will be host to Other Game With Guns, a first/third-person shooter where your character's reasons for mass murder are more personal. He might be stuck in a place full of bad guys, or invading their turf for revenge or to rescue someone. Oh! Or maybe he's just trying to get his hands on something valuable before discovering something devious is afoot, and attempting to save the world instead. Or he's bringing someone somewhere. One of those.
It might seem like an impossible task--he is one man against several hundred mercenaries, after all--but not to fear, he's well equipped. Just like every other white male in his late 20s, he has the power to slow down time, regenerate health, or see people's silhouettes through walls. What, you didn't know that young caucasians were all X-Men?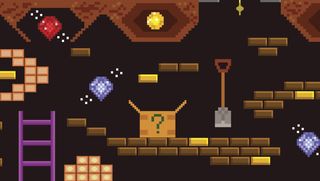 4. Retro-looking Indie Game
"But our system has more than just AAA blockbusters," a man says, reading an extremely rehearsed speech off a teleprompter. "There's so much originality in the indie scene right now, and we're paying close attention." He takes a step back and points to the screen, where a sizzle reel begins because--let's be honest, there's no way any one indie game is getting the spotlight to itself.
About 46 games are shown off during the minute-long video (the names flash at the bottom left of the screen so you don't miss any of them), but one stands out: Retro-looking Indie Game. Twitter explodes. "Holy shit, did you guys see Retro-looking Indie Game? #goty"; "dying over Retro-looking Indie Game"; "I'm throwing my money at the screen but I still don't have Retro-looking Indie Game"; "Dat Retro-looking Indie Game tho #realtalk". Everyone is so excited, no one has the heart to tell them that they're going to forget this game exists in two days.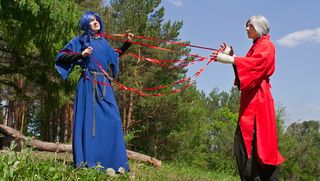 3. 5th Sequel to Incredibly Niche JRPG
You won't be seeing 5th Sequel to Incredibly Niche JRPG at any of the press conferences. Oh, lord no. There's no time for this kind of niche between the big games--if anyone was going to talk about an RPG it'd be made by that one Japanese company or that one Canadian company. But don't worry, 5th Sequel to Incredibly Niche JRPG will definitely be at E3 this year and next year and next year.
And good news! You don't need to get a next-gen system to play it. No, 5th Sequel to Incredibly Niche JRPG is actually releasing on two-generation-old hardware, and it comes jam-packed with 400 hours of content. It'll take you months to find out if the silent hero will be able to rescue the kingdom--and that's if you're not counting the dating sim elements. Those could keep you occupied for another 200, easy.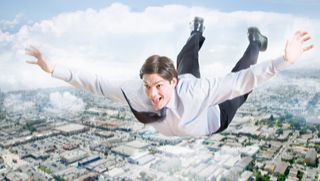 2. Open-World Game With a Very Specific Gimmick
At first, you might think to yourself that Open-World Game With a Very Specific Gimmick is derivative. It looks sort of like that one really popular open-world game, after all. But then you see it--that one thing. That single mechanic that makes this game wholly unique. The thing that sets it apart.
See, your character has an ability that no other character in an open-world game has, and it changes everything. It's not a realistic thing by any means, but it's cool so you don't really care. Plus, it makes the task of traveling from one mission-giving NPC to the next totally different. Now you can approach the mission your way, all thanks to the very specific gimmick in Open-World Game With a Very Specific Gimmick.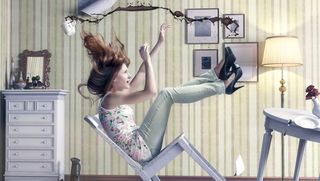 1. Amazing-looking Game that will NEVER Come Out
The press conference is nearly over, but you can tell by the twinkle in the speaker's eye that he has one more thing to talk about. The lights go out. The screen lights up. Suddenly, you're face-to-face with brilliance. Amazing-looking Game that will NEVER Come Out's trailer plays, and your pupils dilate. It features visuals unlike anything you've ever seen, and animations that look too good to be true. How is it possible that this game exists?
It keeps getting better, too! Amazing-looking Game that will NEVER Come Out doesn't even fit into any genre you know--it's an amalgamation of everything you live. The online functionality seems impossible. It has some kind of crazy mechanic that blows your mind. Everything about it is exciting, and you know--right then and there--that it'll never come out. It'll be worked on for years, you'll see it once or twice, and then nothing. It might never be officially "cancelled," but, yeah, it's best to forget you ever heard of its existence.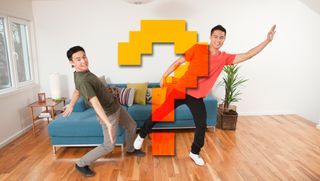 Oh, and motion games
There will be motion games, too. Don't want to forget about those. But they will be few and far between when compared to the other games on this list. So, which companies do you expect to put forward the titles we talked about? Expect any shockers in the War Games With Guns category? Let us know in the comments, below!And if you're interested in more, check out the biggest games from E3 2014 and the biggest changes from last E3.