The Expendables: Everything We Know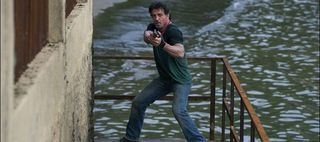 Stallone will direct and star...
Having written the script, recruited the stars, filled the director's chair and bagged the leading role, this is very much Sylvester Stallone's movie. And according to the man himself, he's more than capable of juggling his responsibilities.
"It's not a problem if you know the script very well," says Sly, "which is the case as I wrote it myself. It's very exhaustive work, but it's totally worthy."

It's a confident stance, but one that's backed up by Dolph Lungren, who told UGO.com that Sly is definitely the man for the job. "It's good because he can really help you with these characters," says the big Swede.
"But if you don't do the line exactly like he thought it, you have to do it again. He's a perfectionist. A lot of directors could be intimidated by a cast like this, but not Stallone. He's good."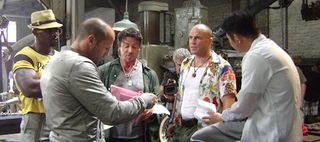 It has the action cast to end all action casts...
Stallone, Lundgren, Jason Statham, Jet Li, Eric Roberts, Terry Crews…it's every action fan's wet dream!
Rounding up such an impressive cast is no mean feat, but according to Stallone, it was just a matter of pandering to their inner action-movie geek! "You try to write parts that interest them and appeal to their sense of competition," the star told UGO . "You just have to get their interest, that's all."
It was a technique that worked a treat, with Jason Statham telling MTV he jumped at the chance to be involved in what could be the definitive entry to the action canon.
"It's a great circle of people to be involved with," says Statham. "Sly is someone I grew up watching on TV and on the movies. He's a living legend. And so the chance for me to come all these years later and be working alongside him is just one of those pinch-yourself moments."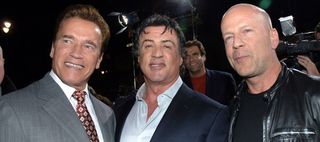 There will be some very special cameos...
As if the main cast wasn't enough to draw us in, Stallone has set up a mouth-watering scene featuring a triple-header between himself, Bruce Willis and, Arnold Schwarzenneger.
The Planet Hollywood three, together on-screen at last! Willis will play the man who hires Stallone and his team, while Arnie will be appearing as a figure from his past.
In an interview with Entertainment Weekly , Stallone revealed that the scene will be around five minutes long, and will feature some meaty dialogue for the three heavyweights to get their teeth into.
"Bruce says 'Well, there's one other person I want to talk to before I hire you," explains Stallone, "and then Arnold, who plays my old rival, walks in. We have a history together. And we go back and forth and I tell him that I should have shot him a long time ago when I had the chance. Then it goes on from there, the three of us trying to man up to one another, playing off of who we are, using our baggage in this one scene."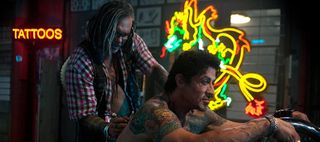 Mickey Rourke owes Sly a favour...
Mickey Rourke is set to up The Expendables ' star power yet further, by cropping up as a dodgy arms dealer.
A man with a lot on his plate at the moment due to involvement in a number of big projects, Rourke filmed the part as a personal favour to Sly, after the director gave him a break during his spell in the career wilderness.
"Stallone, when I was flat broke and could hardly pay for a bowl of spaghetti in a restaurant, gave me a couple of weeks on Get Carter ," recalls Rourke in an interview with The Guardian . "That paid my fucking rent for eight months!" That Stallone, eh? Not just a pretty face…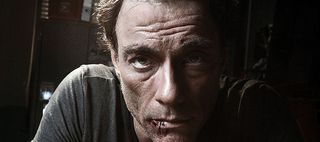 The cast was nearly even more star-studded...
If you think the cast looks impressive now, it could have been even glitzier if Stallone had had his way. The star told fansite Stallone Zone that he approached Kurt Russell to appear, only for the action-man to fob him off.
"I know that many people on the site have asked for Kurt Russell," said Stallone. "I asked for him too. Actually, I was taken aback when asked to put the request in a letter and send it to his agent. Subsequently, I was called back by the agent several days later after refusing to send a letter and he said Kurt Russell is not interested in 'ensemble acting' at this time. So, people, I came, I saw, I failed."

Jean-Claude Van Damme was another who didn't fancy it, telling us in an exclusive interview that he turned down Sly's overtures.
"Stallone gave me a part in his next movie," he told us. "But I ask him about the subject, about the story. He said, 'You're gonna make lots of money.' I don't want to hear that, I want to hear what was my character.
He was unable to tell what it's going to be. So I didn't do the movie." We hate to say it, but looking at the trailer, it looks like JCVD's loss!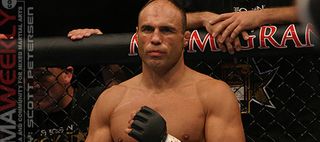 Stallone has also hired some professional bruisers
Actors who can fight are all very well, but Stallone has decided to shore things up by drafting in some fighters who can act.
UFC legend Randy Couture will play a demolition expert (the brilliantly named "Toll Road"), and gleefully told UGO , "I've gotten to slam a bunch of folks from this movie and drop them right on their heads. I've punched some guys in the mouth and the stunt guys have said, 'can somebody teach him how to do movie fighting?'"

We bet they did. But whilst Couture only bashed up some stuntmen, ex-wrestler "Stone Cold" Steve Austin did some serious damage to the director!
As Stallone told FHM , "my fight with Stone Cold Steve Austin was so vicious that I ended up getting a hairline fracture in my neck. I had to have a very serious operation afterwards. I now have a metal plate in my neck." Just another day at the office, eh Sly?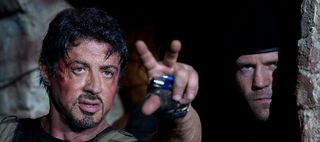 Sly will lead a crack team of mercenaries to sort out a South American dictator...
And so to the plot. The Expendables will see Stallone play Barney Ross, a tough-as-old-boots, former-military man enlisted by a shadowy government type to overthrow a South American dictator.
Rounding up a crack squad of professional hard-cases including Statham's former SAS grunt, Lundgren's grizzled sniper and hand-to-hand expert Li, Ross jets out to kick some totalitarian arse, only to find the real enemy is a rogue CIA agent played by Eric Roberts.

Naturally the stage is set for all manner of punch-ups, shoot-outs and explosions, all of which promise to be on the grandest possible scale. "We're doing a lot of action," says Stallone, somewhat unnecessarily. "Some of the scenes are huge, as I've never done before! Today we shot the port with these giant ships and some Somalian pirates… It's an insane challenge!"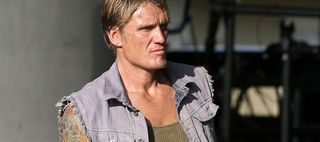 The fight scenes pull no punches...
Stallone and Lundgren might be getting on in years, but that doesn't mean they'll be taking it easy on this one. "Dolph and I always went for it," said Stallone to FHM . "I gave him orders to try to knock me out while the cameras were rolling."
"At one point, he hit me so hard on the top of the head I felt my spine compress. He then hit me with an almighty uppercut. That night my chest and heart started to swell, and I had to be helicopter-ambulanced from my hotel to a nearby emergency room."

Sounds like the old boys have still got it, but Sly nearly paid the price. "I was told that Dolph had punched my rib cage into my chest, compressing my heart," he said. "If it had swollen any more, I would have died. After that, I was like, 'Dolph, it's only a movie, bro…"'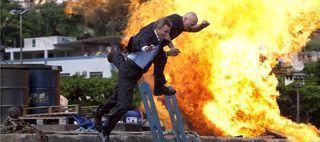 It will be a throwback to the classic action movie...
Don't expect to see any explosions billowing out of the screen in flashy 3D. Stallone has set out to make an old-school action movie in the mould of those that made his name. As he describes it himself, "it's a 1980s movie with today's technology."

That said, Sly is adamant his story will not be mired in nostalgia, and describes his female lead (Giselle Itie) as a case in point. "In those days," he says, "the female leading character was a helpless girl, waiting to be rescued by the hero. Now we have a very strong female character that evolved to this form while I was writing the script."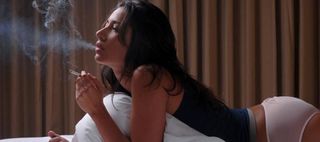 It won't purely be powered by testosterone
It would take a pretty extraordinary actress to hold her own amongst The Expendables ' rogue's gallery of movie tough-guys, but Stallone is convinced he's found just the girl.
"We were very lucky to have Gisele," he says. "That was the most difficult part of the casting process because she represents the heart of the movie. It was very important that the female lead was someone very special, not just a beautiful face. That would be too easy. To have the skill, beauty and talent to express all her feelings is something rare. Gisele was born for this role."

Also appearing will be Buffy alumnus Charisma Carpenter, who plays Jason Statham's love interest Lacy. Despite having a relatively minor role, it sounds like just being around Stallone and friends brought out the fighter in Carpenter. "I wanted to kick ass, but all I ended up with was a kiss," laments the star.
That said, she did enjoy filming with a raft of chiselled action blokes, gushing that "Dolph Lundgren's really cute." Sorry Stath, looks like Dolph is still the top dog when it comes to the ladies.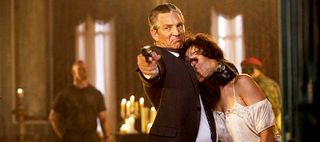 It will be violent, but not ultra-violent...
Anybody going to see The Expendables will surely be expecting a certain amount of blood and thunder, but according to Dolph Lundgren, it won't be an out-and-out gore-fest. " The Expendables is violent, but it's not as violent as Rambo ," the star told Movieweb .
" Rambo was ultra-violent and I think it worked. You have to give Stallone credit for taking that shot and taking the violence all the way. He was the first one to do that in a long time."

" The Expendables has a little more humour. There are some moments where guys get blown across the room, they get stabbed and shot and shit like that. But it's not as bad as Rambo . The tone is a little bit more entertaining. It's not as dark."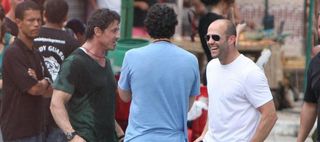 It will be funny...
Stallone has backed up Lundgren's description of the movie's sense of humour, claiming that there will be plenty of laughs along the way. However, cracking gags didn't always come naturally to Sly's collection of bruisers.
"A lot of these fellows are terrified of comedy," said Stallone to UGO . "Once they go with it, they love it but it's extremely intimidating. I know it was for me. We don't do it intentionally, but a lot of action guys are very guarded about their image. But once they let it down, they go."

Judging by the trailer, it appears the cast found their stride eventually, with hard-bitten one-liners seemingly the order of the day. Our favourite so far comes from Dolph Lundgren, when he tells little Jet Li to, "Bring it, Happy Feet !" Yep, that's some good trash-talk.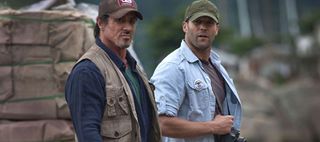 It was a blast to film...
Happily, the hall-of-fame-esque cast brought the best out of a group of guys more accustomed to being the main men on set.
As Lundgren told UGO , "It adds a certain excitement to the picture. People really step up to the plate and want to do good work. You have sharper behaviour if you're fighting Jet Li rather than say, a stunt guy."

Randy Couture agrees. "The whole set was electric" he says, "because all of us were there at the same time, and that momentum has carried us to where we are today. We had a lot of fun." The best action-heroes of their respective generations, battling it out on the big screen? Sounds pretty fun to us too.