Well, we've got a Stranger Things season 3 trailer, so you'd think we'd be able to patiently wait until the Stranger Things season 3 release date rolls around, right? WRONG. Hawkins is still a hive of mysterious Upside-Down shaped activity, and we can't wait to get stuck into it with all its messy, complicated, 80's-teenage-drama escapades. Because Stranger Things season 3 is supercharged 80's nostalgia: there's perms, shoulder pads, cassette-tape walkmans, and a lot of hairspray. With the 80's setting in full swing that also means that Will, Mike, Sadie, Eleven, Lucas, and Dustin are all grown up. Growing up has its consequences, and by the sounds of the trailer their friendship is going to be facing some serious obstacles… but before I get too distracted by the depressing side of getting older, read below for everything we know about Stranger Things season 3!
Fast Facts:
Stranger Things season 3 release date: July 4, 2019
Stranger Things season 3 cast: David Harbour, Winona Ryder, Millie Bobby Brown, Finn Wolfhard, Caleb McLaughlin, Gaten Matarazzo, Sadie Sink, Dacre Montgomery, Maya Thurman Hawke
Stranger Things season 3 episodes: 8
Stranger Things season 3 showrunners: Ross Duffer, Matt Duffer, Shawn Levy
Stranger Things season 3 release date
Hallelujah: we finally have a Stranger Things season 3 release date! You can expect to watch the series on July 4, 2019, and that date can't be a coincidence. Snippets from the trailer above imply that Russia is going to play a bigger part in this series, so having it released on Independence Day could be a nod to the kind of events that are going to be happening on a national level in Stranger Things season 3. The good news is that with eight episodes on the way and with them all arriving at the same time to Netflix (none of this one-episode-per-week nonsense), you might even be able to watch all eight episodes in one day. Not that we recommend that, of course. You might find yourself growing roots into your sofa. Not a good look. Jump down to our trailer section to read our theories about what could be going on in each episode, as the titles have already been released - and prepare yourself for a bingefest!
Rather fittingly considering its summer release date, during an interview with The Hollywood Reporter, Noah Schnapp revealed that our next outing to Hawkins won't be in the dead of winter like in Stranger Things season 2, but is instead taking place in summer. The heat is due to affect the storyline as well, as Schnapp says the warmth means "you kind of get to see a different version of everyone". Whether that means we'll see Hopper in a Hawaiian-print shirt or Eleven sporting some awesome Ray-Bans I'm not sure, but considering the Upside Down seems to perfectly complement the dark, cold winters, dipping into it in the middle of bright summer days could be a tricky contrast to pull off.
Read more: The hottest new TV shows you don't want to miss
Stranger Things season 3 trailer
We've finally got our hands on a full-length Stranger Things season 3 trailer, which you can watch above. With a whole two minutes and 45 seconds of footage, there's a lot to feast your eyes on, but the biggest thing is that the almost inseparable gang seems to be fraying at the edges.
Poor Dustin is feeling alone at the beginning, and Mike's voiceover is berating someone for expecting them to stay playing games in his basement forever. But it's not just the kids: Everyone's moving on, as it looks like Hopper and Joyce are going on their first date (at last), and Steve has taken up a job in the ice cream parlour. Thankfully him and Dustin still have an incredibly close friendship, which the internet is sure to rejoice over because c'mon, mom Steve is the best.
That's not the only trailer we've got either; both the official Stranger Things account and Shawn Levy posted a cryptic tweet featuring a video that shows a bunch of rats - like, enough to make me feel slightly queasy - heading towards something in an abandoned warehouse, with the official account including the tagline 'feeding time'. Ew. So basically the Upside Down is now making use of small rodents, which considering their prevalence in cities is probably fine.
it's almost feeding time 🙃 pic.twitter.com/20gokeuKJsMarch 19, 2019
After Stranger Things season 2 featured the Demodogs, it's almost certain that these might be demorats, but best not to think about how Eleven and her buddies will be able to take on a whole horde of scurrying rats. Hawkins sure has a lot to tackle in Stranger Things season 3, what with the Mind Flayer still being at large and a possible return from Dr Brenner...
Although the Stranger Things season 3 trailer below might just be announcing the release date, there's plenty you can gather from the footage if you're pay attention. Code scrolling across the screen mentions a SilverCatFeed.exe programme seemingly being run by LynxCorp. As Variety points out, lynxes are an endangered cat species from… yep, you guessed it: Russia. This might be a stretch, but with Brenner still on the loose (c'mon, he definitely wasn't killed by that demogorgon) perhaps the programme refers to his silver mane? After the disastrous incident at Hawkins Lab, he may have defected to the Russians. He'd certainly know which big dogs to contact, as Eleven was sent to spy on Russian meetings when she was first put in the sensory deprivation tank. Either way, Brenner + Russians = bad news.
There's plenty more hiding in the trailer, like Eleven's name in Russian popped up at one point, and the enigmatic phrase "When blue and yellow meet in the west". Like the mysterious "breathe, sunflower, rainbow, 450, three to the right, four to the left, breathe" phrase used in season 2, this sentence probably has great significance for the events of Stranger Things season 3. Some people are theorising that blue and yellow might refer to Eleven and Mike, as they're wearing those colours in the most recent poster and they're the colours the pair were wearing when they first met way back in Stranger Things season 1. As the pair are in a relationship, it's slightly unnerving that the Russians might be planning something around the teens. Consider me officially creeped out.
In the summer of 1985, the adventure continues... pic.twitter.com/m3s6hyJL8kDecember 10, 2018
The second Stranger Things season 3 trailer listed the names to all eight episodes (above). So, now know what the Stranger Things season 3 episodes title are, what do they tell us about the upcoming season?
Episode 1 - Suzie, do you copy?: This sounds like it's about a missing person called Suzie. Who knows, perhaps she's the missing lifeguard mentioned in the episode 3 title below...
Episode 2 - The Mall Rats: With the Starcourt Mall being the focus of the previous teaser, this could be referencing either a real-life rodent problem or a group of teens who like to hang out at the mall and have the nickname Mall Rats. Bonus points if one of them has a rattail haircut.
Episode 3 - The Case of the Missing Lifeguard: This one is pretty obvious: a lifeguard has gone missing, from Hawkins' local swimming pool presumably. Could water be a main theme of season 3? Francesca Reale has been cast as a local lifeguard, so it sounds like she might be trapped in the Upside Down just like Barb... let's hope things end better for her.
Read more
Stranger Things season 2 ending explained - everything you need to know after watching
Episode 4 - The Sauna Test: With a lifeguard going missing the episode before, and this one being about the damp, steamy sauna, it sounds like water might be connected to the Upside Down somehow and is disappearing people away. Perhaps an aqueous Upside Down creature has worked its way into Hawkins... like a demoshark. *Shudder*
Episode 5 - The Source: Knowing the structure of previous seasons, I think it's a safe bet to say this'll be about trying to find the source of the Upside Down... or maybe the source of the river whose water fills the swimming pool and sauna?
Episode 6 - The Birthday: Aww, someone's birthday is doubtless going to be the centre of this episode. Whose, though?
Episode 7 - The Bite: If I know the Upside Down, I can bet that this episode is going to be about someone getting chewed on by a denizen of that realm. Ouch.
Episode 8 - The Battle of Starcourt: Something big is going to go down at the Starcourt Mall. Another big showdown with the Mind Flayer or a horde of demo-creatures might be on the cards, but whatever it is, expect enough action to live up to the finale's expectations.
Ahoy! Something is coming... to Hawkins, Indiana! pic.twitter.com/BI4wFRVzvBJuly 16, 2018
The teaser above is all about Hawkins' new mall. The perms. The stonewash dreams. The physical shops for buying CDs and books… this teaser takes us back to the '80s, otherwise known as they heyday of the mall.
Steve has got himself a job at the local ice cream parlour along with the new alt-girl Robin played by Maya Thurman, and he doesn't exactly look chuffed about it. There's no sign of Eleven or her chums in the crowds, but with the first two series largely focused on the Hawkins local shops, having the third season centered around a mall is correlates with the idea that that '80s are slowly progressing into the '90s. Plus imagine being trapped in a mall with demodogs baying outside...
Read more: The best Stranger Things merchandise direct from the Upside Down
Stranger Things season 3 poster
JULY 4 pic.twitter.com/UX9M1L02rdJanuary 1, 2019
Along with a brand new trailer comes a brand new Stranger Things season 3 poster, courtesy of Twitter. There's plenty to read into here, the most obvious feature being the fact that the Mind Flayer's tendrils are squirming in the foreground, and only Eleven and Will seem to notice. Seeing as these two are the ones with the most experience with the Upside Down, that doesn't bode well, and nor does the petrified expressions on their faces. Bump up the exposure and you can see rats running towards the Mind Flayer, especially interesting considering one of the episode titles is The Mall Rats. Looks like the Overlord of the Upside Down might have multiple rodent spies in Hawkins… ew.
Back to more cheery things: there's a funfair in the background - yay! As it's summer in Hawkins it looks like there's plenty to keep the kids busy, with all its rides and general joy, but Stranger Things wouldn't be Stranger Things without some unnerving undercurrent running through seemingly benign features of suburban life. So there's a good chance that something shady is probably going to be going on in the fairground. Plus that sunset in the background implies that something might be coming to an end… the kids' childhood, perhaps? The tagline at the top of the poster sums it up best: "one summer can change everything". Now that doesn't sound good...
Stranger Things season 3 cast
Hawkins is a sizeable town, so it shouldn't really be surprising that the Stranger Things season 3 cast is growing. While the core cast are coming back, you can also expect to see Maya Thurman-Hawke (the daughter of Uma Thurman) as a new alt-girl character Robin, according to Variety, who's bored with her day job and presumably seeks some thrills - which she'll definitely get seeing as she's due to uncover a "secret" hidden somewhere in Hawkins.
Sassmaster Priah Ferguson will also have a more substantial role after appearing as Lucas' younger sister Erica in the previous season. Erica obviously has quite the inquisitive mind and isn't scared of searching through Lucas' room (He-Man and Barbie are in love, after all…) so perhaps she'll stumble upon something that refers to Eleven's powers or the Upside Down.
We've seen the kids run, walk, and cycle through Hawkins, but haven't yet witnessed them splashing around in a pool. Swimming is going to play a part in Stranger Things season 3, as Francesca Reale has been cast as Hawkins lifeguard Heather. Apparently she's going to be intrinsic to season 3's plot, and considering episode 3's title is The Missing Lifeguard, I think it's safe to say she's going to be getting into a sticky situation. This lifeguard might be the Suzie mentioned in the title of the first episode too...
Last season the new additions to the Stranger Things cast included Billy, Max, and Superman Bob Newby (I'm still not over his death), but this time around you can expect some more core grown-up characters to make their debut. So far there's Mayor Larry Kline, a 40-60ish year old greasy '80s politician who's just out for himself, played by Carey Elwes.
Jake Busey plays Bruce, a sexist news reporter who's in his 50s and doesn't exactly make his appearance his top priority (he sounds like a bit of a slob). Lastly there's Patricia Brown, the neighbourhood grandma who's in her 70s and loves a bit of gardening. She'll be dispensing grandmotherly advice to the Hawkins kids, but we don't know who's playing her just yet.
There's no say on whether Dr Owens (Paul Reiser) is returning for season 3, but after he seemed to switch allegiances to Hopper and Eleven, having a mole in the Hawkins Laboratory can't be a bad thing. Likewise with Eleven's adoptee older sister Kali after Linnea Berthelsen told NME she isn't sure whether she'll be back.
Read more: Quiz: Which Stranger Things character are you?
Stranger Things season 3 plot
Judging from what the Duffer Brothers have said so far about Stranger Things season 3 plot, it's going to be a doozy. Unsurprisingly, the Mind Flayer isn't done with Hawkins yet. Shawn Levy told Variety that it is "still lurking up there out there in the Upside Down", and continues to be "determined to find a way to achieve his goals". As it seems to have considerable influence over the Upside Down, prepare for some new monsters to make an appearance as Levy revealed that "the [demo] dogs didn't get it done in season 2, so he's going to have some new strategies". I dread to think what new horrors the Mind Flayer will dream up.
Looks like the Soviet Union/Russia is going to be a bigger issue in Stranger Things season 3, as a Redditor spotted that there are roles like "Russian Goon", "Russian soldier," and "Russian Officer" listed on IMDB. However, it's worth bearing in mind that anyone can edit IMDB, so take those role titles with a pinch of salt - although they have been taken down now. So either they were legit, or a mistake...but I'm going with legit. After all, Eleven was sent to go and spy on members of the Soviet Union way back in Stranger Things season 1, so it could be that they've heard about her talents and now want her for their own. Brenner might even be the one behind their appearance, as, very conspicuously, his death wasn't shown, although the demogorgon did pounce on him and did presumably engage in some light mauling.
In case you needed any more convincing, Shawn Levy himself mentioned in an interview that Stranger Things season 3 will have "that feeling of the world getting a bit bigger especially coupled with the fact that it now seems clear that Brenner is alive, Brenner is out there". Perhaps the Russians tracked him and his experiments to Hawkins and stumble upon Eleven that way, and one theory from Reddit even suggests that there will be a final showdown with the Russians in Starcourt Mall (hence The Battle of Starcourt title for the series finale). With Russia being used as the boogeyman in the 80s as the Cold War began to peter out, it is a real possibility - and if those poor Russians think they can take on a teenage girl, those fools are in for a surprise.
Something that's certainly going to be happening to the majority of the characters is something everyone on this planet is due to go through at some point: puberty. Speaking to Entertainment Weekly, Matt Duffer said that "we have to deal with it because our real-life actors are going through it… I think that's exciting because it forces the show to evolve and become something different every year. It's going to test their friendships. Obviously, like Lucas and Max are together, but really, when you're that age, how long do relationships last? They usually last about two weeks if you're lucky. I think that's going to be fun to explore". Uh oh. Now I'm sad because it sounds like Max and Lucas' relationship isn't going to last a particularly long time.
Other relationships are going to be going through some tough patches too, as David Harbour talked to Insider about the significance of Hopper giving his blue bracelet (his core memento of his dead daughter Sarah) to Eleven. "I don't want to get too into that because that's something we may talk about sometime in season 3… It's something we'll delve more into in terms of Jim's daughter and him confronting this Eleven relationship and what that means... there's more to be revealed there".
10 Stranger Things season 3 theories to turn your world Upside Down
Going from being a single, disinterested Sheriff into a father again is sure to dredge up a lot of conflicting emotions for Hawkins' main advocate of coffee and contemplation. Along with the revelation that Hopper's daughter died in Hawkins hospital - which could mean that during her treatment she came into contact with staff from Hawkins lab - it looks like Hopper is due to have some particularly interesting storylines in season 3.
Stranger Things season 3 is placing an even bigger focus on action according to Shaun Levy, who, in an interview with The Playlist, said that "season 3 has a really healthy dose of poppy, bright levity and cultural fun. But I can only promise you that season 3 eventually goes places that are darker, and unquestionably more action-packed, than we've ever gone before". Sounds like Mike and co. are going to have a lot to deal with this season - let's hope they're ready for it...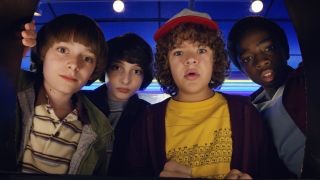 Plus, speaking to Variety, Harbour took a moment to reflect upon how the relationship between Hopper and Eleven would evolve through the third season. After Eleven was officially adopted by Hopper (with her legal name being Jane Hopper - yeah, I'm welling up a bit too), their father/daughter relationship is set to be a big part of season 3. But it won't all be smooth sailing.
According to Harbour, "a lot of changes go on in the body and in your social life, and I don't think [Hopper is] going to handle watching [Eleven] become a woman in front of his eyes very well. That's a horrifying thing for him — maybe even more so than fighting inter-dimensional monsters". Bold words. After Hopper's daughter Sarah died as a child, it would be no surprise if he has some complicated reactions to Eleven's adolescence. Let's hope that their inevitable arguments don't cause either one to act out while the Mind Flayer from the Upside Down lies in wait...
Interestingly, shots of Eleven during a particularly emotional scene on a beach (above) have been posted to Instagram by none other than Millie Bobby Brown. The super-powered teen is seen standing among some chilly-looking waves, screaming into the air and possibly looking around for someone. Is Eleven lost? Abandoned? Or is she just having a bad day and needs to let it all out? You'll have to wait until Stranger Things season 3 comes out to find out, but let's hope that whatever is making Eleven angsty gets resolved swiftly or she might end up lashing out with those formidable powers of hers sharpish.
Read more: 10 classic '80s movies that inspired Stranger Things