Heads-up, people. The Amazon Prime Day 2019 game deals are coming. Here's a deal from last year, though, which is no longer active, but great for comparison. In fact, we've now got some brand new Lightning Deals to add to the best Nintendo Switch deals. Yeah, dropping from 5pm onward. Prime Day is relentless. If you haven't picked up a Switch yet, then there are a stack of reasons you should, and these new deals are certainly about to add to them.
First up, for fans of the plumber, we've currently got getting a £48 price slash on a Nintendo Switch Neon, a copy of Super Mario Odyssey, and a Nintendo Switch Pro controller. That's the console itself, one of the very finest games to ever emerge from one of the very finest series in all of gaming, and Nintendo's thoroughly robust, traditional pad to enhance your pleasure whenever you're not in the mood for waggling around Joy-Cons.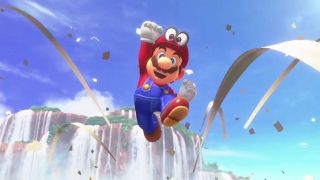 Nintendo Switch Super Mario Odyssey and Pro Controller bundle, for just £329.99 (was £377.99): The Switch, one of its best games, and a mighty fine pro controller, with £48 off. Quick! Every Prime Day Switch bundle so far has sold out within hours.View Deal
Then, there's a bundle of a Nintendo Switch Neon, a copy of the recently released (and rather great) Mario Tennis Aces, and an extra set of Neon Pink/Green Joy-Con. Just about the brightest, zestiest, summertime Nintendo Switch Bundle you're going to find, this will set you up with a whole stack of sporting adventure fun, with full facility for four-player local multiplayer.
Nintendo Switch Mario Tennis Aces and Neon Green/Pink Joy-Con bundle is only £339.99: Enough fun and colour to induce palpitations, now with £43.99 off. View Deal
And on top of all of that, we've also got a discount on a Nintendo Switch Grey with the Crash Bandicoot N. Sane Trilogy and a Pro Controller. If you're in the mood for a thoroughly retro time on the most thoroughly modern of consoles, then this Nintendo Switch bundle is the one for you.
Nintendo Switch Crash Bandicoot N. Sane Trilogy and Pro Controller Bundle is just £319.99: Better late than never, the bandicoot has returned with a whole load of Switch goodness, with £43.99 off.
View Deal
Some online stores give us a small cut if you buy something through one of our links. Read our affiliate policy for more info.