10 Most Miscast Superheroes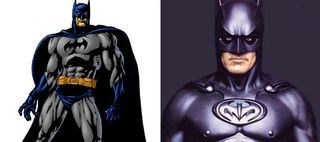 Batman And Robin (1997)
The Character: Batman. The Dark Knight, a silent guardian cloaked in shadow and plagued by a tortured past.

The Miscasting: Smirking smoothie George Clooney, best known for his bedside manner as ER heartthrob Dr. Ross.

Why so ridiculous? Clad in the campest batsuit in history complete with horrendous nipple detailing, Clooney's ultra-smug performance made even Val Kilmer's effort look respectable. Only Arnie's appalling pun-fest saves him from being the worst thing in an instalment that should have been titled Carry on Gotham .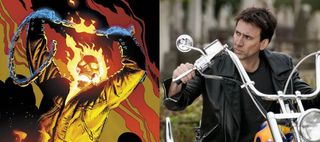 Ghost Rider (2007)
The Character: Ghost Rider. A former stunt motorcyclist, now employed by the Devil as a bounty hunter.

The Miscasting: Nic Cage, known for his tendency to launch into scenery-chewing hysterics in even the soberest of films, cast as a leather-clad loon with a flaming skull for a head? Lord help us…

Why so ridiculous? A man who needs reigning in at the best of times, Cage's pantomime turn strips away all the character's innate coolness with a constant barrage of one-liners, delivered in a cod-Elvis drawl your Dad would be embarrassed by.
One of Cage's contributions to the character involved a predilection for Skittles. Makes Face-Off look like a kitchen-sink drama.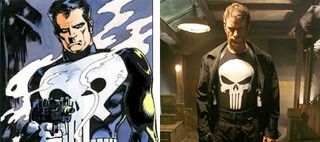 The Punisher (2004)
The Character: The Punisher. Morally questionable vigilante Frank Castle, who fights crime with a heady mix of kidnap, gunfire and torture. Nice chap.

The Miscasting: Tom Jane, an affecting leading man in The Mist , sets his face to "grimace" and never looks back.

Why so ridiculous? Given the ultra-bleak material (children summarily executed, villains screaming in agony because they've got an ice lolly on their back - don't ask), a bit of Cage-esque excess might have served to lighten proceedings.
Instead, Jane's facial muscles barely move as he slogs from one brutal murder to the next. Come on Tommy, give us a smile, eh?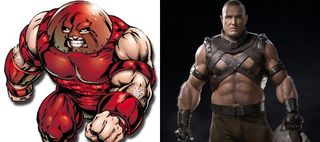 X-Men: The Last Stand (2006)
The Character: Juggernaut. Unstoppable force of nature Cain Marko, a regular adversary of the X-Men blessed with superhuman-strength.

The Miscasting: Vinnie Jones wearing a ridiculous muscle-suit, does not an imposing villain make.

Why so ridiculous? Repeatedly shouting "I'm the Juggernaut, bitch" in a cockney accent might have gone down alright at Sellhurst Park, but when you're stood next to Sir Ian McKellan…not so much.
Also, the Juggernaut should look like a walking battering-ram, not a knackered old footballer in a leathery body-suit. X-rated stuff indeed.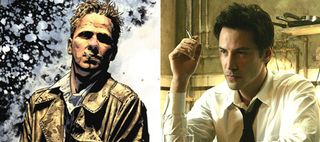 Constantine (2005)
The Character: John Constantine. Cigarette chomping, foul-mouthed Brit, and detective of the occult.

The Miscasting: Semi-comatose, surfer-dude Keanu Reeves. British accent? Nowhere to be seen.

Why so ridiculous? On reflection, avoiding Keanu coming over all Dick Van Dyke might not have been such a bad thing.
Even so, his waiting-for-a-bus brand of acting takes the character sailing past brooding and straight into just plain bored. We know how he feels.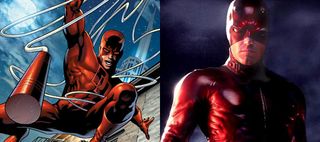 Daredevil (2003)
The Character: Daredevil. "The man without fear." And also the man without sight…he's blind you see. Not much of a super-power is it?

The Miscasting: Serial turkey-magnet Ben Affleck, best known for frat-boy charm rather than ability to triumph over adversity.

Why so ridiculous? Despite only having to act with half his face, Affleck still can't get to grips with Daredevil's inner turmoil.
He's not as terrible as some on this list, he's just too…Affleck! And that red leather fetish suit doesn't exactly do him any favours…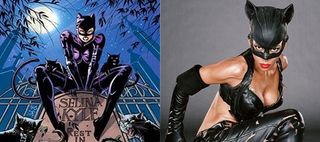 Catwoman (2004)
The Character: Catwoman. Dangerous, sexy, more than a bit unhinged…and already played to perfection by Michelle Pfeiffer.

The Miscasting: Halle Berry, who used up all nine lives in one go with this car-crash spin-off. Good job the Oscar was already secured by this point…

Why so ridiculous? Having already irritated fanboys with her bland turn as Storm in the X-Men series, Halle finished the job with this stunningly unsexy, S&M take on Catwoman.
When even a girl-on-girl scrap with Sharon Stone falls flat, you know you're in trouble…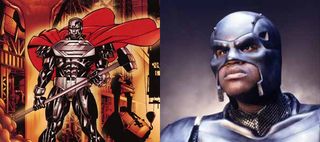 Steel (1997)
The Character: Steel. Metal-suited alter-ego of weapons designer John Henry Irons. A poor man's Iron Man.

The Miscasting: NBA legend Shaquille O'Neal, star of the equally awful Kazaam . Makes Vinnie Jones look like De Niro.

Why so ridiculous? Witness this exchange between Shaq, and crippled sidekick Susan Sparks:

Steel: "I can imagine how you feel."
Sparks: "No. No you can't."
Steel: "You're right. I can't"

Even the pros would struggle to deliver this sort of banality with a straight face, but factor in Shaq's mumbled delivery and it becomes nigh-on unwatchable. Stick to chucking a ball around mate.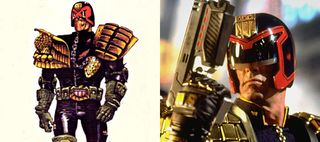 Judge Dredd (1995)
The Character: Judge Dredd. Futuristic, take-no-shit law-enforcer, who would rather take a bullet than remove his helmet.

The Miscasting: Paunchy, middle-aged washout Sylvester Stallone, who whips the helmet off every five minutes.

Why so ridiculous: Dredd should be the ultimate in granite-jawed authority. Stallone, on the other hand, spends most of the movie looking like he could do with a nice sit-down.
And the thing about pithy one-liners is that they tend to lose their punch when mumbled by a befuddled old crock.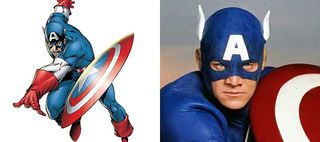 Captain America (1990)
The Character: Captain America. Arch-patriot and Nazi-basher in chief. Turned into a human weapon after some military-scientist tinkering.

The Miscasting: Who better to play the all-American bruiser than… J.D. Salinger's son? Eh?

Why so ridiculous? Labouring under a headpiece sporting fake rubber ears, Salinger seems as confused as the audience as to what he's doing here.
Having been played by a leading man with all the charisma of a paving stone, it's no wonder the character hasn't seen the light of day for 20 years.
Whoever's roped in to star this time around, they can't do much worse than this!