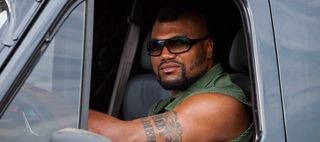 Quinton 'Rampage' Jackson
Signature Move: Powerbomb
Fighting Form: Jackson is a former Ultimate Fighting Champion who built his reputation in Japan's Pride Fighting Championships, using expertly deployed wrestling moves to wrap up 'real' fights, and he proved his mettle by getting kneed in the face an obscene amount of times by the Brazilian virtuoso of violence Wanderlei Silva.
He later claimed the Light Heavyweight Title from Chuck Liddell. Jackson also acted as a coach on reality show The Ultimate Fighter (basically an ultraviolent X Factor ), before announcing his retirement at the end of 2009. Jackson has fought again since then, and is scheduled to take on pee-drinking karate master Lyoto Machida.
Cinema Champ? Rampage has appeared in a few dodgy films over the years ( Confessions of a Pit Fighter , The Midnight Meat Train , Death Warrior ), but he is getting his shot at stardom in The A-Team , playing the role that Mr T originally made famous. BA Baracus could prove to be the breakout role of the summer.
It probably helped that Jackson was pretty much a real-life BA, with a penchant for blinging jewellery (he wears a bike chain around his neck) and car chases. The A-Team hits cinemas this week, and you can read the full Total Film review here .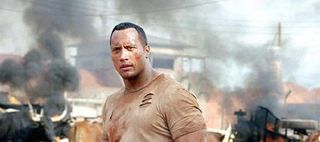 Dwayne 'The Rock' Johnson
Signature Move: The People's Elbow
Fighting Form: During his World Wrestling Entertainment (formerly Federation) heyday, The Rock was one of the most popular wrestlers, and the self-proclaimed: "most electrifying man in sports entertainment". Throughout his career in the ring, he held the Championship belt at least three times, was one half of tag-team 'The Rock 'n' Sock Connection' (with Mick Foley), and has played both 'heel' and 'face'.
He retired from wrestling in 2003 and has made only cameo appearances since.
Cinema Champ? Given his phenomenal charisma, sense of humour and dextrous eyebrow, it's no surprise that The Rock ended up in the movies. When Johnson appeared as the Scorpion King in The Mummy Returns , his pre-established wrestling fame meant that he received one of the highest salaries ever given to a debuting actor (even though he's barely onscreen for 10 minutes, and spends half that time as a much-derided CGI effect).

After Mummy spin-off The Scorpion King , Johnson looked like a contender to the vacant 'action hero' throne, starring in Welcome to the Jungle , Walking Tall , and Doom . He's long since ditched 'The Rock' in place of his proper name, and has become an unexpected star of kiddie flicks, including The Game Plan , Race to Witch Mountain , and Tooth Fairy . He has proven his comedic worth as the best thing in the likes of (the otherwise lame) Be Cool and Get Smart.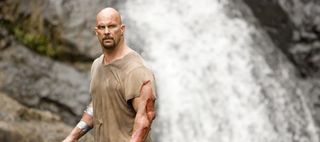 Steve Austin
Signature Move: The Stone Cold Stunner
Fighting Form: The Texas Rattlesnake was a long-term rival of The Rock. Starting his career at WCW (World Championship Wrestling), Austin briefly stopped off at ECW (Extreme Championship Wrestling) before joining the WWE. After a tumultuous nine years, taking in a smorgasbord of World Championship titles, neck injuries and contract disputes, Austin left the WWE in 2004. He has made intermittent return appearances since, in beer-drinking contests, and with guest spots hosting and refereeing.
Cinema Champ? Stone Cold's cinema output hasn't been hugely inspiring, making his acting debut in Adam Sandler's gridiron prison comedy The Longest Yard , before taking the lead in The Condemned , a barrel-scraping action flick from WWE Films. He's since appeared in Damage (a bare-knuckle boxing movie) and he's got Hunt to Kill and The Stranger in the can.

The really exciting event in Austin's motion picture future is his role as a bad guy in Sylvester Stallone's tough guy team-up The Expendables .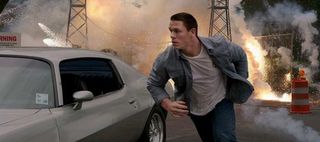 John Cena
Signature Move: FU (now known as the Attitude Adjustment).
Fighting Form: Wrestling rude-boy John Cena graduated from Wrestling University (yes, really) in 2000, and started his career at UPW (Ultimate Pro Wrestling) before moving to WWE in 2002. Cena has held the World Championship mantle, and his body has played host to a punishing roster of injuries, including spleen damage and a torn pectoral.
A wrestler of many 'talents', Cena has also released a woeful hip-hop album.
Cinema Champ? Cena's first movie, The Marine , saw him make a poor start cinematically (Ted DiBiase Jr saved him the indignity of appearing in The Marine 2 ). His next, Twelve Rounds , covered similar ground more successfully: The Wire 's Aiden Gillen plays a terrorist who sets Cena's cop multiple puzzles, which could be lazily described as Commando meets The Crystal Maze .

Cena could be stretching his acting skills in a couple of upcoming support roles in the likes of Legendary and Fred: The Movie .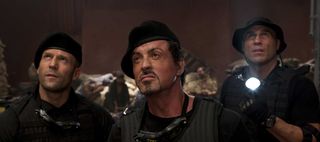 Randy Couture
Signature Move: The Double Leg Takedown
Fighting Form: Another veteran from the UFC stable of 'proper' fighting, Couture uses a combination of clinch-work, dirty boxing and ground-and-pound. He had his debut scrap in 1997, and took down established names such as Tony Halme and Maurice Smith on the road to claiming Heavyweight gold.
In 2003, Couture went down a weight division and won the light-heavyweight title in a run that saw him annihilate Chuck Liddell, Vitor Belfort and Tito Ortiz (making him one of only two fighters to have been champ in two divisions). After a typically-temporary retirement in 2006, Couture returned to the ring a year later, and has had a number of scraps since. At 46, Couture is the oldest person to have won a UFC bout.
He's lined up for a bizarre 'wrestling vs boxing' match against James Toney.
Cinema Champ? Couture doesn't possess the most inspiring track record at the movies, with a cameo in Cradle 2 the Grave and a hilarious-but-brief role in David Mamet's Redbelt , as well as a leading role in Dwayne Johnson-free prequel to The Scorpion King .
Like Steve Austin, he's also nabbed a role in testosterone-fest The Expendables , though he'll be fighting the good fight as the team's demolitions expert, Toll Road.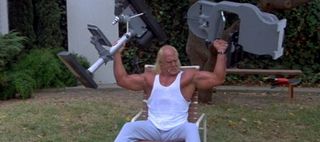 Hulk Hogan
Signature Move: The Running Leg Drop.
Fighting Form: Hulk Hogan (real name Terry Bollea) is simultaneously one of the most popular and most hated figures in wrestling. In a career that's spanned five decades, and seen him flit between WCW, WWE and Japanese Pro Wrestling, the Hulkamaniac is probably the world's most famous wrestler.
Hogan is unmistakeable with his bald crown, long hair and handlebar moustache, and the skin of a California raisin. His canary yellow vests, and branded bandanas are known across the globe, and he's held the WWE and WCW Championship belts six times each, and is currently part of the TNA (Total Nonstop Action Wrestling) roster.
Hogan is better known for his showmanship than his combat skills, and he has the ability to get a second wind after taking a beating that enables him to be virtually unstoppable.
Cinema Champ? Throughout his movie career, Hulk has never seemed overly concerned with quality. His first role was as Thunderlips ('the ultimate male') in Rocky III , and he played a thinly-veiled version of himself in No Holds Barred .
He did a line in family-friendly entertainment, with Suburban Commando , Mr. Nanny , Thunder in Paradise , Santa with Muscles and 3 Ninjas: High Noon at Mega Mountain . The Hulkster also appeared as himself in Gremlins 2 and Muppets from Space , and reality show oddity Hogan Knows Best , which perfectly showcases the ridiculousness of the life of a pro-wrester.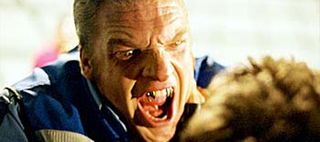 Triple H
Signature Move: The Pedigree
Fighting Form: Triple H (an abbreviation of Hunter Hearst Helmsley, a wrestling moniker of Paul Michael Levesque) started out in WCW in 1994, before soon establishing himself at WWE, as one of the Federation's highest-achieving sports entertainers.
His persona has varied throughout the years, from rich aristocrat to leather-clad member of D-Generation X, to his golden years as 'The Game'. He also achieved the rare distinction of making the act of spitting water into a crowd look cool.
Despite being put out of action for some time after tearing a leg muscle in 2001, Triple H returned to wrestle as part of various stables (Evolution, the twice-reformed D-X) and remains active to this day (though he's a little on the quiet side after sustaining another injury).
Cinema Champ? In addition to a few TV cameos, Levesque only has one film credit on his CV: he played Jarko Grimwood, Parker Posey's key goon, in Blade: Trinity . He does ok in the role which pretty much requires him to be intimidating and perform wrestling moves on Ryan Reynolds.
He's also got WWE films' The Chaperone lined up, in which he's set to play a getaway driver looking to quit the life of crime.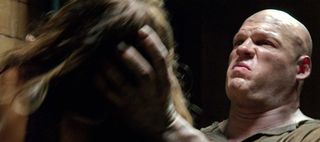 Kane
Signature Move: The Chokeslam From Hell
Fighting Form: Glenn Thomas Jacobs (or Kane as he's better known on the circuit), has been with WWE since 1995. He began his career in the guise of dentist Isaac Yankem, then fought briefly as a Diesel parody, before undergoing a reinvention as Kane, half-brother of The Undertaker. The pair began as rivals, before joining forces as the Brothers of Destruction.
He famously threw a fireball at X-Pac in one of WWE's more absurd moments, and was once touted to be horrifically scarred from head-to-toe, but ever-skimpier outfits simply revealed nothing but typically bubble-muscled flesh. Kane's signature red and black mask came off after a defeat to Triple H in 2003, and he's wrestled with his hideous visage uncovered ever since.
Cinema Champ? Kane's only cinematic venture to date (unless you include his MacGruber cameo) is in See No Evil , a horror from WWE Films that feels like the visual equivalent of nu-metal. Kane is Jacob Goodnight, a serial killer who slaughters his way through a group of young offenders who are working at a creepy hotel.
Pretty unoriginal stuff, that does little to inspire anyone outside of its clear target demographic.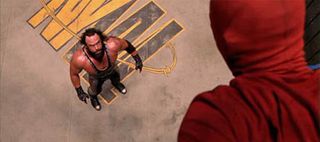 Macho Man Randy Savage
Signature Move: The Flying Elbow Drop
Fighting Form: Randy Savage was an early member of WWF (leaving before it changed to WWE), and he held the Championship title twice there. Best known for feuds with The Honky Tonk Man, Jake the Snake and Ric Flair, he also had a short lived partnership with Hulk Hogan as The Mega Powers (and they had a beef with moneybags duo The Mega Bucks).
He was also famous for being managed for some time by his real-life wife Miss Elizabeth (who he romantically married on air). Savage, heading in the opposite direction of most successful wrestlers left the WWE in 1994 for WCW, where he stayed for six years.
After a four year hiatus from the ring, Savage joined TNA for a year from 2004 to 2005, before finally hanging up the bandana for good due to health problems.
Cinema Champ? Savage had a small role in Spider-Man as Bone Saw McGraw, the wrestler on whom Peter Parker tests out his new-found powers. It's a small part, but the film is surely one of the best to feature the talents of a former mat monkey.
He also appeared as himself in Ready to Rumble : a wrestling comedy that featured cameos for numerous grapplers, and in return saw star David Arquette crowned real-life WCW champ. The rest of Savage's acting work is mostly voiceovers, putting his gravelly, blood vessel-straining tones to good use in the likes of Bolt and a Cars spin-off video game ("OOOHH YEAH!!").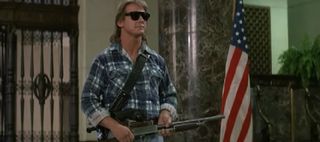 'Rowdy' Roddy Piper
Signature Move: The Sleeper Hold

Fighting Form: 'Rowdy' Roddy Piper's body must have been through an awful lot, considering his wrestling career has spanned over 30 years. He made his name in various associations (American Wrestling Association, National Wrestling Alliance, Mid-Atlantic) before finding mainstream fame in the WWF (he even had his own segment, 'Piper's Pit').
Piper has had a couple of dalliances with alternative wrestling outfits (WCW and TNA), but to this day he still makes appearances on WWE. His family heritage was exploited to make him one of the only characters in wrestling history to be ostensibly Scottish, kilt and all.

Cinema Champ? In 1988, Piper secured his place in cinema history with roles in two cult classics. The first, John Carpenter's They Live, saw him donning a pair of special sunglasses that allow him to see that aliens have taken over the American corporate class. He also got to have an infamously long fist fight with Keith David, and deliver the immortal line: "I came here to kick ass and chew bubblegum… and I'm all out of bubblegum!"
The second, Hell Comes to Frogtown saw him as Sam Hell, a virile man in a post-apocalyptic future who has to breed with any fertile women. The government fit him with an explosive cod-piece to ensure he doesn't go off brief.
Piper has a decent spread of acting credits, including some TV ( Zorro , Highlander , RoboCop ), and quite a number of movies that are in post-production (although they do all sound distinctly naff).