20 most inventive movie scientists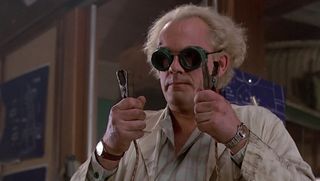 Grab your safety goggles and fire up your Bunsen burners
In real life, being a scientist probably means long hours peering through microscopes and making careful observations of experimental data. In the movies, though? Its all lightning, glow-in-the-dark serums, and hideously mangled experimental subjects. And we wouldnt have it any other way. The scientists on this list are all pushing the boundaries of scientific knowledge and in most cases, smashing through ethical boundaries, too. Lets get scientific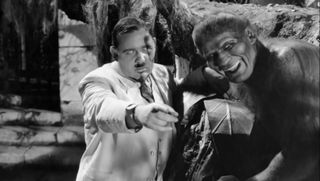 Island Of Lost Souls (1932)
The scientist: Dr Moreau (Charles Laughton).
The invention: A whole islands worth of animal/human hybrids, created through plastic surgery, blood transfusions, gland extracts, and ray baths. Some of his experiments are more successful than others.
Worthy of a Nobel Prize? Moreaus scientific accomplishments are pretty impressive, but the whole thing ends so badly its probably best forgotten about.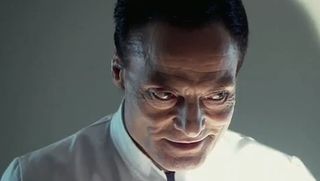 The Human Centipede (2009)
The scientist: Retired surgeon Dr Josef Haiter (Dieter Laser).
The invention: An, erm, human centipede. Having specialised in separating conjoined twins during his medical career, Dr Haiter has become fascinated with the idea of joining things together, and decides to sew three people together so that they have a continuous digestive system. Urgh.
Worthy of a Nobel Prize? No. No. Never. Not under any circumstances. Definitely not.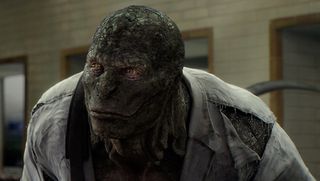 The Amazing Spider-man (2012)
The scientist: Oscorps Dr Curt Connors (Rhys Ifans).
The invention: Imagined as a drug that could regenerate missing limbs for amputees, Connors formula actually has some pretty terrible side effects including super strength (good), scaly skin (less good) and murderous urges (really bad).
Worthy of a Nobel Prize? Nope. Technically, Connors mightve achieved a major breakthrough, but the cost is just way too high.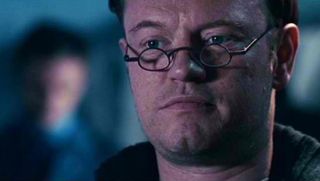 Resident Evil: Apocalypse (2004)
The scientist: Dr Charles Ashford (Jared Harris), a researcher for the Umbrella Corporation.
The invention: The multi-talented Ashford created a couple of clever things: the T-virus, which could reverse cellular decay and cure degenerative illnesses, and a holographic security system to keep his labs secure. Unfortunately the T-virus created zombies and the Red Queen went on a killing spree.
Worthy of a Nobel Prize? Post-apocalypse, things like prizes tend to get forgotten about.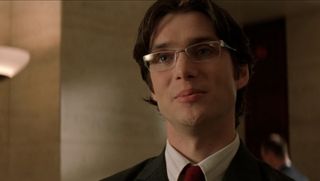 Batman Begins (2005)
The scientist: Dr Jonathan Crane (Cillian Murphy), a dodgy pharmacologist who likes experimenting on his patients a little too much.
The invention: A toxin that induces terrifying hallucinations in its subjects, with the aim of making them easier to control.
Worthy of a Nobel Prize? Although there are probably some ethically questionable military applications for Cranes fear gas, no, its probably not one to celebrate.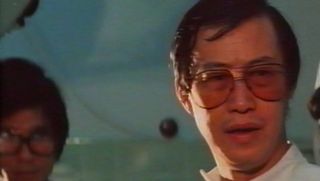 The Clones Of Bruce Lee (1981)
The scientist: Prof Lucas (Jon T. Benn) from the Special Branch of Investigations.
The invention: Bruce Lee! Well, three clones of Bruce Lee, created using samples of the original (and sadly deceased) Bruce Lees brain, in order to fight an army of evil bronze men.
Worthy of a Nobel Prize? Definitely. Managing to create viable adult clones who not only resemble the original but also have similar talents? Give him all the prizes!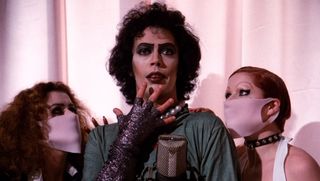 The Rocky Horror Picture Show (1975)
The scientist: Sweet transvestite Dr Frank N. Further (Tim Curry).
The invention: The titular Rocky Horror (Peter Hinwood), a kind of Frankensteins monster created as eye candy (with half a brain).
Worthy of a Nobel Prize? Probably best not to reward aliens for their bizarre experiments, really.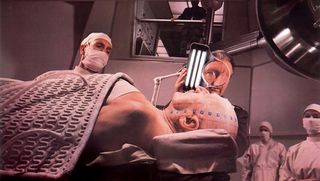 Fantastic Voyage (1966)
The scientist: Dr Jan Benes (Jean Del Val).
The invention: As part of a team of scientists working in the Soviet Union, Benes discovers a method of miniaturising atoms and entire organisms but is nearly assassinated before he can share his work with the US. Luckily, enough of it is known for a team to shrink themselves down and go into his brain to fix him up.
Worthy of a Nobel Prize? Maybe, but there are some diplomatic issues that probably need sorting first.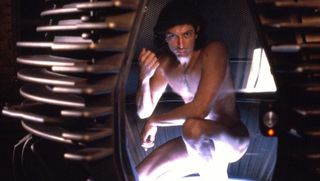 The Fly (1986)
The scientist: The eccentric Seth Brundle (Jeff Goldblum).
The invention: A telepod system that transports objects from one to another, instantly by breaking them down to a molecular level and then reassembling them at the other end. Some extra work might need to be done on making sure living creatures can be safely (and separately) transported, though.
Worthy of a Nobel Prize? Definitely just think of the real world applications! but who would you give the prize to?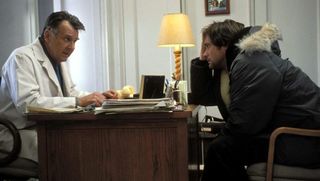 Eternal Sunshine Of The Spotless Mind (2004)
The scientist: Dr Howard Mierzwiak (Tom Wilkinson), head of Lacuna Inc.
The invention: A memory-wiping technology that allows clients to choose which of their painful memories theyd like to erase. Seriously clever stuff, although its applications can be a little unethical, to say the least.
Worthy of a Nobel Prize? Definitely. Though itd probably put psychiatrists out of work.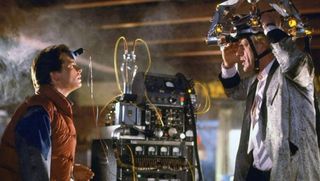 Back To The Future (1985)
The scientist: Emmett Lathrop Doc Brown (Christopher Lloyd).
The invention: A souped-up DeLorean which can travel in time if properly fuelled with plutonium and driven at 88mph. So there are clearly some limitations there, and time-travel should always be done responsibly, but still, this is incredibly important scientific work were talking about here.
Worthy of a Nobel Prize? 100%.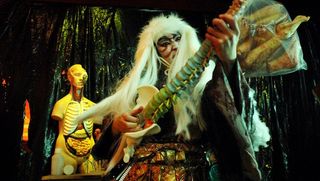 Vampire Girl vs Frankenstein Girl (2009)
The scientist: Kenji Furano (Kanji Tsuda), a high school vice principal, kabuki enthusiast, and mad scientist.
The invention: As the films title suggests, were in Frankenstein-esque territory here, but the creations in this movie arent just living beings created from dead parts theyve got various kinds of weaponry built in, too.
Worthy of a Nobel Prize? Best not, really.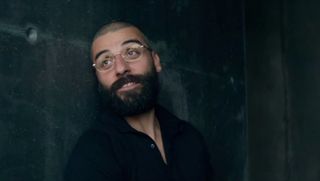 Ex Machina (2015)
The scientist: Nathan Bateman (Oscar Isacac), CEO of Bluebook, a massively popular search engine.
The invention: A Turing-test passing AI thats so human it can even convince people to fall in love with her. Actually, more than one, with different personalities.
Worthy of a Nobel Prize? Yes. Clearly. Although once again there are some ethical considerations that need to be taken into account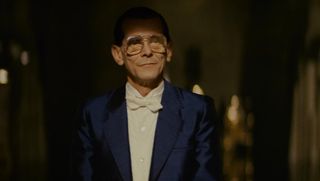 Blade Runner (1982)
The scientist: The man behind the Tyrell Corporation is Dr Eldon Tyrell (Joe Turkel).
The invention: Speaking of human-seeming AIs, Dr Tyrell created replicants. Making artificial people who can perform tasks too dangerous or boring for humans to want to do seems like a great idea, but Tyrells replicants are so human they start to resent the limitations of their existence.
Worthy of a Nobel Prize? Almost certainly. Its an incredible accomplishment, even if there are downsides.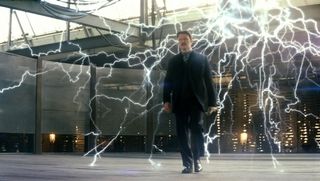 The Prestige (2006)
The scientist: Nikola Tesla (David Bowie), a fictionalised version of the real scientist.
The invention: A kind of teleportation machine, created for magician Robert Angier (Hugh Jackman) to use as part of his act. Theres a twist, though, because the machine turns out to work slightly differently than advertised though its still pretty incredible.
Worthy of a Nobel Prize? Well, the real Tesla never got one, so sorry, nope.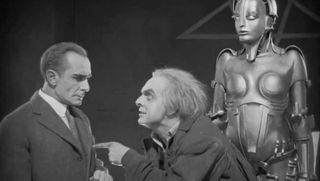 Metropolis (1927)
The scientist: Working class inventor Rotwang (Rudolf Klein-Rogge).
The invention: Maybe the first scientist to create a mechanical human, Rotwang was responsible for building the a Maschinenmensch. Intended to replace the woman hed loved and lost, she instead ends up leading a revolution.
Worthy of a Nobel Prize? Brilliant as it is, its hard to imagine any organisation handing out awards for Rotwangs work.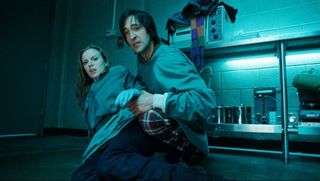 Splice (2009)
The scientist: Clive Nicoli (Adrien Brody) and Elsa Kast (Sarah Polley),a couple of geneticists working for N.E.R.D. (yes, really it stands for Nucleic Exchange Research and Development).
The invention: A human-vermiform-something or other hybrid named Dren, which ages rapidly and has human-level intelligence or possibly better.
Worthy of a Nobel Prize? Well, that particular experiment had to be terminated, but therell probably be more in future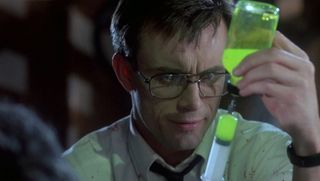 Re-Animator (1985)
The scientist: Herbert West (Jeffrey Combs), a scientist working out of the Miskatonic University.
The invention: A reanimating reagent, which brings the dead back to life. As you do. Interestingly, it seems to reanimate even parts of deceased beings, like severed heads.
Worthy of a Nobel Prize? Yikes, can you imagine? Probably best this whole thing gets shut down and the evidence torched.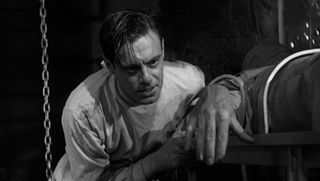 Frankenstein (1931)
The scientist: Henry Frankenstein (Colin Clive).
The invention: Many scientists have built on Frankensteins work over the decades, but the credit for the original research into reanimating the dead using sewn together bits and a hearty dose of electricity has to go to the good doctor. Even if his creature turned out to be something of a mistake.
Worthy of a Nobel Prize? He definitely deserves some kind of posthumous tribute.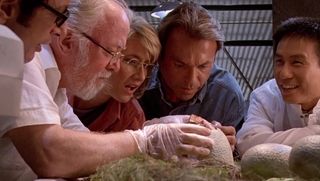 Jurassic Park (1993)
The scientist: Henry Wu (B.D. Wong), chief geneticist at InGen.
The invention: Bringing dead people back to life is one thing, but Dr Wu surpasses all his peers since he managed to create living dinosaurs, based on samples of DNA encased in amber for thousands of years. Beat that.
Worthy of a Nobel Prize? Well, the Jurassic Park incident was unfortunate, but has anyone ever done anything more prize-worthy than this?!