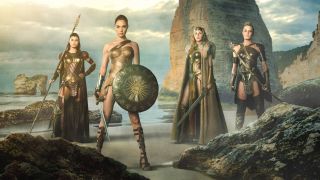 Who's who in the Wonder Woman movie?
It feels like we've waited forever for a Wonder Woman movie, and at long last we're finally getting one. Batman v Superman gave us many things (Martha!), but nothing comes close to the sight of Princess Diana striking one hell of a battle pose, ready to kick some monster ass. Luckily we're now getting a movie dedicated to her rather unique history. Her solo film won't pick up after the events of BvS as director Patty Jenkins plans to take us back through time to meet a younger Diana eager to experience the world circa 1910.
This is a coming-of-age tale for one of pop culture's most iconic superheroes, which is LONG overdue, considering we've seen Bruce Wayne's tragic origin about a gazillion times. For this version of her story, the movie borrows bits and pieces from various DC comics' continuities. Because they're so fond of rebooting their universe, we'll be getting a Diana mashup based on the original verse, Crisis on Infinite Earths and the New 52, which means there's a lot of characters joining her onscreen. Who are they? Read on to find out.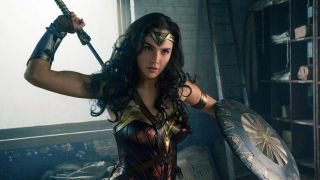 Gal Gadot is Diana Prince/Princess Diana/Wonder Woman
Gal Gadot stole the show in Dawn of Justice as Diana Prince, aka Wonder Woman. A confident, self-assured warrior who doesn't shy from a punch-up, she does her heritage proud. Born and raised on the island of Themyscira, she - along with her fellow Amazons - was created by the gods to serve mankind. Until they all thought nevermind, and left us poor humans on our lonesome. That's quite an origin story.
What makes her such a rich and versatile creation for Gadot to tackle is that the Diana we'll meet again in Wonder Woman will only be at the beginning of her journey. Watching her pummel Doomsday took untold years of accumulated experience. Gadot herself says that the Diana Prince of her solo movie is "more naive and pure and she's this young idealist who does not understand the complexities of men and life".
While her close-knit family isn't keen to rejoin humanity, Diana is more open-minded. "Everything she stands for is something I can relate to," Gadot tells Variety. "She's very compassionate; she's all about love and peace. She's so strong and independent but sophisticated and with such emotional intelligence. She's the perfect woman." It's her nose for adventure that finds her traveling to new lands on the cusp of World War I.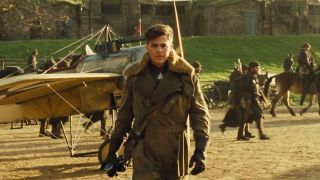 Chris Pine is Steve Trevor
The American serviceman Diana meets on the sandy beaches of her homeland is Steve Trevor, played by Star Trek's Chris Pine. He and Suicide Squad's Scott Eastwood were both linked to the role early on, with Pine eventually swooping in to make the part his in July 2015.
Trevor is a fighter pilot in the U.S. military whose aircraft crashes onto Themyscira. He wakes to find Diana peering down at him. It's no wonder - ahem - she takes such an interest; he also happens to be the first man she's ever seen. Is he fazed by that? Not in the slightest, if the Comic Con trailer is any indication. The two banter back and forth, suggesting that Trevor will remain true to his comic book roots and become a serious love interest for Wonder Woman.
"Steve Trevor is a rogue-ish, cynical realist who's seen the awful brutish nature of modern civilization," Pine tells the Toronto Sun. "He's a worldly guy, a charming guy and it's going to be a great, fun film. There are some incredibly deep, interesting and morally relevant themes."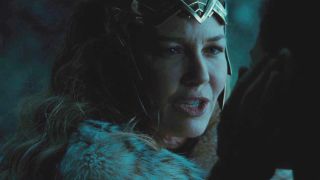 Connie Nielsen is Queen Hippolyta
Nicole Kidman almost signed on to play the role of Queen Hippolyta, aka Princess Diana's mother, before scheduling conflicts led her to drop out. In her place is Danish actress Connie Nielsen, best known for playing Gladiator's strong matriarch Lucilla.
She won't be straying too far from that role as Hippolyta is a spirited presence in Diana's life, who longs to protect her daughter from the rest of the world. Based on the first look at her standing tall among her fellow Amazon warriors, gripping onto her trusty sword, Nielsen's character will be similar to the version depicted on the page. She has thousands of years of fighting experience, and is extremely gifted in hand-to-hand combat. Watch the Comic Con trailer again if you don't believe me.
One element of her backstory rumored early on, plucked from the New 52 universe, is how she fell pregnant with her daughter. She didn't fashion her from clay as was the case in earlier comics, but instead gave birth after shacking up with Zeus, making Diana a demigod. With so little definitive information on the movie, it's unclear if that's still the case - especially as Diana tells Steve in the trailer that she was brought to life by Zeus. It'd be an odd way of describing a parent. I mean, you don't hear Batman or Superman saying they were "brought to life by Martha" do you? Shame, that.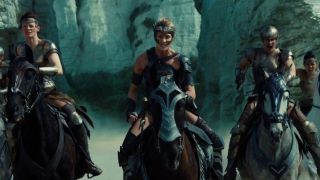 Robin Wright is General Antiope
One of the two women in Diana's life - apart from her mother - who also raised the young warrior is her military aunt, General Antiope. While Hippolyta is keen for her child to stay on Themyscira it's Antiope who encourages Diana's ambitions to seek out adventure elsewhere.
Bringing her to the screen is Robin Wright. While her career kicked off in the eighties with The Princess Bride, it's her turn as the manipulative Claire Underwood in House of Cards that demonstrates her strength, cunning and willingness to go the extra mile. Although in Wonder Woman the politics she deals with are addressed on the battlefield. Seriously, did you see her gritting her teeth as she swung around her sword in the trailer? Wright packed on a load of muscle in order to be fighting fit, evidenced in an image posted to the official Crossfit Instagram showing the actress next to a couple of absolutely ripped trainers.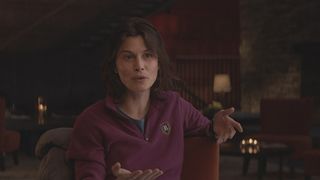 Lisa Loven Kongsli is Menalippe
Antiope's lieutenant Menalippe is the third Amazon who had a hand in raising Diana. She's played by up-and-coming Norwegian actress Lisa Loven Kongsli, who's only been in the 'biz since 2008 but managed to score a handful of roles in movies like Force Majeure, propelling her into the Hollywood spotlight.
She debuted her look as Menalippe in that first promo shot clutching a gigantic spear, part of her arsenal of weapons that also includes enhanced strength and agility. Like Antiope, Menalippe isn't a major DC character but she plays a significant role in Wonder Woman's life, and loves her as if she were her own. It's Menalippe we see tending to Diana in an early trailer shot, presumably post-battle. On the page she's had many, MANY varied backstories, with her reign as Themyscira's High Priestess her most memorable.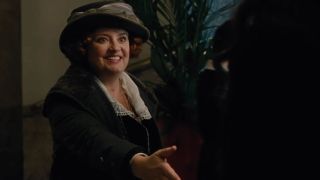 Lucy Davis is Etta Candy
All superhero movies need a touch of comic relief. In Wonder Woman, it looks like Etta Candy will fulfil those duties after providing a few chuckles toward the tail-end of the trailer. She's played by British actress Lucy Davis, who's cropped up in plenty of UK TV productions over the years and is best known for her tenure on The Office and a small bit in Shaun of the Dead.
Candy is Steve Trevor's secretary. Fans of the comics will no doubt be pleased to see her appearing in the first Wonder Woman movie, as she and Diana go waaaay back in DC history. She befriends the Amazon early on - yes, over all the different continuities - and likes to express her positive can-do attitude whenever possible. It looks as if Davis' version of the cheery gal will likely do the same based on her happy-go-lucky manner shown in the Comic Con trailer.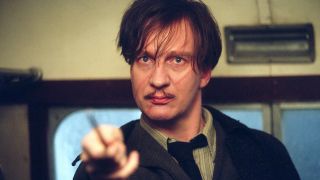 David Thewlis is ?
Potter addicts know David Thewlis as Remus Lupin from the Harry Potter franchise, and he's also delivered great turns in Kingdom of Heaven, The Boy in the Striped Pyjamas, Dragonheart and more recently, The Theory of Everything. His solid, dependable screen presence is sure to bring gravitas to Wonder Woman, but we don't have any clue who he's playing. Unlike most of the other actors whose onscreen identities remain a secret yet appear in the trailer, Thewlis doesn't even get a quick frame in the preview. Most chatter surrounding his part suggests he'd be fantastic as another Greek god, either Hermes, Ares, or even Zeus, yet until Warner releases any official intel it remains pure guesswork.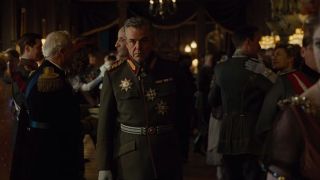 Danny Huston is ?
He's dabbled with a fair number of genre roles but comic book movie fans will recognise Danny Huston as the duplicitous William Stryker in X-Men Origins: Wolverine. You might even recall his vocal work in DC's animated movie, The Flashpoint Paradox, where he played General Lane. Huston's character here is another shrouded in mystery. But if I were to hazard a guess, I'd say he's playing a bad guy.
Why? Well, take a look at the way he's introduced in the trailer. Queen Hippolyta's cautionary voiceover is a bit of a giveaway, as she tells her daughter "Be careful Diana, they do not deserve you," as we see Wonder Woman casually stroll toward Huston's character in what looks like a high society gathering. He's a decorated man, wearing a chest of medals and a furrowed brow. There's no way he's a goodie. The identity of his character is difficult to pin down. He could be playing an army general or, as many have speculated, the villainous god Ares.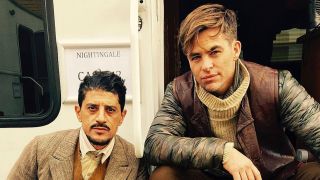 Said Taghmaoui is ?
Remember the black and white photo of Wonder Woman in Dawn of Justice? That grainy image also showed a handful of her comrades, including one character played by Said Taghmaoui. Taghmaoui's cropped up in a wide variety of films since he began acting in 1994, delivering great supporting turns in La Haine, Three Kings, TV's The West Wing and American Hustle before joining the DC Extended Universe.
While no word on his role has emerged through official channels, that one brief glimpse suggests that the French actor plays a part in Diana's triumph. Over what? Well, we still don't know that either, but they all look victorious, if a little battle-weary. He also sneakily posted a pic of himself and Chris Pine to Instagram that was quickly taken down, presumably at the behest of the studio. It's still been screencapped, obviously, and shows him dressed in a pinstripe suit and a waistcoat.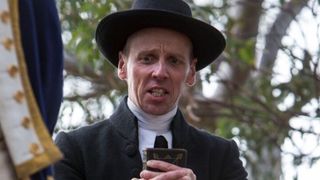 Ewen Bremner is ?
Ewen Bremner is perhaps best known for playing Trainspotting's Spud. In the twenty years since then he's appeared across a handful of blockbusters like supporting roles in Black Hawk Down, Pearl Harbor and Jack the Giant Slayer.

Warner Bros. is still keeping official details of his character under wraps.
However, that black and white pic from Dawn of Justice shows him alongside Wonder Woman's crew and thanks to the power of the pause button you can see a very quick flash of him in the trailer. Forward it to the 1:38 mark and you'll spot him sat around a table with Diana, Steve and Said Taghmaoui's character. It looks like they're in a pub having a chat when someone starts trouble and gets a beat down from Diana. He's playing one of the good guys, I'd say.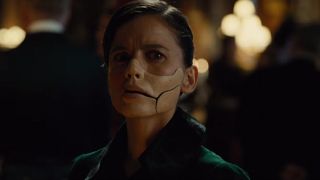 Elena Anaya is ?
Everyone wants to know who the main villain of the film is. Yes, Wonder Woman must face the atrocities of war, but there has to be a human she must directly confront. It could be Ares, it could be Zeus, and if the rumors about Spanish actress Elena Anaya are true, it could be Circe.
She can be seen toward the beginning of the trailer, when Diana walks into that fancy party, wearing a prosthetic mask over the left side of her face. This makes my mind jump straight away to her superb turn in Almodovar's The Skin I Live In, where she finds her entire body bandaged up - but for a super fucked-up reason.
Interestingly, Circe is known for her immortality, astonishing beauty and the power of sorcery. Should the rumors be true and Anaya is playing her, then surely with all those skills she would be able to heal herself, right? If that comes to pass, it might spell trouble for Menalippe - in the comics Circe kills her.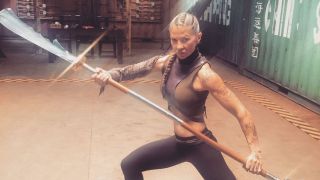 Mayling Ng is Orana
One quick Google search for Mayling Ng and you'll probably find yourself overcome with a desire to do about a million bench presses. The martial arts maestro and stunt co-ordinator is jacked. Her combat and weaponry skills are seriously impressive and led to her landing both the stuntwork gig and the role of Orana.
Orana is another Amazon warrior. Her relationship with Wonder Woman in the comics is tumultuous to say the least. She once challenged Diana to a tournament for the Wonder Woman mantle - where the Princess said Orana only had brute force and no finesse - and ended up winning. She died shortly afterward and wasn't resurrected, which is weird you know... because COMICS!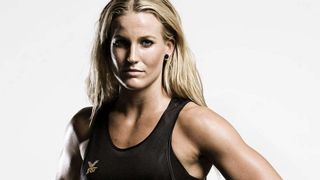 Madeleine Vall is Egeria
The Amazonian bad-asses sure do stack up as Swedish MMA fighter Madeleine Vall joins the ranks as another strong Themysciran. Vall announced her involvement in the production once shooting had wrapped, posting two snaps to Instagram - one in her native tongue and another in English - with a caption revealing her character to be Egeria.
As the Captain of the Guard and a high-ranking lieutenant she's had a rough ride in the comics. Tasked with protecting her people, she made the ultimate sacrifice by killing herself to prevent a gateway to Hell from being opened. It could be that the same fate awaits her on the big screen.