Fast Facts:
The Walking Dead season 8 release date: October 22, 2017 (US)/October 23, 2017 (UK)
Directors: Greg Nicotero (more TBA)
Cast: Lauren Cohan, Jeffrey Dean Morgan, Seth Gilliam, Danai Gurira, Lennie James, Andrew Lincoln, Alanna Masterton, Melissa McBride, Josh McDermitt, Chandler Riggs, Christian Serratos
Update: September 10, 2017 - Maggie's baby won't be born in season 8
The Walking Dead showrunner Scott Gimple has intimated that season 8 will take place within six months of season 7's finale. Well, maybe.
Gimple has confirmed that . As she's not showing yet, she's probably not much more than three or four months along - which means that she has roughly five-six months to go (yup, even though we found out she was pregnant 30+ episodes ago!). And Gimple's statement is a clear one: "Maggie's baby will not be born in season 8."
Now, this can mean one of a number of things; either Maggie's baby isn't born by the end of the series because it takes place over a short period of time before her due date, or it's born off-screen and there's a which means we're introduced to her child in season 8, or... something tragic happens to the unborn baby, which means its never born at all.
If the show follows the comic book it may be the time jump option, but given Gimple rarely gives us a straight answer, it's hard to know whether he's talking literally or not. Particularly as he also added "but anything's possible," just to confuse us some more. Argh.
Update: September 5, 2017 - official synopsis released
It's here - the official synopsis for The Walking Dead season 8. If you'd prefer your shows unspoiled then you should probably skip this bit, but if you'd desperate for a tease or two, read on...
Last season, Rick Grimes and his group of survivors were confronted with their deadliest challenge yet. With the comfort of Alexandria, they let their guard down, only to be reminded how brutal the world they live in can be.
Feeling powerless under Negan's rules and demands, Rick advocated the group play along. But seeing that Negan couldn't be reasoned with, Rick began rallying together other communities affected by the Saviors. And with the support of the Hilltop and Kingdom, they finally have enough fire power to contest the Saviors.
This season, Rick brings "All Out War" to Negan and his forces. The Saviors are larger, better-equipped, and ruthless — but Rick and the unified communities are fighting for the promise of a brighter future. The battle lines are drawn as they launch into a kinetic, action-packed offensive.
Up until now, survival has been the focus of Rick and our group, but it's not enough. They have to fight to take back their freedom so that they can live. So that they can rebuild. As with any battle, there will be losses. Casualties. But with Rick leading the Alexandrian forces, Maggie leading the Hilltop, and King Ezekiel leading the Kingdom — Negan and the Saviors' grip on this world may finally be coming to an end.
Okay, so there's not much there that we didn't already know - the told us most of this already - but this is the first time TWD has officially confirmed that Maggie's leading the charge in Hilltop… interesting.
Update: August 24, 2017 - brace yourself, season 8 will "thin the herd"
I'm still coming to terms with who we lost in The Walking Dead season 7. So confirmation that season 8 will "thin the herd" only makes me want to cry. Again.
Talking to , Steven Ogg - who plays Negan sidekick, Simon - said those exact words: "Thin the herd". Now, naturally, he didn't divulge on who exactly will be 'thinned', but given who we lost last series… well, it could be anyone, let's face it.
Team Negan or Team Rick - who do you think will suffer the greater casualties in season 8? Will we lose more of Rick's stalwarts, or will one of the newbies - Ezekiel (Khary Payton), Gregory (Xander Berkeley), or Jesus (Tom Payne) - fall? Time will tell, I guess. Get the tissues ready...
Update: August 15, 2017 - the premiere will be the 100th episode… and they're planning 100 more
The Walking Dead's Tom Payne (Jesus, to you and I) thinks the opening episode of season 8 will be a tasty sample of what's to come.
"It's been just crazy action, and really exciting to film and to read and to be involved in," Payne told . "Scott Gimple's spoken a lot about the 100th episode [which just so happens to be S8's premiere] being a jump off for the next hundred episodes. Season 8 certainly starts with a big bang and then continues to ramp up, which is really exciting.
"I know the audience will be really happy with certainly how it starts, because they're taking the fight back, and then every single episode in the first half there's a moment which makes you go, 'Wow, oh my god, I can't believe that.'"
Payne also drops a timely reminder that it's not Rick and Negan who are squaring up this season...
"I think there's some really strong work from certain characters this year who have been given amazing character arcs to go through. There's just an insane amount of action, and different dilemmas," added Payne. "There are characters who are involved in war, so what is the right thing to do during war? Is it just kill everyone? In every war, there are casualties who maybe shouldn't have been. There are dilemmas that I hope the audience is involved in as well in watching it, and there are choices to be made of how to move forward at certain stages. I'm excited to see what the audience thinks of decisions that certain characters make."
Update: August 18, 2017 - the cast is "really happy" with season 8… and they reckon we will be, too
The Walking Dead isn't known for pulling its punches, but even the steeliest heart stuttered at what transpired for Rick and company in season 7. If you're worried that season 8's going to be just as grim, I have good news - word has it, things will be a little better going forward… at least, that's what Norman Reedus thinks.
"It feels like our original show again," Reedus, who plays Daryl Dixon, told . "I didn't love last season, shooting it. I didn't see anyone. I was crying all the time. I was naked and eating dog food. It was just no fun. This season feels like our show again."
"[Daryl] goes very, very dark," Reedus told . "He does certain things that he can't go back from. He goes to a very, very dark, dark place. It's a combination of hatred. It's a combination of self-loathing. It's different from when he first started on the show. He has a big chip on his shoulder. He thought people wouldn't like him. He didn't give a shit. He hates you, too. It turns now into he kind of hates himself. He hates the world that we're in, and he doesn't lose the fight in him, but he definitely no longer sees anything good in the world, that's for sure."
"I think season 8, that we're getting into now, it's completely different, first of all," added Jesus actor, Tom Payne. "I always told myself I wouldn't say what I've heard other cast members say every other year, which is, 'Oh, the next season is gonna be this! And the new episode is so many superlatives and so many words you use!' And I'm like, 'Come on, you can't say the same things every year!'
"But then I had to bite my tongue and says, 'Well, actually...' Season Eight, the first few episodes are out of this world amazing. We've all been getting them and going, 'Wow, okay we thought that was amazing!' and then the next episode is amazing. The audience is going to be very happy with the direction we're taking. We're all really happy."
***Original article continues below***
The Walking Dead season 8 - everything we know so far
The Walking Dead season 7 left us on the brink of all-out war between Rick's motley crew of survivors and Negan's savage Saviors. While the show has some way to go to match the Lucille-swinging brutality of the Walking Dead season 7 premiere, things are bound to get more explosive and tense as The Walking Dead season 8 kicks off. That's without even mentioning the Z-word.
Can't wait until the October 22, 2017 release date? We've got you covered: Feast your eyes (not literally, mind you) on a bevvy of set photos, trailers, confirmed cast, posters, and more. It goes without saying there are bound to be potential spoilers ahead, so if you don't want anything ruined then make like Glenn's skull and split. (Sorry to bring that up again).
The Walking Dead season 8 release date is only months away
The Walking Dead season 8 still has its home on AMC in the US and Fox in the UK, with the premiere airing October 22, 2017 in the United States and a day later on October 23, 2017 across the pond. As of writing, there are no plans to do a Game of Thrones season 7-style simulcast so, if you're wary of spoilers and you live in the UK, then avoid everyone for a whole day. Or take a break from social media, your call.
This season will once again use the two-part 16-episode format of previous years, with the first 8-episode run scheduled to conclude on December 10/11, 2017. The show will then return for its remaining 8-episodes in spring 2018 if past seasons are anything to go by.
Season 8 started filming in Atlanta, Georgia on April 25, 2017, as confirmed by Negan himself, Jeffrey Dean Morgan, at WalkerStalkerCon. As far as we know, filming is still ongoing. However, tragically, production was halted on July 12, 2017 for five days after stuntman John Bernecker died following an accident on set.
"We start shooting in 10 days, and I haven't seen the scripts. I might be dead, @wwwbigbaldhead might be dead" @jdmorgan teases #WSCSF pic.twitter.com/vuJdsOjt9415 April 2017
The Walking Dead season 8 trailer - where can I see the first bit of footage?
The first Walking Dead season 8 trailer is a doozy. Released at SDCC 2017, the five-and-a-half-minute long trailer features Old Man Rick (WTF?), Negan in a typically sweary and menacing mood, and enough bullets to down an army (good, thing too). There's so much going on we've wracked our brains and come up with the 6 best moments from The Walking Dead season 8 trailer.
With a first trailer that long and revealing, don't expect a second full trailer just yet. October isn't far off, though, so you can bet your bottom dollar (or whatever currency they use in Alexandria – Rick's beard hair?) that we'll be getting some juicy episode previews and maybe even a little something extra on Old Man Rick by the time October rolls around.
If you're dying for something – anything – more you'll be glad to know AMC have released a recap of the previous 99 episodes, walkers and all. Fondly reminiscence about the time Rick didn't have a beard and when they were inexplicably stuck on that farm for a whole season. Good times.
The Walking Dead season 8 cast - who's still alive?
The Walking Dead season 7 saw some big casualties from Rick's gang: Glenn and Abraham were the two big names to meet their makers right out of the blocks in the season 7 premiere, and Sasha later sacrificed herself for the greater good to get the drop on Negan's men. She's definitely not returning; she's gone to the great big spaceship in the sky (aka Star Trek: Discovery). Alexandrian turncoat Spencer also met a grisly end at Negan's hand to send a message to Rick. He's not the first and he certainly won't be the last.
Mercifully though, a large amount of the Alexandrians remain intact (for now). Rick, Daryl, Carol and the other main players from the Saviors and the Kingdom are all returning. So, too, are the junkyard Scavengers and Pollyanna Mcintosh's Jadis, despite them betraying Rick during the Walking Dead season 7 finale. That's not going to be a happy reunion.
While no new characters have been officially announced yet, ER's Maria Bello revealed last year (via ScreenCrush) that she'll have a part to play in The Walking Dead season 8 – so don't be surprised to see her show up at some point. We'll also be introduced to two new characters: say hello to Dillon, a sarcastic twenty-something (the role I was born to play, baby), and Abbud, a nervy lone wolf. The more the merrier, I say.
The Walking Dead season 8 spoilers are floating around
The Walking Dead season 8 spoilers, like the best walkers, never really die. The cast and crew can try their absolute best to stop them, but there are spoilers (and comic fan theories addressed by the showrunners) that have been revealed. Let's look at them...
That Old Man Rick tease at the end of the Walking Dead season 8 trailer sure has got people speculating. It doesn't help that showrunner Scott M. Gimple has been pretty candid on whether there'll be a time jump. Fans of the comics will be 'expecting' the time jump, according to Gimple – and, let's face it, a gap of a few years might freshen the show up a bit.
Talking of freshening things up a bit, Rick has no more time for Negan's games. An Instagram shot went around the web right around the time filming began on the Walking Dead season 8 premiere showing Rick right at the door of Negan's Sanctuary. Is an all-out assault coming? Talk of a time jump and a sudden assault by Rick seem very convenient, that's all I'll say. If nothing else, it'll be nice to start season 8 off at a brisk pace after the lethargic last eight episodes that preceded it.
"#AndrewLincoln is the best! Coolest guy. Congrats on #100 eps Andy!"📷: @DanielNewman pic.twitter.com/y5yctqNW2b7 May 2017
That's not all. Spoiler-y set photos surrounding the season 8 mid-season finale (H/T ComicBook.com) sees Alexandria go up in flames. Rick, known for leaving destruction everywhere he goes, is nowhere to be seen, but Negan and Carl have a big old face-off. Now that's how you enter a mid-season break…
The Walking Dead season 8 poster is just a giant face-off right now
The closest thing we've had to a proper Walking Dead season 8 poster is this giant face-off poster released by Fox UK. No Nic Cage here, though. Just Negan and Rick giving each other a serious case of side-eye, with Michonne, Ezekiel, and Daryl looking ready for action. Eugene is looking very brooding in black too. Whose side is he on?
Season 7 saw its official character posters and promo art released roughly 4-6 weeks before its October air date last year. If that's any indication then we'll be seeing a whole lot more of Negan, Rick, and the rest of the cast in poster form come September – especially as Game of Thrones season 7 will have clocked off by then.
The Walking Dead season 8 set photos see Carol and Daryl reunite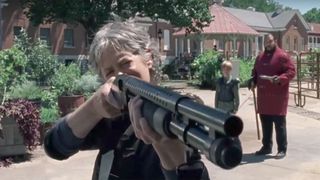 Entertainment Weekly have released a pair of photos to sate our need to get eyes on the survivors. Daryl and Carol are finally (properly) reunited in the first official image – complete with Daryl's motorbike – and, in the second, Rick gives Maggie a reassuring look and a shoulder pat. What a pure boy.
Norman Reedus has also shown himself larking about on set with Andrew Lincoln because you've gotta have a few rays of sunshine when everything is so dark and dreary.
Related The Walking Dead season 8 news
The Walking Dead season 8 release date is here and you've got 3 months to prepare
The 6 best moments from The Walking Dead season 8 trailer
The Walking Dead season 8's premiere – its 100th episode – will feature "a ton of action" as war breaks out
Here are the details on The Walking Dead's two new characters for season 8 - a lone wolf and a sarcastic survivor
The Walking Dead season 8 will be big and terrifying, says Andrew Lincoln