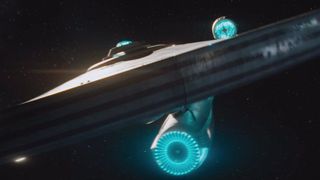 Beyond the final frontier
The third film in the new Trek timeline is almost upon us. Star Trek Beyond will – we desperately hope – take the series in a different direction to the confused mess that was Into Darkness, while also paying homage to the franchise's 50 years of space travel. With Fast & Furious director Justin Lin at the helm, it will certainly have a fresh look and feel. Beyond finds the Enterprise two-and-a-half years into its five year mission (yes, it's taken three films for this series to get to Star Trek's basic premise) and facing a challenge that leaves the crew stranded on an alien world. Here's who will be boldly going on 22 July.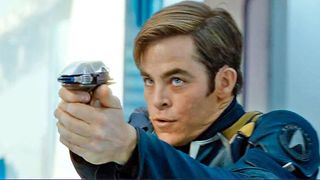 Chris Pine as Captain James T Kirk
It's hard to judge the tone of the film from the sole trailer released so far, but it does look like Beyond will be doubling down on the action, with a fair share of the heroics inevitably going to Chris Pine's Kirk. It's clear that this is the same old Jim (he's still wearing out that one Beastie Boys LP by the look of it) but hopefully a wiser version now that he has a couple of years of command experience. Don't expect his budding romance with Alice Eve's Carol Marcus to have deepened, however. Justin Lin has confirmed that the relationship "didn't quite fit in". Indeed, it's ambiguous at this stage if Eve is even in the film at all. Loving and leaving someone? Very Kirk.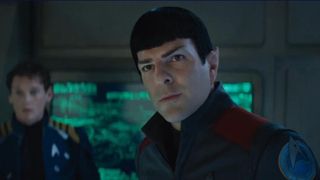 Zachary Quinto as Commander Spock
The green blooded Vulcan will be back and sporting what looks like a more bouffant bowl cut. Having worked alongside Kirk for a couple of years now we should probably expect a more logical, less hot-headed take on the character that harkens back more to Leonard Nimoy's defining original performance. That said, the film is said to hinge on less of a Kirk/Spock dynamic than the previous two. Instead, he will be spending a lot of time with another classic Trek character...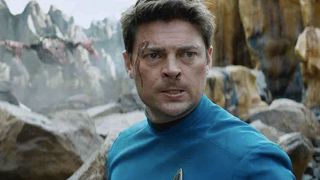 Karl Urban as Dr Leonard 'Bones' McCoy
If there's one thing that practically everyone agrees on, it's that Urban absolutely nails the role of Bones. He has Deforest Kelley's mannerisms down pat, but his performance doesn't feel like merely a pastiche. Beyond will see the irascible doctor and Spock sharing many scenes together as they are trapped on a mysterious world. "Those characters are so diametrically opposed that it'll be nice to see them interacting," Zachary Quinto told The Telegraph and that interplay is very true to the original series.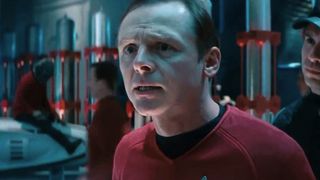 Simon Pegg as Lieutenant Commander Montgomery Scott
This will be Pegg's biggest role in the Trek series to date – but not because of any onscreen action for Scotty. The actor has taken on co-writer duties (alongside Doug Jung), which could be a very good thing indeed. Spaced. Shaun Of The Dead. Hot Fuzz. The World's End. Pegg co-wrote all of these and his heart, humour and genre knowledge are all aspects that could work in Beyond's favour. If, on the other hand, the film ends with Scotty saving the day and being promoted to Admiral, we may suspect that Pegg's ego has gotten the better of him.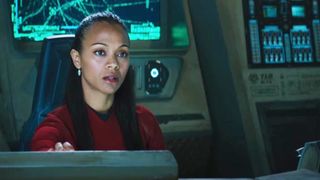 Zoe Saldana is Lieutenant Nyota Uhura
With Saldana riding high on the success of Guardians Of The Galaxy, expect her to play a more vital role in proceedings than before. The status of her romance with Spock, however, remains to be seen. Justin Lin told Birth Movies Death that "there's an acknowledgement and I think their relationship is consistent to the way it was before" which may just be the vaguest quote we've ever seen. If it's business as usual, why be so coy? We suspect that two-and-a-half years into working and living together, their relationship may have cooled off and turned into something more resembling the flirty, but chaste, bond that the characters shared in the original series. Then again, they could be at it in the Jeffries Tubes for all we know.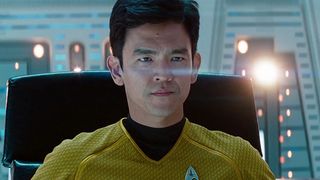 John Cho as Lieutenant Hikaru Sulu
At the start of the film the Enterprise crew are said to be weary and homesick. Sulu has more reason to feel that than most – Cho revealed to Entertainment Tonight that Sulu has a baby girl now. Who the mother is remains to be seen, but this is in keeping with original Trek cannon. In Star Trek: Generations we met Demora Sulu, who would later go on to join Starfleet herself.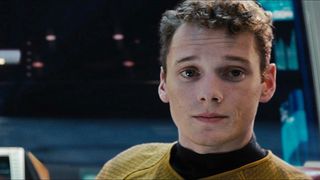 Anton Yelchin as Ensign Pavel Chekov
Yelchin's take on Chekov is really rather wonderful, but woefully underused in the first two movies. He's back in Beyond, and hopefully will get something significant to do – as yet we know nothing of what he'll be getting up to and he's only in the background of a single shot of the trailer! More Yelchin now!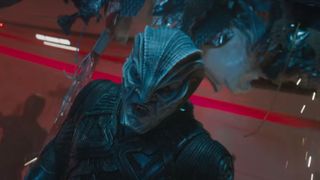 Idris Elba is Krall
While the world has been patiently waiting to see if the Luther star is next in line to wear James Bond's tuxedo, Elba himself has been busy playing the latest Trek baddy. Despite initial rumours (and a name that starts with a K), Krall is not a Klingon. Instead, he's a reptilian alien from an unknown race, with a very different philosophy to the utopian Federation. Justin Lin had this to say about Krall's motivations in an interview with Slash Film. "If you were going on a five-year journey and you're trying to not only explore, but also maybe introduce other people to [the Federation's] way of thinking, what would that mean? What are the consequences to that? I mean, spreading a philosophy that you believe in that you think is great, are there gonna be any other points of views that's gonna counter you?" Food for thought, and a promising sign that there will be more to Beyond than just fights and motorbike rides.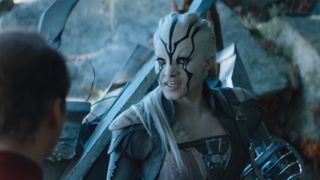 Sofia Boutella is Jaylah
The actress, who played Kingsman's intimidating Gazelle, is Jaylah in Beyond. She's spotted a few times in the trailer – usually hitting someone – and we know that Boutella undertook MMA training for the role. Like Elba, she's under heavy makeup – though she's more recognisably humanoid and appears to be of a different species to Krall. Friend or foe? The trailer certainly makes it look like she'll be joining forces with Kirk against a common enemy.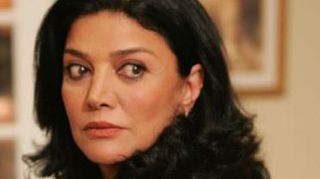 Shohreh Aghdashloos as ?
The Oscar-nominated actress is a late addition to the Beyond cast, having been brought onboard during a set of recent reshoots. While we don't have a name for her character, we know that she's playing a high ranking member of the Federation. Her late entry suggests a small – but potentially pivotal – role in the movie.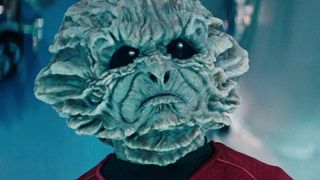 Deep Roy is Keenser
Roy is a legend, having appeared in everything from Doctor Who and Blake's 7 to Tim Burton's Charlie And The Chocolate Factory as the Oompa-Loompas. Expect another brief, amusing cameo as Scotty's alien pal.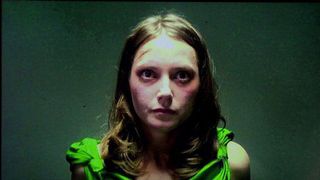 Lydia Wilson as ?
Wilson has a string of UK TV appearances to her name, including playing the kidnapped Princess Susannah in Black Mirror's horrifying (and weirdly prescient) pilot, 'The National Anthem'. There's nothing known about who she will be playing here yet, but we'd guess that she may be a new member of the Enterprise crew – the trailer sees lots of them fleeing to the planet's surface after their ship is (gulp) destroyed.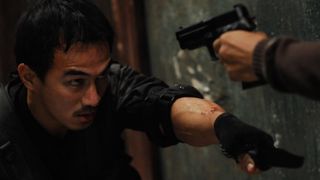 Joe Taslim as ?
The Fast & Furious actor is a highly-skilled martial artist, so while we don't know who he will be playing (we're guessing one of Krall's hench-aliens), expect him to be involved in some intense action scenes.