Xenoblade Chronicles 2
Platform(s): Switch
Release date: TBD 2017
Nintendo still claims Xenoblade Chronicles 2 is coming out in 2017, despite the series' own tumultuous history of delays and setbacks. We don't even know all that much about it outside of the reveal trailer shown during Nintendo's Switch presentation back in January. If it's anything like the first Xenoblade Chronicles (or the Wii U spin-off, Xenoblade Chronicles X), expect massive, open, and wholly alien landscapes to explore with a group of anime buddies wielding absurd, magical weaponry in highly-tactical real-time battles. That it's simply big isn't all that impressive considering how big pretty much every game is today, until you realize that the Switch will allow you to take this sprawling JRPG with you on the go - and that more than anything makes us very excited about what Xenoblade Chronicles 2 has to offer.
Cuphead
Platform(s): Xbox One, PC
Release date: TBC 2017
We've been anticipating Xbox indie standout Cuphead for what feels like ages, and the game seems to have veered dangerously close to vaporware territory with how many times it's been pushed back. But 2017 will reportedly be the year we finally get our hands on this inventive run-'n'-gun shooter, which combines the 2D intensity of Mega Man's large-scale boss battles with an unmistakable 1930s animation aesthetic in the vein of Disney relics like Steamboat Willie. With its frenetic-looking boss designs and completely-on-point visual style, we'll wait as long as it takes to finally play this thoroughly old-school beaut'.
Kingdom Hearts 3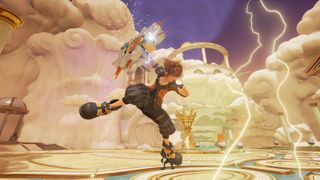 Platform(s): PS4, Xbox One
Release date: TBC
Our relationship with Kingdom Hearts 3 feels like a Jane Austen novel: we constantly write letters professing our love and pining need for it, yet we only get a fleeting glimpse into how it's doing every few months. While you wistfully wait for more of Sora, Donald, Goofy adventuring through Disney-themed worlds, should help ease the pain, because it includes an all-new playable prologue (made in Unreal Engine 4) leading up to KH3. Otherwise, you'll just have to longingly gaze at those in-game pictures of and dream of .
Shenmue 3
Platform(s): PS4, PC
Release date: TBC
The Shenmue series was never a huge commercial success, but thanks in part to Kickstarter and thousands of fans' hard-earned dollars (plus some generous funding from Sony), the project is fully underway. In Shenmue 3, you'll take the role of a martial artist named Ryo Hazuki as he attempts to uncover who is responsible for his father's murder. The game promises to have gameplay reminiscent of the previous titles, enabling players to take on enemies in hand-to-hand combat, upgrade combat abilities, and explore a living world full of villages, shops, and an active populous. When is it due? Your guess is as good as ours, but it's likely to be 2018 at the earliest.
Bloodstained
Platform(s): PS4, Xbox One, Wii U, PS Vita, PC
Release date: TBC 2018
We were so accustomed to a steady stream of excellent exploration-based Castlevania games for so long that we didn't realize what we had until they were gone. No more! In 2018, the mastermind behind Castlevania: Symphony of the Night, Aria of Sorrow, and many others will bring us Bloodstained. Koji Igarashi's first major post-Konami project is Castlevania in all but name, with the same smooth action, gothic atmosphere, and haunted locale spelunking we loved for so long. Shame it has been delayed until 2018, eh.
Cyberpunk 2077
Platform(s): PS4, Xbox One, PC
Release date: TBC
This is probably a case of a game being teased way too early, but after what CD Projekt Red's accomplished with The Witcher series, anything new this studio makes demands your attention. We've heard little from Cyberpunk 2077 since its cinematic teaser debuted all the way back in 2013, but it promises a Blade Runner-style dystopian future with Deus Ex-like RPG elements. That core concept, as made by developers promising a world even larger than The Witcher 3's, is more than enough to get our excite-o-meter peaking.