Knack 2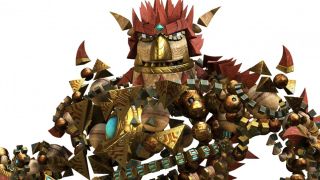 Platforms: PS4
Release date: TBC
What was a hilarious games-industry joke is now horrendous fact. Following on from the crushing mediocrity of the original game, Knack 2 sees all your favorite characters returning for the sequel, probably. And it's now co-op, so make of that what you will. No release date yet, and the optimist in us clings to the idea that there's still time for Sony to reveal it's just trolling us.
Shenmue 3
Platform(s): PS4, PC
Release date: TBC
The Shenmue series was never a huge commercial success, but thanks in part to Kickstarter and thousands of fans' hard-earned dollars (plus some generous funding from Sony), the project is fully underway. In Shenmue 3, you'll take the role of a martial artist named Ryo Hazuki as he attempts to uncover who is responsible for his father's murder. The game promises to have gameplay reminiscent of the previous titles, enabling players to take on enemies in hand-to-hand combat, upgrade combat abilities, and explore a living world full of villages, shops, and an active populous. When is it due? Your guess is as good as ours, but it's likely to be 2018 at the earliest.
Bloodstained
Platform(s): PS4, Xbox One, Wii U, PS Vita, PC
Release date: TBC 2018
We were so accustomed to a steady stream of excellent exploration-based Castlevania games for so long that we didn't realize what we had until they were gone. No more! In 2018, the mastermind behind Castlevania: Symphony of the Night, Aria of Sorrow, and many others will bring us Bloodstained. Koji Igarashi's first major post-Konami project is Castlevania in all but name, with the same smooth action, gothic atmosphere, and haunted locale spelunking we loved for so long. Shame it has been delayed until 2018, eh.
Keep up to date with the best games of 2016 with GamesRadar+'s regularly updated list of the games worth playing this year.