Middle-earth: Shadow of War
Platform(s): PS4, Xbox One, PC
Release date: October 10, 2017
The Tolkien's Creed open-world action in Middle-earth: Shadow of Mordor easily warranted a sequel - we just didn't know when it was coming, until now. Middle-Earth: Shadow of War brings back the undying ranger Talion and his fused wraith Celebrimbor, who have forged a new Ring of Power despite those things always ending in tears. The stellar Nemesis system will be making a return, where ordinary orcs may develop into bitter rivals over the course of many battles, and new Nemesis Fortresses serve as these villains' imposing domains. But never fear - you'll have your own loyal army at your disposal to raid these strongholds - all good practice for when you finally have the forces you need to take on Sauron himself.
The Evil Within 2
Platform(s): PS4, Xbox One, PC
Release date: October 13, 2017
Third-person survival horror nightmare The Evil Within was undoubtedly flawed, failing to capture the true terror of Shinji Mikami's work on the Resident Evil series - but just because it had some rough edges, doesn't mean it didn't present some great ideas about reality-warping scares experienced inside the mind of killer. The Evil Within 2 is leaning into that same sense of exploring a disturbed mindscape wrought with psychological horrors, as detective Sebastian Castellanos delves back into the STEM system to search for his seemingly dead daughter. With any luck, the second time will be the charm.
South Park: The Fractured But Whole
Platform(s): PS4, Xbox One, PC
Release date: October 17, 2017
South Park has a special talent for satirizing current events and trends, so it's no surprise that this latest game is focused on gently mocking Hollywood's obsession with superheroes and super-teams. The forever-young children of South Park are at war, all dressed up as their favourite characters for tactical RPG combat. South Park: The Fractured But Whole will have 12 classes to choose from, and as the new kid you'll get to pick a side in the conflict and a gender. Farts are making a comeback too.
WWE 2K18
Platform(s): PS4, Xbox One, Switch
Release date: October 17, 2017
The leading name in wrestling games is back for another annual entry, this time with heavyweight champion Seth Rollins mean-mugging on the cover. This is the first time that Yuke's mainline WWE series will be making its way onto a Nintendo console, so Switch owners can get in on all the body-slamming, powerbombing action. We're still waiting for a look at the gameplay (the above pic of Rollins is from last year's entry), but with any luck, WWE 2K18 will build on the strengths of while polishing up the MyCareer mode with a better storyline and fewer utterly absurd lines of dialogue.
Super Mario Odyssey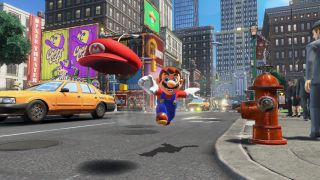 Platform(s): Switch
Release date: October 27, 2017
Super Mario Odyssey should be a grand debut for Nintendo's mascot on the Switch, whisking Mario away to different worlds involving rainbow-colored cookery, dancing sprinkler robots, and the bustling metropolis of New Donk City. The platforming plumber also has a crucial new move, courtesy of Cappy, the spirit possessing his trademark red hat: he can possess any NPC in the world just by tossing his cap at them, opening up completely new avenues for gameplay. If The Legend of Zelda: Breath of the Wild was like Nintendo's Skyrim, then Super Mario Odyssey is like its Dishonored.
Wolfenstein 2: The New Colossus
Platform(s): PS4, Xbox One, PC
Release date: October 27, 2017
B.J. Blazkowicz and Indiana Jones have similar sentiments regarding Nazis: they really hate those guys. But B.J. definitely has the edge when it comes to the Nazi body count left in his wake - and even when he's recovering from a coma and unable to stand, he'll still gladly crush Nazi skulls with his wheelchair wheels. Wolfenstein 2: The New Colossus has you taking back America from the established Nazi regime following the alternate history of The New Order, and that means gunning down and disemboweling every Nazi in sight.
Assassin's Creed Origins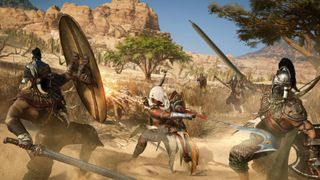 Platform(s): PS4, Xbox One, PC
Release date: October 27, 2017
If you thought Assassin's Creed had grown a bit stale in recent years, you're not alone - but after the Brotherhood took a year-long hiatus, Assassin's Creed Origins looks like it has the goods to revitalize the long-running series. You play as Bayek, one of the earliest Assassins, undertaking secret missions in a gorgeous, sunny and shining rendition of ancient Egypt. Developed by much of the same team that made Black Flag, Origins does away with tired AC elements like sync towers and minimap bloat to refocus on giant vistas to explore and satisfying action RPG combat to master. You can even ride a horse (or camel) into battle, trading in the stealth approach for a stylish entrance.
Fire Emblem Warriors
Platform(s): Switch
Release date: Fall 2017
Even the greatest Fire Emblem tacticians need a break sometimes - so after a long day of planning out turns and optimizing your unit composition, why not unwind with some mindless button-mashing action? Fire Emblem Warriors is just like Hyrule Warriors: Nintendo lending a beloved series to Koei Tecmo for the Musou game treatment, in which your chosen FE hero slashes through droves of enemy soldiers with a flurry of quick strikes and special attacks. Here's to hoping your personal favorite Fire Emblem fighter gets their chance to shine as a one-warrior army against legions of puny foes.
Gran Turismo Sport
Platform(s): PS4
Release date: Fall 2017
Sony's Gran Turismo series is a legend in the racing genre, but players itching for ultra-realistic driving simulations have a lot to choose from these days, with competitors like Forza, Driveclub, and Project CARS taking advantage of GT's absence on modern consoles. With any luck, Gran Turismo Sport can bring GT back into the limelight with the series' PS4 debut. It's been a long time coming, but GTS should have the kind of obsessive detail, lifelike handling, gorgeous vehicles, and stupidly pretty tracks (with 4K and HDR support on PS4 Pro, of course) that racing sim fans have come to expect.
Call of Duty: WW2
Platform(s): PS4, Xbox One, PC
Release date: November 3, 2017
Another year, another Call of Duty - but after all the excitement for futuristic combat zones seems to be tapped out, Activision is finally taking COD back to World War 2. puts you in the laced-up boots of two soldiers with the 1st Infantry Division, also known as "The Bloody First", who famously led the invasion of Normandy on D-Day. Expect lots of grit and grime, incoming airstrikes, lumbering tanks, and brutal bludgeoning of Nazi skulls all seen from first-person. There's also a multiplayer story mode plainly named 'War' in addition to the usual: a dramatic, blockbuster-grade single-player campaign and intensely competitive PvP multiplayer in the trenches.
Click 'Next Page' below to see more great upcoming games in 2017!