Tacoma
Platform(s): Xbox One, PC
Release date: TBC 2017
Not to be confused with a Toyota pickup truck, Tacoma is the next project from Fullbright, the studio that made serious waves with its debut game Gone Home. This, too, is a narrative-rich, combat-free exploration viewed from first-person - but instead of taking place in an Oregon home circa 1995, Tacoma unfolds aboard a vacant space station, where memories of the former inhabitants play out via augmented-reality recordings. Gone Home set a pretty high bar, but Tacoma's eerily empty setting looks like it could be just as stirring.
Pyre
Platform(s): PS4, PC
Release date: TBC 2017
from the talented folks at Supergiant Games, who made waves with Bastion and Transistor. The gameplay is quite unlike those titles, though: the isometric battles unfold like a game of 3v3 basketball where everyone on your squad has a different size and speed, and you can only move around one member of your team at a time. It's almost akin to a tactical take on NBA Jam, because Pyre delivers that same sense of satisfaction whenever you slam dunk the Rukey orb into the opposing team's flame. Wrapped around that bizarre sport is a narrative-rich saga of three exiles banding together for a mystical pilgrimage.
Call of Cthulhu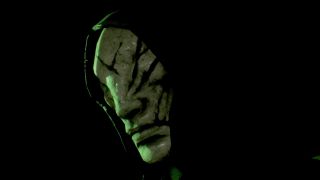 Platform(s): PS4, Xbox One, PC
Release date: TBC 2017
The influence of H.P. Lovecraft's Cthulhu mythos creeps across the gaming landscape like the black tendrils of some otherworldly Elder God, so it's about time a game used modern hardware to take those nightmarish, existentially terrifying themes head-on. Made in the same style as 2005's Call of Cthulhu: Dark Corners of the Earth, this reimagining is a first-person RPG that's equal parts investigation and delirium. Combat takes a backseat to critical thinking as you poke around the shadows of Darkwater, and all the while you'll need to manage your sanity meter to stave off the madness so commonly associated with Cthulhu-worshipping cultists.
God of War
Platform(s): PS4
Release date: TBC 2017
Having torn the Greek pantheon asunder, Kratos (now sporting a scruffy beard) has set his sights on a new mythology to conquer: Norse. The fourth main entry in the legendarily brutal PlayStation series - God of War - drops the numbering and looks like it'll force Kratos to control his endless rage, as he acts as the father figure for a young, as-yet-unnamed boy with latent lightning powers. Don't worry, you'll still slay plenty of fantastical creatures along the way - but expect a lot more character development and quieter moments in between all the carnage.
Uncharted: The Lost Legacy
Platform(s): PS4
Release date: TBC 2017
This isn't a brand new Uncharted game, but its not an expansion either. In The Lost Legacy you play as Chloe who teams up with Nadine Ross (yeah, from A Thief's End) to track down an ancient Indian artefact. Does that mean it's co-op? Unlikely, as the pair will likely assume the same dynamic as Nathan and Sam in the main game. It's more Uncharted, which is a great thing, and you don't have to own the original to play.
Days Gone
Platform(s): PS4
Release date: TBC 2017
If you think zombies have been done to death, well... you're right, but that isn't stopping the PS4-exclusive Days Gone. The enemies in this open-world post-apocalypse aren't technically undead - the so-called 'Freakers' are actually infected humans who have gone feral and seem eager to devour our hero Deacon (voiced by and modelled after Sam Witwer, who you might recognize as Starkiller from Star Wars: The Force Unleashed). What really sets the Freaker horde apart is just how many can be chasing you at once; there are times when they're practically flooding out of the environment, and all you can do to survive is simply run. Another PS4 Pro optimised game that promises to look incredible.
Crackdown 3
Platform(s): Xbox One
Release date: TBC 2017
In Crackdown 3 you're a super-cop in an open-world city, using your powers to fight crime and likely smash the whole place up in the process. We haven't actually seen the game since 2015 but, given the ambitious nature of it, that's no surprise. While there's a regular single-player story to tackle, multiplayer co-op takes place in a whole different city which you can tear apart piece by piece. The Xbox is doing some fancy stuff with the Cloud to make this one of the most technically impressive games ever. Hopefully we'll see more of it in 2017.
Outlast 2
Platform(s): PS4, Xbox One, PC
Release date: TBC 2017
You are Blake Langermann (where do they get these names?), a freelance cameraman who visits a small, isolated village in Arizona to investigate the murder of a young, pregnant woman. What follows is lashings of the same non-combat horror we saw in the original. You have a camera to look through - and because Blake is a cameraman, expect his to be more advanced - and legs to run away with. Early trailers make this look chilling, as you'd expect.
Sea of Thieves
Platform(s): Xbox One, PC
Release date: TBC 2017
Who doesn't love pirates? The swashbuckling, the loot, the rum, the fabulous hats, most of us have at one time or another wished we could leave it all behind and run away to sea. The time has come to live out that dream and to bring friends along for the ride. is due to make land some time in 2017.
Gran Turismo Sport
Platform(s): PS4, PSVR
Release date: TBC 2017
While the racing won't change much in GT Sport, the way you actually do it will. This version of the racer is geared towards eSports - it has live events and loads of scheduled tournaments - and VR. When PSVR initially launched, racing games were the worst offenders when it came to making people sick, so let's hope GT figures out a non-vom solution between now and release.
Detroit: Become Human
Platform(s): PS4
Release date: TBC 2017
As is the trend nowadays, Detroit is an adventure about Androids achieving sentience. Remember the Kara tech demo Sony showed off years ago? Well, it's the same character from that. We follow her as she makes her way into a futuristic version of Detroit. It's a game of staggering ambition - it took David Cage two years to write the script, and 100s of actors have done mo-cap work for it. Let's hope it's a bit more than just a 'moral decision making' game, which early trailers suggest.
Spider-Man
Platform(s): PS4
Release date: TBC 2017
This new Spider-Man game was revealed in 2016, and is already being touted as a showcase for PS4 Pro. Because it looks incredible. This superhero game should be an interesting departure for Insomniac Games, the studio most famous for the Ratchet & Clank series. Oh, and it isn't tied to any specific comic or movie, so the creators aren't bound by a specific existing story (phew), but it will cover both the Spidey and Peter Parker aspects of the franchise.
Click 'Next Page' below to see more great upcoming games in 2017 and beyond!