Middle-earth: Shadow of War
Platform(s): PS4, Xbox One, PC
Release date: August 2017
The Tolkien's Creed open-world action in Middle-earth: Shadow of Mordor easily warranted a sequel - we just didn't know when it was coming, until now. Shadow of War brings back the undying ranger Talion and his fused wraith Celebrimbor, who have forged a new Ring of Power despite those things always ending in tears. The stellar Nemesis system will be making a return, where ordinary orcs may develop into bitter rivals over the course of many battles, and new Nemesis Fortresses serve as these villains' imposing domains. But never fear - you'll have your own loyal army at your disposal to raid these strongholds - all good practice for when you finally have the forces you need to take on Sauron himself.
Sonic Forces
Platform(s): PS4, Xbox One, Switch, PC
Release date: Q4 2017
The new Sonic game formerly known as simply "Project Sonic 2017" is looking appropriately speedy, as showcased in a short snippet of . We don't get to see any of the Sonic Generations-style team-ups between Sonics of varying timelines and time periods, as teased in the debut trailer, but the opening behind-the-back run is appropriately intense. The apocalyptic backdrop as a Robotnik robot tears up a metropolis conveys a real sense of scope, and the 'Gotta go fast' mentality is clear as Sonic barrels down a chaotic street at blazing speeds.
Super Mario Odyssey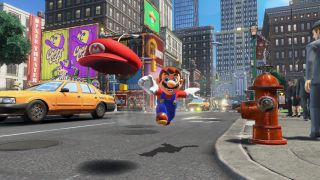 Platform(s): Switch
Release date: Holiday 2017
Super Mario Odyssey looks like a grand debut for Nintendo's mascot on the Switch, which whisks Mario away to different worlds involving rainbow-colored cookery, dancing sprinkler robots, and the bustling metropolis of New Donk City. The platforming plumber also has a few new moves: he can roll down hills like a certain blue hedgehog, and throw his boomerang-like cap to create a makeshift springboard. Oh, and it seems that Mario's headwear is alive this time around, complete with two bulbous eyes. Was... was it sentient all this time?
Sonic Mania
Platform(s): PS4, Xbox One, Switch, PC
Release date: TBC 2017
Sonic Mania is the culmination of what fans have wanted from the blue hedgehog for years: a return to his spin-dashing, ring-collecting roots established during his 1990s glory days. This is an all-new sidescrolling crusade against Dr. Robotnik, done up with ravishing spritework that evokes Sonic CD with an extra layer of polish. The gameplay framework is classic Sonic, but the levels are full of fresh designs and unique obstacles that mix things up nicely. Add in the ability to play as Sonic, Tails, or Knuckles, plus the fact that the game's on every major platform, and Sonic Mania starts looking like that ideal fusion of nostalgia and newness that we've been longing to see from Sega's mascot. From this moment on, let us never speak of Sonic Boom again.
Wargroove
Platform(s): TBA (Switch and PC confirmed)
Release date: TBC 2017
It seems Nintendo isn't about to revive Advance Wars any time soon; thank goodness developer Chucklefish stepped up to the plate to bring back turn-based strategy featuring delightful GBA-style sprites. The overworld map and battle animations perfectly mimic the charming aesthetic of the Advance Wars series, set in a high fantasy world full of knights, dragons, skeleton dogs, and witches. As one of 12 unique commanders, you'll wage war over land, sea, and air to establish dominance over the map, one little square space at a time. With online and local multiplayer for up to four players, custom map creation, and loads of adorable unit types, Wargroove's got everything an Advance Wars fan could ask for.
South Park: The Fractured But Whole
Platform(s): PS4, Xbox One, PC
Release date: TBC 2017
South Park has a special talent for satirising current events and trends, so it's no surprise that this latest game is focused on gently mocking Hollywood's obsession with superheroes and super-teams. The forever-young children of South Park are at war, all dressed up as their favourite characters for tactical RPG combat. South Park: The Fractured But Whole will have 12 classes to choose from, and as the new kid you'll get to pick a side in the conflict and a gender. Farts are making a comeback too.
State of Decay 2
Platform(s): Xbox One, PC
Release date: TBC 2017
If The Walking Dead has taught us anything, it's that forging bonds between survivors and building up a community is essential to surviving the zombie apocalypse. State of Decay 2 will take those values to heart with co-op for up to four players, provided you all agree to work together instead of backstabbing one another for precious supplies. To build up your encampment, you'll need to scavenge on foot or four wheels, splattering the skulls of countless undead along the way. What we saw in looked promising, so here's to hoping that the gameplay lives up the cinematic vignette.
Gwent: The Witcher Card Game
Platform(s): PS4, Xbox One, PC
Release date: TBC 2017
There's a reason your collector's sense is tingling. By popular demand, CD Projekt is breaking out the fan-favorite card minigame from into its own CCG so you can fall in love with it's two-player, turn-based strategy all over again. If you're not the competitive type, Gwent will have a full-fledged single-player campaign that could last upwards of 10 hours, with characters from the original RPG brought back for more voiceovers. The closed beta is in full swing as we speak, so hopefully Gwent is nearing its grand debut.
Divinity: Original Sin 2
Platform(s): PS4, Xbox One, PC
Release date: TBC 2017
Anyone with a penchant for deep, story-driven RPGs viewed from the isometric angle like the PC adventures of old already knows and loves the first Divinity: Original Sin, which presents a fantasy world on a massive scale with support for two-player co-op play the entire way through. Divinity: Original Sin 2 is upping the ante two-fold, allowing for four players to team up, each making their own decisions that have repercussions on the narrative and combat alike. If you're a sucker for RPGs that really emphasize the role-playing, where your character's race, class, demeanor, and actions all send ripples throughout the rest of the game, this is one to watch.
Click 'Next Page' below to see more great upcoming games in 2017 and beyond!