Tekken 7
Platform(s): PS4, Xbox One, PC
Release date: Early 2017
Funnily enough, Tekken 7 has been in Japanese arcades since early 2015, and it's taking its sweet time in making the transition to Western consoles. But with any luck, that extra wait will be worth it. Tekken 7 is the next iteration of Bandai Namco's famed 3D fighting series, bringing back veterans from the King of Iron Fist tournament alongside some spiffy-looking newcomers - including Kazumi Mishima, Kazuya's mother who can perform literal tiger uppercuts with her beast companion. Expect plenty of heavy-hitting animations, devastating ground bounce combos, and bizarre backdrops.
Persona 5
Platform(s): PS4, PS3
Release date: April 2017
After nearly a decade of development and a leap from PlayStation 3 to PlayStation 4, Persona 5 will finally, finally arrive in April 2017. While the role-playing game still follows high school students with supernatural powers in a highly stylized world, Persona 5 does represent a dramatic shift in tone for the series. Where Persona 3 and Persona 4 focused on fairly typical teens in unusual circumstances - secret paramilitary ghost fighters in the former, a Japanese riff on Scooby Doo mystery solving in the latter - Persona 5 follows a group of flamboyant young cat burglars. Think Lupin the Third by way of Degrassi.
The Legend of Zelda: Breath of the Wild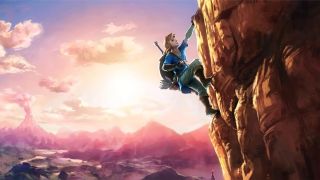 Platform(s): Wii U, Switch
Release date: TBC 2017
When The Legend of Zelda: Breath of the Wild arrives in 2017, the Zelda series will be over 30 years old. This game, the series' debut not just on the beleaguered Nintendo Wii U but the brand new NX, is actually very close in spirit to the NES original from all those decades ago. Emphasizing a wide open world that's primarily monster-infested wilderness rather than a populated landscape prone to cutscenes, Breath of the Wild is a dramatic shift from the handholding adventures Nintendo has traded in during the 21st century. We couldn't be more excited.
God of War
Platform(s): PS4
Release date: TBC 2017
Having torn the Greek pantheon asunder, Kratos (now sporting a scruffy beard) has set his sights on a new mythology to conquer: Norse. The fourth main entry in the legendarily brutal PlayStation series - God of War - drops the numbering and looks like it'll force Kratos to control his endless rage, as he acts as the father figure for a young, as-yet-unnamed boy with latent lightning powers. Don't worry, you'll still slay plenty of fantastical creatures along the way - but expect a lot more character development and quieter moments in between all the carnage.
Uncharted 4: The Lost Legacy
Platform: PS4
Release date: TBC 2017
This isn't a brand new Uncharted game, but its not an expansion either. In The Lost Legacy you play as Chloe who teams up with Nadine Ross (yeah, from A Thief's End) to track down an ancient Indian artefact. Does that mean it's co-op? Unlikely, as the pair will likely assume the same dynamic as Nathan and Sam in the main game. It's more Uncharted, which is a great thing, and you don't have to own the original to play.
Prey
Platform(s): PS4, Xbox One, PC
Release date: TBC 2017
Don't worry if you missed the 2006 FPS Prey - this reimagined Prey by the same name chucks everything from its predecessor out the window. Developed by Arkane Studios, the team behind the Dishonored games, this sci-fi shooter has you confined on a space station that's been overrun by shape-shifting, shadow-like aliens. Protagonist Morgan Yu will have to fight back against these invaders in a struggle to survive, even as his sanity seems to deteriorate bit by bit.
Days Gone
Platform(s): PS4
Release date: TBC 2017
If you think zombies have been done to death, well... you're right, but that isn't stopping the PS4-exclusive Days Gone. The enemies in this open-world post-apocalypse aren't technically undead - the so-called 'Freakers' are actually infected humans who have gone feral and seem eager to devour our hero Deacon (voiced by and modelled after Sam Witwer, who you might recognize as Starkiller from Star Wars: The Force Unleashed). What really sets the Freaker horde apart is just how many can be chasing you at once; there are times when they're practically flooding out of the environment, and all you can do to survive is simply run. Another PS4 Pro optimised game that promises to look incredible.
Crackdown 3
Platforms: Xbox One
Release date: TBC 2017
In Crackdown 3 you're a super-cop in an open-world city, using your powers to fight crime and likely smash the whole place up in the process. We haven't actually seen the game since 2015 but, given the ambitious nature of it, that's no surprise. While there's a regular single-player story to tackle, multiplayer co-op takes place in a whole different city which you can tear apart piece by piece. The Xbox is doing some fancy stuff with the Cloud to make this one of the most technically impressive games ever. Hopefully we'll see more of it in 2017.
Injustice 2
Platform(s): PS4, Xbox One
Release date: TBC 2017
Batman, Superman, and a slew of other heroes and villains are back to duke it out in Injustice 2, Netherrealm Studios' return to the slick new engine that powered Mortal Kombat X. There's a ton of fanservice in this 2.5D fighter for anyone with even the slightest knowledge of DC Comics, and Injustice 2 is taking an interesting gamble with the addition of gear in a fighting game, gathered over time to give your preferred character enhanced abilities and a personalized look.
Outlast 2
Platforms: PS4, Xbox One, PC
Release date: TBC 2017
You are Blake Langermann (where do they get these names?), a freelance cameraman who visits a small, isolated village in Arizona to investigate the murder of a young, pregnant woman. What follows is lashings of the same non-combat horror we saw in the original. You have a camera to look through - and because Blake is a cameraman, expect his to be more advanced - and legs to run away with. Early trailers make this look chilling, as you'd expect.