Marvel vs. Capcom: Infinite
Platform(s): PS4, Xbox One, PC
Release date: September 19, 2017
The entire Marvel vs. Capcom series is a veritable fighting game hype factory, responsible for some of the flashiest combos, greatest upsets, and loudest screams ever witnessed by enraptured onlookers. At long last, the fourth entry is on the way with Marvel vs. Capcom: Infinite, with a host of mechanics changes to the familiar tag-team brawls between Capcom stars and Marvel's iconic heroes and villains. The three-fighter teams have been reined back to the simpler 2v2 akin to the original MvC, and assists have been removed entirely, replaced by character swaps mid-combo and unique buffs granted by the Infinity Gems.
Fire Emblem Warriors
Platform(s): Switch
Release date: Fall 2017
Even the greatest Fire Emblem tacticians need a break sometimes - so after a long day of planning out turns and optimizing your unit composition, why not unwind with some mindless button-mashing action? Fire Emblem Warriors is just like Hyrule Warriors: Nintendo lending a beloved series to Koei Tecmo for the Musou game treatment, in which your chosen FE hero slashes through droves of enemy soldiers with a flurry of quick strikes and special attacks. Here's to hoping your personal favorite Fire Emblem fighter gets their chance to shine as a one-warrior army against legions of puny foes.
Call of Duty: WW2
Platform(s): PS4, Xbox One, PC
Release date: November 3, 2017
Another year, another Call of Duty - but after all the excitement for futuristic combat zones seems to be tapped out, Activision is finally taking COD back to World War 2. puts you in the laced-up boots of two soldiers with the 1st Infantry Division, also known as "The Bloody First", who famously led the invasion of Normandy on D-Day. Expect lots of grit and grime, incoming airstrikes, lumbering tanks, and brutal bludgeoning of Nazi skulls all seen from first-person. There's also a multiplayer story mode plainly named 'War' in addition to the usual: a dramatic, blockbuster-grade single-player campaign and intensely competitive PvP multiplayer in the trenches.
Star Wars Battlefront 2
Platform(s): PS4, Xbox One, PC
Release date: November 17, 2017
The rebooted laid a fantastic foundation for an FPS that makes players feel like supporting troops (or iconic heroes and villains) within scenes from the films - but sounds like it'll be the real deal. On top of the expansive multiplayer conflicts - now with heroes pulled from all three film eras - this sequel includes a full-on single-player campaign, played from the perspective of Empire elite soldier Iden Versio. Also, space battles will be making their triumphant return, so you can zoom around blasting bogies in an X-Wing or TIE Fighter. We got a ton of additional insight at this year's Star Wars Celebration, so be sure to check out these (including the addition of rideable tauntauns as vehicles).

Sonic Forces
Platform(s): PS4, Xbox One, Switch, PC
Release date: Q4 2017
The new Sonic game formerly known as simply "Project Sonic 2017" is looking appropriately speedy, as showcased in a short snippet of Sonic Forces gameplay. A welcome hook this time around is the ability to play as a new hero of your own creation to team up with Modern and Retro Sonic, to the delight of fan artists everywhere. If you haven't already, Google search your name with "the Hedgehog" at the end to get a sneak preview of what that might look like.
Super Mario Odyssey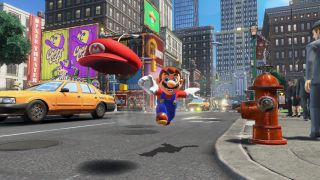 Platform(s): Switch
Release date: Holiday 2017
Super Mario Odyssey looks like a grand debut for Nintendo's mascot on the Switch, which whisks Mario away to different worlds involving rainbow-colored cookery, dancing sprinkler robots, and the bustling metropolis of New Donk City. The platforming plumber also has a few new moves: he can roll down hills like a certain blue hedgehog, and throw his boomerang-like cap to create a makeshift springboard. Oh, and it seems that Mario's headwear is alive this time around, complete with two bulbous eyes. Was... was it sentient all this time?
Sonic Mania
Platform(s): PS4, Xbox One, Switch, PC
Release date: TBC 2017
Sonic Mania is the culmination of what fans have wanted from the blue hedgehog for years: a return to his spin-dashing, ring-collecting roots established during his 1990s glory days. This is an all-new sidescrolling crusade against Dr. Robotnik, done up with ravishing spritework that evokes Sonic CD with an extra layer of polish. The gameplay framework is classic Sonic, but the levels are full of fresh designs and unique obstacles that mix things up nicely. Add in the ability to play as Sonic, Tails, or Knuckles, plus the fact that the game's on every major platform, and Sonic Mania starts looking like that ideal fusion of nostalgia and newness that we've been longing to see from Sega's mascot. From this moment on, let us never speak of Sonic Boom again.
Wargroove
Platform(s): TBA (Switch and PC confirmed)
Release date: TBC 2017
It seems Nintendo isn't about to revive Advance Wars any time soon; thank goodness developer Chucklefish stepped up to the plate to bring back turn-based strategy featuring delightful GBA-style sprites. The overworld map and battle animations perfectly mimic the charming aesthetic of the Advance Wars series, set in a high fantasy world full of knights, dragons, skeleton dogs, and witches. As one of 12 unique commanders, you'll wage war over land, sea, and air to establish dominance over the map, one little square space at a time. With online and local multiplayer for up to four players, custom map creation, and loads of adorable unit types, Wargroove's got everything an Advance Wars fan could ask for.
Far Cry 5
Platform(s): PS4, Xbox One, PC
Release date: TBC 2017
"Welcome to Hope County, Montana", say the Ubisoft recently unveiled. The next Far Cry won't taking place in some exotic far-off region like Far Cry 4's Kyrat, or an extra-ancient history setting as in Far Cry Primal - it'll be bringing its first-person mayhem to the US of A. Seems like it'll be a modern day setting too, what with the telephone poles surrounding a church with the faint sounds of a choir singing 'Amazing Grace', or the modern attire worn by some poor runner who gets shot down in a grassy green field. We'll learn more about Far Cry 5 when it's shown off this Friday, May 26th.
South Park: The Fractured But Whole
Platform(s): PS4, Xbox One, PC
Release date: TBC 2017
South Park has a special talent for satirising current events and trends, so it's no surprise that this latest game is focused on gently mocking Hollywood's obsession with superheroes and super-teams. The forever-young children of South Park are at war, all dressed up as their favourite characters for tactical RPG combat. South Park: The Fractured But Whole will have 12 classes to choose from, and as the new kid you'll get to pick a side in the conflict and a gender. Farts are making a comeback too.
Click 'Next Page' below to see more great upcoming games in 2017 and beyond!