Gran Turismo Sport
Platform(s): PS4
Release date: October 17, 2017
Sony's Gran Turismo series is a legend in the racing genre, but players itching for ultra-realistic driving simulations have a lot to choose from these days, with competitors like Forza, Driveclub, and Project CARS taking advantage of GT's absence on modern consoles. With any luck, Gran Turismo Sport can bring GT back into the limelight with the series' PS4 debut. It's been a long time coming, but GTS should have the kind of obsessive detail, lifelike handling, gorgeous vehicles, and stupidly pretty tracks (with 4K and HDR support on PS4 Pro, of course) that racing sim fans have come to expect.
WWE 2K18
Platform(s): PS4, Xbox One, Switch
Release date: October 17, 2017
The leading name in wrestling games is back for another annual entry, this time with heavyweight champion Seth Rollins mean-mugging on the cover. This is the first time that Yuke's mainline WWE series will be making its way onto a Nintendo console, so Switch owners can get in on all the body-slamming, powerbombing action. With any luck, WWE 2K18 will build on the strengths of while polishing up the MyCareer mode with a better storyline and fewer utterly absurd lines of dialogue.
Fire Emblem Warriors
Platform(s): Switch
Release date: October 20, 2017
Even the greatest Fire Emblem tacticians need a break sometimes - so after a long day of planning out turns and optimizing your unit composition, why not unwind with some mindless button-mashing action? Fire Emblem Warriors is just like Hyrule Warriors: Nintendo lending a beloved series to Koei Tecmo for the Musou game treatment, in which your chosen FE hero slashes through droves of enemy soldiers with a flurry of quick strikes and special attacks. Here's to hoping your personal favorite Fire Emblem fighter gets their chance to shine as a one-warrior army against legions of puny foes.
Platform(s): PS4
Release date: October 24, 2017
developer Supermassive Games noticed that many players were enjoying its single-player horror story in groups, deciding the teenage victims' fates via committee - so Hidden Agenda goes all-in on the idea of party play where everyone gets a say. This crime thriller revolves around PlayLink, Sony's venture into You Don't Know Jack-style games where any smartphone can be used as a controller, to let up to six people vote on life-or-death decisions as the story plays out. To spice things up, some players will secretly receive private objective cards - a Hidden Agenda, if you will - that incentivizes them to push the plot in certain directions, as you all try to outwit a Jigsaw-like serial killer called The Trapper.
Super Mario Odyssey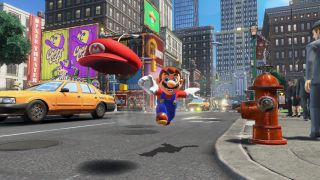 Platform(s): Switch
Release date: October 27, 2017
Super Mario Odyssey should be a grand debut for Nintendo's mascot on the Switch, whisking Mario away to different worlds involving rainbow-colored cookery, dancing sprinkler robots, and the bustling metropolis of New Donk City. The platforming plumber also has a crucial new move, courtesy of Cappy, the spirit possessing his trademark red hat: he can possess any NPC in the world just by tossing his cap at them, opening up completely new avenues for gameplay. If The Legend of Zelda: Breath of the Wild was like Nintendo's Skyrim, then Super Mario Odyssey is like its Dishonored.
Wolfenstein 2: The New Colossus
Platform(s): PS4, Xbox One, PC
Release date: October 27, 2017
B.J. Blazkowicz and Indiana Jones have similar sentiments regarding Nazis: they really hate those guys. But B.J. definitely has the edge when it comes to the Nazi body count left in his wake - and even when he's recovering from a coma and unable to stand, he'll still gladly crush Nazi skulls with his wheelchair wheels. Wolfenstein 2: The New Colossus has you taking back America from the established Nazi regime following the alternate history of The New Order, and that means gunning down and disemboweling every Nazi in sight.
Assassin's Creed Origins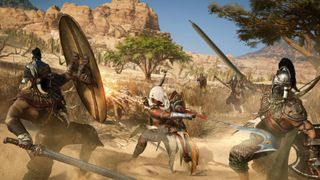 Platform(s): PS4, Xbox One, PC
Release date: October 27, 2017
If you thought Assassin's Creed had grown a bit stale in recent years, you're not alone - but after the Brotherhood took a year-long hiatus, Assassin's Creed Origins looks like it has the goods to revitalize the long-running series. You play as Bayek, one of the earliest Assassins, undertaking secret missions in a gorgeous, sunny and shining rendition of ancient Egypt. Developed by much of the same team that made Black Flag, Origins does away with tired AC elements like sync towers and minimap bloat to refocus on giant vistas to explore and satisfying action RPG combat to master. You can even ride a horse (or camel) into battle, trading in the stealth approach for a stylish entrance.
Call of Duty: WW2
Platform(s): PS4, Xbox One, PC
Release date: November 3, 2017
Another year, another Call of Duty - but after all the excitement for futuristic combat zones seems to be tapped out, Activision is finally taking COD back to World War 2. puts you in the laced-up boots of two soldiers with the 1st Infantry Division, also known as "The Bloody First", who famously led the invasion of Normandy on D-Day. Expect lots of grit and grime, incoming airstrikes, lumbering tanks, and brutal bludgeoning of Nazi skulls all seen from first-person. There's also a multiplayer story mode plainly named 'War' in addition to the usual: a dramatic, blockbuster-grade single-player campaign and intensely competitive PvP multiplayer in the trenches.
Sonic Forces
Platform(s): PS4, Xbox One, Switch, PC
Release date: November 7, 2017
The new Sonic game formerly known as simply "Project Sonic 2017" is looking appropriately speedy, but we're wondering if its 3D platforming can possibly live up to the retro, 2D greatness of Sonic Mania. A welcome hook this time around is the ability to play as a new hero of your own creation to team up with Modern and Retro Sonic, to the delight of fan artists everywhere. If you haven't already, Google search your name with "the Hedgehog" at the end to get a sneak preview of what that might look like.
Need for Speed: Payback
Platform(s): PS4, Xbox One, PC
Release date: November 10, 2017
Take the over-the-top drama and lovable characters of the Fast and the Furious films, then sprinkle in plenty of slow-motion car crashes a la the beloved Burnout games. What you get is Need for Speed: Payback, an open-world racer with tons of cinematic flair mixed into its riveting chase scenes and breakneck getaways. There's also a heavy emphasis on car customization, as your three-character crew slowly amasses a giant garage full of sick rides.
Click 'Next Page' below to see more great upcoming games in 2017!