So far Game of Thrones' sixth season has been firing on all cylinders; in addition to a handful of memorable moments and requisite twists, the pacing of the various storylines has been near perfect. After last week's shocking reveal(s), it looks like more death is not so shockingly on the horizon in this week's 'Blood of my Blood'.
Check out the newly released photos from episode 6 below...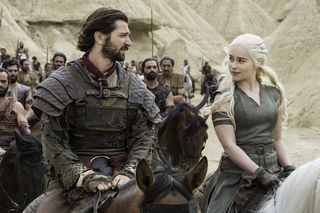 Having not spent even a single scene in King's Landing last week, it's no surprise that it looks like we'll be spending a lot of time with Jaime Lannister and co in episode 6 as they try to stop Margaery's walk of shame. The photos also hint that Arya - or as she goes by these days, A Girl - is ready to carry out her first assassination. Indeed, there's a good chance some blood will be spilled at some point in the hour...but whose will it be?
Season 6 of Game of Thrones airs Sundays on HBO in the US, and Sky Atlantic on Mondays in the UK.
Images: HBO