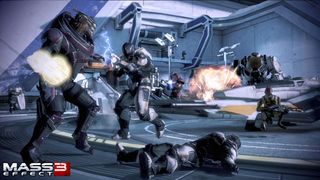 Welcome to Mass Effect multiplayer
Completing missions earns you the credits to unlock new equipment and characters. To answer your most pressing question, yes, you can be a Krogan. You can also be a Drell, a Quarian an Asari, and a plain old human, each race having their own special abilities and powers. Playing online is also a great way to try new classes. If youve never wielded the power of an Engineers Incinerate or unleashed an Adepts biotic combos, now is your chance.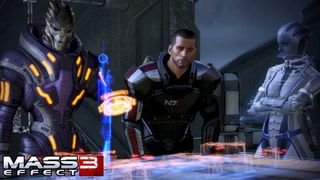 Mission structure
Missions come in three challenge ratings, Bronze, Silver and Gold. Completing a mission will net you about 15,000, 30,000 or 60,000 credits, respectively. Bronze missions are obviously where you should start. Once youve got a character past level 10 and unlocked some gear, move up to Silver. Dont get cocky, youre better off burning through Bronze missions than wiping on a Silver. Youll need a tight group of friends, a balanced squad and the right Equipment to finish Gold missions.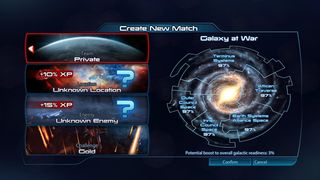 Going for gold
Wanna start winning Gold missions? Two words: preparation and communication. The 15% XP bonus for an Unknown Enemy is tempting, but knowing what youre up against is a huge advantage. Take a minute in the lobby to plan your team, with the enemy in mind.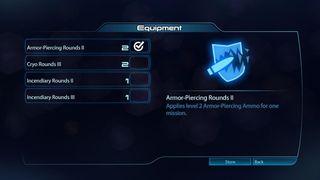 What's different from single-player?
In multiplayer, upgraded ammo like Incendiary Rounds and Armor-Piercing Rounds are Equipment, not permanent character powers. Theyre one time use, consumable items that can be applied to your character for a single mission. Dont waste them on public Bronze missions, or against the wrong enemy. Keep them for when youre confident your team isnt going to bail on you. Same goes for Medi-gel and Ops Survival packs, try to save them for when things are truly dire.
Not all characters of the same Class have the same moves. Powers have been divided up to give the different races different abilities. Example: Human Vanguards have Shockwave, while youll want to unlock the Asari Vanguard for her powerful Stasis.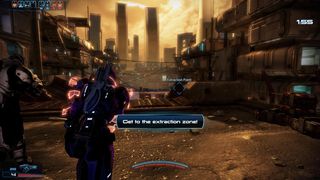 Stay aware of your objectives
With a seemingly endless wave of enemies pouring toward you, it can be easy to forget about that terminal youre supposed to hack. You wont have an objective every round, but when you do, keep it in mind. Theres always a tidy bonus to be had for finishing objectives quickly. Especially when facing Reaper or Geth forces, you want to knock out an objective or two before you get overrun.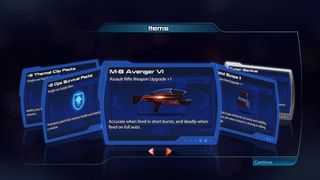 Unlocking gear
Ever bought a pack of Pokemon cards? Sure you have. You know that while it may be a random assortment of characters, items and gear, you're guaranteed a few rare and uncommon items. Unlocking gear in multiplayer works just like that. You can choose from Recruit, Veteran and Spectre packs, and whatever special Bioware might be offering.
As far as which packs to buy, its really up to you. A few Recruit and Veteran packs will help you build up some basic gear thats useful for different types of characters. Pricey Spectre packs give the rarer, more niche equipment that may only suit certain character builds. If you want to build up a stable of several versatile characters, buy more of the cheaper packs. If youd rather have one or two powerhouse characters, sooner rather than later, then save your credits for Spectre packs. Keep checking in on the store, you never know what Bioware might be offering that day.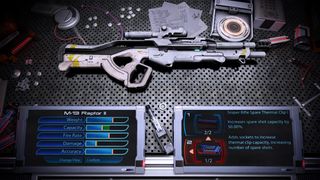 Keep modded up
Just like in single-player, weapon mods provide a real edge in combat. Youll get a few with every upgrade pack you buy, always make sure each character has two on every gun. Most give boosts to damage or ammo capacity, but scopes and melee attachments can completely change your strategy with a given weapon. The Shotgun Blade Attachment is a great choice for Krogan warriors, or any character who likes to mix it up at melee range. Pistol and assault rifle scopes greatly extend range and accuracy, but make close quarter combat difficult. Carry another gun to fall back on, or try no-scoping (firing without aiming) when enemies get close in. Remember, the pinpoint accuracy of a scope and bonus headshot damage make a nasty combination. Salarians and Turians have perks for that compliment this combo.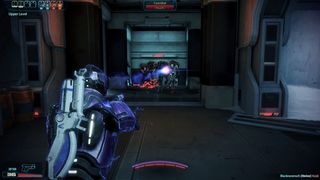 Crowd control vs. direct damage
When it comes to evolving your powers in Ranks 4-6, the choice often comes down to either dealing more damage or hitting more targets. Want to put major put hurt on a single target? Then choose upgrades that increase damage. For crowd control, choose upgrades that extend your attack radius or allow you to affect more than enemy. You can expand the radius of moves like Concussive Shot, Singularity or Shockwave to make them into crowd control powers. A balanced team is composed of both heavy damage dealers and crowd control characters.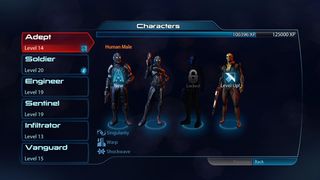 Max level is 20, 80 points to spend
In multiplayer, characters can get up to level 20. You get four Level-Up Progress Points per level, making for a total of 80 points you get to spend (every character starts out with one point in their primary skill, making the grand total 81). It takes 21 points to max out a skill. This means you can max out three skills and have 17 points left over. Look over your character's powers and think about how you plan to spec him. Its not cheap to reset your powers.
When specing your character ask yourself two questions: first, am I crowd control or direct damage, or a balance of the two? Second, what enemies am I best against? Can I lower Geth Shields, damage Cerberus armor or handle large crowds of Reapers? Balanced, general characters are good for public matches, and honed, specifically designed characters are what you and your friends need to take on Gold matches.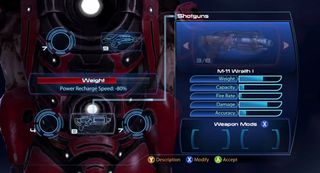 Watch your weight
As you know from single player, in Mass Effect 3 heavier guns mean a longer cooldown for your powers. Online, characters can only carry two guns, but tweaking their combined weight means a big change for your gameplay. Classes that rely heavily on their powers, like Adepts, Engineers and Vanguards, are at their most dominant with low cooldowns.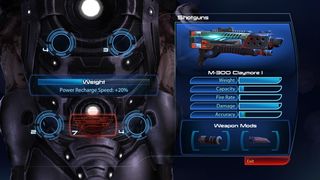 Try one gun
A single weapon build makes for insanely fast power recharges. With one gun, ammo is a concern, make sure youre hitting the ammo crate early and often and try a Spare Thermal Clip mod. A versatile and high capacity assault rifle is often your best bet, but a Krogan Soldier with just a shotgun can unleash a ton of Carnage. Its fun with a Vanguard too. Also, the Engineer works fine as a single weapon class, youll be pumping out Incinerate and Overload so fast you may forget to fire. Try them with a Sniper Rifle!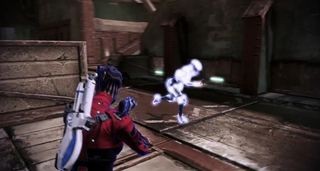 Stasis is the Asari's best asset
Both the Asari Adept and Vanguard get Stasis, a biotic Power that gives enemies a case of lockjaw for their whole bodies. Its phenomenal against quick moving enemies, like Cerberus Phantoms. Freezing enemies in place for your teammates makes you an assist monster. You can hang back and set up easy kills for a sniper, or go in close and freeze targets for a Krogan to crush. Stasis is also a great opener for biotic combos, choosing Bonus Power at Rank 5 gives you a chance to follow up with Warp or Biotic Charge with no cooldown. Choosing Bubble at Rank 6 makes Stasis into a crowd control power that rivals the Adepts Singularity.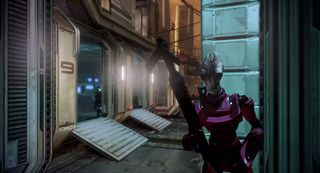 Salarians and sniper rifles
The long range power of a sniper rifle makes a great follow up after a Salarian Energy Drain. Best of all, the Salarian Operative power can boost headshot damage and reduce the weight of sniper rifles. Try a sniper rifle as your only weapon for super fast power cooldowns.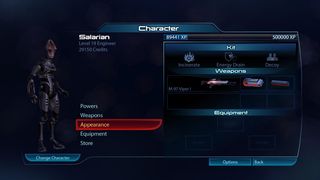 Energy Drain is a Geth's worst nightmare
When youre facing Geth, you want a Salarian Engineer or Infiltrator on your side. Their Energy Drain lets them feed off Geth like vampires. It sucks their shields dry and stuns weaker troops. For the ultimate in anti-synthetic combat, choose Drain and Armor Boost for Rank 5 and 6 of Energy Drain.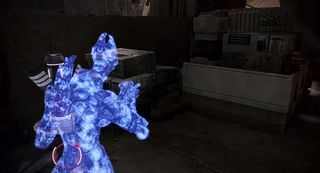 Infiltrators and Engineers are great for objectives and rescues
Going invisible with Tactical Cloak makes the Infiltrator the perfect class for swooping in to capture objectives and revive teammates, especially with Rank 4 Duration. The Engineer is good for this too; Drone, Turret, or Decoy can provide cover and buy you time.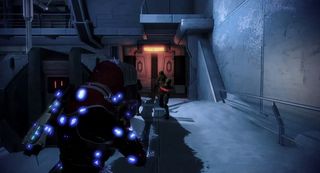 Tactical Cloak + shotgun or sniper rifle = Win
Infiltrators get a major damage bonus right after they come out of cloak. Use it to make the most of the deadly blast from a shotgun or sniper rifle.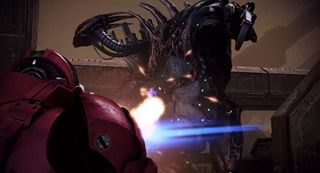 Build a heavy weapons Soldier
Soldiers arent the kind of class that wait around for power cooldowns. They shoot, shoot, and shoot some more. So give em the big guns, who cares about cooldown times? The occasional Concussive Shot or Frag Grenade is just icing on the cake. For a mid-range badass, equip a Soldier with the heaviest shotgun and assault rifle you have. For long range power, swap in a sniper rifle, Marksman will make you a real dead eye.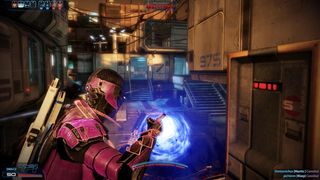 Biotic basics
Biotic attacks are great for wearing down armor and tearing apart weaker enemies. Moves like Warp and Throw home in on targets slightly; you can hook your shots and flout enemies behind cover by aiming up slightly. This is also important whenever youre using cover, so your attack clears whatever youre hiding behind.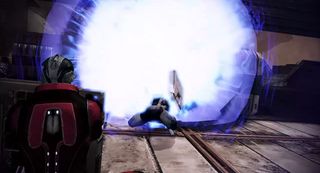 Biotic combos
Biotic combos are how you really unleash hell as a biotic. The first move charges the target, the second detonates him, and maybe some of his buddies, too. The Adepts Singularity is a terrific opener, any enemy caught in its field will be primed for detonation. You can follow it up with a Warp, but youre also setting up any biotic on your team for a powerful finisher. As a Sentinel, Throw followed by Warp is a great combo. Shockwave is good for detonations too, and it can be a powerful opener if you choose Lifting Shockwave at Rank 6.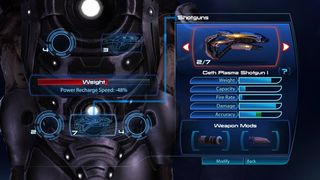 Krogans love the Geth Shotgun
A heavy Claymore is the obvious choice, but if you unlock a Geth Shotgun, youve got to try it with the galaxys best shock troop. Just like a Krogan, the Geth shotgun is slow and powerful but has surprising range. It takes a few seconds to charge up a shot, so you dont want to miss, but a Krogans extra defense will give you the time you need to aim while under fire. Its versatility makes it viable as your sole weapon, boost its capacity with a Spare Thermal Clip.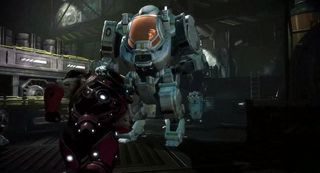 An enraged Krogan can go toe to toe with an Atlas
When a Krogan with Rage gets three melee kills in thirty seconds, he gets a massive boost to his defense and melee attack. Right then hes about the only thing that can get up close and personal with the giant Cerberus Atlas. Unlike the Brute or the Banshee, the Atlas doesnt have an instant kill melee move. If you keep headbutting and blasting away with your shotgun, youll bring it down and really impress your team.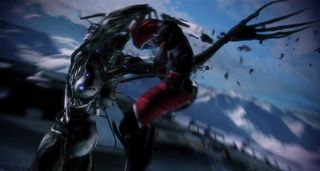 Don't charge Banshees
It doesnt matter if youre a Drell Vanguard or a Krogan Soldier, unless a Banshees shields are down and its health is low, you dont wanna be anywhere near it. Getting close to a Banshee sets you up for its deadly one hit kill. To lower a Banshees shields, use Energy Drain, biotic combos or rapid fire weapons. Brutes can also instant kill at this range, but their lack of shields makes them a lot less formidable.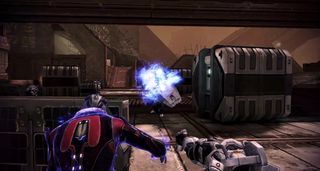 Drells can Pull away Cerberus shields
Drells have Pull, which sends enemies straight up in the air like balloons. It can also yank away the shields from annoying Cerberus Guardians. Pull then Reave is a great Drell Adept combo, or Pull then Biotic Charge for Drell Vangaurds.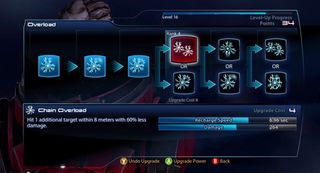 Spec an Engineer for Overload crowd control
A maxed out Overload power can behave like chain lightning and hit up to three targets. Choose Chain Overload at Ranks 4 and 6 for a 60% chance the shock will bounce from one target to another to another. Nothing stops a wave of Geth like this.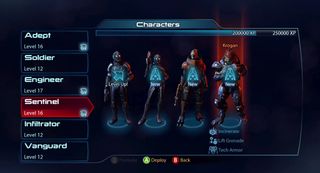 The Sentinel is the toughest, most versatile class
A Sentinels Tech Armor makes him a great tank, and they can soften up enemy armor and barriers with Warp. Since your Tech Armor slows your cooldowns, wait to use it until you really need it.
If you spec with defense in mind, a Krogan Sentinel can be the heaviest guy on the battlefield. As a human Sentinel, use Throw then Warp for a mean combo. The Turian Sentinel is the most versatile warrior on the battlefield. His Overload power makes him great against shielded or synthetic foes, something no other Sentinel can say.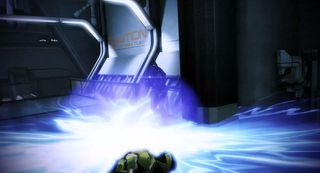 Nova is the Vanguard's get out of jail free card
Vanguards love to brutalize a single target. If you find yourself getting overwhelmed after charging in, use Novas wide range blast to clear the area. After that, your shields will be down, so you need to find cover. Beware of long range enemies who will pick at you when your defense are down.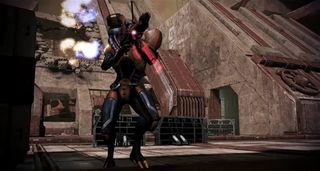 Snipe Geth Pyro tanks
Every gamer knows a flamethrower is trouble up close. Luckily, Geth Pyros are none too quick, and theyre easy to spot with their bright yellow coloring. The best way to take them out is to lower their shields and shoot the fuel tank on their back. If the Pyro is looking straight at you, youll see the top of his tank just behind his head.
A Salarian with a sniper rifle is the guy for this job. His energy drain can get the Pyros shields down fast, then he can ignite the fuel tank with a couple well placed rifle rounds.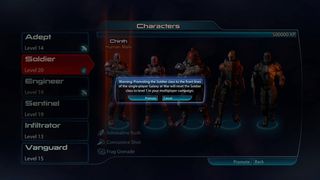 Reset your Powers by promoting a class
Promotion is basically Call of Dutys prestige mode. In exchange for a 75 point contribution to your War Effort and a 10 point boost to your N7 level, promoting a class returns all four characters to level one. For reseting a characters powers, its a bit like trimming the hedges with a chainsaw, but its the only free way to do it. Otherwise you can get a Reset Power item randomly from the store.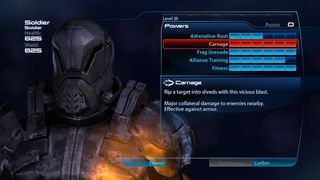 Unlock the Battlefield 3 Soldier
Thank EA corporate synergy for this explosive warrior. A nimble human with Frag Grenades and Carnage, this dude was born to walk away from explosions, totally not looking. Unlock him by registering a copy of Battlefield 3 on the same account as your Mass Effect 3.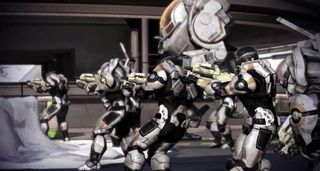 Fighting Cerberus
The Illusive Mans goons use armor and shields, so youll want biotics and engineering. Engineers are doubly equipped to deal with Cerberus, Incinerate will torch their armor and Overload will shut down Centurion and Atlas shields.
A Drells Pull is perfect against Guardian shields and an Asaris Stasis is what you want against fast-moving Phantoms. Quarian Infiltrators can Sabotage Centurion and Nemesis shields, and stun Assault Troopers.
For equipment, use Incendiary Rounds or Armor-Piercing Rounds, which can punch right through a Guardians Shield. No need to mailslot him!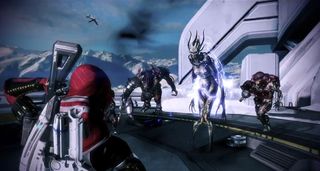 Don't let the Reapers get close
Made from the reanimated tissue of other races, Reapers are kind of like the undead of the Mass Effect galaxy. Dont let them close in and overwhelm you, bring a Soldier or a Vanguard who can put down enemies fast. An Adepts Singularity is essential for corralling oncoming Husks and Cannibals. Both Brutes and Banshees have an instant kill at melee range, make sure your biotics are wearing them down with Warp combos.
If you can, take out Marauders first, before they can power up their allies. They have shields and tend to stay further back, an Engineer with Overload or Energy Drain and a long range weapon is well prepared to deal with them.
Most Reaper forces will close in and force you to leave cover. Ravagers take advantage of this by pounding you with their long-range guns. Keep an eye out for their targeting lasers, roll or seek cover as soon as you see them. A Ravagers armor is susceptible to fire damage or biotics. Soldiers should burst the Ravagers front sack and target the fleshy green area behind it.
A Krogan Soldier is the perfect ally against Reapers, he can torch multiple foes with his Inferno Grenade and rip Husks apart at melee range. An Asari with Stasis Bubble is great for crowd control. Bring an Engineer for Incinerate, plus Combat Drone and Decoy will help take the pressure of your team. The Quarian Engineers Sentry Turret will soften Reaper forces and slow their advance, especially with Rank 5 Cryo Ammo.
Use Incendiary Ammo to melt Reaper armor, and the burning damage is useful for hard to hit Husks and unarmored Cannibals. Cryo Ammo will stop charging Reapers in their tracks.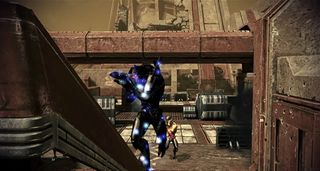 Disrupting the Geth
The Geth are a purely synthetic race that rely heavily on shields. An Engineer with Overload or Energy Drain is essential, and it doesnt hurt if someone has a sniper rifle to target Geth Pyro fuel tanks. Geth forces have no one hit kills so Vanguards are free to charge, but beware of the Geth Primes rockets, which can stagger you.
A Quarian Infiltrator can really wreck havoc with Sabotage, turning Geth against each other, especially if you spec with Duration, Explosive Hack and Berserk. Use it on a powerful enemy, like a Geth Prime or Pyro. A Salarian Infiltrator can drain enemy shields, and use Proximity Mines to stop cloaked Geth Hunters from sneaking up on the team.
Disruptor Ammo ruins shields, making it perfect against Geth.