By now, it's possible you've finished Mafia II's story. You may have evenscrounged around and found all 50 of its hidden Playboy centerfolds (possibly usingour complete guide), giving you a complete set of the most easy-on-the-eyes collectible whatsits ever dropped into an open-world game. But you can't really say you've exhausted Mafia II's potential until you've hunted for its ultimate collectibles: the whopping 159 developer portraits disguised as wanted posters.

Above: Not as fun to look at as a centerfold, but stillirresistible to true completionists
Unlike the centerfolds, Mafia II's wanted posters can be found at any time, and aren't tied to specific chapters. Even so, they aren't easy to find unless you know exactly what it is you're looking for - and even then, they can be tough to spot against the game's elaborate stonework textures and itshundreds of random, non-collectibleposters. Lucky for you, we've found them all for you already, and will show you exactly where every last one of them is. Instead of tackling them all in numerical order, which would mean a series of long treks across Empire Bay, we've broken this guide down by district, so you can focus your search in one smallish space at a time.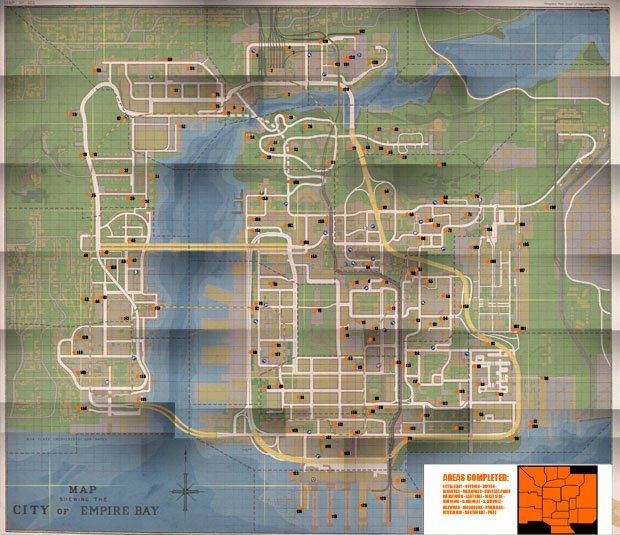 Above: Click the map for the full-size image, or the links below to jump straight tothe location ofa specific poster or district
LITTLE ITALY
63•64•65•66•67•68•69•70•71•72•73•74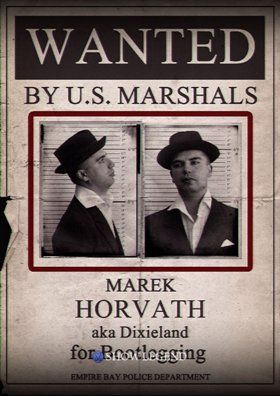 UPTOWN
148•149•150•151•152•153•154•155
KINGSTON
58•59•60•61• 62•75•76•77
GREENFIELD
18•19•20•21•22•23•24•25•57
HUNTERS POINT
42•43•44•45•46•47•48•49•141•157•158
SAND ISLAND
134•135•136•138•139•140
SOUTHPORT
142•143•144•145•146•147•156
PORT
119•120•121•122•123•124•125•126
EAST SIDE
8•9•10•11•12•13•14•15•16•17
MIDTOWN
83•84•85•86•87•88•89•90•91
OYSTER BAY
110•111•112•113•114•115•116•117•118

SOUTH MILVILLE
92•93•94•95•96•97•98•99•100
NORTH MILVILLE
101•102•103•104•105•106•107•108•109•159

HILLWOOD
35•36•37•38•39•40•41
HIGHBROOK
26•27•28•29•30•31•32•33•34

RIVERSIDE
127•128•129•130•131•132•133
Little Italy
Wanted Posters in this district:
63•64•65•66•67•68•69•70•71•72•73•74
Wanted Poster 63
This may be the first poster we're listing, but it's easily the hardest one to get to in the entire game. Most of the other posters are hidden in areas that areeasily accessible but hard to notice, but in a complete bastard move, the developers went and put this one on the roof of an unclimbable building.
How to get up there? You may notice the rooftop is just a stone's throw from the freeway. Head up there, grab a car and start building up some speed in the northbound lanes.
Then, when the rooftop is in sight, aim straight forthe chimneyand slam right the hell through the freeway railing. This will probably take several tries before you get the angle right.
Even assuming you can hit the chimney, you'll still have to avoid killing yourself from the impact or rolling off the roof afterward, neither of which are easy. Again, this may take a few tries.
Get it right, though, and you can rest easy in the knowledge that, compared to what you've just done, every other poster youfindwill be a cakewalk.
Wanted Poster 64
You can find this one on the back of a door in a fenced alley at the south edge of Little Italy.
Wanted Poster 65
This poster couldn't be easier to find; when you're visiting Joe's place, just walk past his garage on the right, then immediately turn and look to your right.
The next poster's straight ahead of you. Sprint forward and you'll find it on this wall, slightly camouflaged against the brickwork.
Wanted Poster 66
Another easy one that you're just as likely to breeze past, you can find poster 66 on the side of a building just below that beauty sign.
Wanted Poster 67
This one's hidden at the back cornerof an alley, just behind a jutting doorway. Run back there and look where our arrow's pointing.
Wanted Poster 68
This one's in a skeezyalley just across the street from the diner near Vito's house. Look for this dumpster and sprint on past.
You'll find the next wanted poster on the wall to your left.
Wanted Poster 69
In the same compound as the gas station, you'll find several white-and-red brick buildings grouped close to an elevated street; search between those buildings and the concrete wall, and you'll find the next poster.
Wanted Poster 74
This one's located one building south of where you found 69; run and grab it before you start collecting the rest.
Wanted Poster 70
This one's located near The Dragstrip bar, on the back of the westernmost building on its lot.
Wanted Poster 71
Just across the street from The Dragstrip, you'll see this car rental lot. Head inside the gateand start running southwest.
You'll find the next poster plastered onto a wall at the southwestern corner of the lot.
Wanted Poster 72
You'll find this one just south of the curving ramp, on the north-facing side of a building.
Wanted Poster 73
See that bend in the road to the right on the clothing shop on the map? You'll want to run toward it and then turn right into a wide alley. Turn right again before you reach the descending staircase, and you'll see the next wanted poster.
Next page: Uptown and Dipton