Get up to date with the Guardians, their friends and their foes
Marvel took a massive chance with 2014's Guardians of the Galaxy. Nobody outside of comic book fandom really knew who this bunch of galactic misfits were, so bringing them together for a big summer movie was a gamble. The risk of course paid off for the studio after audiences lapped up the antics of Star-Lord's crew to the tune of $773 million dollars, sending a sequel into development almost immediately.
Guardians of the Galaxy Vol. 2 is due to arrive in theaters May 2017 and picks up with our heroes sometime after the events of the first film. Now that they're sorta famous for saving the universe, it's harder for them to be inconspicuous, and they wind up attracting the attention of the Ravagers while trying to locate Star-Lord's father. We might recognise their names but these aren't the same Guardians we knew before. Yes, they're famous. They're also growing in numbers. Former foes are welcomed into the fold as the team fights more villains and seeks out new allies.
Writer/director James Gunn is back at the helm along with the original headlining cast and a handful of franchise newcomers. Get up to speed and know your Guardians from your Ravagers with our handy cast guide.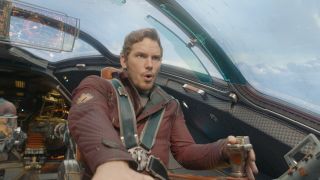 Chris Pratt is Peter Quill / Star-Lord
Pratt is back as the Guardians' leader Peter Quill who still prefers the sassier name Star-Lord. The tiny fragments of plot we know so far indicate that it's his personal journey driving the sequel, as the first flick ends with Quill learning that his father was not human. His quest to discover his true parentage sparks the Guardians' second live-action adventure.
As for Quill himself, we can expect more superb musical interludes thanks to his Awesome Mix Tape vol. 2 and more banter between him and Gamora. The Comic Con trailer demonstrates their witty repartee in a brief scene where the pair bicker about weapons.
While some things haven't changed, it seems like Quill's facing up to the responsibilities of his role. When we met him at the start of the first movie he was a self-serving pilferer and by the end he emerged as a strong, dependable leader for the Guardians. "He's famous now in the galaxy for having saved so many people," Pratt told the Comic Con 2016 crowd. "He feels like he's part of this group, a leader of this group. He's a little more responsible and trying to stay out of trouble, but not necessarily doing the best job."
Zoe Saldana is Gamora
We're told in the first film that Gamora was orphaned at a young age and raised by the purple-skinned Thanos, a tyrant who killed her parents. She worked to separate herself from his villainy by shacking up with the Guardians, which led her into direct conflict with her sister Nebula. Okay, let's not beat around the bush, she was a little edgy with everyone because that's just who she is. With Gamora, what you see is what you get.
That's unlikely to change anytime soon. In fact we're likely to see more of their sibling spats in the sequel. "Gamora, everything she does is trying to gain redemption for what she'd done before," Saldana told IGN. "That's where you're going to find her and then, obviously, their relationship is very volatile." No surprises there. With Thanos not in the movie at all, it's still unknown what might cause that volatile rift.
Dave Bautista is Drax the Destroyer
Drax's plan to destroy Thanos for killing his entire family is still unresolved. It's going to stay that way for Guardians 2, poor guy, as the big baddie won't even be in the film. That leaves room to explore other parts of Drax. It also gives him plenty of time to let that vengeance and anger bubble up inside until it gets really, really unhealthy. "He's not past it," Bautista says. "This takes place not long after we left the first film. And also, how do you ever get past that kind of trauma? That's what Drax lives for, that revenge."
Even though he saw Ronan killed, Drax refuses to let go until everyone else involved in his family's death also perishes. While he continues to embrace that anger it's not all doom and gloom. We'll be getting more of his wordplay faux pas in the sequel too. "He's still not really going to get metaphors," he adds, "even though he thinks he does, but he'll still be that very literal Drax, but I think you're going to see a lot more badass Drax."
Sean Gunn and Bradley Cooper are Rocket Raccoon
We first met this genetically-engineered, trigger-happy raccoon in the 2014 original. He's the wise-cracking member of the gang with a penchant for shooting off his mouth and his weapon whenever he pleases. He returns for the ride yet we're not entirely sure what his specific story arc is. Descriptions of the Comic Con trailer suggests that he's retained his potty-mouth for the sequel, telling a sensitive alien race that he "heard they were conceited douche bags." He's also involved in a prison sequence, where he, Groot and Yondu are thrown in a cell by the Ravagers.
Joining forces to bring the Guardians' smallest recruit to life are Sean Gunn and Bradley Cooper; Gunn provides the motion capture element to the violent little fella with Cooper working his sarcastic magic in the vocal booth.
Vin Diesel is Groot
Groot's regenerative powers allowed him to save his friends at the end of the first movie, and return to life as a lil' sapling with a fondness for the Jackson 5. Yes, Baby Groot returns. Gunn initially planned to have fully-grown Groot back, and changed his mind when he realised the little guy harmonised well with the film's family theme. Based on the footage screened at Comic Con this year his petite presence brings a fresh comedy angle to things, as he's really just a baby mixed up with a bunch of adult space pirates.
There's also a chance he's not even the same Groot so says producer Jonathan Schwartz. "He doesn't have the wisdom and experience of that Groot. He's a younger Groot and a more rambunctious Groot. The question is, is he the same Groot, just smaller? Or is he a different Groot that's sprung up from the seed of the first Groot?" In any case, Vin Diesel is voicing the character so expect to hear Dom Toretto bleat "I am Groot" like a pre-adolescent teen.
Karen Gillan is Nebula
When Karen Gillan peeled off a hairpiece at Comic Con 2014 revealing a shaved head beneath, the crowd went ballistic. She was Nebula, an alien orphan with a unique aesthetic. You know what that means: hours in the makeup chair for Gillan to fully create the intricate patterns on her bald bonce. And while she's definitely going to be blue once again in the sequel - and have much more screentime - she won't be shaving her head.
As the sister of Gamora, she's also the daughter of Thanos. Being raised by an egotistical villain, some of his evil rubbed off on her which is why she nearly killed her sister in the first film. But as two overused sayings go: time heals old wounds and hatchets must be buried. Early concept art for the sequel shows Nebula is now... one of the Guardians. According to Gillan the sequel will "flesh out" their sisterly relationship as Nebula transitions from baddie to goodie. That's a fast turnaround for the character, and something Gunn says we should be well aware of: "With Nebula, well, you never know what's up with that one."
"You'll begin to get a glimpse of how terrible life must have been like to grow up with a crazy stepfather through Nebula," Zoe Saldana says. "Nebula is still in that teen-y, fucking hateful shit. She's just resentful and bitter."
Michael Rooker is Yondu
A Ravager who served as a paternal figure to Quill, Yondu's alliances in the first movie were hazy at best. Did he really have Quill's best interests at heart? Sort of. He arrived in the nick of time to save Gamora and Quill, but only after striking a deal wherein he'd eventually receive the Infinity Stone. He also confesses that his original plan was to "deliver" Quill to his father.
In any case, he's changing tack for the sequel as early concept art reveals that he's now a fully-fledged member of the crew with a brand new head fin (that's a Ravager mohawk) to celebrate the occasion. Footage out of San Diego Comic Con shows a scene where he, Rocket and Groot are turned on by his fellow Ravagers and thrown into a cell. Whether his alliances really are with the Guardians or not is another mystery that won't be solved until the movie opens.
Kurt Russell is Ego
Not only is Papa Star-Lord in the movie, he's also played by Kurt Russell. Despite James Gunn's public upset at folks trying to "out" the identity of Quill's father, he decided to reveal who he is anyway at Comic Con 2016. That first trailer rolled out to confirm that Russell's definitely the alien half of Quill's DNA. I mean, he's really non-human - he's Ego the Living Planet.
He's an ancient entity that first appears to the Guardians as a "floating bean" that morphs into Russell. In typical Quill style he introduces himself to his son by referring to his rugged good looks, before welcoming them all onto his ship. Ego might behave human - sorry, Terran - but he's not. "I created what I imagined biological life to be like down to the most minute detail," he explains in the footage. In the original comics, Ego tells Thor that he is what happens when a sun explodes, causing a scientist to MERGE with a planet. Wonder if that backstory will end up on screen.
Pom Klementieff is Mantis
On the page Mantis is a half-Vietnamese, half-German martial arts superhero, yet in the movie she's played by French actress Pom Klementieff. Other changes from page to screen include her green skin - she won't have any like her comic book counterpart, possibly to avoid confusion with Gamora. Her comic self is raised by Kree priests, who believe her to be a great and powerful messiah and train her as a warrior, while the movie version is raised by Ego.
We got our first glimpse at Gunn's take on the character through an early spot of concept art, confirming those details, and showing her in full Guardians mode. Yep - she's another newbie joining their cause. "She has never really experienced social interaction," producer Jonathan Schwartz says. "Everything she learns about dealing with people, she learns from the Guardians of the Galaxy, which is a very weird group to learn your social intricacies from."
Elizabeth Debicki is Ayesha
Elizabeth Debicki plays another newcomer to the Guardians universe, Ayesha. One of the Sovereign People - who Quill says are a sensitive folk - she surfaced in the Comic Con footage seeking help from the Guardians. What does she need help with? Still unknown. But, as her appearance in that trailer comes shortly after an interdimensional beast tears open the sky, it's probably that.
Ayesha is also known as Paragon and Her and is the High Priestess and leader of her people. That means she goes the extra mile when it comes to appearance, as she's made entirely of gold and light. That probably impresses the Guardians somewhat, but they'll need to be careful to not get too mesmerised. James Gunn confirmed in a Facebook post that she's one of the film's antagonists.
Chris Sullivan is Taserface
Taserface. What a great name. A name that we nearly didn't get to enjoy. Way back when James Gunn originally landed the first Guardians gig, he posted a picture of the character on Facebook with the caption "This is gonna be the star of Guardians of the Galaxy! " as a gag. He swore that he'd never use him onscreen... and then chose to use him in the sequel. "I think in this movie, we have the head of the Ravagers as a real dumbass," he explains. "A very powerful guy. I decided he named himself and called himself Taserface." He's spotted in the Comic Con trailer as the Ravager who throws Yondu, Rocket and Groot into a cell.
The Ravagers also feature Rocket's motion-capture man Sean Gunn who plays Yondu's right-hand man Kraglin. The rest of the gang includes Evan Jones as Wretch, Jimmy Urine as Half-Nut, Stephen Blackeheart as Brahl, Steve Agee as Gef, Mike Escamilla as Scrote, Joe Fria as Oblo and Terence Rosemore as Narblik. Sons of Anarchy's Tommy Flanagan is also in that rabble but we don't yet know his unique name.
Sylvester Stallone is...?
Stallone is a member of the Nova Corps. We think. He was rumored earlier this year to be in the movie after a series of set photos showed him milling around the production. Then Gunn himself confirmed Stallone's role after the Comic Con trailer was screened; he was spotted in that footage talking with Yondu. If he is playing a Nova Corps officer, Gunn's comments seem to back it up: "It's a very, very key, important role", he revealed. "It's not a huge role. He's a great and key supporting actor."